A steady customer base is a necessity of every business.
Businesses put substantial efforts into successful customer outreach, letting their consumers know about a product or service and how it will fulfill their needs.
A steady customer base asks for a higher number of customer connection. For that, It is essential that the efforts made behind customer outreach should be supported by the right technology.
Choosing the best suitable contact center software is essential for producing results out of preconceived business strategies. Only the right software can formulate ways for those strategies to succeed.
In this context, a well-designed software can make things easier to execute. Predictive analytics has been around for a long time, but its usage has now touched various fields worldwide. In fact, predictive analytics is playing a vital role in every work scenario that involves the need for making speculations based on statistics to reveal concrete results. Even the customer support environment has been touched from predictive analytics software.
Predictive dialers
Today's customer support environment has become more sophisticated, and a predictive dialer is a bookmarked page in the book of customer service. Earlier, predictive dialers were hardware-based, but with the arrival of cloud technology, cloud-hosted predictive dialer software tools have become mainstream because of their utility and various business-oriented features.
However, the questions are: Why do we even need predictive analytics in the customer service environment today? Why do we try to predict the outcome by analyzing existing data? Is it worthwhile today to go for such a sophisticated technology?
The answers to all these questions lies in between two nodes of delivering the best possible service to customers and utilizing the available resources to the fullest. If both of these ends get support from predictive analytics, then results definitely differ from conventional ones.
What happens to the results? Let's look into it.
Data-driven technology
Every step in the customer service environment creates raw data. The insights from this information-laced data take into consideration of some meaningful call center metrics.
For example, if an agent is dealing with customers then comprehensive statistics can provide a clear picture of agent performance and overall call center productivity.
These metrics can include average handling time of the customer, case resolution time, first call resolution, case deflection rate, and average wait time – to name a few. They're used to take result-oriented action with intentional goals, such as a high number of call connections between customers and agents.
Predictive dialers pick the insights from this big data and automatically make calls from the uploaded customer contact list at the best suitable time when customers are likely to respond.
Thus, customers living in different time-zones receive calls at completely different times. Here, it is necessary to understand that the most important function of a predictive dialer is that it chooses the best suitable time to start a new outbound call while the agent is already attending a customer.
Such perfect timing depends on the analysis of average handling time of the individual agents. The average handling time of an agent helps the predictive dialer speculate the time of call completion.
So, the predictive dialer starts the call slightly before the agent closes the ongoing call. As soon as that call completes, the predictive dialer connects another customer with the agent.
In simpler words, predictive dialers predicts the availability of an agent based on their average handling time. As soon as the agent is free from one customer, they're automatically connected to another customer.
Algorithm behind predictive dialers
The predictive dialer was developed by Douglas A. Samuelson in the early 1980s, and it was hardware-based. Samuelson gave an analogy of buses and passengers to explain the algorithm behind it. He said there are two critical points that decide the overall predictive dialer working methodology.
Predicting the number of free agents when the dialer starts dialing the calls, and

Probability of calls connecting to the customers.
According to Samuelson, the algorithm of predictive dialers in an analogy of passengers boarding buses – where buses are outbound calls and passengers are customers. He said that every bus (outbound call) has to find a passenger (customer).
The time duration, when a passenger is on the bus, depicts the time when the agent is speaking with the customer, and the next bus is released at an appropriate time to board the next passenger because the agent is about to be free after discharging the previous passenger at the bus stop, according to CallCenterHosting.in.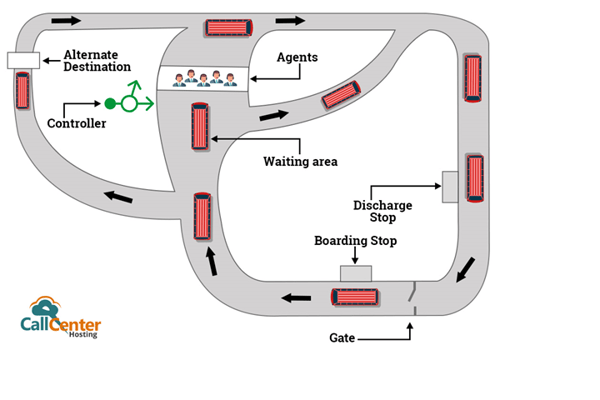 This diagram is a replica of what Samuelson suggested while defining the algorithm of predictive dialers. As shown in the above figure, there are four points: A, B, C, and D. When the outbound call is connected, it means the bus is released with the passenger in it, or the outbound call has found a customer.
Point B is where the agent's connected to the customer over the phone.
From point B to point C, the agent remains with the customer on the call. In this period of time, if all the available agents have found a passenger (customer) to board with them, another call (bus) takes a different route.
From point A to point C. The red, dotted line shows a call waiting route.
Similarly, the green, dotted line depicts the time duration when the agent is speaking with the customer.
The violet, dotted line depicts the time duration when the call is routed to an available agent.
Additionally, there is a controller that has all the authority to get the buses boarded with customers or to send the buses on other routes.
Predictive dialing is about releasing the bus (dialing the call) at the right time to get an available agent at the point B.
Presence of predictive dialers in call centers
When a customer calls a customer support number and is left unattended because of the unavailability of the agents, the effort made by the customer to connect with the agents creates a call log.
The Internet has led to an exponential increase in the number of customers doing transactions or research during the decision making of a product or service. This particular scenario has made customers seek support more frequently over the phone.
However, customers are more informed and more impatient today. So, one can imagine the number of unattended call logs if the agent availability is not utilized efficiently.
Here, the role of data comes into play, and statistical results prove to be beneficial.
In a real-life scenario, according to Rod Bagg, vice president of analytics and customer support for Nimble Storage, his organization has become more capable of handling current call volumes, and 50 percent of the volumes have been eliminated after implementing predictive analytics approach. It has resulted in a 30 percent growth in the number of customers.
Predictive analytics has helped Nimble Storage route customers to the right agents at the right times without any delay. This process has helped the brand substantially to handle the increasing number of calls.
Insights related to a good customer support system show up only after the real diagnostics analyze the available data. This data can be taken from different platforms that customers use today, such as phone, email, instant messages, social media, etc.
Irrespective of the source, insights coming from customer data make customer support systems more proactive and result-oriented. A predictive dialer is an appropriate example of the same system. It acts according to the insights coming from the data.
Superimposition of predictive and customer analytics
When predictive analytics merge with customer analytics, the results become more comprehensive, and understanding customer behavior becomes a lot easier.
Knowing your customer and their interests and needs is a necessary aspect when it comes to designing a customer service tool with specific goals, and this is an important reason that has forced predictive analytics to merge with customer analytics.
Predictive analytics uses insights on customer awareness to enhance overall productivity of customer service.
Call centers used dialers profoundly, but since predictive dialers came into existence, the overall productivity of call centers has increased due to the reduction of total idle time, giving agents more opportunities to speak with the customers.
In this way, all the customers in different continents receive calls at an appropriate time according to their time-zones. Such strategic outbound dialing has given a significant rise in the number of customers attending to the involuntary calls coming to them.
Competitive advantages
All businesses looks for growth, and because of the same reason, they look for SaaS tools and applications that will help them deploy money promisingly.
This technology gives big businesses an edge over competitors.
Small businesses can also use predictive analytics to aid in goals of transformation and revenue growth.
Predictive analytics helps your business to know your customers in a much better way that further helps design your products or services. If a business is aware of every aspect of its customers, then its offerings can be crafted according to the needs of the individual customer. For example, a predictive dialer makes outbound calls at a different time for the customers in Los Angeles than the customers in Chicago.
Insights from the data
In a wider perspective, the predictive dialer follows all the basics that come from the book of predictive intelligence.
Data can't be useful until it's deduced to results. Predictive intelligence comes with many insights toward positive outcomes that lead to the overall growth of businesses.
Analyzing previous outcomes helps in choosing and adapting the ways that make the most out of available resources – be it technical or human. For example, in a predictive dialer, one can set a call ratio depending on the number of agents available and motive behind the calls. Choosing a ratio is an outcome of analyzing previous results of agent performance.
In every business scenario, certain questions pop up about the significance of a tool in making the right decisions in real time. Predictive analytics involves steps like visualization and simulation and further gives a visual perspective of actually using a service.
In the same manner, a predictive dialer can show a clear picture of the overall potential of your outbound campaign.
Predictability leads to manageability
Anything that is predictable makes it more manageable. In this way, predictive dialers use various insights from data to produce powerful results. They can also suggest significant points in ways of dealing with customers and deploying agent force.
In addition to this, predictive dialers powered with cloud technology are producing better results because they work irrespective of system attributes, and there are several applications that easily integrate with cloud-based predictive dialers. For that reason, most call centers are moving toward the highly automated environment by choosing tools and technologies based on cloud.
If we consider the customer service environment, the need of a highly automated system makes it viable to handle the high call volume demands of today, as well as the need to outreach a high number of customers effectively.
Predictive dialer drawbacks
The predictive dialer does have one drawback: It doesn't deal with the thinning patience level of the customers. When a call is connected and the customer says hello, the dialer takes some time (around three-to-five seconds) to connect with an available agent.
Another limitation of predictive dialers is that they don't mesh well with a call center setup that has less than 10 agents. Sometimes, it can over dial, disregarding the number of available agents.
In conclusion
All in all, despite the few limitations of the predictive dialer, it is an unavoidable tool that brings the best out the agent force in a lesser period of time.
It is not possible to find a customer for every outbound call made, but whenever a customer replies to a call, there is a higher possibility to get an available agent to respond. This is predictive dialing.
Ready to learn more about using big data to support your customer service efforts? Learn how your company can leverage big data analytics.