Fueled by IFC's Portlandia, Portland has become known as the hipster mecca of the United States.
But the people of Portland aren't all about petitioning bicycles' rights, questioning the organic nature of their chicken or searching for the perfect brunch spot. If you take a peek behind the hipster veil of Portland, you will find a bright and burgeoning tech scene.
Portland Tech Scene
Portland has burst onto the tech scene, with its tech talent pool growing 28 percent between 2010 and 2013, according to Entrepreneur. For a comparison, Silicon Valley's talent pool grew 20.8 percent in this time. Portland is not rivaling Silicon Valley in talent pools, but also nicknames as well — it has become known as "Silicon Forest."
Those looking to break into the tech scene are looking to choosing Portland over the Silicon Valley because of the low cost of living. Not only is housing cheaper in the city of Portland, but Portland is also surrounded by affordable suburbs that are just a quick drive away from the city. That short commute means young workers can enjoy a healthy work-life balance.
Not only is Portland home to a number of thriving startups, but some big names have made a second home in the Silicon Forest as well. eBay, Airbnb and Google have all opened offices in Portland. These businesses are clearly seeing the potential in Portland.
Some in Portland are taking a different approach to startups than people elsewhere are. Mara Zepeda, co-founder of the Portland-based Switchboard, is looking to disrupt the 'unicorn' startups (businesses valued over $1 billion). She is looking to foster the 'zebra' in Portland, which is "a saner start-up, built for attainable profit, informed by social, political, and environmental responsibility," according to an interview in Portland Monthly. Staying true to Portland's hipster culture, Zepeda hopes that the zebra will give people an alternative to the norm.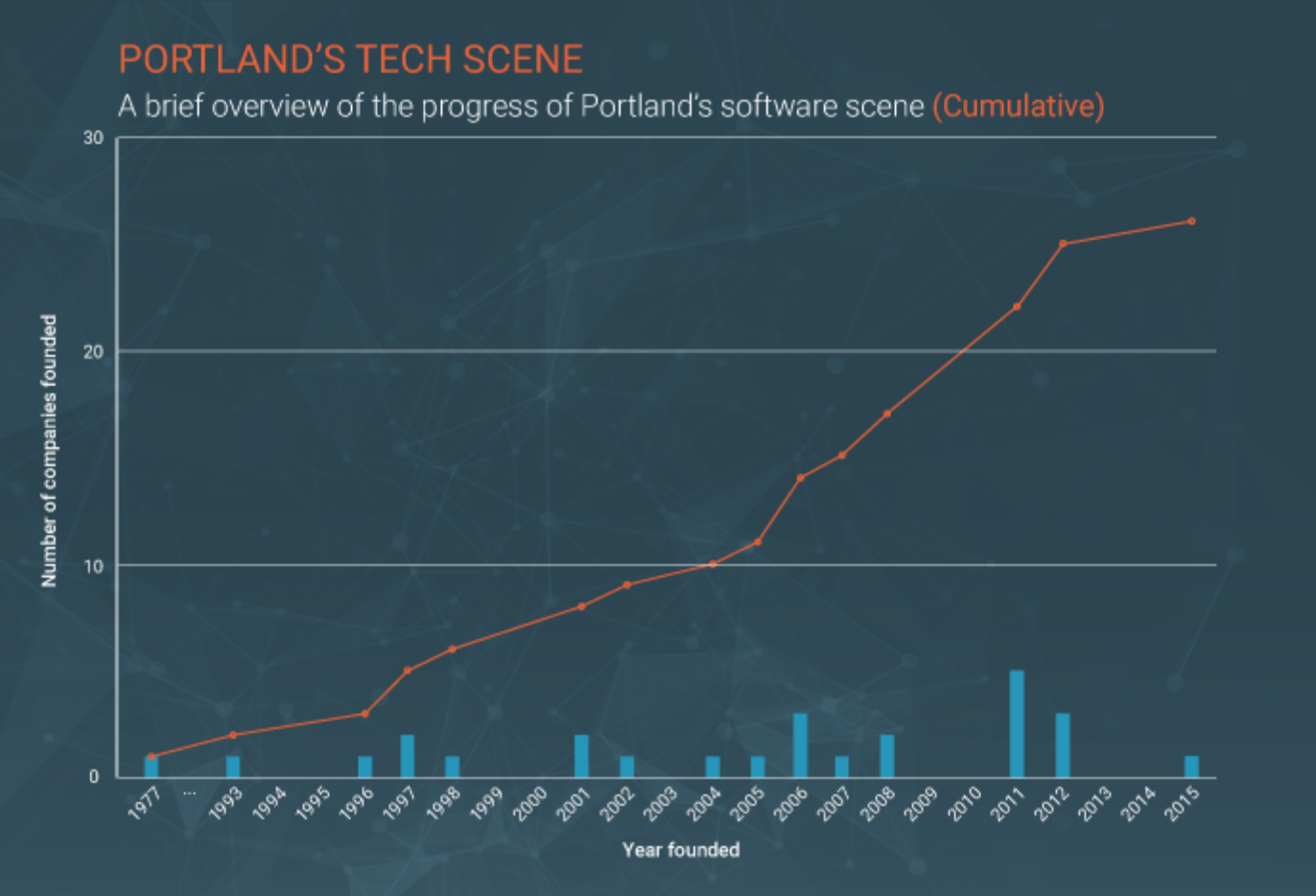 Note: Only software vendors on G2 Crowd with headquarters currently in the Portland area are included in graph.
---
As the Portland tech scene continues to grow, we have pulled together a list of all of the top-rated products on G2 Crowd which have parent companies headquartered in Portland. Our list is ranked by user satisfaction of a company's top-rated product. To qualify, a product was required to have at least 10 verified real-user reviews.
For each qualifying product, we created a company profile to recognize what that company is and does, as well as give a little insight into its history. The data relies on G2 Crowd's 300,000-plus B2B software and services reviews, or from publicly-made available data sources such as LinkedIn, Crunchbase or each vendor's website. The report features 20 B2B Portland software companies which are represented with more than 1,403 verified user reviews across categories from Online Appointment Scheduling to Marketing Automation to Online Course Providers. Let's dive into Portland's tech scene.
---
Top B2B Portland Tech in 2019
Act-On is a marketing automation tool that was named a Leader in its category on G2 Crowd for Fall 2017. Users can create and execute brand awareness and customer expansion campaigns with this tool. Act-on is designed to deliver results quickly with no dedicated IT resourced needed.
---
2. Panic

Product: Coda
Category: Web Design
City: Portland
Founded: 1997
Employees: 10
Make OS X and iOS apps with Coda. This web design tool is a fast, clean and powerful text editor. Coda also has a built-in way to open and manage remote and local files.
---
This auction tool is geared toward school fundraising. SchoolAuction.net helps schools plan, manage and run school fundraisers. Clubs and non-profit organizations may also benefit from this tool.
---
Billy is a small-business accounting software that was ranked a High Performer in its category on G2 Crowd for Fall 2017. This tool allows users to streamline their accounting process so that businesses can put more focus on their customers.
---
In-house legal teams can manage litigation response, investigations and information requests with Z-Discovery. This e-discovery tool will help users lower cost and corporate risk, along with delivering faster litigation resolution.
---
More than 11,000 companies utilize this self-service business intelligence tool. The folks behind Jet Reports are dedicated to delivering top-notch reporting and analytics for your organization. Microsoft Dynamics ERP users will benefit the most from this solution.
---
If you are an online business looking to scale your operation, look no further than SellerActive. Users can integrate and manage incoming orders from multiple online marketplaces with this solution. SellerActive also allows users to gain visibility into inventory and maximize margins.
---
Extensis Portfolio is a digital asset management (DAM) tool that was ranked a Leader in its category on G2 Crowd for Fall 2017. This tool is designed to bring the efficiencies of DAM to organizations across every field.
---
Expand your business knowledge with OpenSesame. This online course provider offers 20,000 training courses to meet your business needs. OpenSesame offers e-learning advisors to curate courses for users.
---
More than 3,600 companies use Puppet's open-source and commercial solutions to power their software. NASA, Salesforce, and Sony are among the companies that rely on Puppet.
---
This ALM suite is designed for defining the set of requirements for what is being built, why and how. Jama helps businesses to balance the complexities of product development to deliver the best product. Jama is highly configurable for hybrid applications.
---
This digital analytics solution was ranked a High Performer in its category on G2 Crowd for Fall 2017. Clicky is a Web 2.0 analytics tool that allows you to discover how people are using your website.
---
Create ambitious web applications with this frameworks tool. Ember's Handlebars templates will allow you to write far less code since they automatically update when the data changes. This tool is designed with developer ergonomics in mind, so it offers friendly APIs to get the job done quickly.
---
NetX is a digital asset management solution that was ranked a High Performer in its category on G2 Crowd for Fall 2017. It is designed to act like a digital hub that will sync with any work-in-progress project or other custom workflow.
---
If you are a beginner or expert in online technology, strengthen your skill set with the help of this online course provider. Treehouse offers courses in web design, web development, mobile development and game development. This platform offers a Techdegree program, which is set of challenging courses that helps users learn the skills they need to launch a career in the tech world.
---
LeadsRx is an attribution solution that helps marketing teams connect online and offline programs. This tool tracks the customer journey to better understand what drives revenue that drive revenues the eliminates wasted ad spend, boost conversions and improve overall Return on Advertising Spend (ROAS).
---
This content management software is behind millions of websites and applications. Drupal has standard features like simple content authoring, solid performance, and top-notch security. With this tool, you can also create integrated digital frameworks.
---
Teachers, take note — NWEA Assessments can create a personalized assessment experience for your students. This assessment tool allows you to adapt to each student's specific learning level. NWEA Assessments provides you with the data you will require to cater to each of your students' needs.
---
Customer.io is an email marketing tool geared towards sending targeted messages. This platform allows its users to leverage customers' behavioral data to automate targeted and relevant messages. Optimize the customer experience while driving conversion rates with Customer.io.
---
Setmore is here to help you get organized. This online appointment scheduling tool will help you manage appointments, schedules and customers. As social media is becoming more and more integral to all businesses, Setmore can integrate right to your Facebook page.
---
Other B2B Portland Tech Companies
While we recognized only the best 20 SaaS and service tech companies in the Portland area, there are still an abundance of other tech companies impacting the B2B scene in Portland. Here's a rundown of other Portland B2B software and service companies with their founded dates and total employees.
| Vendor | Product | Emplyoees | Founded |
| --- | --- | --- | --- |
| Sprintly Holdings | Sprintly | 7 | 2011 |
| Appointlet | Appointlet | n/a | n/a |
| Tripwire, Inc. | Tripwire Enterprise | 457 | 1997 |
| Axiom EPM | Axiom EPM | 78 | 2006 |
| Monsoon Inc | Monsoon Marketplace | 93 | 1998 |
| mSeven Software | mSecure | 6 | n/a |
| PageMutant | PageMutant | 1 | n/a |
| Berkman Solutions | Lextree, Contract Analyst | 2 | 2004 |
For any questions about the methodology or data included in this piece, or to request that your Portland B2B tech company be added, please reach out to Editorial Team Lead Jakub Rudnik at jrudnik@g2crowd.com.