Growing up, I knew there were two things you didn't discuss among mixed company: religion, and politics.
However, as I've gotten older, I've learned that complete and total avoidance of these hot topics isn't always the way to go. Politics especially affects people with different backgrounds in different ways. Ignoring these subjects can be as detrimental to relationships as hashing things out passionately.
Should I discuss politics in the workplace?
If your company has a policy on political discussions, abide by that while at work. If not, it's best to tread carefully and refrain from openly discussing topics or candidates on whom your office may be divided.
But how does that play into the workplace, where corporations have a responsibility to maintain a safe and welcoming environment for all employees? What one employee labels as an unavoidable topic, another might say is divisive and disconcerting.
In the election of "should politics be discussed in the workplace," who wins? There's no clear answer to this question, but I've had a few HR professionals share their thoughts on how to tackle this topic.
Discussing politics in the workplace
Without going into too much detail, I've been a voter in elections where the results brought me much grief. When I went to work the next day, I desperately wanted to commiserate with my colleagues but had a hard time determining what's appropriate, especially among mixed company.
I recently reached out, asking different HR professionals their opinions on where political discussions fit into the office dialogue. If I'm being honest, the question didn't generate many replies. I'm chalking this up to the fact that because it's such a sensitive topic, some professionals are nervous to speak on it.
Those who did provide feedback, did so thoroughly and eloquently enough for all of us. Their responses are listed below; read on for their input!
Taylor Warren at Ollie
Taylor Warren, people operations manager at Ollie, gives us her perspective on the importance of getting employees out to vote.
"Encouraging voting and providing resources for getting involved is something every company can do that helps promote the expression of opinion," Warren said.
"At Ollie, we have an open and transparent communication culture where these things are discussed, but happen naturally and informally like at the lunch table. I don't think a company should have a silence policy on this - the only exception would be policies around not expressing 'your political view' as the 'company's political view' externally unless you are in a position of PR/Executive influence.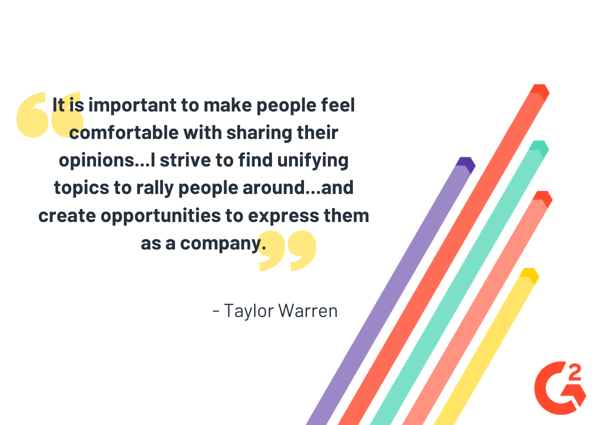 I have heard of some companies holding moderated 'forums' on topics that create a safe space to discuss some issues that can be seen as politically charged. I have not personally done this but find it to be an interesting idea!
It is important to make people feel comfortable with sharing their opinions but from a place of learning and understanding each other better. I strive to find unifying topics to rally people around (environmental impact, equality, local community) and create opportunities to express them as a company. It's especially impactful if it ties to your company's brand/mission.
I think the goal is to strike a balance of expression of different viewpoints in the workplace and not putting restrictions around that. Instead, ensure you have avenues to unify your team around topics everyone can agree upon."
Michaela M. Lim at Argus Media
Head of Human Resources at Argus Media, Michaela M. Lim, let us know that her company does not have an official policy on the subject. Her personal opinions are as follows:
"If we really want employees to show up as their true selves and we want to have diversity and inclusion really work in the workplace we have to provide safe spaces for employees to share their thoughts and opinions/ Sometimes this might be as simple as allowing an array of discussions at the coffee pot, water cooler, lunchroom, etc.
Tip: Consider giving your employees a place to voice their opinions anonymously with employee engagement software.
There are so many things that make me who I am, beliefs, family, life experiences, and values-all being important parts of each of us, and political beliefs also fall into this category.
I personally want to hear different opinions and perspectives, and a little healthy debate can be enlightening. The bottom line for me is about respecting others and their opinions, so debate about the proper amount of cream in your coffee, or your favorite candidate in an election or whom you are cheering on in the World Series, just please remember to always be respectful and kind in the process.
Respect those in the conversations or those that might overhear; respect the time in which you are spending in these conversations or respect a policy your employer might have that discourages some topics."
Tomasz Banach at Everlong Group Medical Captive Services
Banach is the SVP of People at Everlong Group Medical Captive Services. He is also of the mind that encouraging employees to vote is a company's responsibility.
"I try to come from a place of middle ground where our right to vote to continually work to protect, preserve, and strengthen our democracy is #1. No matter what your political differences are in the workplace, we all can agree that the ability to vote for change is the most important! In my past experiences, I've had CEO's want to send out memos that favored a political party and I was always against it.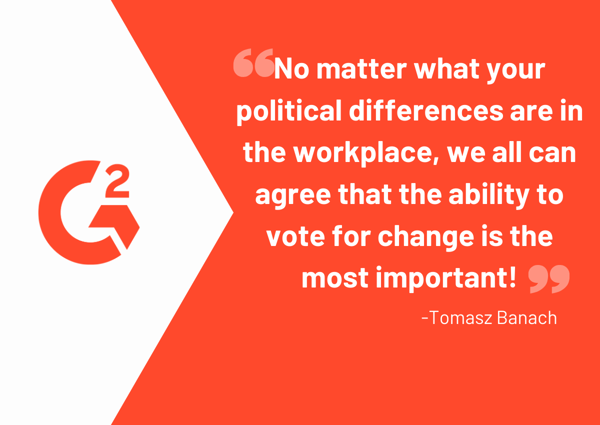 The last thing you want to do is polarize your own workforce or make others feel like their personal beliefs are of the wrong party' based on that communication. Political discussions in the workplace can be a very difficult subject with a lot of potential for hard opposition and negativity."
Let's get political
...you know, if you want to. It seems like many companies support a healthy participation in democracy, so long as it doesn't endanger the safety and comfort every employee should feel at work.
Interested in learning more about what human resources can and cannot police? Check out our piece on HR law.