There are so many podcasts out there, and many of them fail after the first few episodes.
In order for your show to be more than a forgettable flash in the pan, you need to begin with a strong understanding of the medium.
This isn't a guide for making a podcast. Thanks to innovations in modern audio-editing technology, the act of recording your own podcasts is easier than ever. Instead, this guide is centered around providing information about the fundamentals of podcasts: what they are, what makes the best ones good, and how to come up with an idea that will keep an audience engaged.
If you'd like to start with something specific, feel free to jump ahead:
The basics of podcasts
Podcasting 101
With over 73 million monthly listeners in the United States alone, podcasts have proven themselves time and time again to be one of the quickest growing sources of entertainment and information on the internet.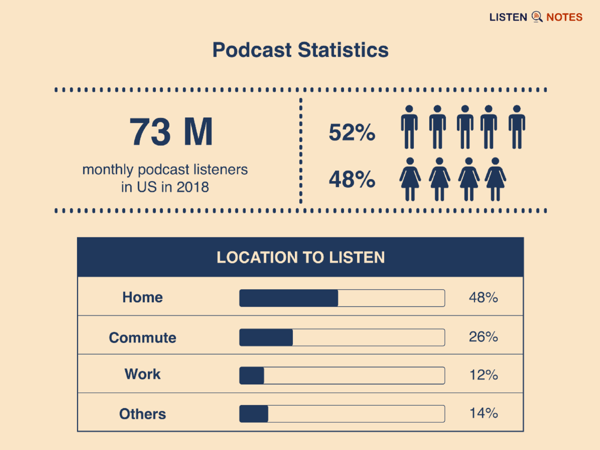 Source: Listennotes.com
This explosion of growth is exciting; we get to be part of the cutting-edge development of a new way to express ideas that could have ramifications on art, education, and business for decades to come. However, this growth also necessitates a focus on quality and innovation. This doesn't just mean buying an expensive microphone to record with, it's understanding how to put on a good show and tell a good story.
What do I need to know about podcasts?
First, we need to answer a very simple question: what is a podcast? While there are a few variations, podcasts are a form of internet radio that is delivered in an episodic format to different platforms and can be accessed whenever — and wherever — the listener wants.
The on-demand nature of podcasting is what sets it apart from traditional radio; because an episode of any given show has unlimited potential to be accessed, podcasters can focus on more niche subjects than a radio host would be able to. This niche appeal means that podcast audiences generally look for a specific topic when deciding on what show to listen to, and much of podcasts popularity comes from the ability to unravel a few core ideas throughout a show instead of jumping from topic to topic.
How will people find my podcast?
With podcasts becoming so easy to make and distribute, people have dozens of options for listening to podcasts.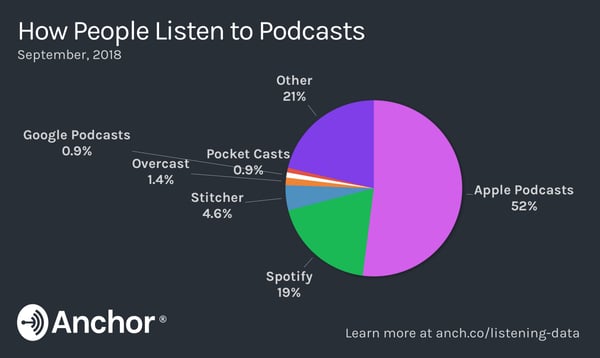 Source: Anchor.com
The device of choice is king when it comes to the ways in which people consume podcasts. Apple Podcasts — including both the eponymous iPhone app and iTunes — commands a lions share of the market, mostly due to the fact that the platform comes pre-loaded on every apple product, reducing the significant barrier most other platforms face in finding an audience.
Luckily, podcasting platforms use a form of computer file known as RSS, (really simple syndication) which allows users to update online content in a standardized format. This means that when you add new content to your podcast, all the different platforms to which you have submitted your RSS feed will automatically update their listing for your show. While this process makes it easier than ever to reach all audiences, it's still important to consider the user experience, content selection, and reputation of each platform.
How do I come up with an idea for my podcast?
Now that you understand the background of podcasting, you need to carefully consider the core idea of your podcast.
Most everyone can come up with a potential idea for a podcast. If you want yours to stand out, you need to spend time developing it from that initial "gee-whiz" moment by considering how it will play out in the structure of your show.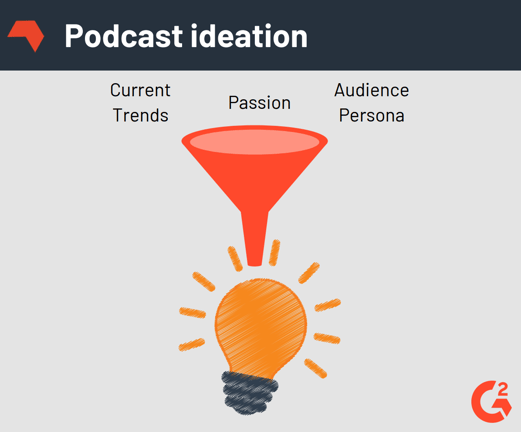 There is a myriad of different ways to hone your idea into something that can serve as the foundation of a successful show, such as spending time thinking about what made you excited about podcasting in the first place, developing an audience persona, and developing an understanding of what's currently popular in podcasting.
What makes a podcast good?
Understanding why some podcasts work while others don't is perhaps the most crucial element of the planning phase — and easily the most difficult to fully grasp. While it's obvious that not everyone likes the same content, or even considers the same shows good, there are elements of podcasts that can commonly be found amongst the most popular series.
A good podcast is well structured, authentic, and released in a timely and routine fashion. These factors are what ensure the core idea of your show shines through for the audience to engage with in a meaningful way.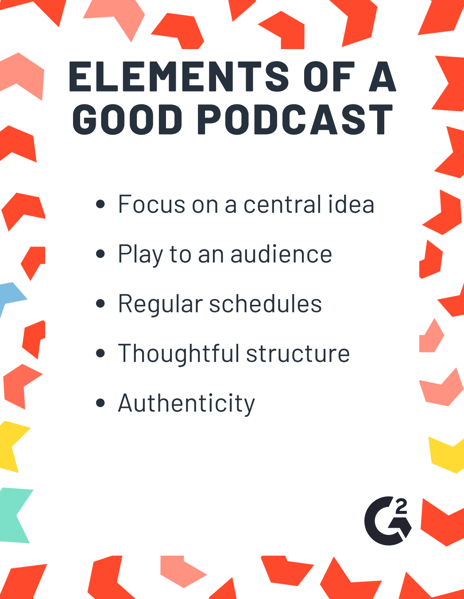 These different tools aren't necessarily what make people like a particular podcast. However, they do provide clarity of content and an experience that allows the audience to form an empathetic bond with the podcast's host(s) over their shared passion for whatever subject matter drew them to a particular series in the first place.
The more you know
It's important to approach something as popular and well-loved as podcasting armed with as much knowledge as you can find. Now that you understand the fundamentals of how to plan your podcast, it's time to start turning your idea into reality.
Want to get started making your own podcast? Check out the top audio editing software to help you get started right away.