All podcasts need a good home.
There's a lot more to starting a podcast than simply recording your show and posting it on the internet. How and where you house your podcast can have a huge impact on the platforms you reach, the audience you're exposed to, and the feedback you receive.
What 5 of the best podcast hosting sites in 2019?
Podbean
Podiant
Castos
Transistor
Anchor
Podcast hosting services are by far the most popular places for podcasters to house their content on the internet. While there are several different websites you can choose from, they are all geared towards handling the technical aspects of podcasting so that you're free to focus on making great shows.
This guide is aimed to give you an overview of what a podcast hosting service can provide for your content, along with a rundown of five of the most popular services currently on the market. If you want to make your own website to complement these offerings, check out our guide on Wordpress basics!
What is a podcast hosting service?
A podcast hosting service is a home for your series on the web. They provide an easy organizational method for you to structure your shows into an overall series, as well as giving your listeners a place to find the entire catalog of your content. These websites also generate an RSS feed for your podcast, which you can use to share your show to various platforms by submitting it to directors such as Apple Podcasts, Spotify, or Stitcher.
Podcast hosting services definition
A podcast hosting service is a website where content creators can upload, store, and distribute the audio files for their show. They provide a variety of features such as an RSS feed and listener analytics.
They also offer a myriad of other opportunities to help you grow and improve your podcast. It's common to find services that have a comprehensive analytics suite to help you track your podcast's performance, learn more about your audience, and strategize how to build a larger listener base. Most websites also offer audience engagement for soliciting feedback from your fans and listeners, and even opportunities for monetization if your podcast gains enough popularity.
Why you need to use a podcast hosting service
Podcast hosting websites are specialized to provide the kinds of services that podcasters need to host a quality show that will reach their desired audience. Podcasts are comprised of audio files which are usually quite large, traditional websites might be either unable to support them or up-charge for the bandwidth required to make them available.
TIP:
Bandwidth refers to the amount of data that a server can transfer in a certain amount of time, and is what determines the speed and quality of your content. It's tied to both content size and the number of visitors to your website, such that the more visitors you have, the higher the bandwidth you need to maintain high server speeds.
Free vs paid podcast hosting services
The majority of podcast hosting services operate on a subscription model, and luckily they're fairly reasonable at around $10-20 per month.
If that expense is too much for a casual hobby or your new content marketing initiative, there are also podcast hosting services that are completely free to use.
However, these services embody the old adage that "you get what you pay for." They might strangle the upload time and bandwidth of the streaming for your shows, degrade the sound quality of your audio recording or otherwise insert unsolicited ads into your podcasts.
Not all free podcast hosting websites engage in these practices, but it pays to be vigilant if this is the route you decide to take. Most also offer upgrades to "premium" paid subscriptions if you want to take full advantage of their services.
Looking for tools to help you record the best podcasts you can? Check out G2's reviews of audio-editing software to find the best tools for the job.
Best podcast hosting services
While there's a chance that none of the options listed below will be the right fit for your podcasting needs, these overviews can act as a jumping off point for your own search.


Please note these services are listed in no particular order:

With over 290,000 unique podcasts hosted on their website, Podbean is one of the larger podcast hosting services available on the web. It's easy to use and has excellent options for new podcasters; most notably an extremely easy to navigate user interface. They also have extremely reasonable pricing. You can get unlimited storage, comprehensive statistics, sharing tools, and more for just $9 a month (billed annually, the month-by-month option is $14). You can also upgrade to an "unlimited" plan for $29 a month that includes support for Vodcasts and access to more advanced tools. Plus, you get a month free when you sign up.
Furthermore, they offer an iPhone and Android apps with their subscriptions that allow you to record, publish, and manage content on the go. This, coupled with monetization opportunities such as crowdfunding make it a comprehensive service for dedicated and driven podcasters.
Most websites offer "unmetered" bandwidth, which means you have a set amount you can use as much as you want, but there is a cap on the maximum server speed. Podiant is unique because it offers truly unlimited storage and bandwidth, which is a huge upside for any hosting service.
The tradeoff is that the basic plan comes in around $13 a month (with more advanced packages at $30 and $40 respectively) and has less of the shiny features that a service like Podbean might offer right out of the gate. That being said, they do offer special digital presence features, such as a customizable website, to help drive traffic.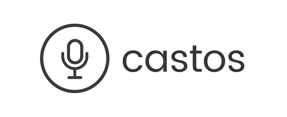 This podcast hosting service is notable for the excellent WordPress plug-in included with its subscription. Having a competent website is an important component of promoting your podcast, and Castos allows you to do this entirely separate of their hosting domain.
The main benefit of doing this is having two web-pages for hosting, and posting reduces the overall bandwidth you need for either. Their basic plan starts at $19 a month and has unlimited storage and comparable analytics to other podcast hosting services on the web.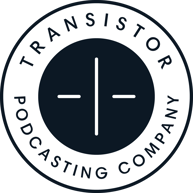 Most podcast hosting sites charge you every time you start a new podcast. But what if you want to create multiple shows? Transistor has you covered. They allow you to create multiple podcasts, on one account, starting at $19 / month. Each podcast you host with them gets a separate dashboard, RSS feed, analytics, and website. You can also collaborate with different people because each podcast allows you to invite teammates who can also access that show's dashboard. Transistor was voted as one of the fastest podcast platforms on Audacity to Podcast.

Anchor is a bit of an odd duck in this list in that it is advertised as being a completely free offering. While you should still heed the disclaimer about free podcast hosting services I mentioned above, Anchor has proven itself to be a complete package in its own right. It has unlimited storage and no cap on the number of shows you can host, as well as options to earn income through a variety of different Anchor-provided sources.
You should be aware that the analytics package it offers is quite basic and the future of the service is somewhat murky following their acquisition by Spotify in February of 2019. Despite this, any new podcaster can easily find success in hosting their shows on Achor's website.
Hosting is hard work
Choosing the right podcast hosting software for your budget and ambitions is a crucial step on an already complicated podcasting journey. Make sure you've carefully thought about which website to use before forking over your hard-earned cash for their services
Want to learn more about how to make a killer podcast? Check out our guide on how to start a podcast for a comprehensive overview of what makes this dynamic medium tick!