Online shopping is almost ubiquitous. Nearly every major brand has an online store, and many a small business relies on e-commerce as its sole source of income.
One of the major conveniences of online shopping is the ability to input credit card information and complete purchases instantaneously. That technology is driven by payment gateway software.
What is a payment gateway?
Payment gateways securely transmit a customer's payment information to either a bank or credit card processor to complete an online transaction then transmit back the response (acceptance or rejection).
Payment gateway vs. payment processor
A payment gateway ensures all necessary payment information is present, encrypted and secure as it transmits to the payment processor. The payment processor analyzes and transmits that data to the bank, which accepts or rejects the transaction. The payment processor returns the answer to the payment gateway. The payment gateway authorizes or rejects the transaction between the merchant and the customer, and the appropriate funds are moved.
In some instances, the payment gateway redirects the customer directly to the payment processor after securely transmitting the payment data. The transaction is completed before the customer is returned to the online store.
Once a payment is accepted, the payment gateway transmits the payment to the merchant with the order information to be fulfilled. This process is very similar to how retail point of sale (POS) software works, as the payments are instantaneously processed, but without the added order-fulfillment component, since customers often walk out of a store with their purchase.
The reason payment gateways are so widely used is this process is almost instantaneous, allowing customers to make a purchase with the click of a button
---
How to find a payment gateway and get started
One of the advantages of a payment gateway is that, many times, it doesn't take much research to find the right one. Often, a payment gateway is bundled into the e-commerce platform you're using. That means there's nothing you need to do to set up and start using the payment gateway — it's already integrated with your e-commerce storefront.
Why use a payment gateway?
Provide security for your payment data, as well as your customers'
Accept payments in currencies from all over the world (some gateways even accept bitcoin and other cryptocurrencies)
Prevent fraud and unauthorized transactions
Makes returns and refunds easy by maintaining a record of all transactions (in addition to helping owners keep accurate financial records)
Allow customers to make purchases directly from your online store using a variety of methods
Some e-commerce platforms support multiple gateways, giving you and the customer the choice of using what's most comfortable. There are also payment gateways that combine a payment gateway and a processor, essentially eliminating transmitting steps in the payment process.
It's important to keep in mind, however, the fee associated with using payment gateways. All credit card processing involves fees, and payment gateways are no different. However, these fees can take different forms. They may be monthly fees for using a service, or fees associated with individual transactions. There may also be extra fees associated with special circumstances such as processing transactions above a certain amount, processing refunds or processing international credit or debit cards. Generally, fees are a small percentage of the transaction amount (typically less than 5%), plus a small flat fee (usually less than 50 cents).
If there's a payment gateway you like to use but you have yet to open an online store, make sure your preferred payment gateway is already integrated with, or is capable of integrating with, an e-commerce platform. Not all platforms support all payment gateways, but some support a variety.
Signing up for a payment gateway is often as simple as signing up for an e-commerce store. Within minutes of uploading your inventory, you can begin accepting credit cards, debit cards, bitcoin and nearly every other online payment. Since payment gateways must be payment card industry compliant (PCI), you can rest assured your store is upholding the highest standard.
Some payment gateway providers
There are various payment gateway providers available, but each has advantages and disadvantages. Some integrate directly with an online shopping cart, some don't include a transaction fee, and some allow for recurring payments.
Here's a quick look at a few with high satisfaction ratings as of May 2, 2019:
PayPal
PayPal provides your business with the ability to accept payments wherever you need: your e-commerce site, social media or in-person. In addition to debit and credit cards, PayPal can process Venmo and PayPal Credit payments. Users can even charge by invoice. Fees for online payments are 2.9% plus 30 cents per transaction.

Image courtesy of CB4

What users say
"There are so many different ways to utilize PayPal to receive payments. From in-person payments with a card swiper, virtual terminal options, invoicing options, integration into POS and e-commerce software, the PayPal.me link, to even just having someone send to a registered email, there are so many ways to utilize PayPal to get paid."
— PayPay review by Robert C.
Venmo for Business
Venmo for Business provides businesses with the ability to receive Venmo payments through a mobile app or website. Businesses can leverage the social aspect of Venmo, as all transactions can be public on a customer's profile, creating an added marketing benefit. As Venmo is owned by PayPal, similar fees apply for each transaction.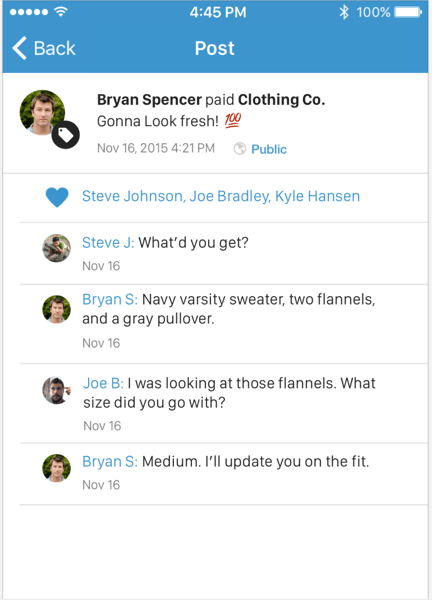 Image courtesy of Venmo for Business
What users say
"I love just about everything Venmo has to offer. It is fast to set up. Easy to transfer money from my Venmo account to my bank account. You can scan a barcode to instantly friend someone. It's made the fact that my home business can't accept debit cards at the moment, very convenient for clients who don't have time to get cash out."
— Venmo for Business review by Tracy Mae M.
Stripe Connect
Stripe Connect provides a variety of development tools and security measures to make it useful for a variety of businesses. With multicurrency support as well as a variety of available reports, businesses can expand quickly and easily both online and in-store. With the addition of mobile payment capabilities, Stripe covers nearly all the bases. Stripe also integrates with a variety of e-commerce platforms.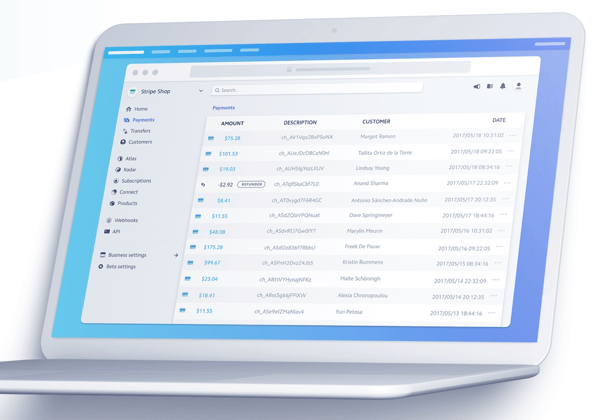 Image courtesy of Stripe Connect
What users say
"Stripe provides us with a good technical infrastructure, with which we can feel more secure in terms of preventing bank fraud. This payment system is quite easy to use, and it is quite good to integrate with Shopify. It has an excellent display in the cloud."
— Stripe Connect review by David Antonio O.
---
To learn more about the future of retail tech, check out 2019 Retail Trends: E-Shopping and Omnichannel Bring Disruption and Innovation.