Without a doubt, SEO is one of the best non-paid ways to achieve consistent, long-term results.
For as long as you rank in the SERP, you'll be able to generate passive organic traffic to your site. But for most B2B startups who are just starting out, you don't necessarily have the time or the domain authority to rank for the keywords that you want to.
This is mainly due to the nature of SEO: organic ranking takes time; SEO is not an exact science (Google doesn't openly reveal all its ranking factors); and Google rolls out new updates to its algorithms and this makes the channel extremely volatile and complex.
Non-paid ideas to generate traffic
This article is aimed at five things B2B marketers can do during the phase where organic traffic hasn't kicked in: guest blogging, monitoring the SEO of other websites, piggybacking off of Quora, contributing to relevant online communities, and collaborating with existing integration partners.
1. Guest blogging
Guest blogging tactic where you write for other blogs and get a backlink in return. But if you contribute to blogs in your niche, you can also expect some referral traffic flowing into your website.
If you are just starting out, you can find blogs that are willing to accept guest posts by searching for <your niche> "write for us".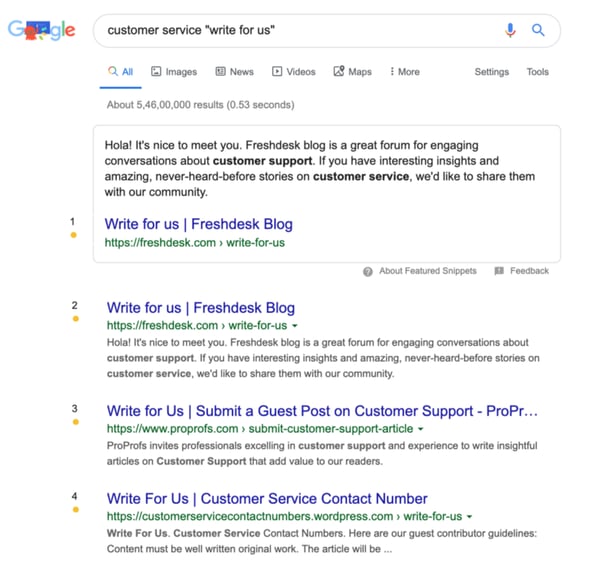 If your niche is customer service, then you would search for something like the above image.
TIP: Whether you're a freelancer or an established business/industry professional, guest blogging can be a beneficial tool to help you with name recognition, brand awareness, and collaboration with websites. G2 is one of them. Learn how you can write for the G2 Learn Hub and become a part of something amazing.
2. Monitor the SEO of other websites
Make a list of the top 10 websites that rank for the keywords that you want to be in. Figure out if they could mention your company there. Even better? Make it easy for them to mention your website or your content.



These days, we directly go ahead and attach the small write up that can be handy for the website owner. Go a step further by giving them the write-up; it makes the overall process much quicker.
Let's say you're in the 'customer service' niche. There are a few listing opportunities that you should look out for:
Top customer service blogs to follow in 2019
Free Customer Service and Support Training Resources
Social Customer Service Influencers you should follow on twitter
… and so on.
3. Piggyback off of Quora
Most marketers are now focusing on Quora because they have seen that it can contribute to traffic/leads. But instead of getting on Quora and answering every question under the sun, you might want to prioritize questions that have a lot of followers in your niche; questions that rank on SERP 10 for your niche keywords; and questions that rank on SERP 10 for your competitor brands' keywords.
Prioritize competitor brand terms over anything else as the audience is already aware of your product category. Also, competitor brand terms are the most difficult keywords for your website to rank for (even if the keyword difficulty is low).
A tool like Ahrefs should make the above process a breeze.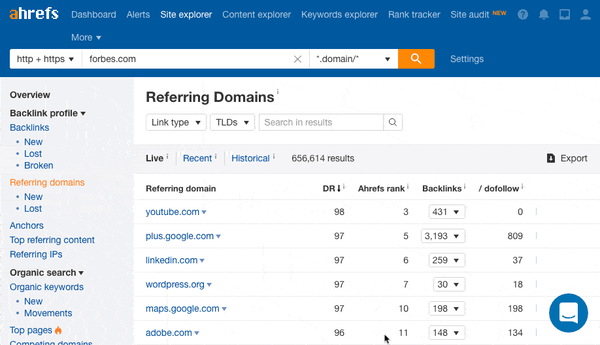 GIF courtesy of Online Money Minded
4. Contribute to relevant online communities
I say contribute and not distribute because most online communities have a strict no promotion policy. Online communities are places where your target audience hang out. So earning the respect of the community can help you in multiple ways.
You can find these communities on Facebook, Reddit, and Slack among other websites.
5. Collaborate with existing integration partners
Most software products integrate with other products that enable the product to enhance its capabilities. Integrations make your product valuable to new & existing customers.
With the product integration, why not come up with a plan to cross-promote and leverage each other's audience?
The advantage with integration partners is that they tend to have a similar target group which can be leveraged by both the parties involved. Once you form a relationship here is what you can request them to do: contribute to your blog, share your social posts with their audience, and feature you on their newsletter.
Conclusion
You might have to adapt the above ideas based on your product/industry, but if you find any of the above ideas working for you, double down on it instead of spreading your resources thin.
Curious about other ways to earn organic traffic online? Read how the G2 Learn Hub went from little traffic to over 1 million monthly organic sessions in under a year!