"New York City: the center of the universe," sings Angel in the hit broadway musical, "RENT." And cliche as that statement can be, it has merit.
New York City has long served as the United States' starting point for trends and innovations. It was, for a long time, the first port of call for those emigrating to the U.S., who brought with them their cultures and belief systems, melding their old worlds with the new.
It is a city in tune with European culture, taking cues from faraway fashion moguls, authors and filmmakers. It is the birthplace of the Harlem Renaissance and modern dance, as well as an original breeding ground for jazz.
There is no one word or phrase that can be used to describe a New Yorker, save maybe that phrase itself: a New Yorker, original and true. Native city-dwellers are uniquely innovative, breathing in the same air as the rest of the world, and breathing out something magnificently their own.
The New York City Tech Sector
This second-largest city in the world has had similar patterns in the tech industry, watching its counterparts closely and taking from their successes and failures.
"The New York tech scene is starting to resemble the traditional New York economy. Companies and investors aren't looking to make thousands of bets on failed companies in hopes [of] finding one mega-unicorn," Josh Kleyman said in a Forbes article originally seen on Quora. "Instead, we're seeing a shift towards cash cow companies that make money instead of noise."
The city's tech scene — like many of their startups — is in a growth stage, expanding both physically and in regards to the industry genres within each borough. Experts share their opinions on potential 2018 growth on AlleyWatch, predicting changes such as the growth of health tech, and the fragmentation of AI platforms.
"The Frightful Five (Amazon, Facebook, Google, Apple and MSFT, as the New York Times coined them), will continue expanding their reach across industries, causing businesses to be wary of entrusting their data to these tech behemoths," Matt Zeiler, of Clarifi, said. "These fears will incentivize businesses to host data on independent platforms and providers, supercharging the advancement of AI + data companies and ecosystems."
Additionally, Kleyman asserts in his Forbes piece that there is a lack of separation between industries and their technology exhibited in NYC, saying that "AdTech is just becoming the advertising industry, ConstructionTech is just becoming construction, and EntertainmentTech is just becoming entertainment. This change is showcasing the maturity, and most importantly, the success and stability of technology in New York."
In a city where neighboring apartments pile hundreds of stories high; where rush-hour train commuters can frequently only find space in the armpit of a fellow passenger; where crosswalks are simply a suggestion for the millions rushing throughout city streets; it's no wonder, then, that the city's tech scene would become another interconnected, blended form of life and culture.
---
Interested in a more in-depth look and firsthand commentary on the tech industry in New York City? Check out Built In NYC for articles on NYC tech news and job market information.
---
Staten Island
Four years ago, Crain's published a piece where it posited the potential for Staten Island's North Shore to leverage its not-terribly-expensive commercial space and history of broadband infrastructure. In a seemingly dreams-finally-coming-true press release, Cision reported in early January 2017 that, "The North Shore of Staten Island is becoming a burgeoning center of technology innovation in New York City, led by the efforts of the CUNY College of Staten Island (CSI) Technology Incubator … The CSI Tech Incubator is poised to have Staten Island lay claim to the economic development of the technology sector, deepening the borough's integration with the fabric of the City's technology ecosystem." It may finally be the time for Staten Island to become the harbinger and source of all internet of things. Oh, and one more thing: in June 2016, Telehouse, a global data center provider with a campus on Staten Island, hosted the very first Staten Island B2B Expo, cheekily named "Beyond the Ferry."
---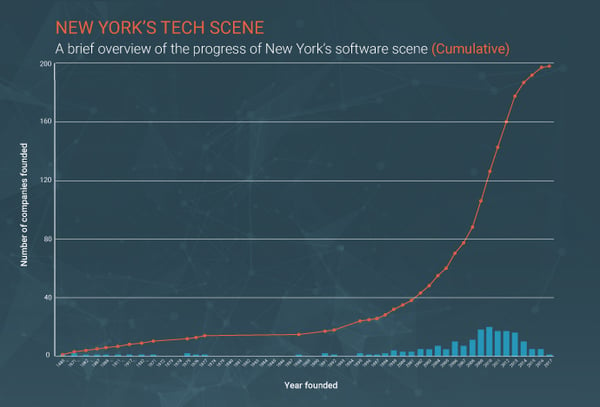 Note: Only software vendors on G2 Crowd with headquarters currently in the NYC area are included in graph.
---
New York Tech Leaders on the City's Tech Scene
Hive
"The emerging tech industry in New York is an amazing tight-knit community that benefits from the incredible diversity this city has to offer. We came from Silicon Valley to New York to build this business and it has proven to be the right decision." Toland Lawrence, Digital Marketer at Hive
Newswire
"There are so many great companies that call New York home, especially in the tech space. We feel that being surrounded by such phenomenal innovation and passion make us a stronger competitor in our market. While the evolution of our platform has been born out of need in the PR space, its the ability to listen to our clients and deliver what fills those needs is what has allowed us to continue to keep them." Anthony Santiago, Newswire Director of Marketing
We have compiled data on the state of the New York B2B tech scene that includes all of the top-rated products on G2 Crowd which have parent companies headquartered in New York. Our list is ranked by user satisfaction of a company's top-rated product. To qualify, a product was required to have at least 10 verified user reviews.
For each qualifying product, we created a company profile to recognize what that company is and does, as well as give a little insight into its history. The data relies on G2 Crowd's more than 300,000 B2B software and services reviews, or from public data sources such as LinkedIn, Crunchbase or each vendor's website.
---
Top B2B New York Tech in 2019