There is a disconnect in customer service.
Correction. There is a massive disconnect in customer service.
As the digital engagement landscape continues to rapidly evolve, one thing remains constant: customer service agents are the core of all support interactions. The popular adage you're only as good as your team fits perfectly in this case because having the best people on board supposedly makes your business stronger.
But let's say you hit the hiring jackpot and recruit the best candidates into your customer service team, you would naturally expect them to deliver the most exceptional experiences to your customers, right? Unfortunately, the reality is not that simple and is mostly definitely not an absolute yes.
Creating positive experiences every time, across multiple channels, for your customers, doesn't stop with efficiency and effectiveness. There's a huge undeniable human component that's missing from your customer interactions because agents don't feel empowered to do their best work.
And as we face the future of customer service, it's a necessary reality check that every customer-facing organization today must take.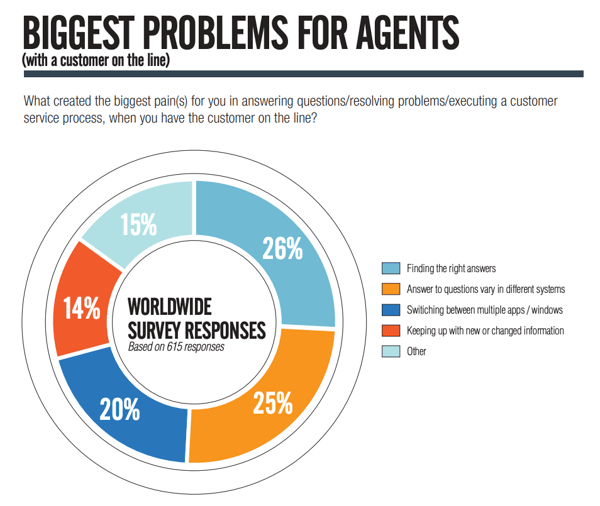 Stopping the disconnect in customer service
Let's take a look at some stats. According to Aspect, current agent churn is on average 30-50%, with next-gen agents likely to leave within a year, and 42% of service agents are unable to efficiently resolve customer issues due to disconnected systems, archaic user interfaces, and multiple applications.
With a third of agents feeling unsatisfied in their work and over 40% of agents still feeling unempowered, there is a lot of work to be done to ensure that the customer-facing teams of most organizations get the attention they truly deserve.

2018 Aspect Agent Experience Index Survey
The new X factor in the customer happiness equation
The International Customer Service Association realized way back in 1984 that the equation to ultimate customer happiness could only be solved if organizations found a way to understand the elusive X in it: AX – i.e. Agent Experience' – a holistic view of how empowered, efficient, and effective service agents are.
In an attempt to do this, the association started Customer Service Week to recognize front-line employees who deliver great service – and ever since – has been celebrated annually during the first week of October, giving organizations an opportunity to provide meaningful recognition to their customer service professionals.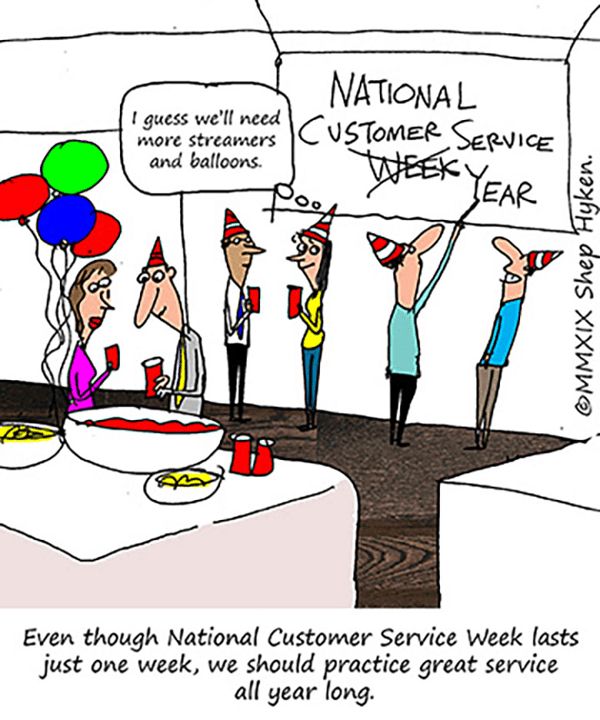 And rightfully so. The nature of customer service is evolving at an unbelievable pace. Customers are becoming increasingly comfortable with online customer self-service tools.
The remaining live calls to contact centers are often more complicated to resolve, so providing consistent high-quality customer service depends on experienced, knowledgeable agents with proper training and necessary support.
Failure to retain these talented employees can have significant repercussions: employee attrition can erode customer satisfaction while greatly increasing operating costs. Each new agent hire is estimated to cost the contact center $10,000 to $20,000 in training, direct recruiting costs, and lost productivity during ramp up.
Several studies have shown that agent positivity and commonality of experience play a big role in creating the experiences consumers want. In fact, empowered and engaged customer service agents rate their employers significantly higher than less empowered and less engaged agents in the important factors they say help them do their jobs, stay happy, and deliver better customer experiences.

2018 Aspect Agent Experience Index Survey
Bringing your A-game to customer service
The themes for this year's National Customer Service Week couldn't be more relevant to the current state of agent engagement. Here's what they highlight.
Monday (October 7th): Insight – knowing your customer and how to deliver to them
Tuesday (October 8th): Capability and Skills – identifying and nurturing customer service skills in your organization
Wednesday (October 9th): Recognition – celebrate your customer service heroes
Thursday (October 10th): Leadership – championing customer service in the boardroom
Friday (October 11th): Trust – building brand reputation and trust by delivering on promises
Each of the above themes for the year are significantly important from the perspective of delivering great customer experiences but even more so from ensuring that the agent experience is front and center.
1. Act on agent awareness
Agents are always on the frontline, talking to customers every single day, week after week thus naturally making them critical sources of insights towards understanding what customers expect from brands. Before a brand can understand its customers' needs, it must look to listen to what its agents are recommending from their various conversations and exchanges with customers.
The cumulative knowledge that agents provide can drastically improve the quality of your existing knowledge base and self-service outcomes. This not only boosts the overall information gathering process on customers but also builds the agent's commitment and loyalty towards the business for recognizing and acting on the feedback.
2. Help agents help themselves
As customer experience (CX) technology continues to evolve, so will the role of the customer service agent - going beyond wearing headsets and following call scripts – as products get better, issues grow complex and conversations become smarter. On one hand, this is laying increasing pressure on agents to be experts in everything and on the other, several managers are warming up to the concept of multi-skilling, allowing them to deliver greater workforce flexibility, maximize agent skills, lower staffing costs and boost customer satisfaction, all in one go.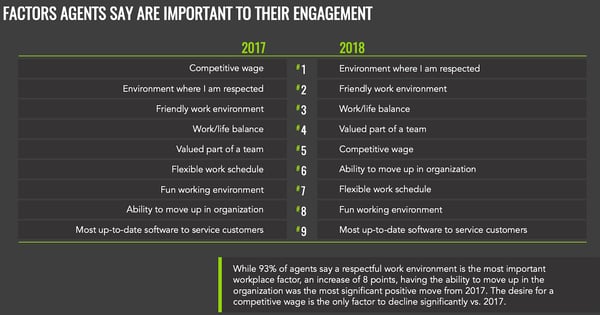 Although digital and self-serve technologies were expected to diminish the role of agents, they have actually increased it. Research shows that agents today are expected to be more versatile and multi-skilled, handling more transactions across multiple channels.
With more routine inquiries being resolved through self-serve channels, agents are increasingly called upon to handle the most complex and demanding customer interactions – the ones with the biggest impact on revenue, customer experience, customer loyalty, and brand.
To achieve all of these tasks successfully, agents need a new generation of knowledge management software tools. Agents must be provided with a unified integrated system that shows them a single consolidated view of all relevant information-customer profiles, buying history, interaction journeys - and enabled to leverage collaboration tools such as messaging, presence, video, and screen-sharing, enabling quick access to subject matter experts throughout the enterprise.
3. Empower agents to become ambassadors
Most service agents today believe that handling moderately complex or complex questions/tasks will radically improve their skills and their value to the organization. So how do you make sure your agents are maximizing the time they have with customers?
By reducing the amount of redundant and repetitive manual tasks and providing integrated technology solutions to optimize processes, streamline tasks, and eliminate your agents' need to repeat questions or spend time looking up information across disconnected databases. Make the customer service philosophy at your business align with becoming an ambassador.
Customer service is only likely to become more complex in the coming years, meaning the expertise of longer-tenured service agents will be needed more than ever to consistently provide excellent customer experiences. The stress inherent in the customer service teams will always take a toll on efforts to retain high performers; that aspect of the job is highly unlikely to change.
However, companies that strive to create a workplace where front-line employees and agents feel empowered, experience a strong sense of community and enjoy the time to connect with peers and supervisors will be rewarded with engaged employees who want to stay around longer. Success in this area will translate directly to happier service workforce, better experiences and hence loyal customers.
Use existing tools to ensure happiness among your agents
The best part is that most companies already have the necessary tools and knowledge to create happy ambassadors out of their agents: they just need to commit to using them in ways that matter the most to their service teams. And this will not happen with drawing all the focus and attention towards them just for one week in the year. It will have to be a conscious, collective and perpetual effort made every single week of every year.
Want to ensure your customer service agents are happy year-round? Study up our roundup of 101 customer service statistics that you can use to make your team thrive.