It's been over a decade since the first apps were introduced to the world in Apple's App Store, and they're not going away any time soon.
Mobile apps not only continue to be an in-demand technology amongst users but are also currently re-shaping the way many businesses operate. Statistics indicate that by 2022, annual mobile app downloads will reach 258 billion—a 45% increase from 178 billion downloads in 2017. We can expect this number to grow even bigger in the following years—there will be roughly 7 billion mobile users worldwide by 2021, so the need for businesses to continue pushing boundaries with mobile app innovation and development to meet evolving customer demands is evident.
5 mobile app development trends for 2020
For businesses and developers to achieve success from their efforts in mobile app innovation and development, they must first identify what advancements and improvements in mobile app development are here to stay—and what advancements may carry long-term consequences if not acted upon. This article will explore five trends that present potential opportunities and challenges for mobile app development in 2020.
1. AI, machine learning, and voice-enabled personalization
Mobile users are demanding more personalized app experiences that respond to their unique needs. As a result, the next wave of mobile applications will make use of AI and voice-enabled technologies, allowing them to be more intuitive and interactive, delivering truly personalized experiences.
Artificial intelligence and machine learning allow an application to learn from a user's previous actions and usage patterns allowing it to implement necessary actions without being told to do so. For example, the next time a user shops online, the app itself can guide the user to their desired products without having manually to search for them.
Voice-enabled apps will allow for similar convenience as technology continues to develop. While it is currently not possible to have a full conversation with a virtual assistant, they are becoming increasingly more efficient at understanding context. When it comes to app development, voice assistant applications enable consumers to use natural language to eliminate or reduce manual effort, making it a lot faster to accomplish tasks.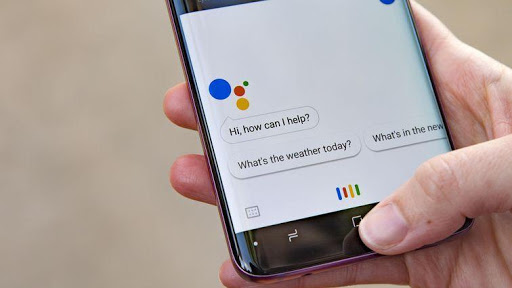 Source: CNET
2. 5G technology
For mobile app development, the introduction of 5G networks will not just influence the way people use apps—it will create a data-intensive environment that will facilitate the opening of new markets for developers.
5G networks promise to strengthen mobile connectivity and improve the smartphone experience by providing lower latency and speeding up data-sharing up to 10 times faster than existing wireless technology. This will enable organizations to automate more core processes and deliver improved applications for presenting, capturing, and sharing essential data.
3. Cloud-based mobile apps
Cloud technology has already had a large impact on the mobile app development world. Developers have tapped into the cloud's ability to store large amounts of data in cyberspace, allowing them to develop apps that are no longer limited to the internal storage limitations of physical devices.
By placing the app's data in the cloud, users can access and run apps without having to install them or worry if their internal device storage can support the app. By enhancing storage capabilities, cloud-based apps not only increase productivity but make development easier and faster, too. As we move into 2020, the popularity of developing cloud platform-based applications will rise.
4. Low-code/no-code development
As forward-thinking businesses continue to see expectations from employees and customers shift toward more digital and mobile experiences, leaders are focused on developing custom software and mobile app solutions. However, many businesses are discovering that they sometimes lack the resources needed to effectively plan and develop a mobile product in-house. For businesses in this situation, low-code/no-code development solutions are becoming increasingly popular.
Low-code development eliminates the need for in-house personnel to have a thorough knowledge of coding, and no-code development requires no coding knowledge at all. This significantly decreases the complexity of a development project. Using these platforms is fairly straightforward; the users simply drag and drop visual components to assemble an app. While low-code/no-code development platforms will not be the end of traditional coding, this trend will certainly pick-up in 2020, especially in an enterprise environment where budgets may not necessarily allow for outsourced development.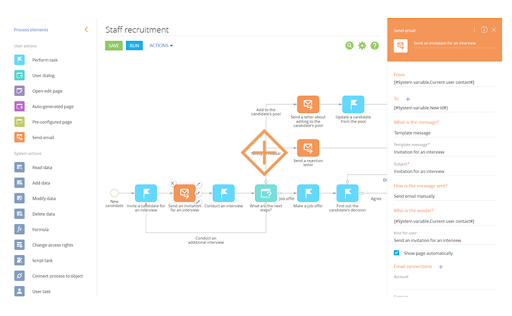 Source: Studio Creatio
5. Augmented and virtual reality
Augmented and virtual reality technology is nothing new—this technology has already been integrated into many big-name apps in both the retail and gaming industries. Implementing AR and VR technologies into app design presents developers and designers with an opportunity to create a more immersive and personalized user experience, resulting in a more engaged user.
With the release of ARKit by Apple and ARCore by Google, users can expect to see an influx of AR/VR based apps for both iOS and Android. Particularly, this trend will be highly beneficial for the healthcare and education industries.
Developing for the future
When the mobile app was first introduced, no one could have predicted that over ten years later the technology would be at the center of how our society functions. When it comes to mobile app development, it is clear that moving forward into 2020 developers and businesses need to invest in developing for the future.
By identifying trends not only in advancements to technology but in user behaviors and preferences as well, mobile app creators will be able to adapt and deliver technology that provides real value in the everyday life of its users and ensure that mobile development will continue to evolve for years to come.