Brands and marketers try to base entire strategies around this one age-old question: what do customers want? But first, let's talk about what customers don't want.
Generic advertising blasts. According to an Epsilon survey, 63% of consumers are extremely annoyed with generic advertising blasts.
A less-than-ideal shopping experience. Thirty-three percent of Americans have said that they would consider switching brands after a single instance of poor service. Seventy-four percent of consumers switch brands if the purchasing process is too difficult.
Companies that never listen. Every customer complaint ignored is 26 customers lost. Most means of collecting and analyzing customer feedback is outdated and in an era of "cancel culture", this can spell disaster. So, what do customers really want and how can location-based marketing help?
Customers want location-based marketing
It's simple, really. Customers want more. They want personalized experiences, ethical data collection, and experiential retail.
Hyper-personalization
Ninety percent of consumers claim to find personalization appealing. The only problem? Brands know that personalization is important. But brands are either using the same techniques as their competitors or they don't know where to start because that spending has not yielded results. Eighty percent of consumers think that brands are not tailoring content.
Location-based marketing can change all of that. It can take personalization to a whole new level.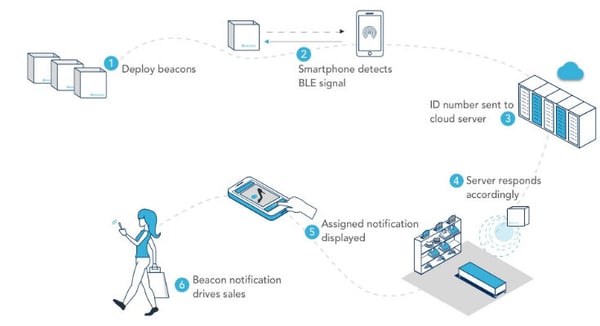 Say, a customer walks into Nike and is looking at tennis shoes. Their Nike app pings to let them know there is a special, exclusive offer on tennis shoes. Brands like Sephora, Macy's, Walmart, Amazon have successfully leveraged the power of beacons and location-based marketing.
Ethical data collection
In the wake of data breach scandals like Equifax and Cambridge-Analytica, consumers want personalized experiences but not at the expense of losing control over their data. Ethical personalization calls for technologies that can deliver relevant and contextualized content without asking for too much or any information.
Location-based marketing tech wins again. Beacons do not collect or store any information. They are merely Bluetooth transmitters and can work in tandem with automated customer services. There are beacon-aware apps that do not require consumers to sign up or give away any information at all.
Technologies such as QR Codes or NFC do not even require an app. All the latest smartphones can natively scan or tap to reveal engaging content.
Experiential retail
Not only do brick-and-mortar stores have to compete in the physical retail landscape but they also have to keep up with e-commerce companies that offer convenience at exciting prices. This has compelled brands to redefine what it means to shop by creating immersive shopping experiences that defy customer expectations.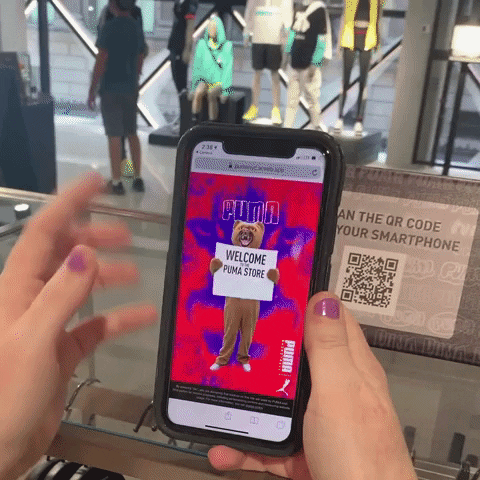 PUMA's flagship store delivers augmented reality through the use of QR Codes. Customers can scan a QR Code and take pictures with PUMA's mascot. These customers end up becoming micro-ambassadors and pushing out user-generated content which benefits PUMA significantly. Eighty-five percent of consumers find visual user-generated content far more influential than brand photos or videos.

Nike's House of Innovation 000 in New York is another prime example of a brand that offers radical experiences. From floors that evolve with the products to creating Instant Checkout Stations with a QR Code, Nike has redefined experiential retail.
They are also rewarding loyalty in several ways. NikePlus members are offered exclusive VIP content. Shop the Look allows members to scan QR Codes on in-store mannequins and have those items brought to them in fitting rooms. Members can even reserve products and unlock deals as they step into the store.
Customer feedback and customer-backed inventory
Amazon's 4-star store is taking customer feedback to a whole new level with customer-backed inventory. Only products rated 4-star and above online are available in the store.
To implement a similar solution, location-based marketing tech like QR codes and NFC tags can be deployed in product aisles as well as checkout counters that get consumers to leave valuable feedback with a single scan or tap.
Location-based marketing: the tech behind it
You've probably already heard of beacons, QR Codes and NFC technology before. But location-based marketing isn't limited to these. Geofencing and WiFi marketing are also part of the same universe. So, how do you decide which technology to use?
It comes down to several factors, like the size of the business, preference for app-based vs. non-app based solutions, installation and running costs, target demographic and use-case.
Beacons and geofencing are app-based solutions that serve brands well for middle-of-the-funnel use-cases such as improving customer experience, customer retention, and engagement rates.
While they are cost-effective and do not require any installation, enterprises are more likely to benefit from these solutions given how an app is a necessity to deliver relevant notifications.
WiFi, QR Codes, and NFC are non-app based solutions that require users to interact with it giving users back the power to decide when they want to be marketed to. These technologies serve brands and businesses well when it comes to attracting walk-ins, driving in-store traffic and offering experiential retail.
QR Codes and NFC tags are extremely cost-effective and in some cases, free. There are dozens of free QR Code generators that allow you to create QR Codes within seconds that you can use to test with a smaller audience before deploying a large scale solution.
Do you always need tech to implement location-based marketing?
Yes and no. Flyers and billboards are the OG of location-based marketing and they still work.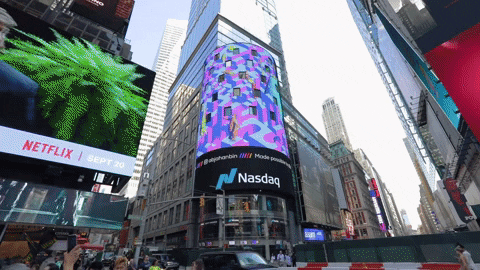 Apple. Google, Netflix, Bitcoin are all still leveraging good old-fashioned billboards. Measurable channels like radio, print and television ads have actually declined in prominence. Billboards and OOH ads are expected to grow to become a 33 billion dollar industry.
But there's a twist.
These billboards are outfitted with third-party technology that collects foot traffic data or beacons that send out contextualized notifications allowing advertisers to finally understand the number of users exposed to their ads who then go buy their products or services.
Flyers, too, have received a minor upgrade. They have a QR Code printed on them that connects the offline and online world and makes it easy to track analytics and start retargeting users online on Google and Facebook. Now let's look at brands that have implemented location-based marketing really well.
1. Burger King
The rivalry between Burger King and McDonald's is the stuff of legends. Who can forget their 1 cent Whopper deal? All a customer had to do was be within 600 feet of any one of the 14,000 McDonald's restaurants and order the Whopper from the Burger King app. Once they placed their order for 1 cent, the app navigated them to the closest Burger King for pick-up.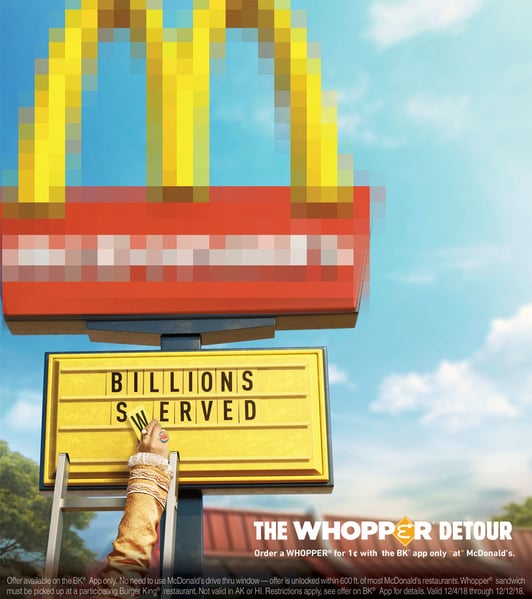 This devious plan used app-based geofencing which triggered a change in prices as a user entered the geofence around McDonald's.
2. Sephora
Determined to become the leader in digital beauty, Sephora uses a mix of beacons and Augmented Reality served through their mobile app. When shoppers enter the store, the app prompts them to switch to Store Mode allowing easy access to features such as looking up product ratings, reviews, past purchases, wish list, scannable loyalty cards making the whole experience extremely seamless.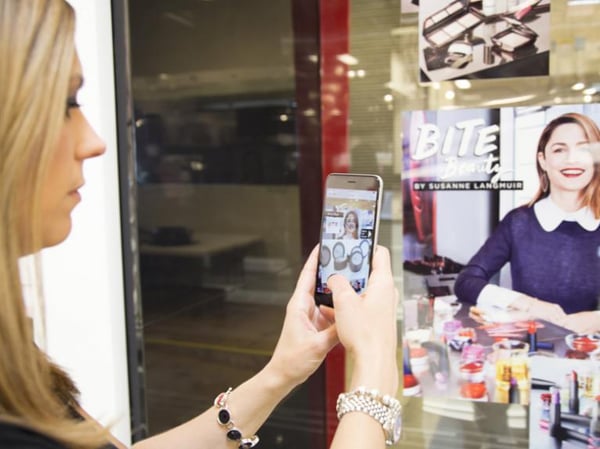 3. PUMA
PUMA's flagship store employs QR Codes to create user-generated content and also allows customers to look up additional information on all products by scanning QR Codes.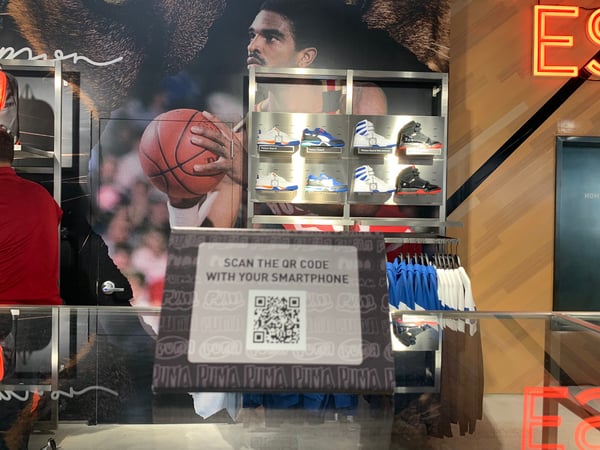 4. Decathlon
It is nearly impossible to walk into a Decathlon store without encountering a QR Code. From allowing shoppers to check out product reviews to videos that show them how a certain piece of equipment is to be used, QR Codes are ubiquitous.
Perhaps the best customer experience they have been able to create is the 'Scan and Go' that saves precious time at checkout. All a shopper has to do is scan QR Codes to add products to their virtual shopping cart, make the payment online and leave. The items are delivered to their home in no time.
5. Nike
Nike launched NBA Connected Jerseys which allowed wearers to win exclusive gifts like courtside seats, autographed jerseys and early access to products. To unlock these gifts, all users have to do is download the NikeConnect app and tap the NFC tag on their jersey to get started.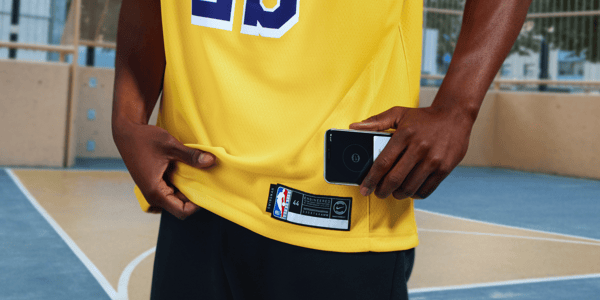 The future of location-based marketing
We've already seen how location-based marketing tech is being used in tandem with AR to deliver surreal experiences. While e-commerce has threatened the existence of the physical retail landscape, flagship stores like Nike and PUMA continue to show us what the future of retail could look like.
Over 50 percent of consumers don't like shopping online because they are not able to touch, feel or try a product, 24% of shoppers want a physical shopping experience and about 4% do not like the delay in delivery (Brizfeel). That explains why location-based marketing, especially proximity marketing, is predicted to grow by US $71.3 billion worldwide.
The future is all about connected experiences where the average consumer can walk into a store, experience a product and purchase it offline or online seamlessly and have a novel yet consistent experience every time.
To make the shopping experience valuable for your customers, implement location-based marketing tactics and use the right e-commerce platform. Find e-commerce software solutions for your needs on G2.