One of the most significant keys to a growing SaaS business is lead generation.
What comes next in the game is lead conversion rates and other aspects of upselling, retention, and managing churn. However, all this only works when you have a successful strategy in place to keep the leads flowing in.
According to HubSpot, a buyer's journey can be broken down into four stages: attract, convert, close, and delight.
How to determine a lead generation strategy
Understanding and specifying your buyer persona.
Creating content to attract your audience.
High converting elements on the website (CTAs or Popups or Forms).
Consistency in traffic generating channels.
9 lead generation ideas for SaaS business
So, let's get started to understand some unique lead generation tips – particularly for SaaS businesses – along with some examples that have proven to work for many.
1. Add exit intent pop-ups and offer valuable downloads
Any interruption in between your experience while browsing a website can be annoying. However, while exiting, it may not be.
Users might be done checking out your website, so this is a good opportunity plug in your offering, and it really works. Exit-intent popups have helped BitNinja (B2B SaaS model business) get 65 percent more leads.
Getting visitors on your product pages is a big thing in itself. Emails are the primary way to engage these visitors, and if they don't sign up for your product immediately, exit popups are a way great way to capture their email addresses.
Why do users exit websites without performing a call-to-action (CTA)? It could be that there was an intent mismatch, pricing concern, or they could be looking at other options in the market. So, based on the intent of the page, you can use different types of exit-intent popups.
A few examples you can use for your SaaS business today if someone is exiting from your pricing page include:
Offering users a PDF of the competitive analysis of your product vs. your competition
Giving educational content based on your product features page
Requesting a demo popup on the pricing page
Kamel Ben, a B2B SaaS Marketing Consultant, points out how businesses can go a step further than just creating ebooks as lead magnets:
Spreadsheets: Think about any spreadsheets that make your prospect's life easier on a day-to-day basis.
Resource lists: Consider sharing resources and tools that your audience may find valuable.
Reports: Provide custom reports to your audience.
Cheat sheets: People love cheat sheets. They're short, actionable, and valuable. Create a one-to-two page PDF file that has top tips to help a person burn through a particular process that might have taken them a lot longer without it.
Checklists: Similar to a cheat sheet, create a short PDF with actual action items to take to achieve a desired result.
Templates: Create templates from repetitive things in your market that have to be done.
Resource library: Create a resource library. You could use something like Basecamp, Notion, or Google Drive to do this and offer it as a lead magnet.
Implement any of the above in your lead generation strategy, will help increase your leads. Once you have more lead email addresses, you can personalize email campaigns and nurture these leads to convert them to paying customers.
2. Collect visitor data on the website using forms

Forms are a great way to collect user data and do more with this data.
The best way to use online form builders is using interactive questions and asking as little as possible, while gathering insights. That's tricky, but creating engaging forms is an art in itself. Instead of clicking on a CTA and then filling out a form, eliminate the extra step by implementing interactive forms on the website itself.
For example, Notion captures email address via a lead capture along with CTA right in the first fold itself.
Read about an in-depth case study on how HubSpot used Typeform's interactive forms to boost their lead generation.
3. Using live chat and chatbots for lead generation
The chatbot was a revolution in itself, wherein every company understood the need to implement one for more conversational marketing and understanding website visitors to a greater extent.
Not just that, but companies have started to use conversational chatbots that can be implemented on high traffic generating pages, engaging with website visitors.
The main aim of live chatbots is to prompt users to engage in a conversation and, of course, generate leads. They're also a channel for lead generation.

If at all, user queries are often not solved by a bot itself. Therefore, requesting an email address to contact them with additional details to their query gives you a lead.
4. Blog content

Your blog is your content hub. In fact, the most high traffic generating pages could be some of your blog posts.
Utilize this traffic by adding interactive pop-ups prompting users to download a PDF version of the blog post for a later read, subscribe to your newsletter to hear more from you, or check out any of your other offerings – like a webinar, podcast, and so on.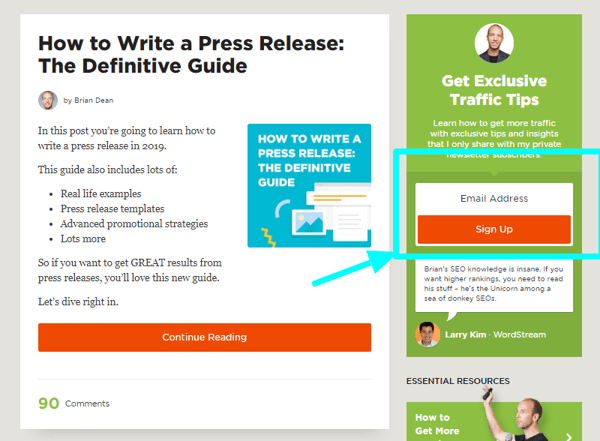 5. Pre-launch of your SaaS product

Even before you launch, you can understand the demand for your product and gather leads of interested users.
These leads are the most relevant and important to your business; they provide you with feedback to further improve your product. If you're looking for further instruction, check out this pre-launch checklist for a SaaS product.
6. Product listing and review sites

For buyers, product listing sites, like G2, are the go-to website to check out the reviews and understand the top players in a particular niche.
If your SaaS product is listed on the most relevant categories of these websites, it promotes your brand to a huge audience. If someone's interested to know more about your brand, they'll end up contacting you via the contact forms available.
In this case, users can request a demo by filling out a form.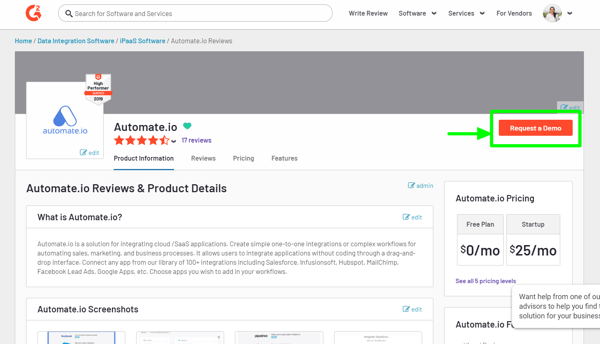 7. Use social media to generate leads

While there are lead generation opportunities on both Linkedin and Facebook, Facebook Lead Ads are preferred over LinkedIn ones based on cost.
Facebook Lead Ads make lead generation very simple and cost-effective in the pay-per-click (PPC) area compared to other channels. Facebook Lead Ads work the best when optimized for the right audience, targeting, ad copy, and design.
Next time you launch an ebook, re-target your blog visitors on Facebook to generate leads. Learn more about Facebook Lead Ads from Adespresso's Guide.
8. Referral marketing

Referral marketing has been around the corner for a long time now, and many businesses have already tested it; it works wonders to increase word-of-mouth and generate highly-relevant leads.
We all love goodies. Who wouldn't love to get rewarded for referring a customer to your business with that new customer also getting a bonus or credit? The best way to reward your referrers is to add credits/points/any key item of your product in their accounts. This not only makes them feel important, but also makes them more loyal to your brand.
One such example of this how Notion and Airtable add credits to your account if a user sign-ups for their products using your referral link.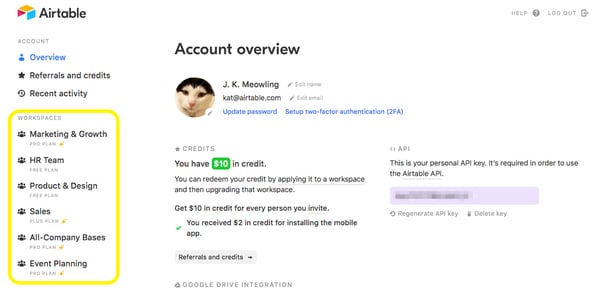 Source: Airtable
9. Co-marketing activities

Co-marketing is a key way to tap into a newer audience that you've not been able to address through organic channels. Some ideas you can implement for co-marketing activities include: webinars, podcasts, ebooks or other collaborative works, and Twitter chats.
Each of these would have heavy promotions by either of the brands involved through their newsletters, social channels, or websites. That's how you get access to this new audience to further educate them about your product and convert them to customers.
While some of these may not end up directly generating leads, they will help get more visitors to your website and, in turn, generate leads from there!
Conclusion
Each business is different in its offerings and services, so it's important to understand that one stand-alone strategy won't work for everyone. There isn't any set rule to generate leads, and it's all about experimenting what works for you.
So, pick up the strategies that suit your business the best, experiment, track whether you're able to generate leads, and optimize the channels that work best for you. And make sure to find the best lead generation software to help you get started today, only on G2.