If you look at your phone right now, it's likely you'll see the Instagram icon looking back at you.
Click it and you'll instantly find yourself in a world full of your colorful photos, videos, and ads. Instagram marketing is crucial when it comes to promoting your products or services.
For instance, Instagram has more than 500 million active users per day. What's impressive is that its popularity has seen a phenomenal rise since 2013 when only 90 million people used the monumentally popular photo-sharing app.
Instagram mistakes: identifying and fixing them
With 1 billion users annually, Instagram is likely to overtake other social media platforms as the most famous platform that marketers choose to develop their next marketing strategy.
Graph courtesy of Statista
So, now that you've thought about how to feature your business on Instagram, you're one step closer to success. However, when you check the numbers, you might discover that things don't look as great as you were hoping. What happened?
Common mistakes like wrong hashtags or repetitive content are what keep you and your brand from nailing your Instagram marketing strategy. To make sure that these rookie mistakes won't happen to you, you need to get yourself acquainted with the losing side.
Ready to take your Instagram to the next level?
Download The Beginner's Guide to Instagram and get started 🚀
13 rookie Instagram mistakes you should avoid
The following list of mistakes are ones you should avoid at all costs in order to ensure you take care of your brand image to the highest possible level.
1. Making promises you can't keep
Instagram giveaways are one of the best strategies to enhance brand awareness. However, brands that come up with unrealistic giveaways are setting themselves up for failure.
Sunny Co. Clothing's failed swimsuit giveaway showed us that an audience will remember brand mishaps months after the incident.

Avoiding unrealistic giveaways can benefit your brand even if you think that these type of giveaways are the only strategy for more Instagram followers. Your brand reputation is key for brand survival, so being honest is better than making false promises.
2. Forgetting Instagram video ads
Your Instagram brand photos are amazing. But do you know what's better? Video ads!
As visual creatures, humans find images and videos with compelling storytelling easier to process than plain text. Video ads are more effective than single images; according to Instagram, users spend over 80% more time watching videos than they used to. When you forget to utilize videos, you leave out a powerful tool that will boost your brand awareness and customer engagement.
Let's take a look at Feetup's Instagram video ad.

Showing your product in action is one of the best ways to influence people's purchase decisions. Why? Well, they can see with their own eyes what the product is capable of in real-time, proving whatever claims your brand is making.
Video ads can be incredibly useful when it comes to increasing your sales through social shopping. As you can see, when your followers see something amazing, they will tag their friends to let them know.
TIP: Learn more about how Instagram Shoppable can boost your business' customer engagement and sales.
3. Click-baiting your stories to get traffic
Unlike videos and photos, stories are something completely different, and you should be really cautious when posting yours.
Because Instagram stories can be an excellent tool to build your audience, you should never come up with shady tactics to make followers click on them. For instance, when the following Kawei Ni Story appeared on their followers' Story feed, it immediately sparked controversy.

When they noticed the single hair sitting on top of their mobile screens, Kaiwei Ni's followers reached for it. What they didn't realize was that the hair wasn't actually there, but digitally added to appear so.
Misleading your followers with ad tactics like this will only lead to disapproval and question your company's morals and tactics. So, effective Instagram story ads should feel authentic, straightforward, and be focused on giving solutions rather than becoming a means to an end.
4. Favoring growth over personal interaction
When you choose a powerful social media platform to promote your brand, you should keep in mind the golden rule of social media content. User engagement and personal interaction are two things that marketers tend to sacrifice when their audience grows to a size beyond their expectations.
While more followers equals greater brand awareness and engagement, forgetting to humanize your brand will only lead to a dead end. Consumers want brands "to be like them, a part of them, or in a relationship with them."
With this in mind, let's take a look at Lululemon's Instagram replies:

Lululemon's social media person is connecting with followers on a social, personal level, thus "humanizing" the brand and person behind the screen. Simple interactions like these can turn a big, impersonal, and unapproachable brand into a friendly neighborhood company your followers will invest in and appreciate. As well as see a huge spike in your net promoter score if you run those types of surveys.
5. Using the wrong hashtags
Since their introduction on Twitter back in August 2007, hashtags have taken over every single social media platform across the web.
Their way of simplifying content searches in fast-forward communities like Instagram and Facebook have contributed to a success that has even generated countless hashtag myths. One of them reads as follows: "If you use all 30 available hashtags, Instagram will punish your post."
The reality is that having a lot of hashtags won't give you a penalty. On the contrary; the more you have, the more exposure you'll get. However, if you lose the point of hashtag selection, you will cause major follower confusion that will frustrate and disengage them.
Your first priority when you promote your business on Instagram should be researching your hashtags to avoid misdirection. Incomplete or no hashtag research can lead to ridiculous mishaps like Warburtons' #crumpetcreations.

With their hashtag, Warburtons crossed into another culture that had nothing to do with their crumpets.

As a result, their competition hashtag made things awkward for people searching about the product. You can clearly see that not all photos under the hashtag correspond to actual crumpets. This shows us that before trying to make a hashtag popular with your brand, you should do your research first.
6. Adding content that is overly promotional and non-inspirational
Exclusively posting promotional and sales-y content is one of the most common Instagram mistakes that rookie marketers make.
In an attempt to build a loyal audience fast and see their sales rise, some marketers come up with content that will provide nothing more than a pressuring call-to-action (CTA). What you need to do is to come up with inspirational photo and video ads that will reveal your company values rather than pressuring your followers to click, buy, and engage without giving them something in return.
Cheap promos will be a major deal-breaker and cause of distrust towards your brand. So if you want to promote your business, do it through motivational videos like Nike does.
Getting Instagram inspiration from brands like Nike will help you come up with a similar, yet unique strategy that will elevate your brand in no time.
7. Posting low-quality photos
Can you tell who she is without peeking at the comments?

To give you some insight, it's Selena Gomez; to be more accurate...a photoshopped version of Selena Gomez.
Photoshop has been a tool in marketers' arsenals for a very long time. When you know how to use it right, you can refine your photos and make them incredibly appealing. But here's the catch. When you post your products on Instagram through influencers, you have to make sure that your photos are high-quality and don't become famous for their photo editing mistakes.
Professional photos with original concepts are what your followers look for when they browse your Instagram profile. Photos that look fake will hurt your brand image, so the best course of action is to keep photo edits under control to avoid low-quality photos. Using high-rated photo editing software will enhance the legitimacy of the photo content you're sharing, giving your brand an advantage over others.
8. Using repetitive content (or reusing old content)
Coming up with your next best post takes time and creativity that will surprise your followers and lead them to your desired CTA. However, creativity is a concept that sometimes can be a little tricky.
When you can't come up with a fresh idea, you might decide to recycle a previous post that was successful. However, this "clever" idea is anything but. In fact, 49% of consumers dislike repetitive content. This statistic calls for stricter ad filters that will minimize engagement with repeat posts. Repetitive content can become a major issue that will discourage followers and build distrust toward your brand.
TrustyShoppe, for instance, uses three identical images in three different posts with slightly different text.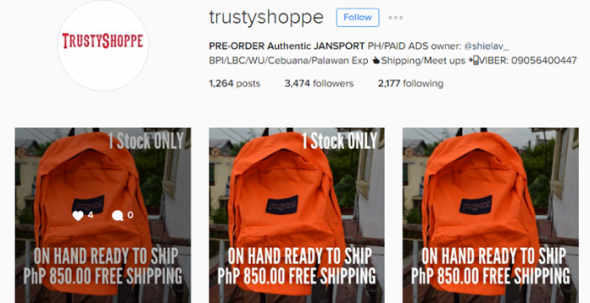 In doing so, they fail to incorporate the brand's trusty and creative character. If they consistently reuse or repurpose previously-posted content, it looks as if they're fresh out of ideas.
So, if your brand reuses and repurposes content, people are going to assume that you've run out of fresh ideas for your brand in addition to your brand marketing strategy.
9. Mistargeting your content
Mistargeting your content can turn out to be another mistake that will cost you time, money, and potentially some loyal followers.
When you plan your next campaign, you have to consider whether your target audience will like what they see or not. Funny or catchy content will be able to do the trick. However, when this type of content is designed for the people you want to buy your product rather than the people who will buy it, serious problems can surface.
To give you a clear idea of mistargeted content, take a look at Benetton's post and the comments.
Benetton's tagline, "Sorry ladies. Girls not allowed!" caused a major backlash over Benetton's boys-only clothing ad that translated into comments accusing them of being sexist rather than playing on the "boys only" "girls only" childhood games and fun people are used to.
10. Issuing apologies for controversial posts
Your content should be pleasant and inspirational without any discriminatory elements. So, if you make the mistake of posting something you first thought was playful and funny, but came across the wrong way (offensive, poorly timed, in bad taste, etc.), then your next movie is to publicly apologize for it.
For instance, Tarte Cosmetics reshared a meme they thought was harmless fun and gave an outlet to connect with their audience of mostly female, relatively young, social media-savvy people. However, they missed the mark by not realizing that the meme included an insensitive word associated with a racial slur.
An insensitive post will create negative emotions among your followers, some of who may claim they are tossing your brand to the side after an instance like this. Despite Tarte addressing the issue and claiming full responsibility, their insensitive joke cost them loyal fans.
11. Taking Instagram analytics for granted
You've created your brand, planned your strategy, and come up with an awesome Instagram marketing plan to increase your brand visibility and revenue. Now all you want to do is sit back and watch your impact blossom.
As enticing as that sounds, neglecting to collect data that will show you whether your Instagram engagement is successful or not can prove fatal. Checking your Instagram analytics is one of the simplest ways to get to know more about your audience.
Graph courtesy of
Pryma Marketing

However, a lot of marketers forget to monitor their user data. Monitoring impressions, demographics, and user activity will give you the chance to better optimize your posts for your target audience. Forgetting to check your analytics can lead to less engaging posts that won't suit your target audience's needs and interests.
12. Having boring Instagram bios without links
Instagram's rule of prohibiting clickable links on your posts has limited your chance of driving direct traffic to your website. Nevertheless, Instagram allows users to use one external link in their bios, allowing you to redirect followers to a website.
Forgetting to put a link in your bio limits the valuable connection between your account and your site. When this lack of connection is paired with a boring bio, then your followers are likely to search for another brand that's more appealing.
The best Instagram bio doesn't need to be lengthy and full of emojis to be successful. The recipe to success can be found in a few inspiring words meant to make your CTAs visible.
For Starbucks, winning followers and converting them into loyal customers happens with one powerful bio and link at a time.
13. Committing copyright infringement
Have you ever seen a cool work of art and thought you'd like to include it in your project?
If yes, then you should start getting yourself acquainted with copyright infringement, including famous copyright infringement cases that'll show you that when it comes to stealing content (which is known as plagiarism), you need to be prepared for the consequences. Such cases can cost you valuable time and money. And when the public discovers the copyright infringement, you'll have to deal with negative disposition.
For example, Kendall and Kylie Jenner's Vintage Tee Collection featured dead artists without approval from their respective estates, which was the reason the duo had to recall the line.

Breaking copyright law and building a brand at the expense of someone else is a serious mistake that every respectable marketer should avoid. Innovation and creativity are traits a marketer should seek instead of copying or stealing content.
Takeaways
The world of Instagram marketing is growing rapidly, so much that it can be hard to keep up. However, getting the majority of Instagrammers to like your brand will help you build a longstanding, well-known name. Knowing which things to avoid, even if you've made some of the mistakes listed above, will help you become a successful marketer who can master the ways of Instagram marketing.
Learn from your mistakes, try to improve, reach out, be straightforward, and in no time you'll have a mistake-free Instagram marketing strategy to capture your followers!
Want to learn more? Read our guide on how Instagram influencer marketing affects your brand's overall marketing strategy!