Several years ago, no one could have predicted that Instagram would become the second most engaged network after Facebook.
As one of the fastest-growing social media platforms with a solid user base, Instagram has great sales potential that attracts more and more businesses, so Instagram marketing isn't optional.
But with over 25 million business profiles on Instagram, it's getting difficult to stand out to your customers. What is more, 2 in 3 of business profile visits come from non-followers and you have just 2.6 seconds to make the first impression of your brand and hook your profile visitors. If you're not one of the world-known brands, chances are that your visitors know nothing about your company, so you need to prove them your business is worth following.
The solution? Create eye-catching Instagram bios that draw your target audience's attention.
What is an Instagram bio?
One of the first things your profile visitors will see is your bio as it's displayed prominently at the heart of your profile.
Instagram bio definition
An Instagram bio is your visit card that makes the first impression of your company: it tells people about your business, communicates your brand positioning, and encourages profile visitors to follow you on the platform and become customers in the future.
Being limited to 150 characters and one website link, it takes time and effort to write creative Instagram bios that attract followers. However, there are some elements that help to convince visitors quickly understand whether they want to follow your business.
What makes a perfect Instagram bio?
A perfect Instagram bio is not just about 150 characters; it's also about an Instagram aesthetic. Since people quickly scan your profile before deciding to follow you, it's important to know what plays a big role in making a positive first impression.
Here are key components of your profile:
Profile photo
Text block
Profile tags and hashtags links
Website link
Contact options
Instagram Stories Highlights
A good example of a strong Instagram bio is ASOS: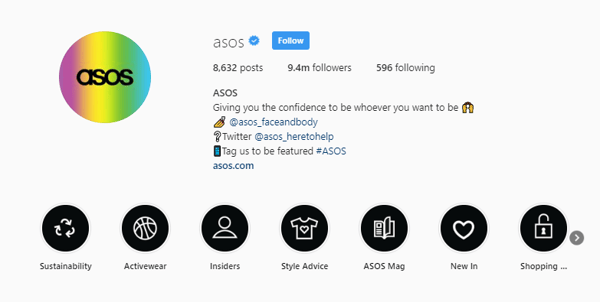 Source
ASOS has a widely recognized logo as the profile image, hints at what customers can get with the company's products, includes a profile link to cross-sell cosmetic products, tells visitors how to contact their customer support on Twitter, helps customers get featured on the profile, and has a website link to let Instagrammers find out more about the company and its products.
TIP: To make the most out of your Instagram bio, make sure you've switched to an Instagram business account that offers several unique features like contact buttons. And if you already have one, let other people know what you feel about the platform so they can make better decisions about their social platforms!
How to write an Instagram bio (6 tips)
Wouldn't it be great if you could learn Instagram bio tricks from popular brands? Find out how to write eye-catching Instagram bios that grab visitors' attention and make them want to follow your brand.
1. Think about your business goals
Instagram bios represent your business and communicates your brand's unique personality. However, you're limited to 150 characters, so it's important to be picky about what you write in that small space. This means you need to understand what business goals you want your Instagram account to accomplish.
You can build an Instagram presence like Levi's does:

If you want to communicate your brand's principles and views, take a look at Nike:

Or learn from Lancome about how to show off your brand's personality:

If you want to increase brand loyalty and trust, you should know your target audience well and write a copy that draws their attention.
A good example of this strategy is Old Spice:
Since a good bio needs to tell your visitors what your business is and what you do, it's important to prioritize your objectives to ensure that it conveys the right message to your target audience.
2. Tell visitors about your company
It goes without saying that your Instagram bio must provide visitors with information about your company and its values. To attract your audience, you need to know the most important information your potential customers may want to know about your company.
For example, you can inform your visitors about your products and the ways you use to improve customer experience. Since 60% of users discover products on Instagram and some of them make purchase decisions in-app, it can be a good idea to tell more about your products, special offers, and delivery methods.
Here's how Lulus does it: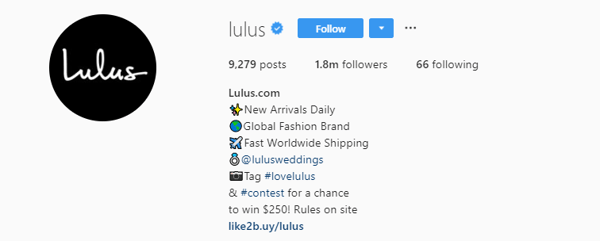 Some brands use Instagram marketing to show the company's personality. For example, with the growing popularity of green marketing,
Well Made Clothes uses its bio to demonstrate social responsibility, and therefore attract the right brand's audience:

As one of the most popular fast-food chains, Taco Bell has a slogan as a representation of a brand, and the company puts its slogan in Instagram bio to keep it short and sweet:
There are many ways to spread the word about your company, but you should know your target audience's needs and wants before telling your visitors about your brand, values, and products. All in all, your Instagram bio must predict potential questions about your brand and answer them.
3. Add profile tags and branded hashtags
Back in 2018, Instagram rolled out another great feature to personalize your bio. The platform allowed users to add hashtags and profile links in bio. These tags become live links that lead to another profile page or a hashtag "gallery." This feature allows companies to highlight the most important information about the brand and let visitors discover more about your company right from your bio.
The most common way to use profile tags and branded hashtags in bio and encourage user-generated content is to tell your visitors how to get featured on your business profile.
A good example of this strategy in action is Topshop:

If you want to humanize your brand, you can show people who stand behind your company.
For example, Artificer Coffee tagged its founders in their bio: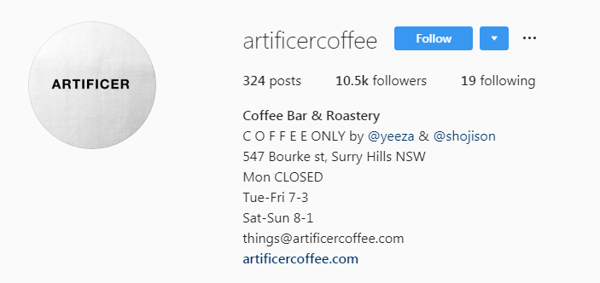 Or you can cross-promote different locations like G&B Coffee does: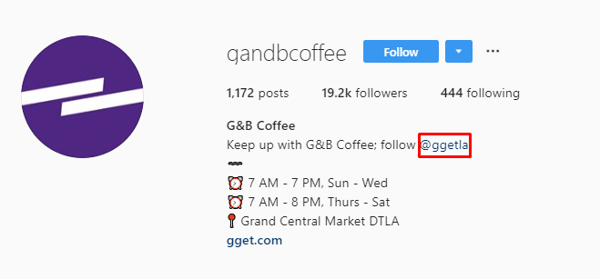 Another great example of using profile tags comes from Glow Recipe.
Since the company has a worldwide audience, it uses Instagram bio to hint its users where they can order their products online, depending on their location: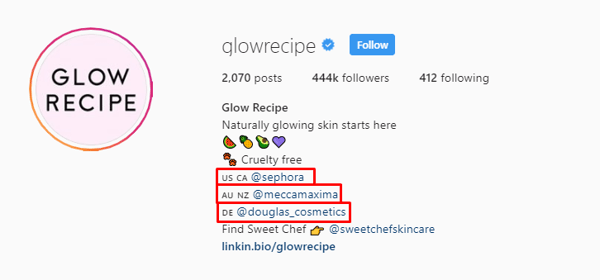 It goes without saying that almost all brands use hashtags to boost engagement. However, just a few of them promote their branded hashtags in the bio. With the clickable bio hashtags, users can tap on it to find other posts with the same hashtag. And here's how
Dove uses profile hashtag to promote its #ShowUs campaign that shatters beauty stereotypes, and therefore help women believe in their beauty:

With hashtag and profile links in your bio, it's easier for companies to tell more about the brand and express their values or promote its branded hashtags right in your profile.
4. Insert a call to action (CTA)
If your bio depicts your business, that's great. And if it clearly tells visitors what next steps they need to take, that's even better. Thus, using a call to action (CTA) copy is important to ensure your visitors know what they need to do after reading your bio. Whether you want them to check out more about your company or follow you to stay tuned for more, you should know what action they need to take next and hint them at it.
Just take a look at Michael Kors.
The company wants its Instagram visitors to discover more about the brand and its products, so it uses a call to action that encourages people to explore its world:

If you want to increase ecommerce sales, you can encourage visitors to discover your products right in your bio.
For example, Zappos lets visitors tap on the link to shop:

For most brands and companies, it's important to educate their audience and prove their niche expertise.
When the Keep A Breast Foundation launched its useful app, the company added a download link and informed users about it:

Call-to-action (CTA) button copy also has a great impact on your visitors by directing them to what they should do next. When writing your CTA, think about power words like 'get, buy, shop, discover, etc.' to encourage your visitors to take your desired action faster.
5. Insert a website link
It's nearly impossible to write everything about your company with a 150-characters limit. Luckily, there's a proven way to improve your Instagram campaign and drive website traffic - clickable Instagram bio links. Since customers will never grow tired of useful information that helps them understand more about your company and products, it's important to let them find out more with ease.
With a clickable link to your website, you can let your visitors browse your site, and therefore learn more about your company.
Since Instagram allows users to add just one link, most brands like H&M chooses the link back to the website's main page:

If sharing one link isn't enough to promote your company and products, you can increase Instagram bio links.
Here's an example from Mailchimp:

Unfortunately, Instagram doesn't allow users to post links in posts. Users or brands also cannot add links to Instagram Stories until you've reached a minimum of 10,000 followers. For most brands, adding an Instagram bio link is the only way to expand your word limit and tell more about your company. As you can imagine, it's immensely important to make the most out of this feature.
6. Make your bio creative
Instagram has become a popular marketing tool for many brands that want to promote their products on social media. However, modern users get a large amount of branded information daily, so they don't want Instagram to be too salesy. Because of this, it's crucial that brands stay creative on the platform to deliver their brand message in an interesting and funny way. When it comes to Instagram bios, being creative is a proven way to stand out from the crowd.
The easiest way to add creativity to your bio is to make it more readable and scannable. People perceive short sentences better, so it's a good idea to break up the text block.
Just take a look at Zalando:

You can also change the font in your bio to grab your audience's attention.
For example, an aspiring writer uses various Instagram bio fonts to contrast with other niche influencers: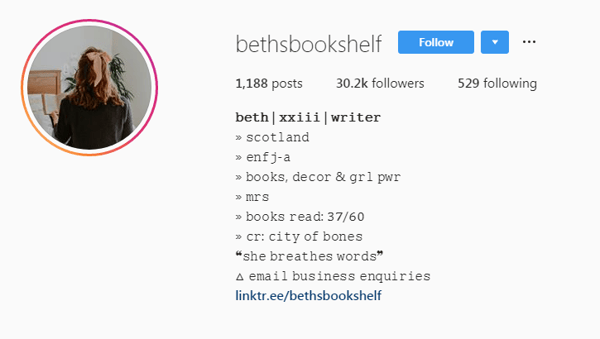 Another creative idea is to update your bio to inform visitors and followers about the brand news.
As you can see, Dunkin' has announced the rollout release date of its fall favorite: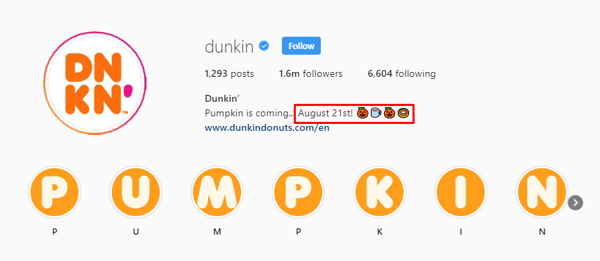 To create a similar new product launch marketing campaign on Instagram, tell about new offerings in your bio and use Instagram Stories templates to create theme Highlights that grab visitors' attention.
As you can see, there are many ways to add creativity to your Instagram bio. The more original your bio is, the more chances you have to draw your audience's attention.
Conclusion
Your Instagram bio is not just several lines you hastily fill out when you create your account; it's a powerful method to grab the attention of your profile visitors and give them a solid reason to follow you. For a variety of reasons, having an eye-catching Instagram bio is a great way to make a good first impression of your brand and stand out from your competitors who hope for the attention of the same audience.
Curious on how to take your brand to the next level? Discover the optimum time to post on Instagram for maximized engagement with your followers today!