Indianapolis is a city that likes to run rightttt under the radar, and with a nickname like Nap-Town that's not surprising.
But for a city whose official slogan refers to it as a crossroads and not a destination, Indy has become a hub of excitement in the past decade.
The biggest city and capital of Indiana, Indianapolis has a tourism board that other mid-tier cities should be very jealous of, specifically carving out a niche in the professional sports industry. Since 2006 Indianapolis has hosted Super Bowl XLVI, 3 NCAA Men's Final Fours (2006, 2010, 2015), and 2 NCAA Women's Final Fours (2011, 2016). The city is also the home of the NFL Scouting Combine (1987-present), the Big Ten Football Championship (2011-present) and the largest single-day sporting event in the world in the Indianapolis 500 (400,000 people). The city has the Final Four again in 2021, as well as the NBA All-Star Game in the same year and is the home to the NCAA headquarters. Whew.
That's a star-studded resume for the 25th- largest metropolitan city in the United States. And while Indianapolis has had large corporations and companies call the city home already (Cummins, Rolls-Royce, Eli Lilly, Anthem), it wasn't until the early 2000s that Indy's tech scene became a foundation for the city. That would be when ExactTarget was founded.
The digital marketing software company exploded, growing to over 1,500 employees, expanding to six global offices, and acquiring companies such as CoTweet, Pardot, iGoDigital and Keymail. The company went public in 2012 and was eventually acquired by Salesforce in 2013 for a massive $2.5 billion, and has since rebranded as Salesforce Email Studio.
But that was just the start for the city's tech scene.
In 2016, Salesforce announced it was moving into the previous Chase Tower, the tallest and signature skyscraper in downtown Indy. Salesforce has promised the city 800 jobs and mapped out a plan to train 500 apprentices in Indianapolis by 2020. But the good news for Indy didn't end there.
After selling the company, ExactTarget CEO Scott Dorsey co-founded venture studio High Alpha in the same city that brought ExactTarget enormous success. A former Indiana University Kelley School of Business graduate, Dorsey has stuck with Indianapolis, and the city has reaped the benefits. Through its unique studio model, High Alpha has cofounded and funded wildly successful Indianapolis startups such as Lessonly, Octiv, Sigstr and Zylo (along with investing in non-Indy based companies such as SalesLoft and yes, even G2 Crowd).
Dorsey had this to say on the Indianapolis tech scene – "We're extremely bullish on the Indianapolis tech ecosystem and think being located in Indy has given High Alpha and many of our Indianapolis-based portfolio companies a competitive advantage. Indianapolis definitely has an unfair advantage in access to top-tier talent, support, and infrastructure, especially in the enterprise cloud market. The success we've seen specifically in the B2B software space with ExactTarget, Aprimo, Interactive Intelligence, Compendium, and others has really put Indianapolis on the map as an epicenter for B2B SaaS innovation and talent, which gives us a unique advantage in building the new crop of high-growth B2B SaaS companies in Indianapolis like Octiv, Lessonly, Sigstr, and Zylo."
This momentum has led Indy to new heights outside of the Dorsey-portfolio as well. Angie's List filed for an IPO at their valuation of over $900 million in 2011 and Aprimo sold for over $500 million in the same year. Hyde Park Venture Partners of Chicago also opened up their second office in Indianapolis in 2015, led by former ExactTarget CMO Tim Kopp, who joined the firm as managing partner in Indy.
"We intentionally opened another office in Indy to support the undeniable momentum that is taking place here. Pound for pound, I believe Indy rivals any other market in the US for its strength in B2B software. Regardless of stage, Indy is an exceptional place to build a business. I believe the quality of sales and marketing talent here is one key reason you see big tech players establishing offices in Indianapolis." Tim Kopp, Managing Partner at Hyde Park Venture Partners
Large companies such as Appirio and Emarsys have both opened a headquarters in Indianapolis, and two well-established SaaS companies in Kronos and Return Path both open new offices in the city. Genesys acquired Indy-based Interactive Intelligence for $1.4 billion in 2016. Infosys also announced its plan to open its first U.S. headquarters in (you guessed it) Indianapolis that will create over 2,000 tech jobs in the city. Shortly after publication of this article, Zylo closed a $9 million Series A from Bessemer Venture Partners and help from Salesforce and Slack. That's the largest Series A in Indy history.
"Before ExactTarget, Indy had been building on twenty years of entrepreneurial success in technology with pioneer companies like Software Artistry, Interactive Intelligence, Aprimo, and more. ExactTarget's success and acquisition by Salesforce forged Indy's reputation as a national power house. We are thrilled to have the right team, technology and market opportunity in front of Zylo to attract an all-star line up of investors. Partnering with Bessemer Venture Partners, Salesforce Ventures and the Slack Fund shows that Indy can be as competitive of a location as anywhere for funding. Over the next 12 months, Zylo will invest in growing the team in Indy with hires in R&D, customer success, marketing and sales." Eric Christopher, CEO and Co-founder at Zylo
Indianapolis is now (like many cities) turning its attention to the biggest free agent on the market as it attempts to lure Amazon's new headquarters to the city — as of press time, it is a finalist for HQ2.
If successful, the city could be the next Austin or Denver, a mid-tier city catapulted into the tech spotlight.
Indianapolis Tech Resources for Startup Companies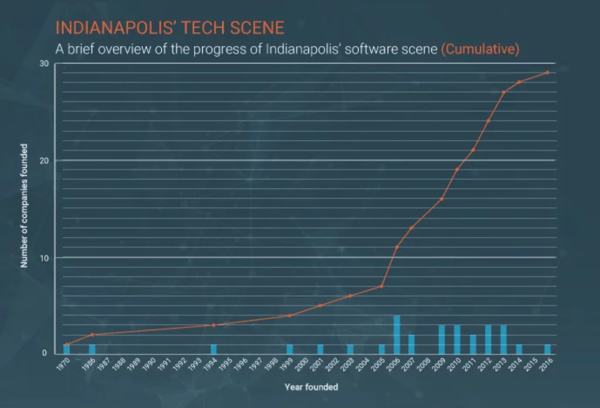 Note: Only software vendors on G2 Crowd with headquarters currently in the Indianapolis area are included in graph.
---
Indianapolis Tech Leaders on the City's Tech Scene
ADDRESSTWO
"AddressTwo wouldn't exist today if it weren't for the community in Indianapolis. Many of our early adopters were fellow Indy companies. And, while we haven't grown to be the biggest tech company in Indianapolis by far, we've been a profitable and stable company for over a decade thanks to the start that the Indy community gave us." Troy Hanna, President of Sales at AddressTwo
OCTIV
"This is an exciting time to work in a tech environment in Indianapolis. According to The Brookings Institution, our region ranks 15th on a list of tech job growth for the 100 largest metropolitan regions in the U.S. Indianapolis was referred to as an 'emerging tech hub on the move' in 2016 by Forbes, while the New York Times noted in 2017 that we have 'steadily become a center for new technology, particularly software.' Additionally, Governor Holcomb announced at the beginning of January that the state would enact legislation to require every Indiana K-12 school to offer computer science courses.
"All of this points to Indianapolis as a thriving tech and software community, which is great for Octiv—leading to more innovation, camaraderie, learning development, and top talent for our team." David Kerr, CEO at Octiv
PERQ
"PERQ, along with many other innovative companies, are attracting top-notch talent from across the U.S. to Indianapolis, driving innovation and opening new doors as we continue to take risks, educate each other and invest in our community. We are lucky to live in a place as progressive and focused on innovation as Indianapolis. This drives us at PERQ to continually improve our guided shopping technology while staying true to our core values: smart growth, culture of innovation, commitment to our community, a game-on attitude and customer value creation. It's a win for our clients, our community and each of us at PERQ." Andy Medley, President and Co-founder at PERQ
ZYLO
"The current and future tech scene in Indy is extremely bright. There have never been more companies in Indy trying to become iconic tech companies as there are now, aspiring to create thousands of jobs, not just hundreds. For Zylo, it is very exciting to be in the middle of the tech scene as we enter an extreme period of growth." Eric Christopher, CEO and Co-founder at Zylo
We have compiled data on the state of the Indianapolis B2B tech scene that includes all of the top-rated products on G2 Crowd which have parent companies headquartered in the Indianapolis area. Our list is ranked by user satisfaction of a company's top-rated product. To qualify, a product was required to have at least 10 verified user reviews.
For each qualifying product, we created a company profile to recognize what that company is and does, as well as give a little insight into its history. The data relies on G2 Crowd's more than 300,000 B2B software and services reviews, or from public data sources such as LinkedIn, Crunchbase or each vendor's website.
---
Top B2B Indianapolis Tech Companies in 2019
With an impressive 131 reviews on G2 Crowd, Bloomerang is a High Performer in the fundraising category and a leader within our Indianapolis-based products. Bloomerang is a cloud-based fundraising and donor management system that has a focus on building and nurturing donor relationships. The tool offers interactive dashboards, comprehensive and intelligent reports, and even templates for effective email marketing. In February 2017, the company was named one of the 100 best places to work in Indiana by the Indiana Chamber of Commerce. Bloomerang received High Performer badges in the Winter 2018 Fundraising Grid®Report and the Winter 2018 Donor Management Grid® Report.
---
OneCause creates user-friendly fundraising software that helps nonprofit engage donors, raise more money and save valuable time and resources.. The tool offers both a full-service package that includes event management, donor management, and social media management functionality, as well as a DIY solution that helps organizations tailor the oncause to their needs. The product received a High Performer badge in the Winter 2018 Fundraising Grid® Report. The company was named one of the winners of TechPoint's Tech 25 Awards.
---
Formstack is an online form builder that simplifies data collection and management. Users can effortlessly build forms for any scenario with the tool's drag-and-drop interface, A/B test forms for optimization, embed forms into websites and social media channels and even create online payment processors. Formstack integrates with solutions such as Salesforce, MailChimp, and PayPal, which is fitting as the tool facilitates lead conversion and attribution.
---
One of only two companies on the list from Bloomington, FormAssembly is a form builder that automates manual data entry processes and the collection of leads. The solution integrates with platforms such as Salesforce and WordPress to help organizations in any industry streamline workflows. FormAssembly is compliant with the requirements of processes like HIPAA and PCI, and offers a mobile application which facilitates the collection of data both online and offline.
---
Octiv is both a Hyde Park Venture portfolio company and a High Alpha company. With an impressive 205 reviews on G2 Crowd, Octiv is a High Performer in the sales enablement category and a leader within our Indianapolis-based products. Octiv is a cloud-based sales enablement platform that makes more efficient the process of building, storing, and sharing documents. The solution has both e-signature capabilities and integration with DocuSign. Octiv also reports on document engagement metrics. Octiv received High Performer badges in the Winter 2018 Contract Management Grid® Report, the Fall 2017 Sales Enablement Grid® Report, and the Summer 2017 Proposal Grid® Report.
"Earning High Performer scores on our products illustrates our commitment to our customers. This recognition shows us that in a highly competitive and growing market, Octiv's core value of customer success and world-class service is helping us stand out among our competition." David Kerr, CEO at Octiv
---
Another dual Hyde Park- backed, High Alpha Studio company, Sigstr amplifies company brand via centralized control over employees' email signatures. The tool facilitates call-to-actions and audience engagement by creating banners and content in those signatures. Sigstr provides data around the design and activity of email signatures as well as simplifies the process of managing and optimizing those mini-campaigns. Sigstr integrates with a whole slew of email and marketing automation platforms that furthers personalization and impact. In November 2017, the Tech Tribune recognized the company as one of the ten best startups in Indianapolis.
---
7. PERQ

Product: PERQ
Category: Car Dealer
City: Indianapolis
Founded: 2001
Employees: 103
PERQ's web engagement platform helps create an interactive online shopping experience. The solution can be used in the automotive, multifamily leasing, and furniture industries. With PERQ, businesses can capture accurate consumer data, tailor overall web experiences, and capture lost leads. Even better, the solution doesn't require the overhaul of existing websites. It kind of makes sense that Indianapolis, home of the Indianapolis 500, would also be the home of a major car dealer SaaS company.
"We're honored to be recognized as one of the highest-rated B2B software products from our clients who use our solution every day to increase online engagement and sales. There is a no higher recognition! We always focus on the consumer experience, because we know that is what provides results for our customers. Providing an online guided shopping solution that puts the consumer in control and makes the customer's website their best salesperson has proven results. Through our solution, which includes assessments, calculators, appointment schedulers and shopping tools, our customers see 3 to 8 times more leads from our technology and a 10 to 15% increase in those leads converting to sales. Our software solution provides value for our customers and theirs." Andy Medley, President and Co-founder at PERQ
---
The third High Alpha Studio company on our list, Lessonly is a team learning software that helps companies maximize their teams' performance. Managers can leverage team knowledge and best practices when creating training programs out of stored content. The platform measures and reinforces employee results to fast track their productivity. Lessonly received High Performer badges in the Summer 2016 Corporate LMS and Summer 2016 Course Authoring Grid® Reports. The company was named among the top entrepreneurial companies in America, according to Entrepreneur Magazine.
---
AddressTwo is a CRM platform built for small businesses; the company's goal is to streamline and simplify the sales processes for them. No bells and whistles with AddressTwo: just the absolute essentials for small businesses to nurture customer relationships and store important, up-to-date contact and lead data. AddressTwo received a High Performer badge in the Fall 2017 CRM All-in-One Grid® Report.
"A lot of awards in the tech community go to the best funded companies. As a self-funded business, we don't spend much time in the spotlight, and that's ok with us. But being rated among the highest-reviewed products from our customers, the real judges of a company's success, is incredibly satisfying and a high honor." Troy Hanna, Head of Sales at AddressTwo
---
Delivra is an email marketing automation software platform that smartly leverages customer data to personalize email campaigns and track KPIs and ROI metrics. Marketers can utilize Delivra's email templates and drag-and-drop editing and design tools to create engaging content. The solution also integrates with third-party e-commerce platforms, so that business owners can effectively engage customers and better customer retention rates. Delivra received a High Performer badge in the Fall 2017 Email Marketing Grid® Report.
---
WebMerge works to streamline organizations' processes of creating and sharing documents. The platform includes customizable templates for varying document needs and integrates with third-party apps to simplify document delivery. WebMerge received a High Performer badge in the Fall 2016 Document Creation Grid® Report. In the a town of only 4,000 people, WebMerge is located about 45 minutes east of South Bend in the far northern reach of Indiana.
---
Right On Interactive is a marketing automation platform that works to better engage customers at all phases of the customer lifecycle. With the solution, sales professionals and businesses can see where prospects and customers are in their relationship with the brand, as well as understand individual customer behaviors. Right On Interactive received a High Performer badge in the Fall 2017 Marketing Automation Grid® Report.
---
Hubstaff is a time tracking tool that is built specifically to manage remote teams. Freelancers and contractors can easily track time of individual projects, and managers can monitor overall time spent on and activity levels of those projects. Both small and large businesses can utilize Hubstaff to keep an accurate eye on recorded hours. Additionally, businesses can automate payments to employees through Hubstaff. Hubstaff also provides a marketplace, Hubstaff Talent, a free resource for companies to source remote talent.
---
14. Proposable

Product: Proposable
Category: Proposal
City: Bloomington
Founded: 2009
Employees: 3
The second company to be located in Bloomington, Proposable makes creating proposals and measuring proposal activity easier for sales professionals. The tool encourages collaboration via management and review of proposals through the platform. Proposable also offers an integrated e-signature functionality, to help close deals faster.
LanSchool is a simple classroom management solution that can be used and accessed on a variety of devices and operating systems. The solution works to keep students engaged and learning in a digital environment, in the same way they would be engaged in a physical classroom. LanSchool is also the only company on the list located in Carmel, a Northern suburb about 15 minutes outside of Indianapolis.
---
16. Bluelock

Product: Bluelock
Category: DRaaS
City: Indianapolis
Founded: 2006
Employees: 62
Bluelock offers enterprise companies moving to the cloud the relief of knowing they're secure in the event of a disaster. The Indianapolis-based platform is in the trendy space of Disaster Recovery as a Service, and provides its clients with their exclusive Bluelock Recovery Assurance™ program. With over $6,000,000 in funding, the company has focused on having a highly satisfied user based, with Bluelock having a near-perfect 4.9 out of 5 star user rating on its G2 Crowd profile.
---
Passageways is the parent company to both OnBoard Board Portal and OnSemble Intranet Portal and refers to itself as a leading provider of enterprise collaboration tools. The only Indiana tech company on the list located in Lafayette, it's close enough to the Purdue campus to bring in top-level talent entering the job market. Passageways' website states the the company has over 60,000 unique users and is used by over 3,000 boards and committees.
---
Other B2B Indianapolis Tech Companies
While we recognized only the 17 best-reviewed software exports from Indianapolis, there are still an abundance of other B2B tech companies impacting the region's tech scene. Here's a rundown of other Indianapolis B2B software companies with their founded dates and total funding.
For any questions about the methodology or data included in this piece, or to request that your Indianapolis B2B tech company be added, please reach out to Editorial Team Lead Jakub Rudnik at jrudnik@g2crowd.com.