Human-centered design (HCD) creates an amazing user experience for users at all levels.
When it's estimated that by 2020, more than 1 million computer programming-related job openings will go unfilled in the United States, it's safe to say companies are struggling to find tech talent. To address this issue, they're turning to nontraditional methods to fill roles.
One increasingly popular solution is the use of citizen developers.
A citizen developer is someone who engineers applications or enhancements without using, or even necessarily knowing, traditional coding. In the world of robotic process automation (RPA), these nonprofessional developers contribute a great deal to automating their company's processes using platforms designed for them.
Clearly, citizen developers have different needs than their professional developer counterparts. So, how do you create a development environment that works powerfully for these very different user levels? The answer is to employ a human-centered design (HCD) approach.
Top 3 considerations in human-centered design
Before going on, you might be wondering what human-centered design is.
What is human-centered design (HCD)?
HCD, or human-centered design, is an iterative, multistep process that ensures actual user needs are well thought out as part of the product design.
Here's a breakdown of the top three considerations in this approach to software design: understand, frame, and prototype.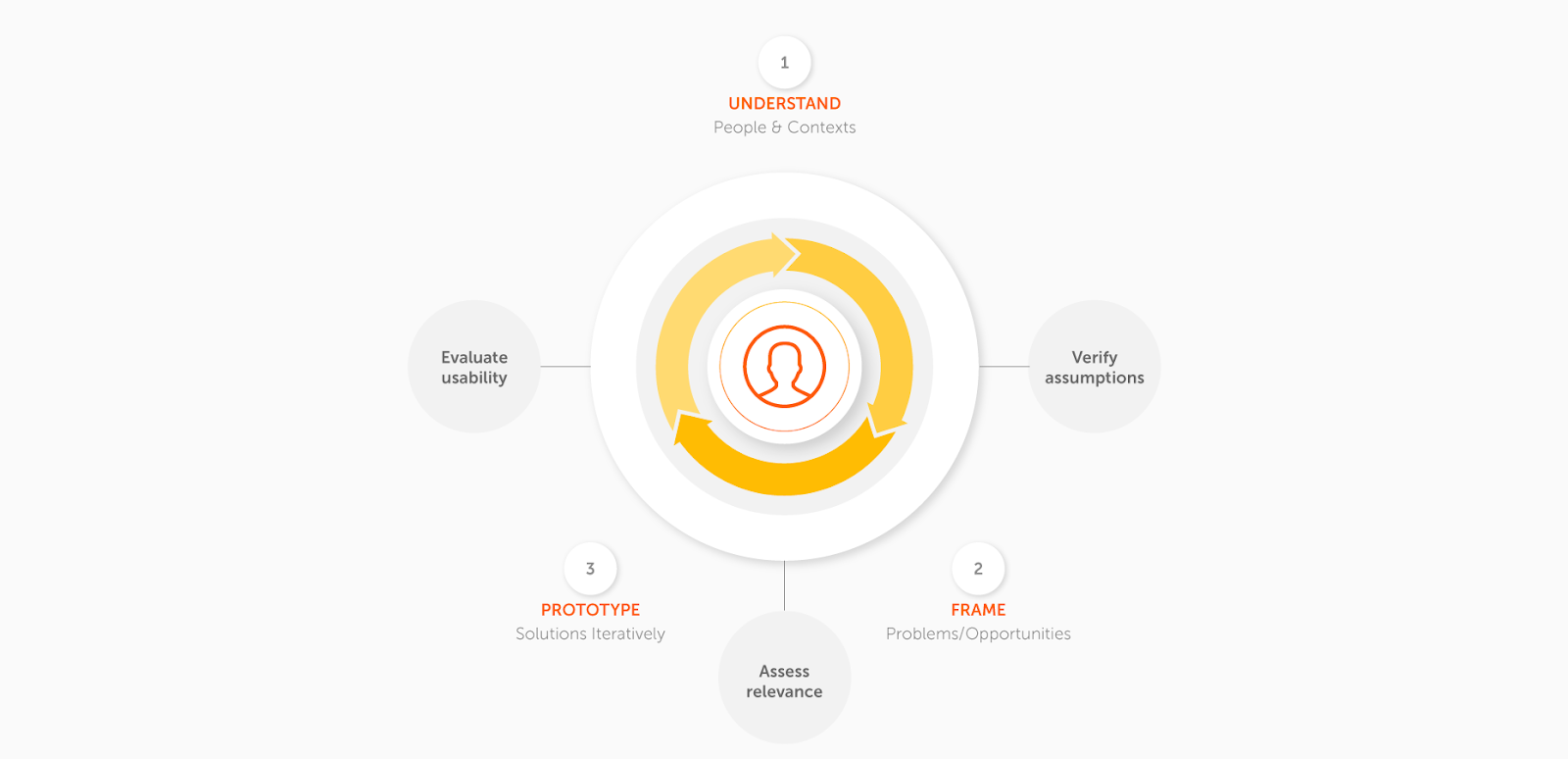 1. Understand people and contexts
To build great products, companies must first understand how their customers use the products and the contexts within which they do so. Key in this step is a focus on user personas, which represent the target end users and how they work. Using our company as an example, we have personas for business users (our citizen developers), professional developers, and IT managers.
Citizen developers, in particular, are an interesting group; although they may lack professional development experience, they're close to the front end of the business and understand the issues in ways that differ from their IT team.
The hard reality of product development is that customer-requested features aren't always great ideas, although many are. It's imperative to have these ideas verified, or vetted, to ensure the concepts are technologically feasible and that they'll result in a positive return on investment (ROI).
2. Frame problems and opportunities
Defining the human-centered design experience requires a rigorous look at several aspects of how customers use your products. For example, citizen developers aren't code warriors, but they still want to help solve business problems, be more efficient, and create great end products.
While a product needs to be easy enough for citizen developers to work with, it also has to be powerful enough for professional developers, including allowing them to add their own JavaScript, Python, or other code. In short, a product needs to work for, and even facilitate collaboration between, citizen developers, and professional developers. Additionally, all users should be able to see what changes were made to their original designs.
To ensure features are relevant and meet users' needs, it's important to identify the lifecycle of a project and determine key requirements at every major milestone.
3. Prototype solutions iteratively
A crucial component of the HCD process is prototyping. This allows users to see how a product will look and function at each stage of development. It typically follows a process of collecting requested features from customers, creating wireframes to mock up a rough prototype, showing the prototype to usability testers, incorporating their feedback, and creating working prototypes.
Testing should be done at every phase, incorporating feedback from both internal and external testers in each subsequent prototype. It takes multiple prototypes before reaching a final product that satisfies everyone, or at least the majority.

Optimizing user productivity
A human-centered design approach involves users at every step of the design and development process. The user experience (UX) team needs to engage in extensive user research to iterate and improve designs. This includes testing product concepts early and often with the different personas to get initial feedback.
The resulting product will likely be met with resounding praise from all users. And a side benefit of working with so many customers is building stronger relationships with them simply by caring about what they want. This makes work more human, and consequently helps workers be more productive in their roles.
To continue learning, discover the rundown of the top-performing robotic process automation software solutions for your needs, only on G2.