Creating a company's first big event from scratch is scary as hell.
What if we can't get the buy-in for it? What if we don't hit registration goals? What if the event flops, and it becomes an embarrassing tale other companies use as an example of what not to do?
No doubt all these fears and more lurked in the corners of our minds as we dedicated ourselves to ideating, preparing and executing G2's first one-day conference: Reach.
Fear is a good thing – it meant we were doing something worthwhile, something that could start a new era for the company. It meant we were about to pull off something big.
Reach 2019
G2 has never been the type of startup that sits back on its heels and waits for success. We compare ourselves and the exponential growth we're experiencing to a rocketship. Leadership had dreamt of one day hosting a large Midwest tech conference, and as the CMO of G2, I felt like it was time to launch that initiative.
We had a lot of challenges to overcome. G2 doesn't have an event planning team. None of us really had much experience with creating an event of this scale. We were working with a tight timetable – six months – to come up with the vision, branding, promotion strategy, space, speakers, and attendees.
Despite the odds, we did it. Reach was a raging success, with over 500 attendees, four sponsors, and 14 sessions.
A six-second tour of what Reach looked like the day of.
The genesis of Reach
I've attended a lot of events and conferences in my career, and honestly, they've become tiresome.
The speakers tend to also be the biggest sponsors, and while they're directed not to push their product or service during their session, it's inevitable that they do.
And when it comes to pushing personal agendas, no one is as guilty as the event host. The host carefully curates the branding, messaging, and event content to showcase how fantastic they and their offerings are – without the attendees' best interest at heart.
After a while, I saw through the guise of genuine helpfulness, and it was disheartening.
I wanted to ditch this classic event recipe for an unbiased, attendee-first approach. It fit in seamlessly with G2's business model: we offer unbiased software reviews (almost 1 million now!) without a pay-for-play option. To properly represent us and our values, this event had to be tactical and helpful without pushing an agenda.
The name
In a world where software impacts the success of individuals, businesses, and entire industries, we wanted to bring people together in a safe space to discover the software solution right for them. We wanted to help buyers reach out to the best software for them, and help sellers reach active buyers in the market.
In short, we wanted to help everyone reach their potential in any way we could, whether they utilized G2's offerings to do so or not.
The name of the event became obvious after we decided on this vision: Reach.
The buy-in
As the CMO, it was my job to convince everyone, from our leadership team to our board and employees, that this was a good idea. Like I mentioned before, leadership definitely envisioned G2 hosting an event one day. When I first joined G2 two years ago, there was talk swirling about it already.
Perhaps it shocked some when I decided that 2019 was the year the dream would become a reality. And what a reality I envisioned. I committed to goals far larger than they had hoped for.
I could tell there was some anxiety surrounding the idea; no one wanted to be associated with the potential of failure. Despite the nerves, a sizable budget was allocated for our efforts. This showcase of leadership's belief in us, more than anything, empowered us.
While I had my fair share of anxieties around the event, I didn't doubt that we could reach our potential for a second. Why? Because I believed wholeheartedly in my talented team.
The team
Hosting an industry conference doesn't happen in a vacuum, obviously. How well the conference does depends entirely upon the people behind it. You need great people – not just great, but an all-star, powerhouse team – to push it across the finish line. The event team needs to be agile yet steadfast, creative but not alienating, hard-working with a sense of humor.
Remember, G2 doesn't have an in-house event planning team. So we knew hosting our first conference was going to be a doozy of an undertaking. Luckily, I'm surrounded by some of the brightest marketers in the business, and I knew we could make it happen.
The core group that became our stand-in event team consisted of six people. As CMO, my primary role was ensuring leadership was fully on board, we had a workable budget, and our G2 values carried through the event. I was a guide on the journey, but I really have to take my hat off to the people who grinded every day to make this intimidating goal of ours come to life.
The quarterback
Lauren Decker is one of those rare people that you only meet once in a blue moon, a true leader, project manager, and team player. She oversaw every detail of this event, coordinated with the team and our third-party event management agency, and all with an infectious, powerful positivity. None of this would've been possible without her and her excellent juggling of speakers, sponsors, registrations, and strategy.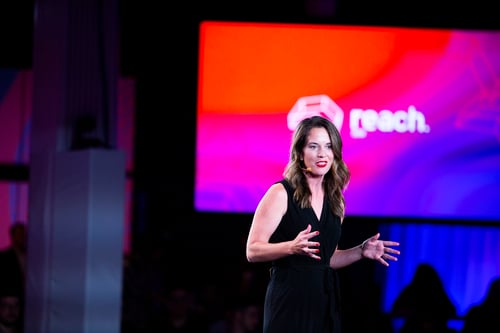 Lauren Decker speaking at Reach.
By the way: if you're an event planning guru, we're hiring as we prepare for Reach 2020! Check out the job opening on our careers page.
The creatives
To pull off an event, memorable, exciting branding is a must. Hillary Fortin and Laura Weiss created a Reach brand that could stand alone from the G2 brand, yet complemented it beautifully. The color scheme was new but not that far off from the vibrant G2 palette. The symbol of Reach, a chevron shooting upward, suggested the growth and potential we'd help our attendees achieve.
Fun fact: The email signature Hillary and Laura created featuring an animated chevron was featured as the best email signature design in 2019 by Sigstr.
Maia Singletary was instrumental in creating a gorgeous website experience for those looking to register, and Hillary and Laura turned a warehouse location into an intimate, colorful setting. Without them, the vibe of Reach would have been lackluster.
The wordsmith
Eddie Shleyner writes some very good copy. (I'm not joking, the man founded Very Good Copy.) Eddie created succinct, compelling messaging that explained our vision to anyone who came across Reach. Messaging to the registered attendees, prospective attendees, sponsors, exhibitors, and more came from Eddie's brain.
He also helped me write my opening keynote for the event. Not only is he adept at wordplay, but he's hilarious, encouraging, and stretches beyond his role to support in any way he can.
The support system
The people listed above are just a few of the key players. It takes a village to pull off a conference, and the success was a result of everyone getting involved.

We employed a third-party event management agency, EMC3. We needed an experienced hand to guide us on both the event vision and the details. I had worked with EMC3 in the past during my time at HubSpot, so I jumped at the opportunity to involve them. They helped us execute on our vision, secure the venue, catering, stage, audio/visual contracts, and more.
Beyond our small in-house team and EMC3, the entire company, especially the sales and marketing teams, provided an insane amount of support and strength. They used their collective social media clout to promote it and volunteered to ensure a seamless event.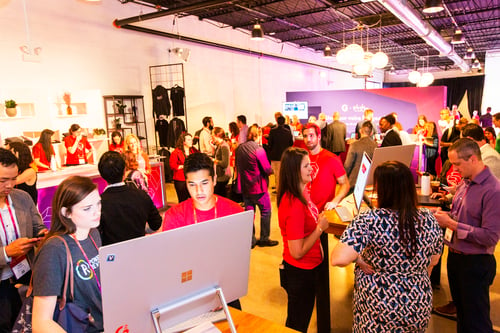 G2 volunteers ensuring Reach attendees had the best experience possible.
Their promotional efforts helped us blow past our goal of 500 registrants, with about 40 percent of the attendees registering in the last two weeks leading up to the event.
The dirty details
Reach was an enormous undertaking that involved more than just a great vision and fantastic team. Those are integral to success, of course, but the event itself was a carefully woven tapestry of tiny details that, had one stitch been missing, would've disrupted the experience.
Our vision – helping attendees Reach their potential by using software to better connect with their own customers – was relatively easy to decide upon. The hard part was executing it. It was, in a way, like any other go-to-market product launch.
We had to answer some tough questions to begin making our vision a reality.
Who is our audience? The audience based on our vision could be virtually anyone. We narrowed it down to two personas: sales and marketing professionals, ideally decision-makers.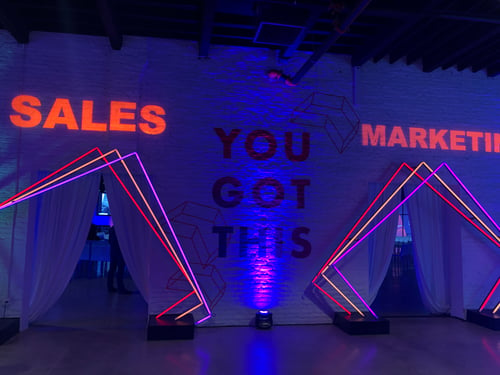 Inside the Reach venue, we focused on two personas.
What does reaching their potential actually look like for our audience? If our attendees walked away with tactical strategies that helped them connect better with their customers, then Reach had been a success. We wanted to put their customers at the center of the event, and we chose our speakers based on that – people who could provide insights on building trust with a customer base.
How do we choose sponsors? We only offered sponsorship opportunities to leaders and high-performers in their G2 category. We were selective with our sponsorships for one big reason: like I discussed above, we were wary of agenda-pushing. To ensure unbiased content, we didn't allow any sponsors to become speakers, a decision that many would-be sponsors questioned. We had to turn down several of those offers.
How do we spend the money? Inevitably, choices had to be made about budget allocation. I'm really proud of how we avoided cutting corners here. We prioritized what was most important to us and spent the money there. For example, we wanted to include more branding outside of the venue so when people arrived it would be really impactful. But we prioritized the event production, like the stage and screens. In the end, we included the Reach logo on the venue, but pulled back on the other creative ideas.
The branding outside of the venue.

What experience do we want for attendees? The reality of an event is most people spend their time in their seats watching content, so we wanted that to be better than other event aspects. We came up with an innovative, open stage design that ensured everyone was close to the action (no more than 15 yards away from the stage) and could see the content.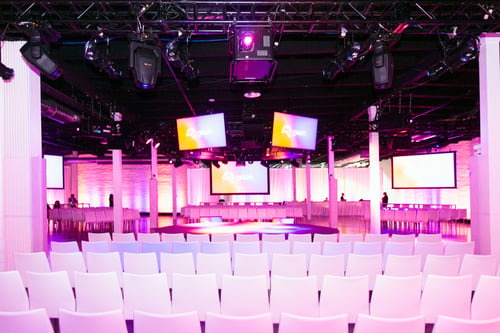 The open stage design that brought everyone closer.
The day of
September 11, 2019 – the day of Reach was upon us. It was honestly a bit of a blur.
Of course, the fear was a companion right until the end – I wondered what small detail we'd forgotten that would cause the whole event to unravel. But I could only describe Reach as wildly successful.
It felt like a community gathering,a party, and a festival all rolled into one. The people there were fun, innovative, quirky, and unique. Everyone was open to learning and connecting. There was an excitement that permeated everything, and we saw it take shape in social reactions online.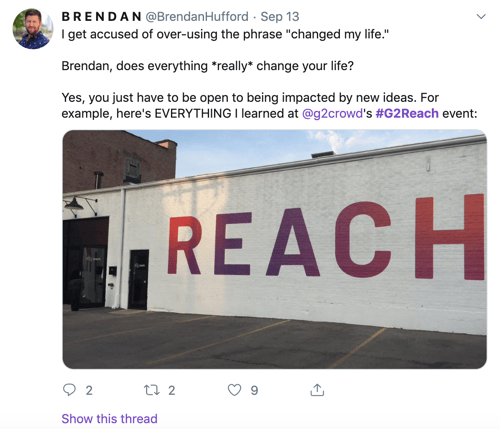 @BrendanHufford sharing his experience on social.
An interesting learning experience I had was that it's much scarier speaking at your own conference or event than at others. I speak at an event practically every week, and I don't feel nervous at all for those. (I suppose it's because if I need to, I can fly off afterward and pretend it didn't happen.) But there's something about speaking in front of your colleagues and employees that makes it far more nerve-wracking.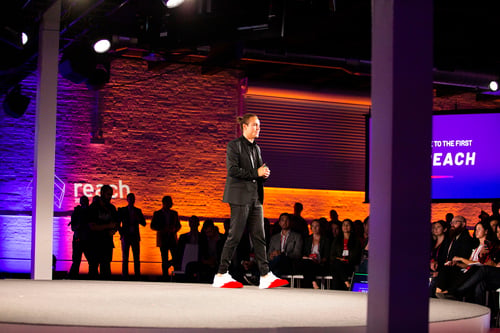 Me kicking things off with an opening keynote.
There are so many amazing things that I'll remember about Reach, but one of my favorites was hearing the G2 founding team say they never in their wildest dreams could've imagined us doing something like this, and doing it as well as we did. I couldn't be more proud of our team or happier with the outcome.
Reach 2020
What a wild ride Reach 2019 was! But it's not a rocketship you simply disembark after one successful launch. Preparations for Reach 2020, if you can believe it, are already underway.
I don't want to say too much, but I can give you a sneak peek. It's going to be HUGE.
We've locked in two days at Navy Pier with room for roughly 2,500 people.We plan to create content around more personas. This year we only had two – sales and marketing – next year, we plan to have about five. We are looking at signing speakers that will make you do a double-take. Stay tuned to hear what big names you can learn from and make all your friends jealous.
We've learned a lot along the way, and we're going to keep striving to Reach our potential. G2 can't wait to help others do the same!
Want to receive early-bird updates and exclusive offers on Reach 2020? Sign up here!