A business proposal is, perhaps, the second most important proposal you'll ever make or receive in this life.
Business proposals are used by sales professionals to outline the benefits of their products or services in the hopes of gaining their leads' interest and consumership.
Elements of a business proposal
Introduction
Executive summary
Table of contents (optional)
Body
Appendix
While sales are never a sure thing, you can increase your odds of success by having impeccable materials that outline your product's value. That's where a business proposal comes in.
How to write a business proposal
In a romantic relationship, you propose because you want your partner to marry you. In a business relationship, you propose because you want a lead to give your company their business.
Tip: Looking for clients to present your business proposal to? Try out lead generation software.
A little different, but one thing remains true throughout: the way you ask is just as important as what you're asking. Let's talk through the steps of writing a business proposal so you know what all to present to prospective clients while they're still "dating around."
Before writing the proposal
As a businessperson, you're aware of the importance of preparation. Before writing your business proposal, be sure to put some time into the following steps.
1. Research the client
In order to make the best proposal — not only the best in your standards, but also a proposal that is better than the competition — you need to understand the client's business and their biggest pain points.
If you have a specific client or company you want to go after, do your homework. Figure out exactly who has buying power. Outline what you have to offer that your competitors don't.
TIP: Reading reviews on G2 is a great way to see what people feel your competitors could improve on.
Try and understand if your client has a small-business or enterprise budget. When does this problem need to be resolved? Some clients will only purchase goods or services during certain times of year, in which case even the best business proposal won't budge your buyers.
Do you have a solution in mind for them? If you can't think of a way your business can help this client, they're not worth pitching to.
2. Define and outline your objectives
A good proposal has clear objectives. Questions to ask yourself when determining your objectives are:
What do I hope to gain from this proposal?
What does my prospective client need help with?
How can my product or service uniquely solve those concerns?
3. Define project scope
Before you pitch to a client, understand the size of what they need. Would you be rolling out your product to 10 people, or 1,000 employees? This greatly affects how you present yourself, as well as the customer service your company may need to offer after you've made the sale.
Don't pitch to a client without understanding their needs!
4. Calculate costs
You want to help your clients, but you also need to make money doing it. Before writing a proposal, calculate the costs of the project you're considering taking on. This includes supplies, labor, etc.
For software sales, this would be the cost of getting every employee set up with a subscription, and the labor that goes into it. Understanding the cost of something will help you calculate fair prices. This helps you understand what kind of price point you can ask for before you've even written the proposal.
Elements of a business proposal
We've gone over the preparation you should take before writing a business proposal. Next, let's discuss the physical elements of a business proposal.
A good proposal should have the following:
1. Introduction
An introduction tells clients who you are as an individual or as a company. You should present yourself as though you are the obvious choice for the client. For example, you could include anecdotes of times you've solved the exact problem they're experiencing.
Feel free to include a bit about why you're the best at what you do. What makes your company stand out? You could even throw in a testimonial or two.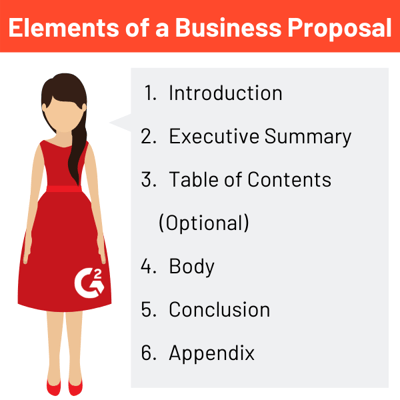 The length of your introduction should coincide with the scope of a project. Bigger projects should have longer introductions. Regardless, try and keep it to no longer than a page.
2. Executive summary
As a businessperson, you're used to the executive summary. This is the part of the proposal wherein you summarize the action plan you intend to take if hired. The executive summary is a place to advocate for yourself as the right choice for the job. You do not need to go over every reason, but you do need to sum up what you hope prospective clients will take away from the proposal.
3. Optional table of contents
If the business proposal is lengthy, you may opt for a table of contents to better help prospective clients navigate the document.
4. Body
The body of the proposal gets into the nitty gritty of how you expect to execute your solution. The cost of labor and supplies that you calculated earlier will be presented in this section. You'll also want to provide an estimated schedule for project execution and completion.
You should also include your terms and conditions, such as "we work with our own supplies," or "[client] will have to cover the cost of supplies."
You may also include an agreement page in your business proposal, which both you and your prospective client can sign should everyone feel confident about moving forward. Although more documentation and contracts will be necessary later, this paper is a good way of getting commitment up front.
5. Conclusion
In the conclusion, there's no need to re-summarize everything you've said. Rather, focus on the results you are confident you can provide. This is your last opportunity to rally the client into action, and it would be wise to include a CTA.
That can be a simple statement of, "give us your thoughts through a Google form."
6. Appendix
Some clients are more likely to purchase if they can go home and look at more information on their own time. This is where an appendix comes in. This section (also optional) is a great place to put additional proof of success and testimonials that may help persuade the client in the final hours.
What are you proposing?
Now that you know how to write a business proposal, it's time for you to get out there and answer the question: what are you proposing? It's time to find clients and help them solve those business problems.
Are you looking to write a more official proposal? Learn how to write a government contract proposal.