Blogs have been popular since the earliest days of modern internet usage.
However, the blogs of yore are considerably different than the types of blogs we see now. Professionals have a plethora of website builder options for blog hosting tailored to the type of content they post. While some blog sites are built for artists and creatives and are more akin to portfolios, others are more well suited for those posting written content. All these options have left LiveJournal and Blogger in the dust.
Blogs are an excellent way to establish an internet presence and position oneself as a thought leader in their given area of expertise. A blog can act as an outlet through which professionals can write about issues or subjects they might not get to touch on in a formal setting. Personal blogs provide the freedom to write and publish thoughts without the time or priority constraints that come with work.
How to start a blog in 2019
Blogging is hot, but where does someone get started? How do you figure out what to blog about? There is a sea of web content management and website builder options available to complement or optimize blogging sites, so even figuring out where to host a blog is a beast in itself.
Here we'll break down the necessary steps to start a blog.
Starting a blog may sound daunting, but since the popularization of the medium, the process has been optimized to a science. Here we'll break down the necessary steps to start a blog:
5 Steps to Creating a Blog for Beginners
Decide what to blog about.
Pick a name for your blog.
Choose a blogging platform.
Choose a web host.
Use a theme or template to design your blog
These steps are the backbone to getting your blog up and running. There will be tips toward the end concerning content posting, but for right now we're just going to focus on getting your blog online and ready for use.
1. Decide what to blog about
While this seems like a simple step, deciding on the focus and direction of your blog is actually critical to its success.
The goal of most blog owners is to gain a following of readers or fans. Unless you're already famous, it may be difficult to develop a following if your blog doesn't consistently cover one or a couple of topics.
For example, say you begin watching a cooking show. If some of the episodes are about fashion or gardening, it may throw off viewers who tuned in expecting to learn about how to grill or properly cut vegetables. Even if those unrelated pieces were good, they weren't what viewers were looking for to begin with. As a result, they may lose interest and move on to another show without waiting to see if the show would eventually address how to perfectly grill a peach.
Sticking with one topic isn't as hard as it sounds when the subject matter is broad. Hosting a generalized cooking show is going to be a lot easier than one that specifically presents obscure pufferfish recipes.
It is worth mentioning that blogs covering niche topics do exist and can be very successful. Understanding your desired audience is the most important consideration in this regard.
Consider the following about your blog's content:
How many other blogs like this one already exist?
What knowledge or unique expertise do I have that sets mine apart?
Am I aiming to capture broad or niche readership?
How easy or difficult will it be to produce consistent content concerning this topic or topics?
Asking yourself the above questions can help frame your blog and guide the process to the best final product.
On the other hand, many people start blogs as a form of journaling, and viewership isn't as (or at all) important to them. If this is the case for you, feel free to ignore this section and move onto naming your blog.
TIP: Niche blogs require industry-specific solutions. Find out the specifics to starting a travel blog or a fashion blog in 2019.
2. Pick a name for your blog
Like the previous step, this one is deceptive in the gravity of its importance.
On the obvious front, the title of your blog will play a significant factor in pulling in viewers. A vague blog title isn't going to tell a reader a lot about what they can expect. Similarly, a generic title won't entice viewers or compel them to check out your content.
Less obvious is the effect a blog title has on search engine optimization (SEO). SEO affects how your blog or website ranks in search engines, directly impacting how visible your content will be when viewers search for related terms.
TIP: There are many platforms that can help you manage your blog's SEO. Check out the best SEO software in 2019.
If you're aiming for broad viewership, taking SEO into consideration is critical, especially once you begin to create content. The point of posting content is for it to be seen, and the first step to that is making sure content can be found easily.
A blog title should be related to the content in question to clearly convey the subject matter to readers and to rank well for SEO purposes. The goal is to strike a balance between these two aspects.
For example, it will be easier to find a cooking blog titled "Jazmine's Kitchen" versus one called "Jazmine's Corner" since the word "kitchen" is more associated with recipes and food than "corner" is.
Once you have decided on a name, you can begin filing for ownership and setting up your site through a domain registration provider.
3. Choose a blogging platform
The good news is that there are countless blogging platforms and website builder software options from which you can choose when deciding which you like best.
The bad news is that there truly are countless platforms to choose from, and narrowing them down becomes a process in of itself.
Don't worry, though. Your blogging predecessors have walked this road long before you, which has resulted in plenty of debate and resources that helpfully weigh the benefits of the best website builders with the drawbacks of each platform.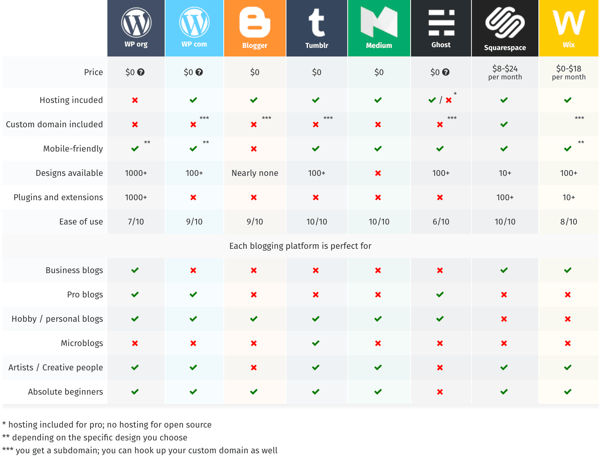 Chart courtesy of StartBloggingOnline.com.
The main distinction between platforms are those that are self-hosted and free platforms.
Free blogging platforms
These are typically established websites that allow you to make a blog without cost. However, you usually won't have the option to create a custom domain name unless you're willing to pay an additional fee. That's the difference between yourblog.wordpress.com and yourblog.com. Additionally, you may be more limited in the design templates you have available unless you're willing and able to create some of your own using HTML.
As you can see from the chart above, there are limitations that come with the free options available. Monetizing blogs on free platforms is more difficult and, in most cases, they'll show ads alongside your content. Those pesky advertisements allow the platforms to make money off your content to make up for the fact that you aren't paying them directly. So before taking the easy road and opting for a free platform, consider the quality-of-life features you're looking for and any long-term goals you may have for your blog.
Self-hosted blogs
Self-hosted blogs will require an investment of capital, but it's never too outrageous. Some hosting providers are specialized for hosting corporate blogs and websites while others can be used by everyday individuals.
There are some questions you can ask yourself to begin filtering out options:
How much money do I want to spend? Do I want a free option?
What type of content will I be posting (written work, photos, videos, etc.)? Will I be posting a mix of content?
Do I want a custom domain
Do I want a lot of customization and template options?
Will I want plugins or extensions?
4. Choose a web host
This step is only necessary if you picked a blogging platform that requires a host. If you didn't, I'll see you in the next section.
For those of you that did pick a hosted platform, welcome! I see the vanity of a personalized domain name was appealing to you. Even Dorian Gray would gasp at the sheer blatancy of your excess.
There are a multitude of hosting providers available that will allow you to pick a custom domain name then provide an install solution for whichever blog platform you chose.
TIP: Research the best web hosting providers in 2019 from real-user reviews.
Setting up your blog after you've chosen a web host is usually very straightforward, even more so if you've picked a popular blogging platform like Wordpress.org. Usually it's as easy as accessing the admin panel and finding an "install" button. Seriously, it's that easy.
5. Use a theme or template to design your blog
Designing your blog can be simultaneously one of the most fun and most frustrating parts of the blog setup process depending on your tastes and the options available for the platform you chose.
Across both types of platforms, the number of WordPress theme options available is dependent upon the specific product in question.
There are three types of templates: free, premium, and custom. Some free platforms like Tumblr offer some free, premade templates to choose from, but there are also thousands more to choose from designed by other people. This is often the case for popular free blogging platforms since they are typically supported by a large community.
Other times, a platform or benevolent developers will offer paid, premium templates. For any platform that allows you to enter HTML code, Tumblr included, you always have the option to create your own blog design if you're savvy enough. Custom templates are more work, but a great option if you want to set your blog apart with customized templates.
---
Making your blog work
Now you have a personalized blog to call your own. What now?
1. Write an "About Me" section
Start by providing some information about yourself. This can be a brief description about yourself and what your blog is about, in a sidebar or a full, dedicated "About Me" page that viewers can refer to. It could even be both; it's up to you.
For professional blogs, bloggers will often attach some information like a work email so interested readers can easily reach out to them. Learn more about putting together an about us page.
2. Start posting content
Seeing as it's the whole point, blogging platforms make it easy for you to post content to your blog. Usually it's as intuitive as clicking a button and being taken to a content creation template. From there you simply start writing or uploading video or pictures.
Arguably one of the best features of blogs is edit-ability. Most, if not all, blogging platforms will allow you to go back and makes changes to your blogs should you make an error or need to update information.
3. Consider employing additional tools
Comments are the best way to get your audience engaged with your work and with one another, making your content more interactive. While some blogging platforms will provide a built-in commenting system, standalone commenting systems software do, in fact, exist. Many are platform-agnostic and offer additional features like reactions and social media sharing which built-in systems can sometimes lack.
Another add-on to consider is content analytics software. These tools allow you to track viewer engagement and provide metrics to help you analyze how well your content is performing. Having this kind of data at hand can help you improve your content and, as a result, increase your viewership and engagement.
---
Wanting to make more than a blog? Learn how to make a website in 2019.