Freelancers aren't the only ones thriving in the gig economy.
Businesses are hiring more freelancers than ever, and it's all thanks to the accessibility of freelance platforms and the overall increase in the number of freelancers. According to the Upwork's 2018 Future Workforce Report, 48% of businesses hired freelancers in 2018, up from 43% in 2017. Additionally, 9 out of 10 hiring managers stated they were open to hiring freelancers over hiring temporary workers through a staffing firm. These statistics prove that companies are becoming increasingly aware of the benefits freelancers provide.
As businesses progressively start to understand the benefits of hiring freelancers, they'll start becoming interested in hiring them, but where does the hiring process start? How does a business hire a freelancer? We'll cover all that and more.
How to hire freelancers
The first thing a business should consider before hiring a freelancer is whether a freelancer is right for the role they aim to fill. It's important to understand the distinction between a full-time employee and a freelancer, as both types of employees bring different skills and qualities to the table. A business that has a specific need or role in mind that isn't suitable for a full-time position should turn to a freelancer.
After settling on the job that needs to be filled, businesses have a few options to move forward in the hiring process. A common tactic is using staffing agencies to hire temporary workers. Staffing agencies essentially handle the hiring process for businesses and ensure the freelancers they connect businesses to are viable for the position in question.
Businesses can venture out to networking events or leverage social media to find suitable candidates. In-person networking is especially helpful for getting to know a potential temporary employee, giving employers an opportunity to scope out different candidates in a short period of time. Social media is also an asset for hiring, as freelancers often market themselves on a variety of platforms.
Businesses also benefit from utilizing freelance platforms, which are essentially a marketplace employers can use to locate freelancers looking for work. Freelance websites connect freelancers and employees on one platform, making it easy for businesses to handle the freelance hiring process on their own.
How your business can use freelance platforms
Getting started on a freelance platform is fairly simple from a company standpoint. The first step is to create a job posting. Similar to job boards software, freelance platforms allow companies to advertise an available position they'd like filled. In turn, the job posting is shared to the marketplace of freelancers available on the platform. A job posting is a great opportunity for businesses to describe what they're looking for in a candidate, such as ideal skill sets and experience.
On top of the responses received from a job posting, businesses can also be alerted when specific freelancers are available in the marketplace that fit their needs. These alerts can be sent straight to a hiring manager's inbox as a shortlist to ease the hiring process even further. Once a candidate is found, the business can easily initiate a chat to get the hiring process started.
Freelance platforms provide additional benefits, too. One perk is the screening process. These platforms screen freelance applicants to ensure their experience and background fit the needs of the business. Screening measures typically authenticate whether the freelancer is fit to work on their projects of interest using assessments similar to pre-employment testing software. The measures also include any feedback or job scores the freelancer has involving their previous work. These insights help ensure their work is consistently up to par. However, it's the responsibility of the employer to perform a more comprehensive screening process if necessary, such as background or drug tests.
Freelance platforms also handle the payment process. Depending on the tool, the payroll can be handled on a project-by-project basis automatically, or the business can choose to pay its freelancers on a monthly basis for as long as the freelancer is on board.
Benefits of hiring freelancers
There are many advantages associated with hiring freelancers.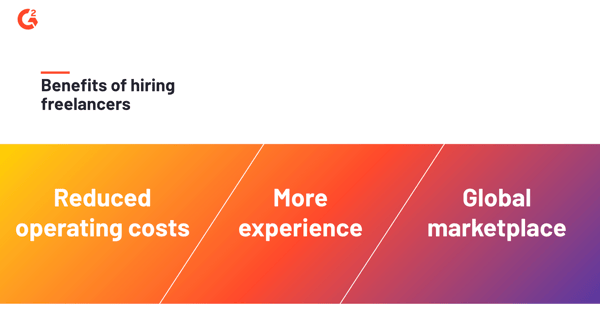 Reduced operating costs
Freelancers, especially those who work remotely, cost businesses much less money than a typical full-time employee who works in a physical office. Freelancers are responsible for handling their own operational costs, such as office supplies, computers and Wi-Fi. In addition, employers don't have to fully onboard a new freelancer and do not have to pay for the typical benefits they provide to full-time employees, such as health insurance and paid time off.
More experience
Since freelancers focus on temporary work, they often have a variety of work experience under their belt. Freelancers are more likely to have exposure to vastly different project scenarios and common industry issues since they take on so many roles. When hiring a freelancer for a specific project, businesses can focus on freelancers who have experience and skills closely related to the project, making them highly specialized experts for the individual task. (For example, a company that requires a logo would benefit from hiring a freelancer that has experience in making logos and highlights their expertise in logos, specifically, rather than hiring a full-time graphic designer that is a jack-of-all-trades in design.
Global marketplace
Businesses looking to hire freelancers have the option to search globally. This vastly increases the pool of potential applicants and makes it more likely that the business will quickly locate an expert to fit its needs.
You're ready to hire some freelancers!
Freelancers are great assets for businesses spanning across all industries, and hiring one isn't as hard as it might seem. By taking advantage of all the methods of locating the right freelancer, your business can have all the niche roles filled in a short amount of time.
Are you a freelance graphic designer and don't know how to jumpstart your career? Check out this article on how to get started as a freelance graphic designer.