The path to becoming a freelancer is exciting, but there's a long road ahead before you start accepting work.
Ideally, you'll want a bit of time to curate your professional brand before seeking temporary jobs within freelance platforms or by networking on your own. There are multiple steps involved with marketing yourself as someone suitable for particular roles and projects, and it's up to you to sell your skills strategically. So, what are those steps?
How to get started as a freelancer
Before diving into the several steps involved with beginning freelance work, it's important to take some time for self-discovery and ask yourself a simple question: "Why?" Why do you want to become a freelancer? Some people prefer being their own boss, others value the time and flexibility freelancing provides. Whatever drives you to become a freelancer will drive you to follow the path to become a successful one.
Tip: Freelancers are typically self-insured. Prepare yourself with self-employed health insurance knowledge before committing to your first freelance gig.
Once you've solidified the confidence in your chosen career direction, consider the type of work you plan on accepting. Freelancers typically belong in a single industry and deliver a specific type of work. For example, prospective freelance writers should decide whether they want to accept a variety of writing projects or focus on particular writing requests, such as blogs.
Additionally, prospective freelancers should consider how they plan on finding their first clients and what types of projects they want to initially work on. It's always a good idea to get a variety of projects under your belt and get accustomed to the process before committing to freelancing as a permanent career. Before freelance platforms existed, freelancers relied solely on word of mouth job opportunities, self-marketing tactics and old-fashioned networking to get clients. Networking can simply involve contacting previous employers, marketing yourself on social media or attending networking events. If those options aren't ideal, new freelancers can also use freelance platforms immediately.
How to use freelance platforms as a freelancer
There is a lot involved with entering the vast marketplace of fellow freelancers within freelance platforms, and it's worth getting to know whether the process is right for you.
If you've decided to use a freelance platform, you'll need to find one that fits your industry needs. There are many platforms that cater to all industries, but there are also niche platforms that focus on specific jobs as well. These decisions are all personal preference, so it may be worth bouncing around several platforms to decide which is the best option for you.
After deciding on the perfect type of platform, your main goal is to stand out among the competition in the freelance platform's marketplace. For example, if you're a graphic designer, consider the many other graphic designers on the platform looking for the same type of gigs you're looking for. Competition is healthy and can be motivating, but it can also be draining. It's much easier to go up against the rest by following a few steps.
5 steps to starting out on a freelance platform
By following these steps, you'll be able to carve a path toward accepting your first clients with ease.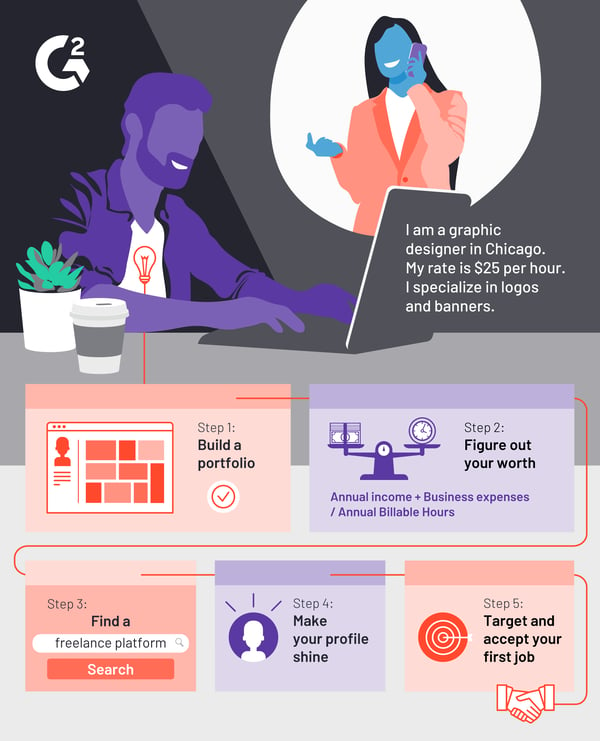 1. Build a portfolio
The need for portfolios depends on your title. Graphic designers, writers and photographers all benefit from showcasing their creative abilities through a carefully selected set of work they're proud of. A typical graphic design portfolio, for example, is a way to showcase particularly impressive projects that will make you stand out to potential clients. An easy and accessible way to show off a digital portfolio is to use a free website builder. Having a professional website is like having a simple self-marketing tool that can be easily shared on social media or your freelance platform profile.
2. Strategically figure out your worth
One of the greatest aspects of freelancing is the ability to set your own wage. Typically, freelancers set an hourly wage, but flat rates for projects are common as well. First, consider your living situation and ask yourself, "What is my ideal salary?" Whatever that might be, consider the cost of being your own boss. There are plenty of expenses associated with freelancing that may impact your overall take-home pay. Office supplies, a computer, Wi-Fi and other supplies and services can cost a lot of money and should be considered when figuring out what your wages should look like. In addition, you'll need to plan out how many days you intend to work and factor in any potential days off in advance to get an accurate idea of your annual income. Once you've settled on your annual income, calculate your hourly rate. Here's a handy formula to get you started:
Annual income + Business expenses / Annual Billable Hours
The next step when figuring out your wage is researching how much your competitors are charging, whether it's in a freelance setting or a corporate setting. Your competition impacts your value and the ease of obtaining clients, so it's up to you how competitive you want your wages to be.
3. Find a freelance platform
As we discussed above, finding a freelance platform is based on your own preferences. Some freelance platforms draw a big crowd of industries, from designers to software engineers. Others focus on a single industry, which is preferable if you want a smaller, more niche platform that caters to the industry you work in. Larger, all-industry platforms will have a larger pool of freelancers, upping the competition, but it will also expose you to a larger set of clients.
4. Make your profile shine
Think of your freelance platform profile as an enhanced resume. Your profile lists all of the normal things you would normally highlight on your normal resume, such as your job experience, education and skills. However, your profile allows you to add additional flair to stand out. Adding a profile picture, your portfolio and a list of achievements is a great way to market yourself to potential employers. In addition, write a clear and concise summary of the value you bring and the skills you have that make you a good choice for the job you're looking for.
5. Target and accept your first job
You're finally ready to start searching for gigs! On a freelance platform, you have the opportunity to scope out the right job for you. While searching, read through each job post carefully and ensure the job fits your personal requirements. Some platforms have a daily or monthly application limit, so choose where to apply wisely.
You're ready to freelance!
With all the necessary measures in place, you're ready to move forward into the gig economy with confidence. It's important to remember that being a freelancer also means being your own boss. Being your own boss involves most of the entrepreneurial up and downs you would expect, but the pros and cons are well worth it once you get the ball rolling and accept your first few clients.
Interested in learning more about the rising interest in freelancing? Check out this article describing the gig economy.