Don't cry over spilled milk, right?
That is, unless you spill it on your computer.
Losing your computer's data can be devastating. Whether it's the first draft of the novel you've been working on or the video of your two-year-old taking her first steps, you were hoping – if not expecting – your computer would keep your most important materials safe.
For small-business owners, a data loss can be even more detrimental. Since many small-business owners double up as the boss and tech support, losing data could mean losing employee records, sensitive business information, and much, much more.
Luckily, you also have the power to backup your computer.
What does it mean to backup your computer?
To backup your computer means to copy physical or virtual files to a secondary location in case of equipment failure, ransomware, human error, or any other situation that would result in a data loss. Backing up your computer allows you to restore your lost data.
The unfortunate (and frankly, scary) part about data loss is that human error is the number one cause. It's much more likely that you spill on your computer or simply forget to save a file than it is a hacker comes in and wipes out your data (although that is possible if you have low data security).
But, there's a silver lining: it also means that losing your hard work, intellectual property, or company data is almost completely preventable. There are measures that you, as a small-business owner, can take to keep your company records as secure as possible.
How to backup your computer
Luckily, there's a variety of ways to backup your computer, so you can choose the one that works best for the time and resources you have.
That said, to be safe you most likely want to explore multiple options – two, minimum. We recommend at least one onsite backup and one offsite backup. Onsite backup means your data will be stored on a local device, like a hard drive, CD, or USB. Offsite backup, on the other hand, is stored on an offsite server.
This way, if something happens, your onsite backup can reunite you with your data almost immediately. On the other hand, if the worst happens – say, your storefront burns down – you'll be happy to have the offsite backup. Better safe than sorry, right?
Backup to an external hard drive
The first option is likely the one with which you're most familiar – backing up your data to an external hard drive.
An external hard drive is a portable storage device that can be attached to your computer. Notably, these devices don't require any additional software, and you can simply backup to the drive using your computer's built-in backup capabilities.
If you're on a budget, external hard drives are also inexpensive compared to some other backup options. Obviously you get what you pay for, but options range from around $40 for 1TB of storage to around $4000 dollars for 72TB of storage.
Since external hard drives have been around for quite a while, most savvy computer users are quite comfortable using them. That said, you'll want to keep their lifespans in mind. Depending on its make and model, and assuming no damage occurs, you can count on about 3-5 years of security before your external hard drive is due for a replacement.
Backup using backup software
If you're a business owner with the resources to do so, it is almost definitely worth it to invest in backup software. This software copies your business data from servers, databases, desktops, laptops, and more, and offers protection against user error, corrupt files, or physical disaster.
Whether you're interested in exploring your free backup software options, or willing to make more of a financial investment in hard drive recovery software, there are several benefits to this type of tool that shouldn't be overlooked by business owners who care about their data.
For example, backup software can automate the grueling task of having to backup multiple devices – a huge benefit for anybody who's already strapped for time – allowing them to set it and forget it. The tool will create copies of your sensitive business data and keep them secure so that if (or when) necessary, you can restore the backup data.
Whether you're trying to protect personal files, or you're a business owner with critical company information stored on your PC, making the choice to invest in backup software will ultimately help you sleep more soundly.
Before you start exploring your options, you'll want to get a better understanding of what exactly you're looking for – and when it comes to software, the options can be overwhelming.
More than anything, you'll want to analyze your individual needs. How many people will this need to support? Will you need to outsource any of the work, or can this be done in-house? What's your budget?
Then, you'll need to identify which features are your "must-haves," and which are just "nice-to-haves."
Last but not least, be sure to read verified-user reviews from professionals with similar use cases. Look for reviews written by people who work in a similar role or come from approximately the same size company.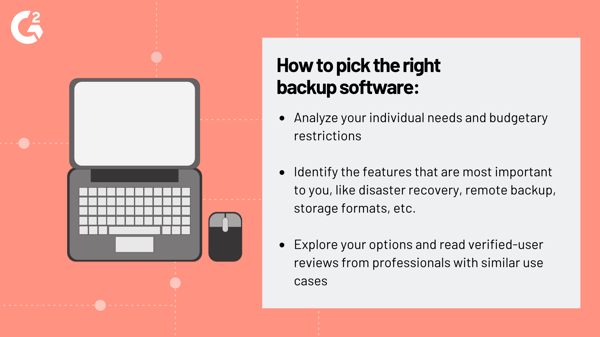 Backup using Cloud File Storage software
This method is certainly nontraditional, but it may work if your running an early-stage small business and don't plan to scale, or just want to keep your personal files safe.
Cloud file storage software is just about what it sounds like: a storage tool that allows companies to create organized cloud-based file systems and manage storage efficiently. Similar to backup software, these systems support in-place updates (the installation of a computer app without removing the older version) and the storage of file system metadata.
That said, cloud storage is typically less scalable than other options, so while it is not recommended for larger companies, it could be something to look into if you fit the criteria mentioned above.
It's also important to note that cloud file storage isn't technically a method of backing up your computer that your IT analyst would endorse, it more or less serves the same purpose, as it allows you to access data even if your hardware fails you.
As an added bonus for small-business owners, or anybody on a budget, these services typically offer a freemium version. If your team requires more space than is offered for free, you'll have to upgrade (at which point it may be worth looking into a true backup software tool).
Back up using an internet service
If you don't want to clutter your workspace with even more hardware, you may opt to back up your files with an internet service.
There is a variety of services that offer this function, but keep in mind they typically operate on a pay-as-you-go model, meaning you'll pay a monthly or annual fee, unlike an external hard drive, which would be a one-time payment.
Internet backup programs run in the background of your computer and automatically back your data up to their web storage. In the event of data loss, you'll be able to restore your data quite quickly.
And of course, there's the added benefit that since it's an online service, there's virtually no risk of any sort of physical disaster impacting your data. Unlike a physical hard drive, which could be destroyed by a fire, weather-related disasters, or stolen, online services are almost completely protected against that risk.
It's important to note that these services usually cost money, and the process of backing up your data may be slower than what you would experience with a hard drive backup. If these sound like just minor inconveniences to you, then it may be worth looking into an online service.
Stay safe out there
Whichever methods (or methods) you choose, what's ultimately important is that you're making the effort to keep your sensitive data secure.
For small-business owners, this extra step is an especially important one, not one to take lightly. You and your employees will rest easier at night knowing that you're protected from the unexpected.