Houston, TX, my hometown of highways, has experienced a year of both wreckage and resilience.
Hurricane Harvey made landfall in late August and ripped the feet out from under the city of 2.3 million people. Bringing in over 50 inches of rain in some areas, it destroyed beloved homes and effectively paused life within the city and its surrounding counties.
Despite its destruction, the storm was unable to deprive the Houston people of their communal spirit, and the immediacy with which neighbors began helping neighbors. Jet skis and boats that had only ever seen summer fun were used to rescue strangers from their rooftops and retrieve elderly people from rapidly rising waters. My own sister and brother-in-law saw their apartment flood and were immediately rescued by family friends in a large van.
Touching as these stories are, they come as no surprise to natives, who know no other way to be. Houston is a town built on community, with each group supporting the other. This is exemplified through diverse cultural events such as the Houston Livestock Show and Rodeo, the Houston Greek Festival, the Houston International Festival and the annual Gay Pride Parade. It has a thriving theatre arts and music scene, and encourages children to pursue the arts through awards shows such as the Tommy Tune Awards.
The city also comes together for its love of sports, and received a big win mere months after Harvey in the form of an MLB World Series Championship trophy. A first for the Astros since the franchise's development in 1962, the city erupted in celebration, some watching from folding chairs in gutted living rooms still awaiting repair.
Home to NASA and oft-referred to as Space City, Houston's resilience is coupled with major technological innovations. Houston is home to George Ballas, inventor of the weedeater, who sold his company for $80 million in 1977. It's the birthplace of the Ventricular-Assist Device by Dr. Michael DeBakey, a device inspired by NASA fuel pump innovations that keeps weak hearts beating while patients await a donor for transplant.
Houston's Tech Scene
When it comes to startups, the city is still growing and discovering ways to turn this city rich in oil developers and medical professionals into a "Silicon by the Sea." While it lags behind other major cities in startups per capita, the city is actively looking to expand. Mayor Sylvester Turner launched a Technology and Innovation Task Force in May 2017 that hopes to help build out an innovation district for tech startups and venture capital. Ideally, Houston will become a city where more startups feel they can flourish long term.
Other members of local government have also showed interest in expanding the city's tech scene. City council tasked a group with brainstorming actionable ways to make the city more startup friendly. Ideas included establishing a visa program that would elongate non-citizens' tenure in the United States, taking a second go at starting a data science center, and hosting high-profile tech events.
"We've got the raw ingredients, but now we have a comprehensive plan," Council member Amanda Edwards said in a Houston Chronicle story.
Perhaps the startup scene has some developments to make, but it's headed in the right direction. The Houston population is ambitious and scrappy when they need to be, and knows how to build up. There's no reason why this city can't become a technological force in the coming years.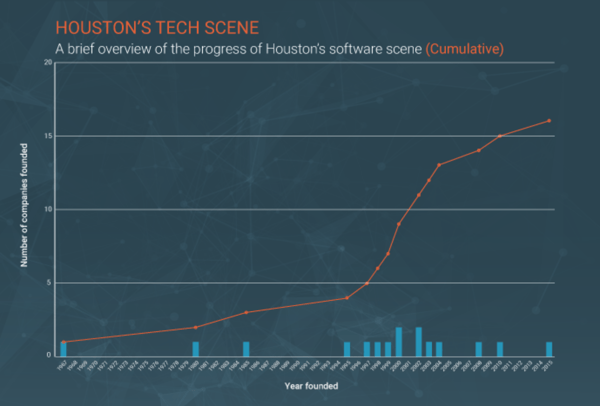 Note: Only software vendors on G2 Crowd with headquarters currently in the Houston area are included in graph.
---
Houston Tech Leaders on the City's Tech Scene
CHANGI CONSULTING
The technology landscape is changing at a tremendous rate, every coming day brings more innovative solutions and products, making the old ones obsolete. We are in an era where nothing is impossible and opportunities are limitless. Arash Malmaci, Head of Business Development at Changi Consulting
---
We have compiled data on the state of the Houston B2B tech scene that includes all of the top-rated products on G2 Crowd which have parent companies headquartered in Houston. Our list is ranked by user satisfaction of a company's top-rated product. To qualify, a product was required to have at least 10 verified user reviews.
For each qualifying product, we created a company profile to recognize what that company is and does, as well as give a little insight into its history. The data relies on G2 Crowd's more than 300,000 B2B software and services reviews, or from public data sources such as LinkedIn, Crunchbase or each vendor's website.
Best Houston Tech Companies in 2019
This Salesforce CRM consulting firm the focuses on organizational strategy, sales automation, campaign management and more. Changi Consulting has more than 15 years of Salesforce.com experience, enabling the company to deliver solid results to its customers. This firm serves customers across multiple agencies throughout the Middle East, Africa and Europe.
"We are delighted to be included in this overview of leading tech companies in Houston. Changi is headquartered out of US, with regional offices in UAE, Cyprus and Lebanon, and in Malta expected this year. Our unique placement allows us to be more agile and efficient in serving our customers.Changi is committed to delivering excellence and continuous innovation, using the technology and our skilled resources, to our customers in the CRM (Salesforce) and Process Automation space, helping them manage change, transform by adapting and utilizing the leading CRM Platform, Salesforce, to their advantage." Arash Malmaci. Head of Business Development at Changi Consulting
---
TrueSight Pulse is an Application Performance Monitoring (APM) tool that was ranked a leader in its category on G2 Crowd for Summer 2017. This solution helps transform traditional businesses into digital enterprises. TrueSight Pulse pairs digital innovation with robust IT industrialization to allow businesses to provide an intuitive user experience.
---
3. CloudNine Discovery

Product: CloudNine
Category: Ediscovery
City: Houston
Founded: 2002
Employees: 14
CloudNine is an eDiscovery tool that simplifies litigation, investigations and audits for law firms and corporations. This automated solution allows users manage the entire eDiscovery process themselves. CloudNine was ranked a high performer in its category on G2 Crowd for Winter 2018.
"As a Houston-based legal technology software company dedicated to simplifying and automating data and legal discovery, it is incredibly gratifying to be highly rated by our customers and recognized by G2 Crowd as a leader in the Houston Tech community. We continuously strive to help law firms and corporations master electronic discovery during audits, investigations, and litigation and it's always great to see these efforts recognized directly and definitively by our customers." Brad Jenkins, CEO at CloudNine
---
With an impressive 12 reviews on G2 Crowd, Insperity Services is a leader within our Houston-based products. Insperity Services is a full-service HR provider that empowers small businesses to provide benefits and handle payroll and other administrative tasks. Companies that use Insperity Services include Complete Pharmacy Care, United Through Reading, and Electro Acoustics.
---
With an impressive 13 reviews on G2 Crowd, cPanel is a leader within our Houston-based products. cPanel is a platform that enables web hosting providers to create domains, email accounts, and databases as well as configure security and make apps available.
---
With an impressive 11 reviews on G2 Crowd, TeamWork is a leader within our Houston-based products. TeamWork is a DevOps for database platform that allows users to have agile database development with continuous integration and delivery. TeamWork can integrate with Oracle, SQL Server, VisualStudio, Jira, Bitbucket, uDeploy, and more.
---
With an impressive 11 reviews on G2 Crowd, BizInsight is a leader within our Houston-based products. BizInsight is a self-service business intelligence platform that allows users to import data and analyze and drill into it how they see fit. Primarily using Microsoft Excel, BizInsight creates a user-friendly environment.
---
8. LkCollab LLC

Product: Bubbl.us
Category: Diagramming
City: Houston
Founded: 2005
Employees: 2-10
With an impressive 12 reviews on G2 Crowd, Bubbl.us is a leader within our Houston-based products. Bubbl.us is a brainstorming tool to help teams collaborate and organize their ideas in a useful way. According to Maria R., a G2 Crowd reviewer, "This mind mapping software is a little wonder. Before, it used to take me centuries to finish a mind map: I had to draw the "containers", then type up the mind map information, and then fill it with color. Now I can do this in a fraction of the time with Bubble."
---
9. PROS

Product: PROS Smart CPQ
Category: CPQ
City: Houston
Founded: 1985
Employees: 1993
With an impressive 12 reviews on G2 Crowd, PROS Smart CPQ is a leader within our Houston-based products. PROS Smart CPQ is a CPQ platform that automates and simplifies the configuration, pricing, and quoting process for sales teams. Companies that use PROS Smart CPQ include, Bausch + Lomb, Siemens, Ciena, Cable One, and Planar.
---
With an impressive 29 reviews on G2 Crowd, AcctTwo is a leader within our Houston-based products. AcctTwo is a reseller and implementer of cloud-based accounting and financial management software. As a consulting firm, AcctTwo specializes in software and technology companies, energy and industrial companies, and nonprofit and faith-based organizations.
"We're excited and honored to be mentioned in G2 Crowd's State of B2B Houston Tech report," said Marcus Wagner, Founder and CEO of AcctTwo. "I'm very proud of the continued growth and focus on customer success that our team has managed over the past six years. Houston is the 4th largest city in the U.S., and is projected to surpass Chicago for the No. 3 spot in the next ten years. This is such an exciting time to do business in Houston, and we're thrilled to be a part of that amazing growth." Marcus Wagner, Founder & CEO of AcctTwo
---
Other B2B Houston Tech Companies
While we recognized only the 10 best-reviewed software exports from Houston, there are still an abundance of other B2B tech companies impacting the region's tech scene. Here's a rundown of other Houston B2B software companies with their founded dates and total funding.
| Product | Vendor | Employees | Founded |
| --- | --- | --- | --- |
| Adjutant | Abis | 14 | n/a |
| Asset Management | GDS Mobile | 9 | n/a |
| Auto Finance Software | Shaw Systems Associates, Inc. | 78 | 1967 |
| Cloudbric | Cloudbric | 6 | n/a |
| CXM | CXM | 4 | 2002 |
| Dialwebhosting | Samy | 2 | 2000 |
| Direct EDJE | Direct EDJE | n/a | n/a |
| ePROMIS ERP | ePROMIS Solutions | 35 | n/a |
| FAT FINGER | SEE Forge | 6 | n/a |
| IO Zoom | IO Zoom | 1 | n/a |
| ONtility | ONTILITY | 23 | 2000 |
| Pando | EarthIntegrate | 30 | n/a |
| Tendenci | Tendenci | 17 | 1997 |
| Tracts | Tracts.co | 3 | n/a |
| TyMetrix 360 | Wolters Kluwer ELM Solutions | 667 | 1998 |
| Uber Clone App | Mobisoft Infotech | 201 | n/a |
| Webinato | omNovia | 17 | 2003 |
| WebsiteAlive | WebsiteAlive | 11 | 2004 |
For any questions about the methodology or data included in this piece, or to request that your Houston B2B tech company be added, please reach out to Editorial Team Lead Jakub Rudnik at jrudnik@g2crowd.com.