If you've never worked with a help desk software before, it can be pretty overwhelming at first.
To help you get started, we've created a comprehensive guide that explains how to set up your help desk management system from top to bottom.
Determine your help desk management needs
Before you start setting anything up, it's important to reflect on why you obtained a help desk management software. Will the help desk system be used for answering customer queries? Do you need to create external knowledge bases as a part of your service-solution? Which channels do you want to provide support on? Asking questions like these will give you insight into which help desk system is the best choice for you.
Regardless of what help desk system you choose, it should be able to do two things:
First, it should streamline all your communication channels. When all customer queries and info is accessible in a single platform, you're minimizing the risk of neglecting customer requests. Additionally, your agents are less likely to provide inaccurate or inconsistent answers. They're also less likely to compromise your security by sharing admin login credentials amongst each other.
Second, a help desk should improve your workflow through its unique features. Ticket routing, tags, departments, and other features should help you manage tickets and related tasks. Now that you know what your help desk system should do, here's how you should set it up.
1. Connect your communication channels
The first step is to connect all the communication channels that your customers use to get in contact with you. By connecting them with your help desk system you're ensuring a seamless customer service experience across all channels.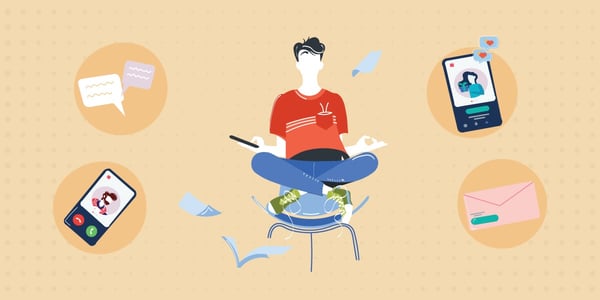 Mailboxes
Connect all email addresses that you use for business communication so all queries are accessible under one roof. A good starting point is to connect all email addresses used for:
Sales communication
Tech support
Finance/billing questions
Press/public relations
If you're worried that streamlining these email addresses into one universal inbox will create chaos or disorder -- think again. Help desk management systems are smart software that organize and route queries into appropriate departments within your inbox. What this means is that your sales agents won't interfere with tech support queries and vice versa. Agents will be able to see the queries assigned to their department only (unless that's not how you want it).
Live chat
By integrating a live chat widget into your website, you'll be able to provide instant support to both existing and prospective customers. Placing chat widgets onto your website is easy.
Simply create the chat button widget inside your help desk system, copy its code, and place it into your website's footer or header. All live chats will be automatically converted into a ticket by your help desk system, so you can view the transcript of each chat, or continue the conversation through other communication channels as needed.
Customer portal
Setting up a dedicated customer portal that enables users to fill out contact forms is beneficial for all businesses. Users that want to contact you directly on your website can do so, without having to chat with your support agents in real-time.
Social media
Staying on top of your social media is a must. Because customers are very active on social networks, they expect businesses to provide support through these channels as well. The right help desk management system should integrate with social media networks such as Facebook, Facebook Messenger, Twitter, and Instagram.
Once integrated, all private messages, DMs, comments, and mentions of your brand on these social networks will be converted into tickets and pushed into your universal inbox.
Phone numbers
By choosing a help desk system that enables you to create a virtual call center, you'll have a better overview of each customer interaction. Because all calls will be recorded and stored inside your help desk system in the form of a ticket, you can easily access them for training or legal purposes.
Integrate third-party apps
Integrating all the apps you use on a daily basis will improve your workflow efficiency. By being able to take actions right within your help desk system (without having to log in to different platforms) you'll be saving tons of time. You can integrate CRM systems, customer satisfaction management tools, payment processors, and email marketing tools for maximum efficiency.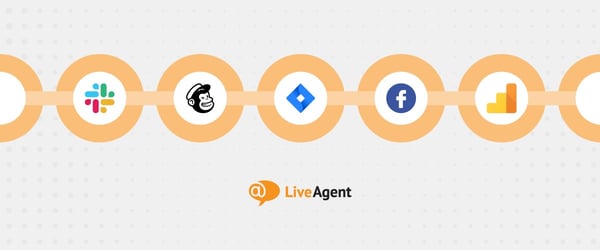 2. Create routing options
Manage your team's workflow by setting up smart routing options right within your help desk management system. You'll have the option to automatically route phone calls, live chats, and tickets to specific departments and agents alike.
Priority routing
Priority routing routes incoming tickets to an agent that is currently free and has the biggest downtime since their last customer interaction. You can also set up a routing option that routes incoming tickets to the agent your client has communicated with last.
Random assignment
Random assignments route new calls, chats, and tickets to one of the agents that are currently online and available in your help desk system.
IVR (interactive voice response)
Interactive voice response technology routes callers to appropriate agents and departments based on their dial pad input. With the right help desk management system, you'll be able to create complex IVR trees as a part of your help desk solution.
3. Utilize departments, tags, and automation rules
To improve transparency and efficiency within your help desk solution, utilize tags, departments, and automation rules.
Departments
By creating departments you'll be able to organize your tickets inside your help desk management system even further. Using advanced automation rules, you can create rules that route all incoming queries with specific keywords (such as reset and password) into specific departments (technical support.)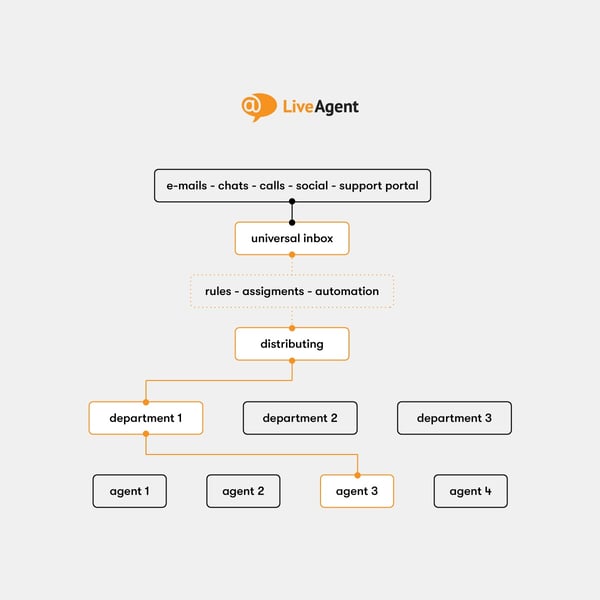 Tags
Using tags will allow you to view the content of each ticket inside your help desk system at a glance. For example, if the ticket is related to a pre-sales question, you can add the tag pre-sales to your ticket. Thus, as you're browsing through your universal inbox, you can see what each ticket is about without having to actually open it.
In addition, using tags can help you organize your help desk management system even further, as most systems enable you to filter tickets by tags. Tags can be added manually, or automatically. For example, if you close a live chat with a customer, and they give you a positive rating, the system can automatically add a reward tag to your ticket.
Automation rules
The right help desk management system should provide you with plenty of automation options such as mass actions, rules, and canned responses.
Below we've outlined a few automation rules you should set up as you're getting started with your help desk solution. Once you're more comfortable using your help desk software, you can add hundreds of other rules that will maximize your workflow efficiency.
Time rules
Time rules are rules that execute the desired action after a certain period of time has elapsed. For example, you can set up a time rule that automatically generates and sends an email to a customer 24 hours after you interact with them. This email can ask for feedback about the level of service the customer received.
Action-triggered rules
The action triggered rules are rules that are executed if certain conditions are met. These rules run system background checks to ensure that all conditions are met and the rule can be executed. For example, as mentioned before, you can set up rules that scan all incoming tickets for certain keywords. If an incoming ticket contains the words "password" and "reset" it will be automatically routed to the tech support department.
SLA rules
Service level agreement (SLA) rules ensure that agents meet all requirements when responding to tickets. For example, if you have an SLA that states that you need to respond to all queries from your client within four hours of receiving their ticket, your help desk can remind you to do so.
All you have to do is set up an SLA rule for all incoming tickets from this specific customer. Next, your help desk system will scan all incoming tickets for this rule and notify you if you receive a ticket from your client through the "To Solve Button". The button acts as a manager, and simply notifies you every time you need to prioritize solving a ticket to meet your SLA requirements.
Canned responses
Creating a list of canned responses can save you and your agents' tons of time. Canned responses are pre-defined, generic answers to frequently asked questions by your customers. For example, if you receive a query about your pricing, you can select a canned message as the response. By doing so, you won't have to waste time typing out the info manually each time.
Hopefully, you have a clear idea of how automation rules can improve your workflow by now. It's important to remember that the help desk management system you choose should always work for you, and not the other way around. Make sure the system can help you with mundane tasks, so you can focus on what's really important -- providing personalized, knowledgeable, and quick service for your customers.
4. Whip up knowledge bases and customer portals
Customer portals and knowledge bases are a must-have. Especially for companies that provide service worldwide. By creating an online knowledge base/customer portal, you'll be able to provide support for your customers 24/7, regardless of the timezone they're in.
Moreover, self-service solutions such as knowledge bases are highly appreciated by customers. In fact, more than 40% of them prefer to find answers to their questions online, rather than contacting customer service for help.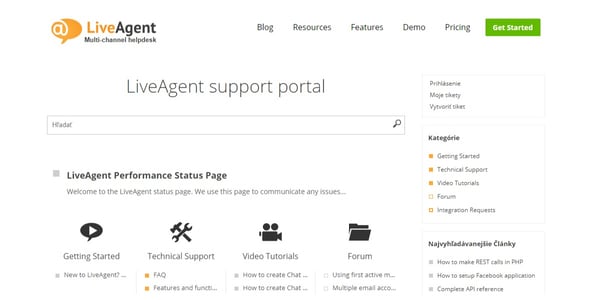 Apart from benefiting your customers, building a knowledge base and a customer portal can also benefit your agents. By providing a self-service solution for your customers, you're systematically decreasing the number of tickets you'll be receiving about your product or service. This will allow your agents to focus on more complex problems in the long run.
Creating a knowledge base can be a challenge at first because you need to think of all the instances that potential and existing customers would need help with. A good starting point is to analyze past tickets and see what questions were asked the most. Then, according to that data, you can start creating FAQ lists, how-to-articles, step-by-step guides, and forums.
Forums are a great addition to any self-help solution as they allow users to come together and share knowledge in an online community. Advanced users can help answer questions of those less versed in your product, providing you with extra manpower when it comes to solving customer queries.
Create content and suggestion boxes
As mentioned above, creating content will take some time. A good method for creating relevant content is to ask your support agents to make note of topics that come up in their conversations with customers. Because your agents have the best overview of what customers need help with and how their problems can be resolved, it is a good idea to involve them in the process. Ask them to write how-to-articles, create videos, or step-by-step guides that explain how your product can be utilized to its fullest potential.
If you want to go a step further, place a suggestion box somewhere inside your customer portal. Your customers will be able to send you suggestions about the topics they'd like to see covered in the knowledge base.
They can even share insights into what they want in new product releases and updates. Remember, getting firsthand consumer feedback like this is priceless. Companies often have to guess what customers want or use tons of resources to conduct surveys to gain valuable consumer insights.
It's time to get started
Now that we've gone over everything that needs to be done, you're ready to set up your own help desk management system. Remember to maximize its utility. Make use of all that it has to offer, from automation rules to third-party app integrations.
The last step you need to take before you get started is to invite all your agents into the system. They can start getting familiar with the tool, and soon they'll be providing an excellent level of service for your customers. Before we send you off, learn about the best help desk practices. You'll find it useful before you get started.