The modern-day internet user is spending 142 minutes per day on social media.
That translates to nearly two and a half hours of social media usage daily, which is massive. The 2019 Q3 Global Digital Statshot report reveals that 46 percent of the world's population depends on social media to express themselves, connect with friends, and learn about brands.
Businesses are increasingly relying on social channels to reach their audience and gain market share. However, social media marketing isn't only about improving brand awareness. Social channels like Twitter, Facebook, Instagram, YouTube, and LinkedIn are perfect platforms for showcasing gated content, brand videos, email opt-ins, and other campaigns, allowing businesses to direct potential customers into their sales funnel.
How to generate quality leads through social media
If you are aiming at generating high-quality leads through social media, we have a few time-tested tips that can help you achieve your objectives, putting your business on the fast track to success.
1. Know which channel to target
One of the worst mistakes marketers commit is trying to generate leads from the wrong social channel. If you want to attract high-quality leads on social media channels, you should begin by determining where you can find your target audience.
Facebook dominates the social media landscape with 2.38 billion monthly active users.
However, this social media giant may or may not be the most suitable choice for your business. For instance, if you're a B2B marketer, LinkedIn comes across as the most effective social media channel.
Each social channel has a unique content strategy and appeals to a specific user base. Hence, creating a lead generation strategy for a platform where your target audience isn't present makes no sense.
Generate more leads and drive your brand's online presence through social media demographics. Social media management tools can help you target the right audience and generate quality leads on social networks.
For instance, according to this chart, Pinterest may not seem like a channel that enjoys a huge user base. However, Pinterest is a social network that appeals to upper-middle-class shoppers. If you are targeting this audience, Pinterest can be the right platform to generate conversions and leads.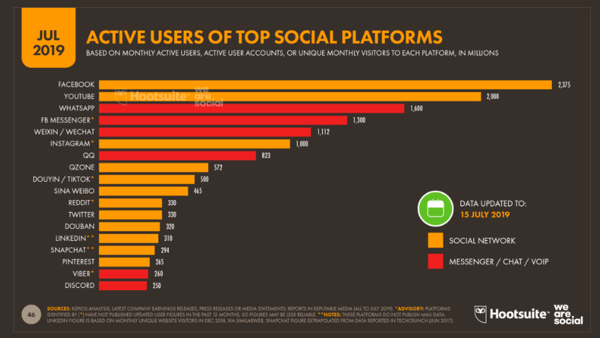 (Source: datareportal.com)
2. Share high-quality, relevant content
Your following on social media is only as good as the content you share. So, make sure you have a sound content strategy in place, allowing you to generate leads through this channel.
Nothing can boost the credibility and authenticity of your social media posts like user-generated content (UGC). The Consumer Content Report by Stackla reveals that consumer-created content has the power to influence customers throughout the buying cycle.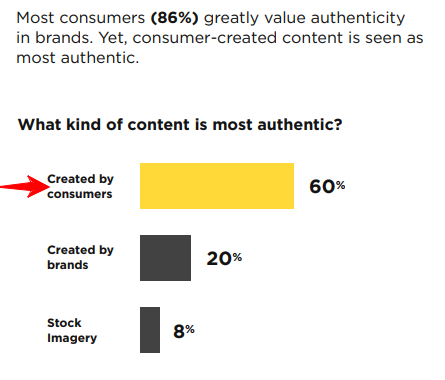 (Source: stackla.com)
For most brands, Facebook and Instagram are the primary channels for generating UGC.
In fact, marketers agree that UGC works like social proof and is more relatable to shoppers in comparison to the content created by brands.
H&M's #HMcampaign on Instagram encourages users and influencers to share their brand experiences, leaving customers flocking to the brand's online and brick-and-mortar stores.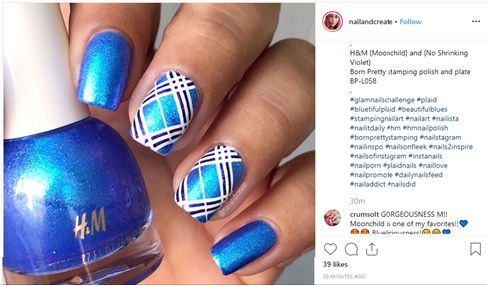 Another way to create authentic leads is to couple UGC with cause-related content.
Supporting a cause that aligns with your brand's values drives the audience's emotions and encourages them to take action and support the cause, thereby, generating more noise for your brand. Check out how the campaign #runfortheoceans by Adidas stirred a global movement to protect the oceans from plastic pollution.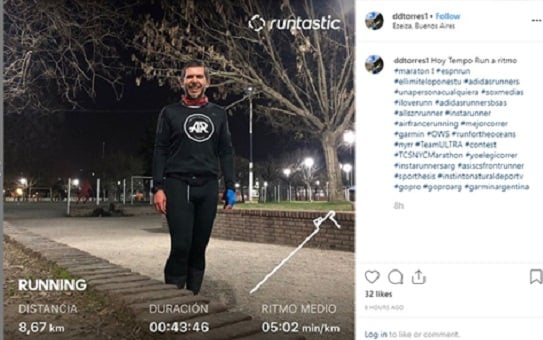 It also pays to drive traffic from your social page to your blog.
Simply promote targeted blog posts and add links to gated content. If the content offered by you is truly valuable and relevant to the target audience, they will not mind sharing their contact details for accessing it.
Gated content in the form of white papers, webinars, case studies, industry reports, videos, and infographics are the most effective in generating leads. Visitors who complete the landing page form to gain access to your content become your leads.
3. Implement targeted social media advertising
Social channels enjoy access to user information, making them ideal platforms for highly-effective and specific ad targeting, and lead generation.
In fact, social media advertising or social media targeting offers a high conversion rate with low advertising costs. No wonder the global social ad spending accounts is expected to rise by nearly 18 percent this year.
The top social platforms (Facebook, Instagram, and Twitter) offer lead generation ads that allow marketers to attract leads through targeted social media advertising. Facebook and Instagram ads, for instance, allow businesses to select a specific geographical location to reach a target audience.
Besides allowing effective targeting, social channels have improved their lead generation capacity by introducing specific ad formats that help marketers generate leads directly from social networks.
For instance, the Facebook lead ad format offers an easy way for prospects to connect with business without leaving the social media site.
Check out how WordStream uses Facebook lead ads to its advantage.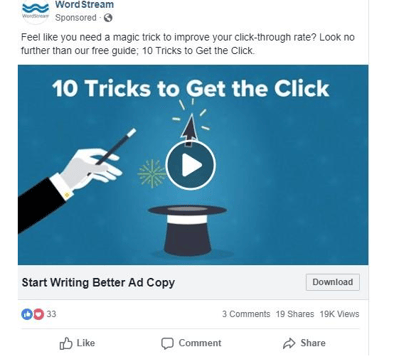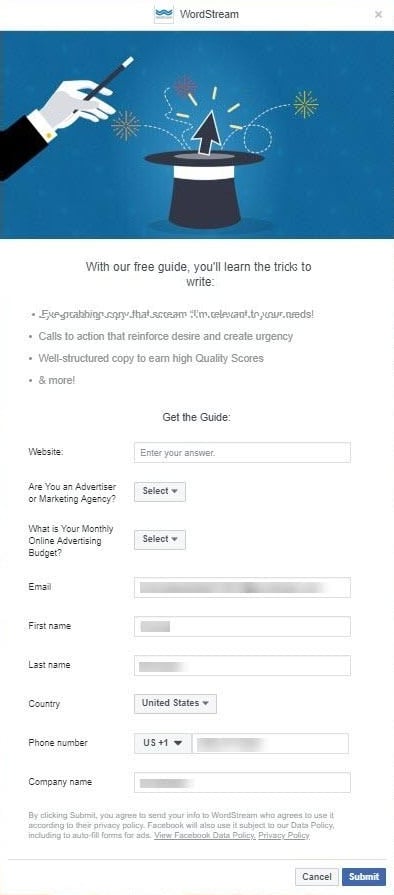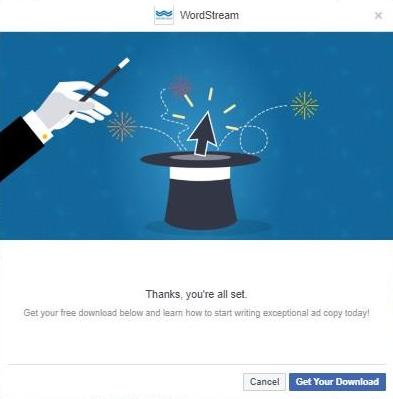 When the user clicks on the lead ad, they are presented with an opt-in form.
The primary advantage here is that the user doesn't have to fill in the information manually. Facebook automatically fills the user details, making the process simple, generating more leads for the business.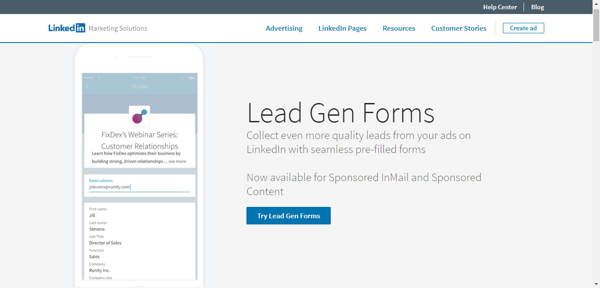 LinkedIn also offers a similar model for social media advertising through LinkedIn Lead Gen Forms. These forms make it easy for prospects to share their details, as the data is picked from the user's LinkedIn profile.
Social media targeting can improve your ability to collect leads from a highly specific group of potential customers, taking your lead generation strategy to the next level.
4. Introduce sweepstakes and contests
When executed effectively, contests and promotions can generate high-quality leads for your business. Social media contests and sweepstakes also help you interact with participants and obtain vital information pertaining to their buying behavior and lifestyle.
Amazon recently introduced a daily contest on its mobile app. Check out how the ecommerce giant shares regular contest updates on Facebook to engage its followers and generate new leads for its website and mobile app.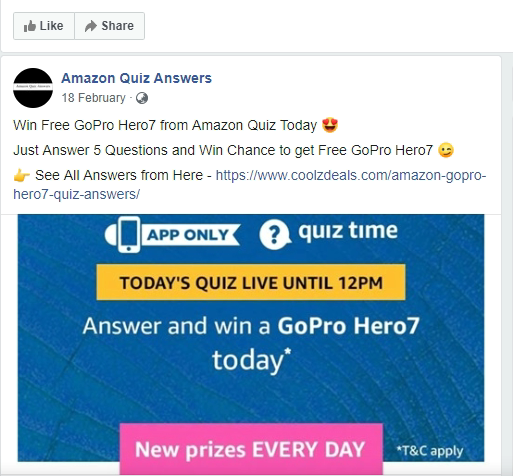 Tips for generating strong leads using contests
Make sure that the prize has a strong generic value, enough to attract the attention of your prospects.
Make each participant feels special. If you have a few contest winners, you can reward the other participants with a limited-time offer or a discount voucher.
Use social media channels to make your contest go viral. Ask your fans to post pictures of them with the product or the freebie on social platforms. Photographs and videos have a visual and interactive appeal. (Bonus: It also generates UGC!) Such contests can rapidly spread the word to all your followers and their networks, encouraging more people to follow your business page.
Instead of organizing a one-off contest, implement a contest series. This will not only engage your followers, but also enable you to see a pattern of behavior from your participants. For instance, you may get to know whether the registration form is too long or just right and whether or not the prizes are motivating enough for your audience to participate.
Running a contest on social media is a great way to increase your following and boost brand visibility.
5. Host a hangout or live video
Google+ Hangouts and live videos can be effectively used to generate leads through social media. For instance, you can use Google+ Hangouts to present a webinar to your audience after they have registered for it using a simple opt-in form.
Alternatively, you can embed the replay webinar on your website and send your users the link after they share their contact details.
Live videos, on the other hand, allow users to share the latest content, thereby, engaging the audience, capturing leads, and boosting brand loyalty. Livestream's survey with New York Magazine on live video revealed that live videos make the most effective marketing and distribution tool.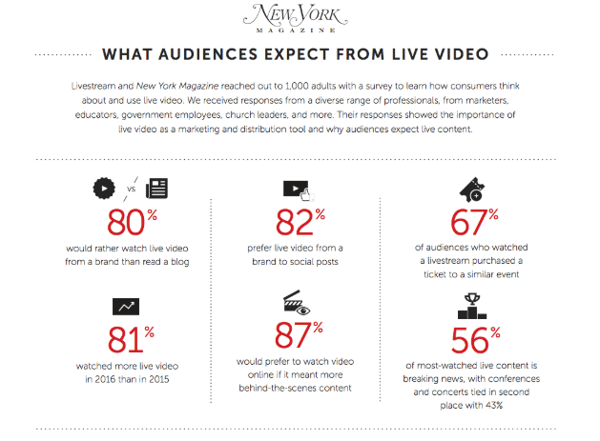 For instance, if you are an authority in your niche, you may host a Facebook Live questions and answers session, inviting your followers to share their concerns.
Later, you can encourage them to fill in an opt-in form to your email list.
Similarly, you can use Facebook Live to broadcast a recording of a podcast that might be relevant to your niche.
6. Measure success through social media monitoring
One of the tested ways to generate qualified leads through social platforms is to monitor the success of your social media campaigns. The insights derived can be used to sharpen your lead generation strategies.
Engage in social listening to track audience engagement, conversations around specific topics, brand and competitor mentions, hashtags, and keywords.
Targeted social listening can offer you actionable insights, allowing you to reach out to your audience, know about them, and position your brand as the go-to resource in your niche.
TIP: Social media monitoring software can help you understand where people talk about you, what they are saying about your brand or competitors, and track the latest trends.
Uncovering this information can help you generate new leads and direct your followers through the sales funnel as early as possible.
Conclusion
Numerous businesses are using social media channels to generate brand awareness and increase their following. However, not many of them are able to translate their efforts into generating quality leads and boosting conversions and profits.
These strategies can help you experience and measure the results of your lead generation strategies, but remember, leads generated through social channels are highly receptive and willing to open your emails or visit your blog. Once you generate leads through this channel, make sure you keep in touch with them through effective lead nurturing campaigns.
Need help generating quality leads for your business on social networks and increase your conversions? Discover the best social media management software for your company!