So you want to be a freelance writer? Let me help you with that.
There's a lot to think about when you're first starting out. First off, what is a freelance writer?
If you have that figured out, you're probably asking yourself, "where do I find work as a freelance writer?" Luckily, you don't have to do much work on that count.
Tip: To find jobs in general check out the highest rated job boards software.
Plenty of freelancers have come before you to establish this list of verified job sites for freelance writing work.
Where to find freelance writing jobs
The following websites and newsletters are great places to start in your quest for the perfect freelance writing job.
1. FlexJobs
FlexJobs is a job board for remote work of any kind. It's also a great place to go if you're looking for writing jobs in particular. At the moment, they have jobs listed for political writing, computer science course writing, and even a national basketball editor.

You can filter the jobs by whether you want to be remote full-time, part-time, remote, freelance, etc. The advanced search has features such a job location, career level, and whether the candidate is willing to travel.
2. Behance
Behance is a great resource for anyone in search of a creative job opportunity. Simply scroll over to where it says "creative fields" in the search bar, and find "writing" all the way at the bottom of the list.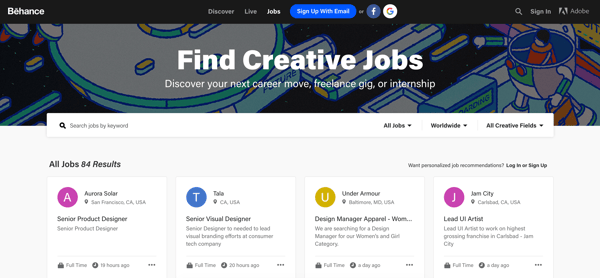 Behance also serves as an online portfolio for many creatives, meaning you can use it both as a place to find work, and feature what you've already done. This is more useful for visual artists such as graphic designers, but it could be helpful to writers as well.
3. MediaBistro
MediaBistro is a great site for freelance writers to find jobs as it allows candidates to search with a plethora of filters assigned. You can select "freelance" in the search bar, and put "writer" as one of the necessary keywords.

At the moment, this search pulls up jobs for a technology writer, a podcast screenwriter, and ghostwriters, just to name a few!
4. Morning Coffee Newsletter
The Morning Coffee Newsletter isn't a job board in and of itself, but rather a newsletter sent in association with FreelanceWriting.com. If you sign up for these updates, you can expect an email every morning informing you of new freelance writing job opportunities.

You spend so much time in search of these postings, what could be better than having them sent straight to your inbox?
5. ProBlogger Job Board
You may not be a ProBlogger yet, but you could be, by finding a job on this job board! ProBlogger, like many others, allows you to search for roles by filtering "freelance" jobs. This website is pretty well-known in the blog world, meaning you could find work for some pretty reputable companies through their job search.

Additionally, they have their own blog, which is a great resource for any budding freelance writers or bloggers.
6. FreelanceWriting.com
FreelanceWriting.com makes it simple for you to filter listings from the source, meaning you only see listings from locations you trust or platforms you would want to apply on.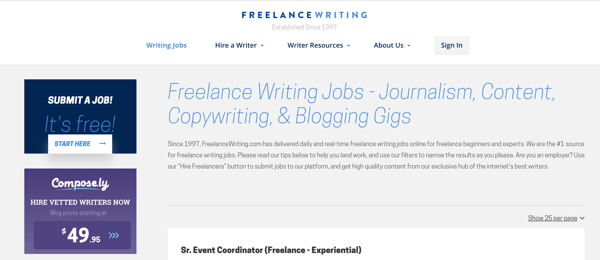 They also have a plethora of writing resources such as guidelines and competitions. Their goal and focus is to help the writer in all aspects of freelancing.
7. Who Pays Writers?
This may come as a surprise to you, but a lot of freelancers have had a hard time getting paid after completing their end of a contract. If you want to avoid this uncertainty altogether, check out Who Pays Writers - a website that helps you find jobs with companies with good reputations for paying freelancers.

They also allow freelancers to post their rates of pay, meaning you have the power to report a publication that underpays or fails to pay at all. This site is just one of many ways freelancers are keeping publications accountable.
8. The Ultimate List of Better-Paid Blogging Gigs
Again, money isn't everything, but it certainly pays the bills. This site is not a job board, but a list of blog sites that are known for paying freelancers. The Ultimate List of Better-Paid Blogging Gigs can be downloaded for free with your email.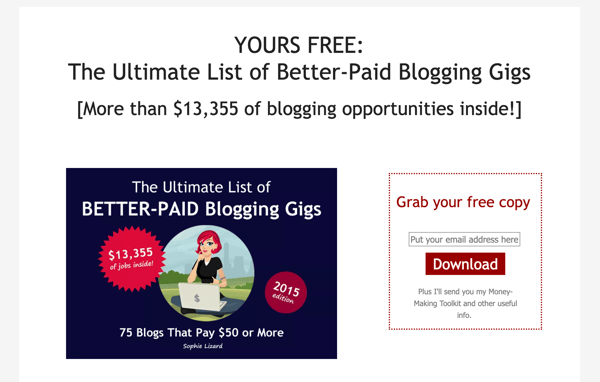 This eBook, written by experienced freelancer Sophie Lizard, outlines the 40 blogs that pay $50 or more per post written.
9. LinkedIn Jobs
LinkedIn is a networking site, yes, but it also has a cornucopia of job listings. While you can't yet search by "freelance" or "remote" positions, you can put either of these terms in your keyword search, which will pull up open jobs with that in the title.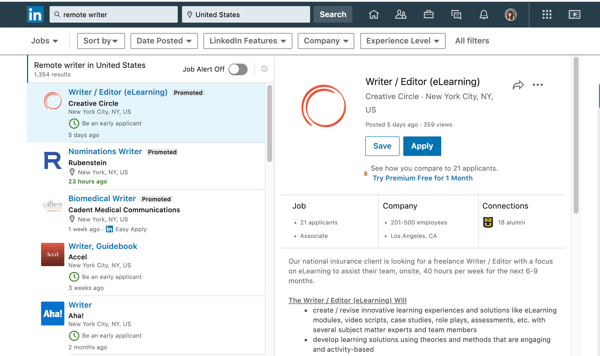 LinkedIn is a great way to find freelance jobs, especially if you happen to identify mutual connections when you apply to certain companies.
10. Indeed
Putting the words "remote writer" into the search bar on Indeed pulls up more than 1,400 jobs. Indeed is great because you can use it to find jobs within a certain salary range, job type, and even company.

If you'd rather work for a company close by, you can also search by location.
11. Fiverr
Fiverr is a freelance service provider platform that makes it simple to hire freelancers of any type. If you're looking to work, you can simply select "become a seller" and list yourself in accordance with your talents. Those looking to hire writers can then find you, view your profile, and decide that you're right for the job.
12. Your friends
I'm not kidding! Talking to your friends or other connections can help you find the perfect freelancing opportunity. People know people and people always need skilled, dependable writers.
You've got a job to do
Now that you're aware of all these amazing resources, your new job is applying! Unless you freelance for one company full-time, you'll have to stay constantly vigilant to the opportunities that open up. So create profiles on these sites, sign up for newsletters and other resources, and get that bread!
Learn more about that freelance life by reading about independent contractors vs employees.