History books will namedrop "emails" in the same breath as telephones and cave paintings.
A 2017 study by Palo Alto's Radicati Group estimated around 270 billion emails were sent each day last year, up from 205 billion in 2015. We communicate through email software practically more than through talking at this point — for some, that's not even a question. Add in the convenience of smartphones with 4G connections, and fughetaboutit.
Until the next sweeping revolution in communication, we can expect the number of daily emails to continue to climb, as they pervade our professional and personal lives and help us bridge gaps across offices and oceans. (Next stop: Trillions.)
Boatloads of software vendors have contributed to the cause with unique platforms for sending and receiving emails. As with any technology, products differ in both subtle and substantial ways to address the needs and preferences of particular users.
A great email solution doesn't have to break the bank, either. On the contrary: A free email account from certain providers can truly go the distance and become a cornerstone of your constant interactions.
From high-stakes dialogues with clients to casual check-ins with your team — and everything in between — these free email tools have already proven themselves in the court of public opinion. Even better, we have the feedback to prove it in the form of verified reviews from professionals like yourselves.
If you are considering a new email software or making your first foray into emailing, whether for business purposes or otherwise, the following products offer a zero-cost option with no ifs, ands or buts.
That means more dough to spend on other crucial office software or to put away for a rainy day. And should you desire more out of your email account, you can choose to upgrade through these providers or shop around the email software on G2 Crowd.

---
Using reviews from real users, our list of free email account software is ordered by highest user satisfaction as of July 9, 2018.
---
The best free email account providers
The list we've outlined here includes any email software with an available free offering. It should be noted that this does not include products that are only free on a temporary basis, such as limited trial versions for new users.
These products have around 1,100 validated user reviews on G2 Crowd as of July 9, 2018, and only represent a portion of the 40-plus email software offerings listed on our platform. The products are ranked by user satisfaction score as of July 9, 2018, and must have at least 10 reviews.
1. Gmail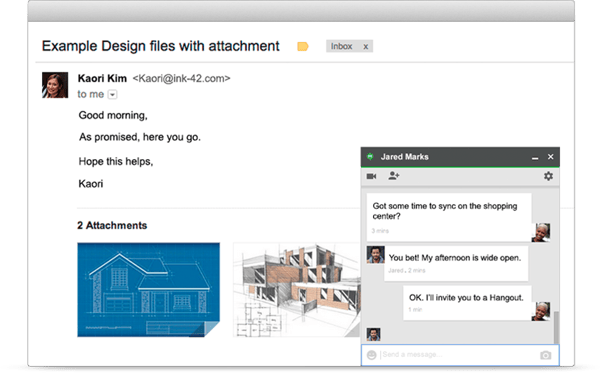 Image courtesy of Google
Nearly 15 years ago, Google LLC entered the burgeoning email race with its free platform known as Gmail. Fast forward to early 2016, and Gmail announced its milestone of 1 billion active users. That equals around one in every seven earthlings. Just as the company's ubiquitous, eponymous search engine before it, Gmail cornered the market with its marriage of power and simplicity.
Though the platform has seen its share of style and feature modifications, Gmail has not relinquished its global status as best free email software. This statement is supported by G2 Crowd users — after nearly 1,000 reviews (and counting), it holds the highest satisfaction ratings in its category. It currently boasts twice the reviews of the second-place email product, and almost 10 times that of the next product with a wholly free edition.

---
2. Zoho Mail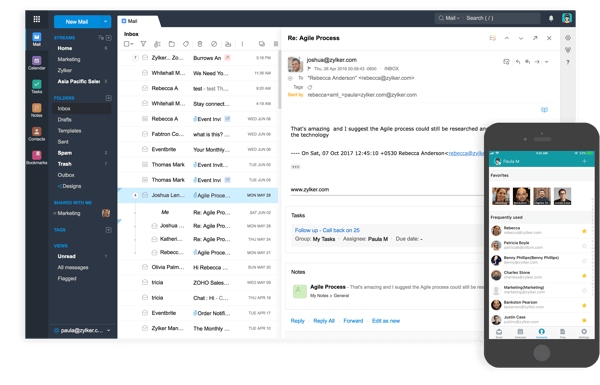 Image courtesy of Zoho
Pleasanton, California-based Zoho Corporation, best known for Zoho Social and Zoho CRM, has nearly 60 products featured on G2 Crowd as of this publication. Its "ad-free business email" offering, Zoho Mail, builds off the company's proven success in myriad other arenas. The base-level version allows for up to 25 users across an organization to attach personal email accounts to a single company domain. Paid plans start at $2 per month, per user; you can read about the benefits of upgrading on the Zoho Mail website.
To sweeten the deal, Zoho Mail accounts come bundled with access to Zoho Docs, a cloud-based file storage solution. The vendor promises "no ads" and "privacy guaranteed" when signing up for the popular email platform. These perks could help explain the rave reviews from users on G2 Crowd that position it as the second-best free email account on the market.

---
3. ProtonMail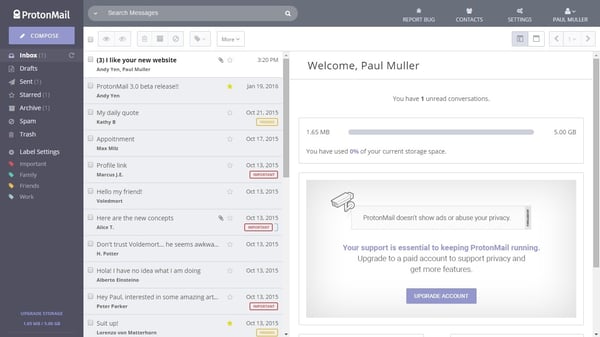 Image courtesy of ProtonMail
ProtonMail is designed for those who handle highly sensitive information — in addition to those who just cherish their privacy and safety. All of the platform's data servers are based in the vendor's native Switzerland (meaning more privacy due to heightened privacy laws). Additionally, emails created and sent through ProtonMail are automatically encrypted, and no personal information is required to make an account. You can find more in-depth explanations of the company's many security measures on the ProtonMail website. (Did someone say "self-destructing messages?")

The free solution from ProtonMail offers encrypted email functionality for one user, along with a limit of 150 messages per day. Users can choose between three paid plans (ProtonMail Plus, Professional and Visionary) if they desire more from the program, whether for themselves alone or their entire organization. The company's dedication to cybersecurity is further exemplified by the ProtonMail blog, which explores the topic of security from different angles, underlining the potential benefits of encrypted emails in the age of cybercrime.

---
4. Thunderbird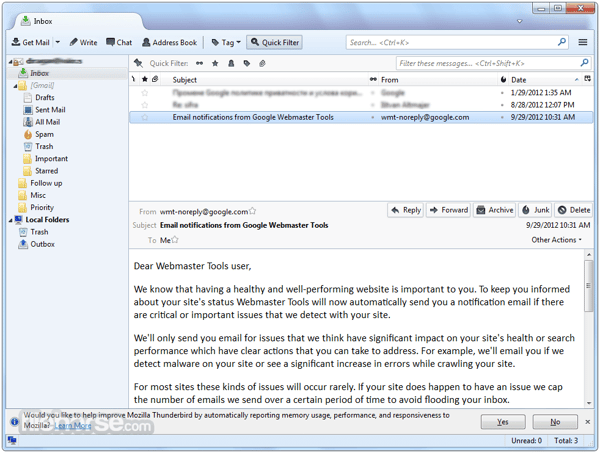 Image courtesy of Mozilla
Thunderbird's free version is the only version. That means "Thunderbird Is Go" for anyone with the email platform's system requirements. What began as a solution by the Mozilla team in 2004 is now an independent project, marketed as "the leading open-source cross-platform email and calendaring client." Thunderbird encourages donations from satisfied users to help with expanding and improving the technology.
It shows no signs of slowing. On July 10, 2018, Thunderbird released Version 52.9.1 of the free email platform. With every new release, the developers provide detailed release notes to guide the user base through changes, fixes and additions. Users can also customize the application with add-ons and themes, made available through the continued partnership with Mozilla.

---
5. Yahoo! Mail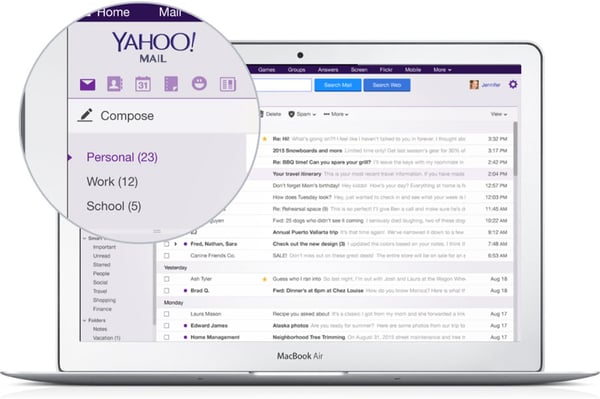 Image courtesy of Yahoo!
For those of you who remember The Early Internet — the innocent times before it was all we did or talked about — Yahoo! Mail may have been your first brush with emailing. (Yahoo's search engine is also an OG, hitting the scene in March 1995.) Though the game has certainly changed, the Sunnyvale, California-based company is still doing its thing.
Yahoo! Mail is continually evolving to this day; just recently the company launched two updated versions optimized for mobile web and, more specifically, Android Go. Considering the software has more than 200 million active users and is available in 46 languages, Yahoo has not lost its footing in the brave new world it helped create. You can sign up for a free Yahoo! Mail account with the caveat of in-app advertisements. Upgrading to the paid account eliminates the ads, while increasing the tool's capabilities.

---
Selecting the best free email account software client
Any way you spell it — email, e-mail, E-mail, E-MAIL (for the caps lockers out there) — the point remains the same. Email is an essential and endlessly valuable tool in running or contributing to a modern business. And thanks to the aforementioned products and various others on the market, a tight budget shouldn't stand in your way to owning an account.
Explore these and other solutions, complete with real user reviews, on G2 Crowd's email software category. We welcome you to come back and share feedback on a given platform in an honest review of your own.
* Please note: Reviews may have been edited for spelling and grammar.