France and, notably, Paris have long been cultural architects. Fashion, literature, art, cuisine, photography, film and more, have slowly migrated west to societies eager, yet not entirely able, to recreate their authenticity.
Artistic and literary movements with French beginnings — romanticism, impressionism, surrealism — all heavily influenced surrounding culture, sometimes taking decades to find their way into other countries.
The gourmande mindset exhibited by celebrated chefs such as Paul Bocuse and Alain Ducasse has often been imitated, but rarely duplicated. There's simply no replacement for the French way of cooking, which ceremoniously melds vision and science to create innovative fares that both complement and satisfy the mangeur.
It is unexpected to learn a country so revolutionary in other cultural facets is only recently coming into its own as a technological hub. One speculative explanation for this is the society's majority rejection of workhorse ideals.
The French venerate their 35-hour work week, with any excess being overtime. While this saves employees from burnout, it doesn't necessarily comply with the extended hours often needed throughout a startup's or other technological venture's, well, start up. President Emmanuel Macron wants to evolve France into a, "nation of start-ups," in part by reforming labor laws, so he said at the Viva Technology conference in Paris.
Additionally, stringent tax laws have served as an unfortunate hindrance to startup growth.
"Taxes are high to fund France's social welfare system, and the 3,400-page labor code introduces new regulatory requirements on companies as they get larger," wrote Liz Alderman, Benoît Morenne and Elian Peltier for The New York Times. "It is a culture sometimes at odds with entrepreneurial drive."
Fortunately, the recently-elected Macron hopes that by changing these restrictions the country will see an increase in entrepreneurship and risk-taking. The aforementioned article mentions Macron has, "pledged to exempt ownership of company stakes from France's wealth tax and introduce a flat capital-gains tax of 30 percent, down from as high as 50 percent now."
France currently places No. 10 on the Global Entrepreneurial Index, proving its point as a contender in the digital atmosphere.
"Estimates differ between research companies, but all show that France is catching up with German tech and British tech, the two leading startup havens in Europe, in number of deals and total amounts invested," Mathieu Rosemain and Gwénaëlle Barzic wrote for Independent.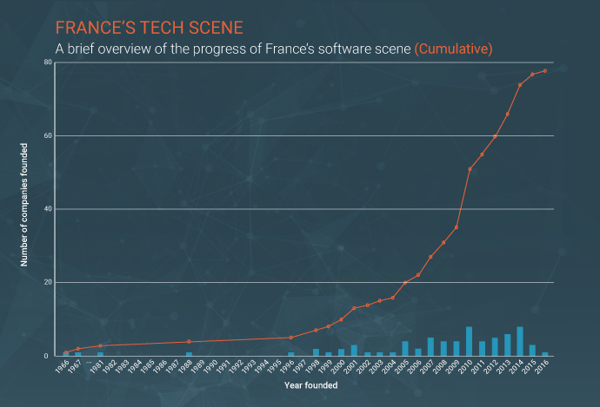 Note: Only software vendors on G2 with headquarters currently in France are included in graph.
G2 recognizes the 25 best B2B tech or software companies with headquarters in various parts of France already doing the dang thing, and features more than 90 overall companies. While the majority of these organizations live in Paris, lesser-known cities such as Merignac and Lille also boast as successful startup incubators.
The chosen products displayed below have the highest user satisfaction ratings of any with vendors headquartered in France, as well as 10 or more reviews, and exemplify the classic Franco-fearlessness necessary to reap big rewards.
---
TOP B2B FRENCH TECH IN 2020
SOLIDWORKS is a product and machine design tool; this 3D solution helps users with data creation, publication, simulation and management. Dassault Systèmes strives to make its product easy to use, expanding 3D production to broader audiences than before.
---
Mention is a social media monitoring tool that alerts companies when they are referenced on social platforms, in forum discussions or in blogs. It can help identify powerful influencers, connecting your organization with major players in relevant atmospheres. Mention's website identifies its main use cases as media monitoring, social media monitoring, competitive analysis, influencer marketing and crisis management. Mention's headquarters is located in Paris.
"Mention is the leading tool that companies use to track the most important conversations about their brand across the web. From social media to news mentions, user reviews to blog comments – over 650,000+ professionals trust Mention for brand monitoring, social listening, and reputation management. Mention was also named a High Performer in G2 's Winter 2018 Social Media Monitoring Grid® Report."
– Mathieu Vaxelaire, CEO at Mention
---
AgoraPulse is a social media suite that has been reviewed 384 times. It markets its top six features as a social inbox, a unified publisher, advanced analytics, automatic moderation, audience qualification and ranking, and competitor comparison. This tool brings strategy to what could otherwise be a chaotic and disorganized social publishing schedule. It has locations on four different continents with headquarters in Paris.
---
4. VideoLan

Product: VideoLan
Category: CMS Tools
City: Paris
Founded: 1998
Employees: 21
VideoLan is a free and open-source CMS tool that allows users to share and provide access to various multimedia files. This non-profit organization plays DVDs, audio CDs, VCDs and various streaming protocols. Users find it has an easy feature for metadata and support for rare formats. This company believes in "the power of open source to rock the media world," and is based in Paris.
---
Genymotion is featured in both G2 's Mobile App Testing and Mobile App Debugging categories. This product offers solutions for desktop, cloud and on demand. The vendor, Genymobile, also offers additional products such as Genydeploy and Genykiosk. Genymotion is configured to help create Android apps with unlimited installations. Users find it has a quick and easy startup but remains stable over time. Genymobile is located in Paris.
---
Iconosquare is a social media analytics tool that wants to help organizations experience growth through their Instagram and Facebook presences. It provides features such as report generation and moderation that remove manual practices, giving social media professionals freedom to focus on their creative responsibilities. Iconosquare and its parent vendor, Tripnity, are located in Limoges, France.
---
Livestorm is a web conferencing platform that connects contacts globally. It provides analytics and replay functionality, as well as integrations with Hubspot and Slack, among other products. Livestorm offers online courses and customer training to ensure companies are properly equipped to perform pristine conferences. Companies are using this tool to build up their employees' confidence in software tools and other initiatives. Livestorm is based out of Paris.
"Livestorm now powers webinars and live events for hundreds of companies around the world. Tens of thousands of participants attend sessions powered by Livestorm each month, from product demos to online lessons to live Q&As. 2018 has been a key year for us where we hired our first 4 employees and scaled the product to more users. We have a lot planned for 2019 and we can't wait to share all our updates with our customers."
– Gilles Bertaux, CEO at Livestorm
---
Handbrake is an open-source video conversion tool. Its users can convert from nearly any format, and video files are downloadable directly from the product website. Its website also features community forums and chat for users to assist one another in developing their ideal product. Handbrake has helped organizations archive videos in smaller formats so as to save storage space, and make sharing with clients easier. Handbrake is located in Paris.
---
Hunter is a sales intelligence tool that helps sales professionals find verifiably accurate email addresses through internet search. It is used by employees at Microsoft, Shopify and Adobe, among other reputable organizations. Hunter lists simplicity, transparency and leverage as three of its main values. While it has a location in San Francisco, its parent company, Firmapi, is based in France.
---
10. Yoolink

Product: noCRM.io
Category: CRM
City: Paris
Founded: 2007
Employees: 4
noCRM.io is a CRM tool and self-proclaimed lead management helper. It helps users capture leads, import contacts and reduce time spent entering information manually. This product is as customizable as your own sales team, with no two being alike. noCRM.io has been used by companies to keep track of client communications and track lead development. This product's headquarters are located in Paris.
---
Mailjet is an email marketing tool that is also in our transactional email category. It provides newsletter tools and actionable analytics. With Mailjet, users can manage their contact lists and send personalized emails. Mailjet lists email automation and SMTP relay as a few solutions it can solve. Mailjet says it serves 40,000 clients in more than 156 countries. Reviewers have used it to automate site functionality and capture email subscribers. Mailjet is located in Paris.
"We now power marketing and transactional emails for companies all around the globe. But it all started here in France. We're proud to be a part of this list and (whether at our offices in Paris, New York, London, Berlin and more) are excited to continue making emailing fast, secure, and effective."
– Alexis Renard, CEO of Mailjet
---
12. Talkus

Product: Talkus
Category: Help Desk
City: Saclay
Founded: 2015
Employees: 312. Talkus
Talkus is a help desk, customer self-service and live chat solution. It puts customer support inside a chat solution many organizations are already using: Slack. Its features include live chat, emails, text messaging, phone calls, tweets, Facebook, a knowledge and FAQ, and it can be configured to support multiple languages. These features help make companies accessible on channels their customers are using the most. Talkus is located in Saclay, France.
---
Radarly is a social media monitoring and social media analytics solution. Its website boasts the analysis of 150 million sources across 190 countries and in 78 languages on a daily basis. Linkfluence by Radarly can even search images and detect weak signals. It puts organizations at the helm of their community conversations, giving them the ability to communicate and connect with potential customers. Radarly is located in Paris.
---
SendinBlue is an email marketing, transactional email and mobile marketing tool. It offers features for campaign management, reports and transactional messaging, among others. It has a drag-and-drop design element, as well as a robust template gallery, allowing users with minimal campaign experience to create aesthetically pleasing designs. Reviewers have used SendinBlue to consolidate their email marketing tools and build lists. SendinBlue is based out of Paris.
---
Criteo is a cross-channel advertising tool that also qualifies for G2 's demand side platform, display advertising, mobile advertising and social media advertising categories. This product delivers personalized ad experiences, while the company overall offers solutions for both marketers and publishers. Reviewers find Criteo has good return on investment and has helped increase overall site conversion. Criteo has offices in New York and Paris.
---
16. Talentsoft

Product: Hello Talent
Category: Staffing
City: Boulogne-Billancourt
Founded: 2007
Employees: 521
Hello Talent is both a staffing and other recruiting tool. It's a cloud-based product that assists companies in their searches for the ideal candidates. Key features include collaborative recruiting, automated social media aggregation and CV parsing. Its website features case studies for companies such as AirFrance and Nisha Global, where Hello Talent helped big-name companies recruit top performers. Talentsoft, its parent company, has multiple international offices in locations such as the Netherlands, Germany, Denmark, Sweden and Norway and Spain. Its headquarters is in Boulogne-Billancourt, France.
---
eXo Platform is an open-source team collaboration and knowledge management tool designed for enterprise organizations. It hopes to increase company collaboration, engagement and productivity by providing companies an internal social network and mobile accessibility. Its company goal is, "to help our clients embrace modern ways of engaging and collaborating at work." eXo has offices in San Francisco and Tunisia, although its headquarters is in Paris
"We are excited to be included in the G2 's list of top-rated software. It is always a pleasure to interact with our users and improve our services to further confirm our position as the open source leading digital collaboration platform."
– Veronika Mazour, COO & co-founder at eXo Platform
---
18. Aircall

Product: Aircall
Category: VoIP
City: Paris
Founded: 2014
Employees: 82
Aircall is a contact center infrastructure and voice over internet protocol (VoIP) solution. It allows you to communicate efficiently with your customers regardless of their location, or yours, with a cloud-based structure. It's used by big-name companies such as Uber and Birchbox, and provides localized phone numbers in more than 40 countries. It considers itself a solution for call centers, support teams and sale teams, offering features such as voicemail and interactive voice response. Users find Aircall simplifies outreach efforts. Aircall is based in Paris.
---
AT Internet is a digital analytics tool helping users understand their companies' impact on a quantitative scale. It tracks how visitors interact with a website or mobile application, providing insight into where improvements could be made. It creates reports and dashboards, as well as a suite of analytics tools. Reviewers find AT Internet helps their business monitor campaigns and audience interaction. AT Internet began in Bordeaux and is now based out of Merignac, France.
---
Azalead is an account-based reporting, account-based execution, marketing account intelligence and marketing account management tool. It has sales enablement features, as well as robust CRM and marketing automation integrations. Azalead has been utilized by big-name companies such as Microsoft and Cisco. "We are the disruptive vendor in a market where most ABM programs are still too email or direct mail centric," reads its 'About' page. Azalead has offices in the Americas, Southern Europe and Northern Europe. It is based out of France.
---
ClicData is a data visualization tool that also serves as a business intelligence platform with embedded business intelligence and self-service business intelligence abilities. The product creates interactive dashboards that put your data on display. The company describes its ambition as to be faster, intelligent and mobile. ClicData has helped businesses pull data from varying sources for display, and deliver informative pages. ClicData has locations in the U.S., Canada, India, Chile and Australia, but is based out of Lille, France.
---
PrestaShop is a free and open-source e-commerce platform. It provides templates for organizations that are lacking development teams. Its main features include store customizations, marketing tools, order management and company insights. Reviewers have used this tool to increase ROI and manage all parts of their online shopping experiences. PrestaShop has a location in Miami, Florida, but is based out of Paris.
---
XWIKI Collaborative Work is an open-source team collaboration tool that provides both turnkey and customizable solutions. This product features custom solutions for documentation, education and collaborative intranet, to name a few. XWIKI's parent company values open-source innovation, as well as social responsibility and sustainable development. It has a location in Romania, but headquarters are in Paris.
---
Whaller is a team collaboration tool that allows users to create free and unlimited private social networks. It offers calendaring, survey tools, tagging, task management, a member directory and more. It can be used to connect internally with your company, or connect with external contacts. Its manifesto states, "We strongly believe that technology can and must best serve an individual without imposing bondage. We believe in creating better relations between ourselves, more human and real." Whaller is based out of Puteaux, France.
---
SensioLabs is the parent company behind the Symfony, a PHP web-based framework. The company has additional product offerings such as Silex. The company creates a portfolio of PHP frameworks to help developers solve issues with specific applications. More than 500,000 developers are part of the open-source community who actively contribute to the project.
"Such a great honor to be part of the G2 State of B2B France Tech in 2019: an incredible year with the launch of SensioCloud, our cloud platform exclusively designed for PHP developers + our training offer on Symfony + finally the release of Symfony 4 with lots of amazing improvements! We keep speeding up in 2019 to ease developers' life bringing innovative web services to CTOs and tech experts."
– Gregory Pascal, COO & Co-founder of SensioLabs
---
OTHER B2B FRANCE TECH COMPANIES
While we recognized only the best 25 SaaS companies in France, there are still an abundance of other B2B tech companies impacting the French tech scene. Here's a rundown of other French B2B software companies with their founded dates and total funding.

Company

Product(s)

Founded

Funding
909c
Over-Graph
2010
Acquired (What's Next Partners)
AB Tasty
AB Tasty
2012
$23,853,261
ACRA
ACRA
n/a
n/a
Acyba
Acymailing
2009
n/a
Appaloosa.io
Appaloosa.io
2014
n/a
Arkadin
Arkadin Anywhere,

Arkadin Anytime
2001
Acquired (NTT Communications)
ansarada
ansarada Virtual Data Room
2005
n/a
BIME Analytic
BIME Analytics
2009
Acquired (Zendesk)
Bistri
Bistri PaaS
2010
n/a
blueKiwi
blueKiwi
2005
Acquired (Atos)
CapGemini
CapGemini
1967
IPO
Clever Cloud
Clever Cloud
2010
n/a
Commerce Guys
Platform.sh
2014
$12,300,000
Convertigo
Convertigo
2009
€4,097,250
Damdy
Damdy

2014
n/a
Dareboost
Dareboost
2014
n/a
DataDome
DataDome
2015
€1,000,000
Burst SMS
Burst SMS
2007
n/a
Dataiku
Dataiku
2013
$45,713,904
Digicoop
Kantree
2014
n/a
DigitaleBox
DigitaleBox
2013
n/a
DxO
DxO
2002
$12,820,000
Earliz
Earliz
2013
n/a
Eptica
Eptica
2001
$13,454,487
Evidian
Evidian Enterprise SSO
2000
n/a
Ftopia
Ftopia
2008
n/a
iAdvize
iAdvize
2010
$54,982,015
IKO System
IKO System
2010
Acquired (Sidetrade)
Lokad
Lokad
2008
Acquired (Global Payments)
MyFeelBack
MyFeelBack
2011
$1,400,000
Normation
Rudder
2009
n/a
ONE2TEAM
ONE2TEAM
2000
n/a
Orange Business Services
Orange Business Services
2006
n/a
OVH
OVH
1999
n/a
Praxedo
Praxedo
2005
n/a
SaaS Invaders
SaaS Invaders
2015
n/a
SCRM Cloud
SCRM Cloud
2014
n/a
Sodexo
Circles
1966
IPO
Talentia Software
Talentia CPM
1988
Acquired (Argos Soditic)
Tilkee
Tilkee
2013
€500,000/strong>
Ulteo
Ulteo
2007
n/a
Wedia
Wedia
2001
IPO
WePopp
Julie Desk
2012
€130,000
Wikipixel
Wikipixel
2011
$650,000
Wimi
Wimi
2010
n/a
Xotelia SAS
Xotelia
2012
€1,300,000