"The worst they can say is 'no.'"
Sales reps are a different, resilient breed. Regardless of whether they're account executives or business development representatives, they must regularly deal with ghosting or straight-up rejection. They must persevere in the face of continuous rejection, because they have to contend with (and reach) sky-high quotas.
Movies like "Glengarry Glen Ross" and "Boiler Room" dramatically represent the cutthroat world of sales. However, their depiction of sales is a tad archaic. Overly persistent methods of contact are not tolerated in today's high-stress marketplace.
Email is a fantastic and effective way to reach out to prospects, but rarely does anyone in business receive only a handful of emails a day. This means marketers and salespeople must be deliberate when it comes to writing eye-catching emails that result in an open. Follow-up emails — especially thoughtful, well-written ones that don't waste the reader's time — are an effective tool in any good sales representative's toolbox.
Follow-up emails are effective because they prove to the recipient the sales rep is trying their best to engage. These can be one-off personalized emails, or an automated follow-up using a CRM software or an email marketing software.
Anatomy of an Effective Follow-Up Email
A focused email subject line.
An accurate reference to your prospect's role.
Clear, straightforward copy.
Sprinkled-in, personable context.
Multiple email threads.
Why Follow-Up Emails Are Important
Tons of sales statistics exist that show follow-up emails are key to closing a deal. Cold leads, or leads that require a little warming, are the norm. Hot leads are exciting, but also the exception. MarketingDonut, a marketing strategy resource, discovered 98 percent of prospects only buy once a certain level of trust has been built.
Woodpecker, a SaaS company that automates cold emails and follow-ups while taking charge of email deliverability, dug into their data to discover even more statistics regarding cold email follow-ups.
The first follow-up email is the most effective: It can bring 40% higher of a reply rate than even the initial email.
Flooding prospects' inboxes results in mere fractions of the original reply rate.
A campaign with even 1 follow-up converts 22% more prospects.
The rule of thumb, then, should be to maintain nudges of contact with prospects until they explicitly say "no" five times. This is known as the "five no's strategy." It's between those five times that a sales rep builds a significant relationship with the prospect. After all, a prospect or client will buy or sign a contract only when they're ready.
Spamming won't convince them to change their minds unless a relationship has been established or they've been persuaded to commit to buy. Luckily, CRM software, email tracking software and other sales intelligence software help sales reps be as prepared as possible. With those solutions, they can ensure they don't accidentally spam a client with duplicate emails. Sales reps can also leverage such software to analyze email open rates, which is incredibly helpful for tweaking for future follow-ups.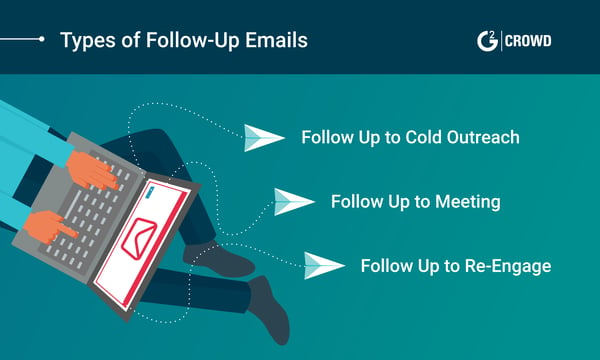 Types of Follow-Up Emails
There are a variety of types of follow-up email sales reps regularly send. This makes sense, as a cookie-cutter email will result in radio silence. (After all, we're in an era where personalization is king.)
With input from Mike Conti, business development manager at G2 Crowd, we've narrowed down the list of follow-up email scenarios to the following:
1. Follow-up to cold email outreach where the prospect has yet to respond
Approach — Every email you send should add intrinsic value. According to Conti, an easy way to do that (if the value you're adding in the follow-up is different from the value in the initial email) is to start a new thread. If you're telling a story and the values tie together, you'll want to respond to the previous thread.
2. Follow-up to a meeting
Approach — Conti stresses your recap should be "concise and easily digestible. It should include all of the major points discussed or covered from your call and you always must deliver what you tell them you are going to deliver and most importantly, on time." A follow-up/recap email should clearly define next steps, as well as set up the agenda for the next meeting and expectations for what to bring to the next meeting.
3. Re-engagement from a previous conversation
Approach — Timing is always tied to some sort of compelling event. Conti explains that "in sales, we call it 'urgency.'" Urgency should be the framework for the follow-up email, as the sales rep works to tie the content of the email back to the original reason for engagement and explain why time is of the essence.
Notably, not all sales relationships can or should be cultivated through such standardized follow-up emails. For example, while Kyle Miller, enterprise account executive at G2 Crowd, sends follow-up emails, he spends the majority of his career cultivating existing relationships, rather than netting new conversations via follow-up emails.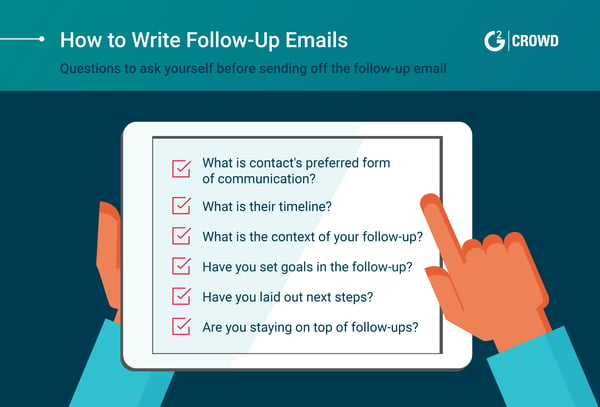 How to Write Follow-Up Emails
Alexandra Frackowiak, account executive at G2 Crowd, has honed her follow-up emails using the following best practices:
Find out their preferred form of communication.

Understand what their timeline is, and get them to commit to sticking to it.

Always provide background on your prior conversations. This is helpful because your prospect won't need to remember details or look for their notes, and you can confirm everyone is on the same page.

Your follow-up should have intent behind it. You're not sending this "just to check in." Have set goals.

Make sure there's balance between what you give and what you get.

Always end follow-ups with clearly defined next steps. Each party should know what's expected and hold each other accountable.

Example statement: When we meet up next, I'll have done X, and you'll bring Y. That way we can complete Z.

Stay on top of follow-ups. Don't let anyone "go dark." Hold people accountable and get answers as to why a project is no longer moving forward.

Example statement: I haven't heard back from you regarding X. When we last spoke, you said this was a priority and you'd have this done by Y date. Is there something you need from me to get the momentum back? Is this still a priority for you? If not, what's changed?
Sales reps must have intention and urgency behind their emails. If they can't convince their prospect that their follow-up email is worth their time, how can they convince their prospect what they're selling is worth their time?
Things to include in a follow up email
The guts of an effective follow-up email include:
A sharp, direct email subject line.

An accurate reference to the role of the person you're reaching.

Clear, focused copy.

Context sprinkled in to help strengthen the impact of your ask.

Multiple email threads.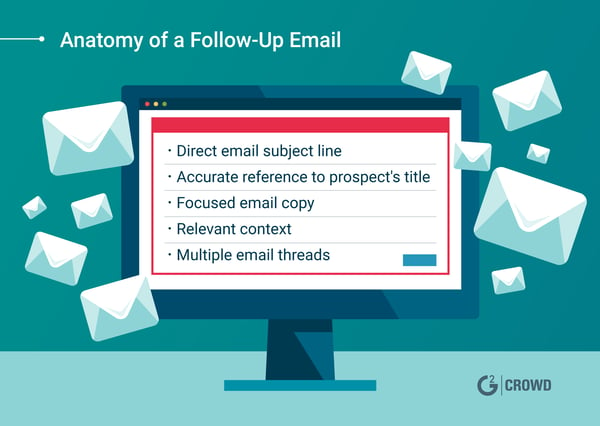 Make It Short and Sweet
Bob Ericksen, West Coast account executive at G2 Crowd, explains he's learned to keep his follow-ups short and sweet, with a maximum of three or four sentences. In those sentences, he includes a single ask and two attachments at most. "If the email is too long, they will delete it." Software like Yesware allows sales reps like Ericksen to discover which attachments the receiver does open: "I found they don't open more than two, typically."
Natalie Rojas, relationship manager at G2 Crowd, echoes Ericksen's "short and sweet" sentiment, adding she likes to include "relevant links for quick action," and sometimes, a piece of collateral that can easily be forwarded internally. "Bonus if that something is a video walk-through (try to show your face on screen) or a high-level overview of what was covered highlighting what was most interesting. Also, people really love GIFs; keep it professional but not stuffy."
When to Write Follow-Up Emails
Tips abound regarding the best time to send follow-up emails to capitalize on a prospect's willingness to open and read one. Generally, these are the agreed-upon rules of thumb:
— Schedule a follow-up call or email during the first meeting.
— Send a "thank-you" email to the prospect within the first 24 hours of an initial meeting or call.
— Within the first one or two weeks, check in with the prospect regarding any action items or requests that came up in the first meeting.
— Within the first three months, take a look at current and prospective customers, to reconnect with existing clients and prepare prospects for next steps.
Next steps in sending a follow up email
What are your salespeople's strategies when it comes to sending out follow-up emails? Has your sales org benefitted from deploying an email tracking software or any other sales engagement tool? Find your product on G2 Crowd and leave a review to help guide other sales reps towards the most helpful solution.
Looking for an to manage follow-up emails on a budget? Discover the best free email marketing software in 2019.