You never forget your first game of shuffleboard.
Not that imposter tabletop version you see in some bars. No, I'm talking about the real thing. The one played with long, paddle-like cues and a court laid out on the floor next to a pool — a leisurely staple of cruise ships and Florida beachfront condominiums.
Though it has roots in the U.K., the game is ideal for the muggy Florida outdoors, because you can play it year-round. In 1979 the International Shuffleboard Association (ISA) launched in St. Petersburg, FL, paving the way for shorts-wearing snowbird seniors for the rest of time.
Nothing quite embodies the sunny, slow-paced vibes of the state like a game of shuffleboard while drinking a cold beverage with a tiny umbrella poking out. And as it turns out, these vibes aren't just for retirees. A legion of ambitious entrepreneurs are discovering that Florida's warm weather, affordable housing and relaxed pace of life are a favorable contrast to the daily demands of many skyscraper cities. A perfect place to launch a software startup, in other words.
The State of Florida's Tech Scene
In 2018, the Sunshine State is making a sizable splash in B2B (business-to-business) technology. It's also making headlines as a pretty sweet place to move, regardless of your industry:
Time Magazine named two Florida communities in its recent Top 10 list for highest well-being in the U.S., with Naples grabbing top honors.
Two Florida areas (Naples and Sarasota) made Forbes' Top 25 Happiest Cities in America list back in October.
Four cities in Florida are among the fastest growing in the U.S., according to WalletHub, with two (Lehigh Acres and Fort Myers) appearing in the top 10.
Between the increasingly unreal living expenses of some bigger markets and one of the coldest winters on record smacking the northern states, you can expect the Florida migration to increase, filling out cities like Orlando and Miami and trickling into the numerous towns on the up-and-up. If you're not sold, did we mention the zero state and personal income tax? And the Marlins Park home run sculpture?
"Haters gonna hate," as the saying goes — Florida has and will always get an unfair rap in some circles — but locals and transplants know it's a little slice of paradise, and as good a place as any to build a business.
Just as the ISA was founded to nurture the habitual and competitive growth of shuffleboard, other community-focused organizations set out to ensure that ambitious innovators don't get bored or lost in the shuffle. For instance, a branch of the California incubator Founder Institute came to Fort Lauderdale in 2015. According to the Institute's website, it's helped launch more than 2,300 companies, and at a survival rate of 72 percent. Early meetings for the South Florida chapter were held at General Provision, a coworking space that opened just a year earlier and represents a similar injection of startup sauce into the swampy state. Spaces like this give local go-getters an affordable and comforting place to plug away on whiteboards and network with kindred spirits.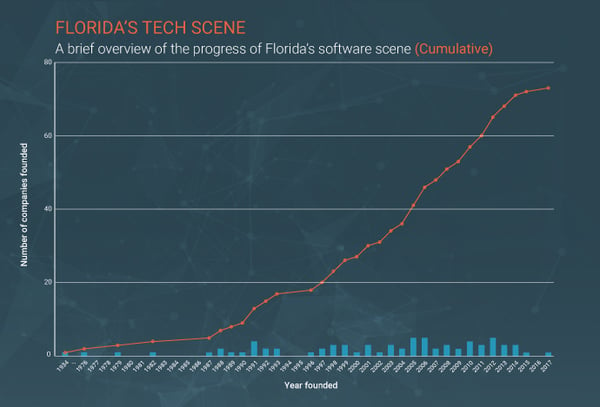 Note: Only software vendors on G2 Crowd with headquarters currently in Florida are included in graph.
---
Florida Tech Leaders on the State's Tech Scene
DATACORE SOFTWARE
"Florida is not just about great beaches; we have a lot of local talent to drive innovation. Leading companies like Citrix, Ultimate Software and Magic Leap were all founded in Florida, and DataCore Software is proud to be a successful Florida-based high-tech software company that has been in business for more than 20 years. We now have thousands of customers using our world-class software-defined storage and database optimization software solutions worldwide." George Teixiera, Executive Chariman at DataCore Software
ITPROTV
"ITProTV is located in Gainesville which is quickly becoming a tech hub for the state of Florida. There is a talent-rich tech community and several high-performing companies are attracting regional and national investors. ITProTV is at the heart of it with our corporate culture and our talented and entrepreneurial-minded team." Valerie Riley, Director of Marketing at ITProTV
QGIV
"Central Florida is an exciting place for tech enabled businesses right now. We're located in the I-4 corridor, where some of the state's best tech innovators have settled down and started businesses. It's an honor for us to be counted among them." Todd Baylis, President and Co-Founder of Qgiv
POWERDMS
"We've had great success growing our business in Orlando. It's an exciting time to be part of this community and to help shape the future of the tech industry here. Orlando's unique culture matches that of our company and has helped us attract the type of talent we need to succeed." Josh Brown, CEO of PowerDMS
It's not just the humidity and the incredible Latin food; Florida is bringing the heat in an industrial sense, thanks to a perfect storm of young, driven companies and older corporations making a leap into the future. We'd like to showcase the state's current landscape with profiles on the top 25 business software vendors, according to reviews on G2 Crowd. Reviews collect satisfaction-related data such as Ease of Use and Quality of Support and our rankings are based on the overall best Satisfactions scores. Only products with at least 10 reviews qualified for inclusion.
For each product, we created a profile to summarize what it is and what it does, and to give some insight into the company behind it. All the data comes from G2 Crowd.com (and our 300,000-plus B2B software and services reviews), or from publicly available sources such as LinkedIn and Crunchbase. These 25 Florida B2B companies are represented by 1,998 verified reviews from real users across a variety of categories, from E-Commerce Platforms to CRM to Business Content Management. Read more below about some of the companies playing a major role in Florida's buzzworthy tech environment.
---
The Best Florida Tech Companies
Goverlan Reach is an on-premises remote access software that automates an organization's IT management, network, and system admin tasks, no matter the industry. The solution supports corporate users as they roam in and out of the corporate network, through admin access privileges and on-demand assistance. IT professionals can utilize the software to monitor screen activity, performance issues, and any other health status activity. Goverlan Reach also supports a variety of platforms and system types, from GovRC to VNC to Telnet. Goverlan Reach received a High Performer badge in the Winter 2018 Enterprise IT Management Suites Grid® Report.
---
2. Ultimate Software

Product: UltiPro
Category: Core HR
City: Weston
Founded: 1990
Employees: 3284
Ultimate Software is a golden child of the Sunshine State. Not only is its biggest product, UltiPro, an established Leader in most of the HR categories on our site — a force to be reckoned with as far as human resources tools go — but the company itself is a model organization and employer. It landed at number 10 on Glassdoor's recently updated list of "Best Places to Work," and Fortune ranked it first on the "10 Best Large Workplaces in Technology." Other honors include seventh on Forbes' "Most Innovative Growth Companies," second on People's "50 Companies That Care," and third on Fortune's "50 Best Workplaces for Diversity." It's an ultimate company with ultimate products, going toe-to-toe with Silicon Valley's finest in every regard. Anyone questioning Florida's legitimacy in the B2B scene can start here.
---
PowerDMS is a GRC tool that's "so easy, a polar bear could use it," according to one PowerDMS review. The software offers features for policy, training, and accreditation management so businesses can ensure that legal, industry and regional standards are met across their operation. Currently, it's one of only two Leaders in the Governance, Risk & Compliance category, with nearly a perfect score of 4.8 stars after 48 reviews. You can sign up for a free trial of the software on the PowerDMS website and see what makes this Orlando-based tool such a hit with customers.
"It's an honor to be recognized as one of highest-rated B2B software products in Florida, especially since it's based on user ratings and feedback. The customer experience is, and has always been our No. 1 priority. Our commitment to customer satisfaction and dedication to building the best software solution are what drive our success. I'm proud of our team and their continued dedication to producing an exceptional product and providing the best customer service possible." Josh Brown, CEO of PowerDMS
---
The modest-sized team out of South Florida has earned a reputation that's hard to be modest about: a G2 Crowd star rating of 4.9 out of 5 after 20-plus reviews. CXQuest, the main solution from the company, is a "customer engagement platform that helps businesses listen and react to their customers better." Users can collect a wealth of analytics and insights from customer feedback and also see out a number of critical interactions directly from the platform.
In a five-star CXQuest review, Jacob S. wrote: "We use CXQuest to communicate better and be better in touch with our customers through emails and texts. As soon as there is an interaction with a customer, CXQuest automatically sends out a message asking whether we can serve them in any other way. I am really blown away with the utility of this type of system."
---
Bringing interactivity to classrooms with more than 6,000 digital lessons (and growing), Nearpod is a hit with teachers, school administrators and students all over; according to the Nearpod LinkedIn page, 100,000-plus teachers and six million students use the software each month. The company itself was listed on the Inc. 5000 list of fastest-growing private companies the past two years in a row, and recently appeared in South Florida Business Journal's list of the 10 highest-valued tech startups in the region ($84 million). Investors include Mark Benioff (CEO of Salesforce) and Scott Cook (founder of Intuit). Curious teachers and school administrators can schedule a demo of the popular platform on the company's website.
---
BreezyHR is one of the best-reviewed products in the very crowded Applicant Tracking System (ATS) category, recently certified as a High Performer for Fall 2017. It provides an extensive feature set that assists with much of the recruiting lifecycle, including candidate sourcing and management, actionable analytics and automated job posting. The platform also boasts team collaboration features to make recruiting a group effort for everyone on your HR team.
In a five-star BreezyHR review, David C. wrote: "We do a lot of hiring so we're constantly looking for more efficient ways attract, hire and onboard new employees. Breezy has been a breath of fresh air for us, right down to background screening and new hire onboarding."
---
7. Qgiv

Product: Qgiv
Category: Fundraising
City: Lakeland
Founded: 2005
Employees: 34
Qgiv is a modern tool for charities and other organizations to collect donations and engage with donors. You can read testimonials from regional chapters of nonprofits such as United Way and Boys & Girls Club on the Qgiv website, in which they discuss the success they've found with the platform. The software comes complete with unique features such as Text Giving, which allows donors to send contributions by simply responding to a text message. Qgiv was just recently named a High Performer on the Winter 2018 Grid® Report for Fundraising.
"Being highly rated by our users means the world to us. Our users inform every facet of our platform; we count on them for feature suggestions, enhancement ideas, and continuous feedback. Their high ratings are an honor and mean that our goal to build a platform that makes their lives easier and better enables their mission is on the right track." Todd Baylis, President and Co-Founder of Qgiv
---
VINYL from the people at Miami-based vendor Zudy allows businesses to create applications without getting tangled up in the complexities of coding. The platform architecture is broken down into three primary "layers" — Design, Business Logic, and DataAccess — that allow for secure development in hours. It adds up to "true rapid app development," according to user Melissa M.
She continues, in her five-star VINYL review: "VINYL gives us the flexibility to connect disparate data sources across our enterprise. We can spin up applications in hours, and have them in the hands of our users in days. Previously it would take weeks, months or even years to deploy applications, but not anymore."
---
Solodev's web studio allows users to "design without limits and create engaging web experiences," as worded on the product website. The self-described "web experience platform" offers membership packages from Cadet to Commander, with an increasing number of helpful tools based on the plan. This user-friendly tool puts website improvements and maintenance in the hands of everyone — not just development pros. Solodev also offers secure cloud hosting and digital marketing solutions.
In a five-star Solodev review, Brittny K. wrote: "I have been working with Solodev for nearly four years and I couldn't be happier with the results and product they have delivered. Our newly designed website is everything we could have ever imagined and the CMS software is very functional and user-friendly, and easy to learn and teach to colleagues. What I like best about Solodev is being able to explain my vision and have them exceed all expectations!"
---
ITProTV is an online learning resource for growing IT teams and aspiring IT professionals, with more than 3,300 hours of video training laid out in specific, engaging courses on a smattering of IT topics. Users can sharpen skills or take practice tests for industry certifications, while IT teams can collectively get up to speed with group sessions. You can check out the course library on the ITProTV website for a taste of the proficiencies that are covered. The platform is one of the best-reviewed Online Course Providers on G2 Crowd, with 4.9 out of 5 stars after 35 reviews.
"Companies can brag in marketing speak about their features and usability, but real users will give it to you straight. When we can lead the pack on G2Crowd with positive reviews, we know that we're delivering what IT professionals want. We've got the most current and engaging training in an convenient and consumable format and our members are telling us they love it." Valerie Riley, Director of Marketing at ITProTV
---
With features ranging from a landing page builder to visitor identification and much more, SharpSpring is a complete marketing automation solution, and currently a Leader on the highly competitive Marketing Automation Grid®. The platform moved into the Leader quadrant from the High Performer quadrant since the Fall 2017 Grid® Report, signifying an upward trend in its user feedback and overall market presence. You can request a live demo of the tool used by more than 6,000 companies on the vendor website — you can also read case studies that showcase the product's impact with past clients.
---
12. Aspire Technologies Inc.

Product: QuoteWerks
Category: CPQ
City: Orlando
Founded: 1993
Employees: 50
The top-selling product from Orlando-based Aspire Technologies, formerly Creative Software, QuoteWerks is used in over 100 countries to help with sales quoting and proposing. You can watch both a 4-minute and 30-plus minute guided demo of the product on the QuoteWerks website. While there you can also read more about the integrations and features, such as QuoteValet, which helps you send proposals in the form of webpages.
In a five-star Quotewerks review, Katie P. wrote: "Since using QuoteWerks, we have won several high dollar contracts. Our customers love how professional the proposals look and we love how everything seems so automated. You can also integrate it with other software, such as Sedona. The integration is pretty seamless and has cut down on the amount of time put into creating new jobs."
---
As of press time, SoftwareKey Licensing System is batting 1000 with five stars after 10 reviews. This tool from SoftwareKey.com is provides a "complete license management lifecycle," and is used by software developers around the world to prevent theft through copy protection, encryption and other fraud protection measures. Although there is no Grid® established in the Fraud Protection category as of yet, SoftwareKey has far and away the most reviews and best ratings at the start of 2018. In a SoftwareKey Licensing System review, Chuck V. wrote of the platform, "Dependability is second to none — of any product I have used in the last three decades."
---
14. Relenta CRM

Product: Relenta CRM
Category: CRM
City: Miami
Founded: 2005
Employees: 4
Relenta is an email-based CRM solution that will help your team "be insanely productive," according to the product's website. One of the key features of the tool is that it transfers outgoing and incoming email histories into contact relationship timelines, allowing any tidbit of old information to be accessed in seconds. It also provides a shared workspace for optimum collaboration across your team. You can take it for a test drive with a 14-day free trial, and the full system is available for $39 per month per user at up to 5,000 contacts each.
---
Fuse Workforce Management, formerly ProPayroll, is a robust HR platform and a current High Performer in three different categories on our site (HR Management Suites, Payroll and Core HR). It also provides features for time & attendance and employee scheduling, as well as an Affordable Care Act compliance module. The small team out of Delray Beach is doing something right, with a stellar rating of 4.8 stars after 35 reviews. In a Fuse Workforce Management review, reviewer Terri B. wrote, "Never thought I'd find a system this perfect!"
"Today, business leaders recognize the value of a cloud-based Human Capital Management system. This investment provides an ROI far greater than any other tool in their business. At Fuse, our goal is to make it easier for employers to engage with and gain greater visibility into their entire workforce. When our clients report that this goal is being met and recognize the enormous value a partnership with Fuse brings to their entire team — that's quite an honor." John Duval, CEO of Fuse Workforce Management
---
Major players such as Mizuno, Recology and Nintendo are satisfied customers of Hubble, a platform that gives financial teams a clear window into their company's performance and assists with critical accounting tasks such as financial close. The platform is divided into Business Performance Management and Financial Performance Management features, and integrates with ERP ecosystems JD Edwards, SAP EBS, and SAP for in-depth reporting, planning and analytics. This main offering from insightsoftware.com is a High Performer in the Corporate Performance Management category with 4.6 out of 5 stars after 35 reviews.
---
The folks at VIPRE Security have been in the cybersecurity game for more than a quarter of a century — the company's awards and accolades speak for themselves. VIPRE for Business utilizes machine learning and behavior analysis to help maximize endpoint security on both the server and the cloud, with advanced antivirus and threat intelligence features. You can test out the platform with a free 30-day trial available on the VIPRE website. For a trustworthy take on the world of cybersecurity, drop by the VIPRE blog while researching the solutions for your business.
---
Certainly the largest company on this list — 11,000 employees and 200,000-plus followers on LinkedIn — Citrix has a hard-earned seniority in the Florida tech scene after nearly 30 years in operation. More than 10 products from the vendor are positively reviewed by users on G2 Crowd. Citrix ShareFile leads the pack with a whopping 377 reviews as of publication, and is a Leader in the Business Content Management category alongside Google Drive, Box and SharePoint. It's also a Leader in the File Storage and Sharing category. The platform allows users to share and collaborate on a range of files with both coworkers and clients, with heavy duty security and recovery to give added peace of mind. A free trial with unlimited bandwidth for up to five users is available on the ShareFile website.
---
Just recently passing the 35-year mark, ConnectWise is the eldest vendor on this list — the company began as a full-service IT provider in 1982. Fast-forward to today, and the Tampa-based vendor helps more than 10,000 technology organizations with its suite of modern software solutions. ConnectWise Manage, the most heavily reviewed of these products, gives IT help desk teams a centralized hub to communicate with the staff, document incidents and gain visibility into system performance. The hearty platform also comes with features for time tracking and billing, project management and procurement. Pricing for the software is customized based on the needs of your company; you can request a pricing quote on the software's website.
---
"The City Beautiful" Orlando is represented once again by DNSimple, an easy solution for finding, registering and renewing professional website domains. Among the defining features of DNSimple is a unique Slack integration that allows users to register new web properties right from a Slack channel. It also offers access to a helpful and creative community of developers that can help expand the potential of your company's (or companies') domains. The software is a High Performer in the Domain Registration category. User Thejdeep G. wrote in their DNSimple review, "The interface is beautiful to look at. And this makes DNS management simple and easy. You can easily transfer and add domains."
---
SANsymphony from DataCore is a storage management software that "solves the 'Big Problem' standing in the way of virtualization projects," as worded on the product's G2 Crowd profile. It's the vendor's flagship solution, powered by its trademark Parallel I/O technology to bolster IT infrastructure availability, performance and utilization. You can watch an overview of the software or request a free 30-day trial on the SANsymphony website. It is currently the only High Performer in the Storage Management category and one of only four products on the Grid®.
In a five-star DataCore SANsymphony review, Damon D. wrote: "This solution allows the use off-the-shelf hardware and charges by the TB of storage. So we can throw in our own enterprise-class hardware (including SSDs) and not pay any extra based on the type of storage we use. This is the same model used with server virtualization. Keep the hardware separate from software. This is true 'storage virtualization' at it's finest. The software over the years has matured to be a very robust and allows you to build a very high performing storage platform. It has all the features of any high-end SAN such as fibre channel, iSCSI, thin provisioning, storage tiering, snapshots, continuous data protection/recovery synchronous and asynchronous mirroring, performance reporting/graphing, true HA design."
"Being recognized for having one of the highest-rated B2B software products is a true honor. As a company, we are always here to support our customers, and DataCore has consistently enjoyed excellent product renewal rates as a result.
After all, it's customers that are in the driver's seat, and the highest praise is knowing that our solutions are being successful in fulfilling their needs." George Teixeira, Executive Chairman at DataCore Software
---
Though Florida is known more for its alligators and mosquitos, it's also produced a pretty great fox … a HandiFox, that is. HandiFox Desktop gives warehouse operations a way to manage supply chain pipelines, automate sales, and track inventory, whether at the desk or in the field with the mobile application. The ability to scan barcodes from a smartphone with HandFox empowers manufacturing teams to save loads of time and stress in their inventory control tasks. Visitors can schedule a live demo or download a free trial of the software on the HandiFox website.
---
GleanView, from the home of the Jaguars, is a High Performer in the contentious CRM All-in-One category. The platform offers features across the spectrum of sales team needs: Account management, opportunity forecasting and performance dashboards to name a few. It also comes packaged with marketing tools like an email builder and customer segmentation. In a five-star GleanView review, Marc P. wrote, "We switched from a competing CRM to GleanView and ended up saving over $20K per year without losing any functionality. The service has been top notch and has went above and beyond to accommodate our needs. The team at GleanView has been able to really customize the integrations to match our sales and marketing process, and we now have a full solution that manages our customers and prospects from lead to repeat order.
---
SunView Software bills itself as "the leading provider of Artificial Intelligence-powered IT Service Management software that helps companies create smarter, more response IT environments." The ChangeGear platform is the central offering to back the claim. One of the software's biggest selling points is its machine learning-driven service management features that leverage user interactions and historical data to provide predictive analytics and recommendations for service. For more information on the tool's capabilities, you can watch a demo or contact SunView with a question through the product's G2 Crowd listing.
---
Rounding out the list is the third of Jacksonville's offerings, CompensationXL, a solution for managers and HR teams to streamline tasks related to determining salaries, raises, bonuses and other compensation decisions. This cloud-based platform is compatible with global currencies so businesses across the globe can plan and execute compensation plans accordingly, and integrates with Microsoft Excel to make documenting and storing information on budgets, allocations and the like as easy as possible. CompensationXL has an impressive customer portfolio that includes HBO, Panasonic and DocuSign.
In five-star CompensationXL review, Olga C. wrote: "The software is very intuitive and flexible to make changes/adjustments. Implementation was easy and uneventful. The reporting analytics are great. The team we work with at CXL is awesome … they are always available and always turn things around quickly."
---
Other B2B Florida Tech Companies
While we recognized only the 25 best-reviewed software exports from Florida, there are still an abundance of other B2B tech companies impacting the region's tech scene. Here's a rundown of other Florida B2B software companies with their founded dates and total funding.
For any questions about the methodology or data included in this piece, or to request that your Florida B2B tech company be added, please reach out to Editorial Team Lead Jakub Rudnik at jrudnik@g2crowd.com.