Employee engagement has become an increasingly popular topic among HR and C-level leaders.
But what does employee engagement really mean for businesses? Most understand employee engagement is important. But few can define it – and even fewer know how to leverage it in a strategic way.
What is employee engagement?
Employee engagement is the connection an employee feels with their place of work. It can be measured in a variety of ways. Ultimately, it's about translating perceptions into numbers, numbers into insights, and insights into actionable intelligence.
There are many different employee engagement models. There are three distinct areas of employee engagement, including:
An employee's engagement with their organization
An employee's engagement with their team
An employee's engagement with their work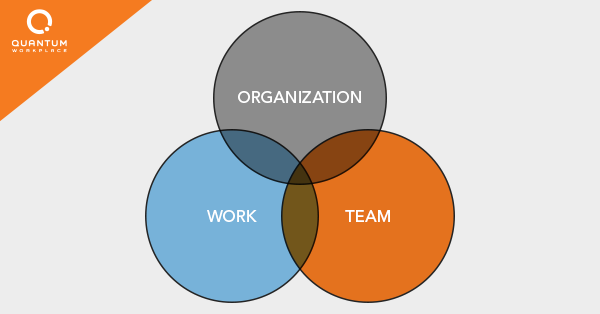 When employees are engaged at each of these levels, you will have a more engaged and successful organization. This model measures engagement outcomes and engagement drivers associated with each of these levels.
Engagement outcomes help reveal the current state of engagement:
I find my work engaging.
My immediate coworkers are committed to this organization's overall goals.
I recommend my organization as a great place to work.
Engagement drivers are actionable survey questions that help organizations maintain, improve, or drive engagement outcomes:
I feel comfortable sharing feedback when I have it.
If I contribute to the organization's success, I know I will be recognized.
Teams collaborate well with other teams.
Why is employee engagement important?
Engaged employees work harder, stay longer, take more initiative, and motivate others to do the same. When employees are engaged, their organizations are more successful. When they are disengaged, their organizations suffer.
Research has shown that engaged employees produce better business outcomes, including:
41% lower absenteeism
10% higher customer loyalty and engagement
21% higher profitability
20% higher sales
17% higher productivity
24% lower turnover (for high-turnover companies)
59% lower turnover (for low-turnover companies)
70% fewer safety incidents
This is true across industries, company size, location, and in good economic times and bad.
What are some employee engagement best practices?
Making meaningful progress in your employee engagement initiatives can be difficult. Recognizing the importance of engagement is critical, but where do you go from there? Successful organizations learn to listen, focus, and transform. Leverage these employee engagement best practices to take your engagement efforts to the next level.
Listen to your employees
If you want to understand what engages or disengages your employees, you need to ask them. If you don't, you won't be successful in delivering on an experience they expect.
Leaders and managers should prioritize continuous feedback. This allows organizations to understand and respond to needs and issues as they come up. Asking for feedback shows employees that you care and that you are willing to listen and take action.
Focus on what matters
Collecting employee feedback is a great first step. But the most effective employee engagement programs emphasize follow-up. Research shows that employees whose managers follow up after a survey are 12x more likely to be engaged the following year than those with no follow up.
In other words, feedback is only as useful as the action it inspires. Gather information, share it with your people leaders, and encourage them to take action on the things that matter most.
Transform your approach
Employee engagement doesn't have to be a shot in the dark. When you understand what drives engagement in your organization, you can create targeted and impactful strategies. As you gather more information and make changes, you must track, analyze, and adjust.
The days of the annual engagement survey are behind us, and a new era of engagement is upon us. Business moves too quickly to only study engagement once a year! You must find ways to keep engagement at the forefront all year long. You can do this by continuously listening, responding, and putting your employees first.
What are the best employee engagement strategies?
When it comes to engaging employees, there's too much at stake to throw spaghetti at the wall and hope something sticks. Explore these strategies to approach employee engagement the right way.
Create a robust feedback culture
Employee engagement surveys are a great way to collect and understand employee feedback. But to paint a clear picture of engagement throughout your organization, you need more.
Employee feedback shouldn't be a once yearly initiative. Rather, it should be woven into the fabric of your organization. Build a robust feedback culture with a continuous listening strategy that includes:
A variety of employee surveys, including engagement, pulse, and lifecycle surveys
Frequent performance conversations and check-ins
Upward, downward, and 360 feedback
Peer-to-peer recognition
Make sure you're actually measuring engagement
Employee engagement is a perception and a science. You should measure, track, and analyze it over time. But how do you know if your survey is actually measuring engagement?
Be careful with DIY surveys. They might be cheap or easy, but collecting feedback is not the same thing as measuring engagement. You need a valid and trusted tool for that. Preferably one that is developed by an employee engagement expert.
Ramp up your communication
Communication is critical to any initiative's success. Be clear about the purpose of your engagement efforts and set expectations for employees upfront. Make sure leaders, managers, and employees all understand the what, when, why, and how of what's happening. Communicate with your employees often. It's always safe to assume that you could be more transparent, proactive, and frequent in your communication.
Share findings and commit to action
Following your survey, employees will want to know what's next. Share your survey results and any follow-up plans with leaders, managers, and employees. This builds confidence in the survey itself and your organization's leadership.
Involve everyone in the organization in moving the needle
Employee engagement isn't just HR's responsibility. Senior leaders, HR teams, managers, and employees all play an important part.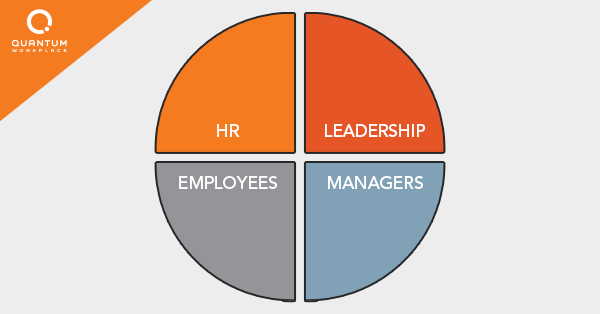 Everyone should be held accountable for the success of your engagement efforts. Employees at all levels can make an impact on engagement through:
The quality of relationships they build
Their approach to teamwork
Their willingness to take initiative
The general attitudes they bring to work
Think bigger and broader than an engagement survey
Employee engagement is more than a survey. There are many organizational decisions, processes, and relationships that impact engagement and performance.
You should think about:
Turnover and retention. Use data from exit surveys and Glassdoor reviews to understand why employees leave. Identify ways to lower regrettable turnover and increase retention.
Performance conversations. Employees want ongoing coaching and feedback from their managers. Embrace a modern performance management strategy with ongoing performance conversations and check-ins.
Employee recognition. Recognition is a key driver of employee engagement. Build a real-time, peer-to-peer recognition program that aligns with your company values.
Goal alignment. Goals are critical in helping employees understand how they contribute to an organization's success. You need a system to help employees develop and track aligned goals.
Feedback. Today's employees crave feedback and growth. Implement tools that help managers and employees collect, process, and take action on performance feedback.
Tie results to business outcomes
To make the most of your engagement data, tie it to key business metrics. This will paint a clear picture of how your people strategies support business success. It will also help you justify current and future investments and initiatives.
What are some proven employee engagement ideas?
There are a lot of fun ways to engage your employees. But some ideas will have a bigger impact than others. Try out these tried-and-true employee engagement ideas in your organization.
Use pulse surveys in between annual engagement surveys
A lot happens in your organization between annual engagement surveys. Follow up on engagement survey results with lightweight pulse surveys. These surveys can help you dig deeper into specific issues that come up. You can even target different groups on the unique topics that matter to them.
Collect feedback you can actually act on
Collecting specific, real-time employee feedback can help you make quick and smart decisions. But frequent requests can be annoying – especially when no action is taken. Be respectful of your employees' time by choosing questions that capture actionable data. And be sure to follow up on the results!
Leverage employee focus groups
Looking for new ideas to improve employee engagement? Ask your employees. Generate ideas and strategies by conducting an employee focus group. Focus groups can help you compile diverse thoughts and perspectives at once and boost action plans in an authentic way.
Focus your efforts on neutral and favorable employees
These employees are your biggest lever for impact. Their middle-of-the-road opinions are often the easiest to influence. Boost confidence in your neutral or favorable employees to create strong internal advocates. They can motivate less engaged coworkers and champion employee engagement within your organization.
Give managers access to their team's results and drivers
Presenting organization-wide results is important. But in order to impact change at the local level, you need to empower your managers to drive engagement. Equip your people leaders to review, analyze, and discuss results within their teams. Coach them to follow up with employees and continue the feedback loop with their teams.
Shift your performance management strategy
Employee engagement and performance are inextricably linked. Successful employees are more engaged – and engaged employees are more successful.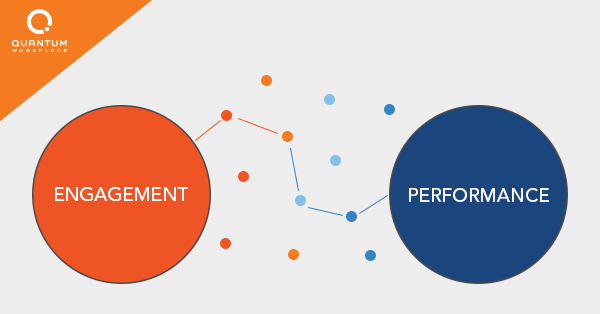 This means your performance management approach has a huge impact on engagement. Shift toward a modern strategy that encourages ongoing feedback, coaching, recognition, and development.
Prioritize employee recognition and development
Employee recognition and development are key drivers of engagement across almost all organizations and industries. Bottom line: employees who feel valued and appreciated will go the extra mile. But they also want to pick up a few skills and experiences along the way.
Why should you invest in employee engagement software?
Investing in software is a big decision. If you're not sure if you're ready to make an investment, consider these benefits of employee engagement software:
Save time and money
Lean on employee engagement software (and the team that comes with it) to do the heavy lifting. You'll benefit from proven methods, templates, resources, training, expert coaching, and more. This frees up more time and energy for you to focus on what matters.
Make data-driven business decisions
Employees are complex. And the path to employee and business success isn't always crystal clear. Engagement software can help you gather critical employee data and intelligence. You'll have access to insights that help you make smarter business decisions.
Increase communication and trust
Building trust takes time, but it's a vital part of your engagement strategy. Employee engagement software helps you facilitate ongoing conversations with employees. These conversations help show that you care about their opinions, their experiences, and their future.
Improve employee engagement
The employee experience is active and ever changing, so you need to act fast on employee feedback. Engagement software can help you do just that. Survey dashboards can help you understand your organization's unique drivers of engagement. Analytics tools can help you slice and dice your data so you can take immediate action with targeted strategies.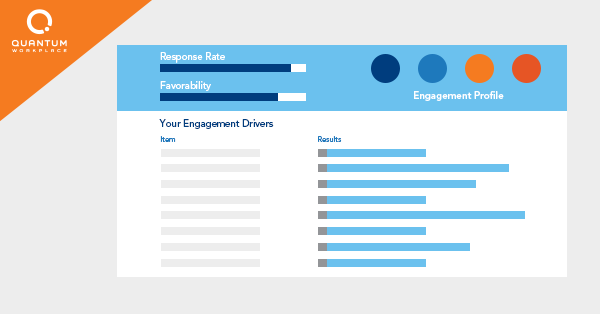 Engagement software can help you catch opportunities and issues sooner so you can be proactive about engaging and retaining your workforce.
Boost performance and productivity
As stated above, engagement and performance are inextricably linked. That being said, your employee engagement software should do much more than help you survey your employees.
With the right set of tools, you can boost performance and success across the board. Software that helps you connect the dots between your engagement and performance data will take your organization to new heights.
What should you look for in employee engagement software?
Your engagement survey shouldn't be the only initiative you use to understand and drive employee engagement. Find software that helps listen to and support employees all year round. Your software should help you:
Capture employee voices
Your employee listening strategy should be continuous. You should be capturing a variety of employee voices in a variety of ways. Find a software that allows you to collect, act on, and respond to employee feedback with engagement, pulse and lifecycle surveys.
Recognize employee success
Acknowledging your employees for their contributions can drive engagement and performance. Share in their success by selecting a vendor who provides an online recognition tool.
Set and track employee, team, and organizational goals
Employees need clarity and purpose to be fully engaged and successful. Your employee engagement software should help teams set, track, and discuss goals. It should showcase and encourage alignment among individual, team, and organizational goals.
Give and receive feedback
Ongoing feedback is essential to engagement and performance. Employees need to understand their strengths and blind spots. Select a software that can help your managers and employees give and receive feedback regularly and easily.
Facilitate meaningful one-on-one meetings
Employees need to feel supported by and connected to their manager and organization. Without regular communication, your employees will feel detached and unengaged. Foster stronger manager-employee relationships and continuous performance conversations with a 1-on-1 tool.
Identify and retain top talent
Talent development has become a top priority for organizations. But to understand how to retain and develop top talent, organizations need data. A robust engagement software should also offer a talent review tool to improve retention and reduce turnover.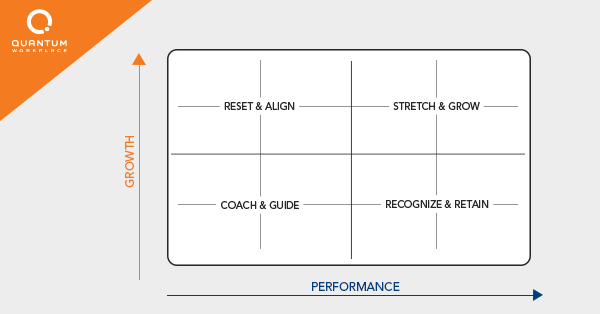 Empower managers to impact engagement
Managers are on the front lines of engagement – and many need a lot of coaching and development to help their employees. Equip your managers with the tools they need to better understand their team's needs and do the work at the ground-level.
Analyze with confidence
Avoid vendors who create barriers to access your employee data. It should be easy to not only measure engagement, but analyze and improve it. Your software provider should provide quick and instant access to your employee data and surface insights in pre-built or customizable reports.
Conclusion
Employee engagement has evolved from an annual survey to a robust and important business strategy. Successful organizations know that their people are their most important resources.
To begin making progress on employee engagement, you have to commit to real change. You must be able to measure and understand what engagement looks like in your organization. And then put the tools and processes in place to help your managers drive engagement and performance daily.
Discover the right employee engagement software for your company's needs today – only on G2.