How can you get your audience to trust you as a brand and engage with you?
When you think of it, some of your prospects have seen so many marketing messages that they've become immune to your company's messages. As a result of this, they just scroll past the message and fail to engage. Which is bad for any business.
However, seeing these messages from your employee, who is a genuine person – and not a brand – gives the message a higher potency. And the messages, in turn, produce better results.
In this article, you'll discover how to leverage employee advocacy and how to develop an employee advocacy strategy.
What is employee advocacy?
Employee advocacy is the process whereby employees share messages about your business to their friends and followers on social media.
These messages are used to drive brand awareness, engagement, lead generation, or sales. In some cases, employees advocate for their company without a system in place. However, a system for employee advocacy can produce better results for your business.
3 benefits of an employee advocacy strategy
If you already have a marketing department and a huge marketing budget, you might ask: "is employee advocacy even necessary?" Of course it is. Whether you run a small or large business, you can reap important benefits from the use of employee advocacy.
Here are 3 of the biggest benefits:
Your messages provoke more trust and confidence. Most recipients of messages through employee advocacy know the employee in real life and are more likely to trust a message from them.
Employees become more committed. When employees say good things about your company and promote its services, they become more invested in the company. And thus, they're more committed and engaged with their duty. For instance, about 86% of employees involved in an advocacy program say it had a positive effect on their careers.
Attract better talents to your company. If your current employees say good things about your company and promote its service, then your company must be a great place to work. At least, that's how it looks to a talent that wants to work at your company. Therefore, it's not surprising that job seekers say current employees are the most trusted source of information about a company.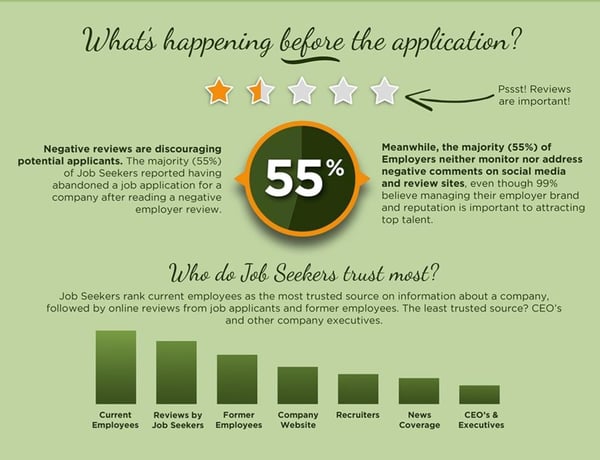 5 tips for developing an employee advocacy strategy
The following five tips will help any company with developing their own employee advocacy strategy.
1. Develop employee advocacy guidelines for brand protection
For optimum results, you have to ensure that your employees are sharing messages aligned with your company policies. To achieve this, you must develop employee advocacy guidelines to guide messages employees can share. Furthermore, having advocacy guidelines is a way of protecting your brand against possible negative sentiments. Some elements to include in your guidelines are:
Team roles
Tone of messages
Types of messages to share
Type of language to avoid
One way to ensure employees understand these guidelines is to train them on social media best practices for your company. Having said this, you'll need to monitor employee advocacy activities to see if employees' messages fit your brand image. From this, you can make necessary adjustments to their messages.
2. Get employees on board with the idea
For employees to become advocates of your business, they need to understand your culture. Long before you encourage employees to share updates about your company, they need to feel like a part of the company.
Generally, team bonding activities can ensure employees are active and engaged with their job. These could be activities like vacations, organizing picnics, and others outside their job. See an example from Target called Target Volunteers: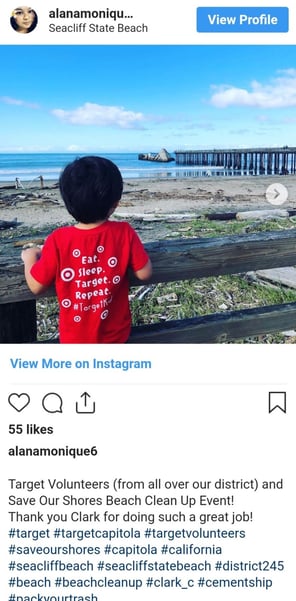 When employees feel they're important to your company, it's easier to promote the company. According to the 2019 Edelman Trust Barometer, employees are twice as likely to engage in employee advocacy when they trust their employer.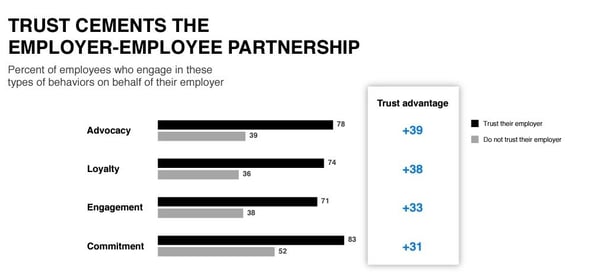 Added to that, you don't have to bring all employees on board your advocacy campaigns. Fortunately, you'll find willing candidates in departments such as marketing and sales. Many of them already market on social media and understand how these platforms work.
One of the best ways to lead is by example. Getting your executives to spearhead your employee advocacy efforts could be an example for other employees to follow. More so, employees can see what type of content is expected.
3. Encourage employees by making the process easy
To make employee advocacy more effective for your employees, put a system in place that makes the process easier. This is especially vital if you have employees who rarely visit social media. In light of this, using the right tool can make it easy for employees to share updates with their followers and friends. Employee advocacy software provides features that makes employee advocacy easier.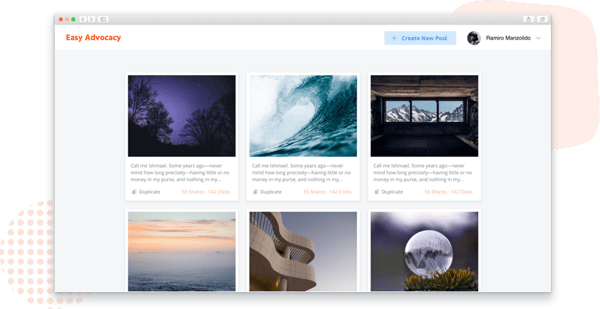 Added to that, it provides metrics about your advocacy campaigns which helps you to judge the success or failure of your campaigns, and adjust your strategy when needed.
4. Encourage employees to share valuable content
For employees involved in advocacy, keep in mind that they have a reputation to protect among their friends. That's why sharing messages that are too spammy may yield poor results. With employee advocacy, even when you need to sell, it should be a soft sell.
One formula that employees can use when sharing content is to share original content 70% of the time, curated content 20% of the time, and suggested content by employees for 10% of the time. Ultimately, you have to ensure that the content is relevant to your campaign goals and your employee's audience.
Another point to keep in mind is the content format. What content format performs best with the company's audience? Is it the same format that performs with the employee's audience? You can experiment with different content formats to find the best performing format.
When your employee's content provides value to their friends, it's easier to gain trust and provoke them to action. Here's an example of Lush employee Lilly Flynn who posts videos of a tub with Lush bath products: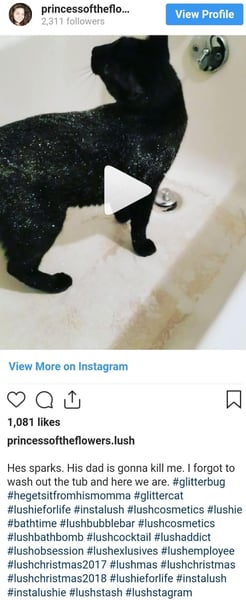 5. Set and track KPIs to measure campaign success
Setting up employee advocacy means you're looking to achieve some goals. As with other social media campaigns, some common goals you can have for employee advocacy are: brand awareness, lead acquisition, customer acquisition, and making sales.
However, setting goals alone is insufficient. How do you know these goals have been achieved? To track this effectively, you have to use key performance indicators (KPIs). For instance, if your goal is brand awareness, you can track metrics such as reach, number of likes, comments, and other engagement metrics. If your goal is lead acquisition, you can use Google Analytics to track goals on your landing page to see the number of visitors who submit their details.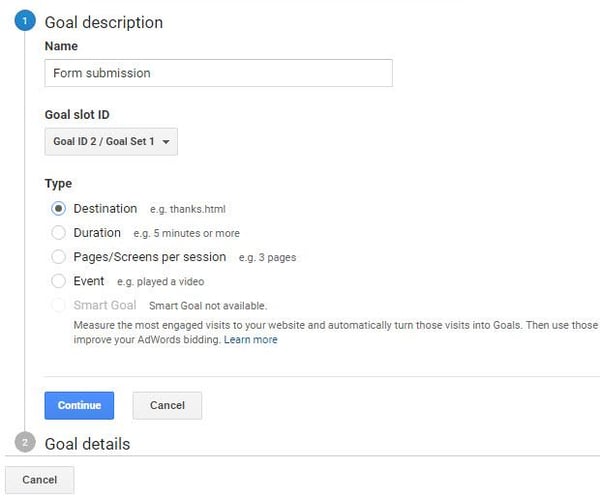 On another note, you can see the number of customers acquired and revenues when you follow up leads with your CRM software. One way to achieve this is to tag leads acquired through employee advocacy in your sales funnel.
By tracking KPIs for your campaign, you can easily determine the success, or failure, of your campaigns. Furthermore, with these metrics, you can update your strategy for better performance in future employee advocacy campaigns.
Conclusion
Employee advocacy can help get your messages out to a large audience and generate more brand awareness and engagement. But first of all, you need to develop an employee advocacy strategy that guides the process. By doing this, you can acquire more customers at a low cost while also keeping your employees committed and engaged.
To help you with building your employee advocacy program, find the top-rated employee advocacy software on the market today, only on G2.