When you think about the biggest tech or startup hubs in the world, Denmark may not be the first country to come to mind.
The United States and Canada loom as two tech giants in the Western Hemisphere, and even in Europe, countries like Great Britain and France, with London and Paris, respectively, are more traditionally thought of for their tech scenes.
Denmark's Tech Scene
But the Danes have emerged as an up-and-coming market technology leader in recent years, even ranking No. 6 in The Global Entrepreneurship and Development Institute's "Global Entrepreneurship Index." This is particularly true in the business-to-business (B2B) scene, which is where G2 is most concerned.
At the heart of Denmark's tech world is Copenhagen, the country's capital and most populated city (its population of 750,000-plus people makes up a little more than 13 percent of Denmark's total population of 5.7 million people). Of the 26 B2B software vendors on G2 with a headquarters location identified in Denmark, 18 are in the capital. Countless more vendors across our site list offices in Copenhagen as well.
Much has been written about the Copenhagen tech and startup scene in recent years and why it has grown so quickly. Business Insider wrote that "Denmark has the fastest growing startup scene in the Nordic region" due to "grassroots movements forming in recent years and mobilizing the community," citing TechBBQ, a startup and innovation summit in the city. Founders, a Copenhagen-based company that has founded 12 companies since 2012, released a report in November 2018 that found that the past success (and money) of particular Nordic startups has fueled its current growth; in Copenhagen those companies include Zendesk and Tradeshift, both now headquartered in San Francisco.
With the tech scene on the rise, the Danish government has taken notice, with its Ministry of Business and Growth and the Ministry of Immigration, Integration and Housing co-leading Start-Up Denmark, which exists to drive entrepreneurs to the country and encourage tech growth.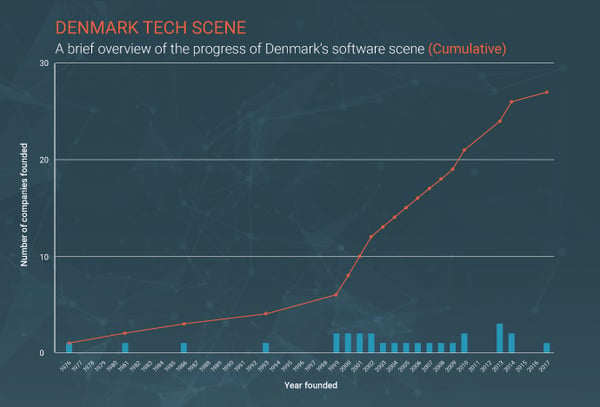 Note: Only software vendors on G2 with headquarters currently in Denmark are included in graph.
With so much activity and growth in the Danish tech scene, we pulled together a list of the top-rated products on G2 with vendors headquartered in Denmark. The list below is ordered by user satisfaction, and to qualify, a product was required to have at least 10 verified user reviews.
For each product, we created a profile to give a snapshot of what it is and what it does, and to give some insight into the company behind it. All the data comes from G2.com (and our nearly 750,000 B2B software and services reviews), or from publicly available sources such as LinkedIn and Crunchbase. These 26 Danish B2B companies are represented by 372 verified reviews from real users across a variety of categories, from CRM to Project Management to Service Desk. Read more below about some of the companies playing a major role in Denmark's bustling tech environment.
---
Top B2B Denmark Tech in 2019
Falcon.io is far-and-away the most-reviewed Danish product on G2 . It is also loved by its users, earning its status in our Winter 2018 Social Media Management Grid® Report. It also provides tools for social media analytics and social media monitoring. The company boasts offices in four cities: Copenhagen, New York, Berlin and Budapest.
---
Ninjamock is a wireframing tool that helps teams with web design, boasting customers at Groupon and Cisco on its website. Its Chrome extension has a 4.4 out of 5 rating, based on 30 reviews, and it is a High Performer on G2 's Wireframing Grid®.
"We are excited to be listed among other great Danish companies. This will further inspire us to continue our growth and deliver the best product and customer service in the industry."
– James Van Hauen, NinjaMock CEO and founder
---
Komfo is a social media management tool with monitoring and analytics capabilities. It recently was named a High Performer in the Winter 2018 Social Media Management Grid® Report. The company website boasts more than 4,000 users in 50-plus countries. It also has an integration with Sitecore, a web CMS also appearing on this list.
---
Capture One Pro is a photo editing tool that is ranked as a High Performer on G2 's Photo Editing Grid® due to its high user satisfaction. In addition to its software, Phase One offers professional-level photography equipment of many varieties. The company also has offices in New York, London, Cologne, Tokyo and Hong Kong.
---
Trustpilot allows companies to host user reviews on their websites, and it has the highest overall G2 Score of the seven in our Product Reviews category, placing it in our Leaders quadrant. Trustpilot has offices in New York, London, Melbourne, Berlin and Denver, in addition to Copenhagen.
"In the people-powered era, where influence has shifted from businesses to consumers, Trustpilot helps consumers choose with confidence while helping good companies to become truly great."
– Peter Mülhmann, Trustpilot CEO and founder
---
GenieBelt has been rated highly enough by reviewers to be rated a High Performer in our Construction Management category. The product and mobile application have been used for more than 20,000 construction projects in 100-plus countries, according to its website. GenieBelt also has offices in London and Lodz.
"We are very happy to be part of this valuable list. Being an actor of change for construction is at the heart of our motivations. Now more than ever, it is our responsibility to push for more accountability and transparency in the building industry. All we want to promise is that, we will put all our efforts to continue empowering communication between the construction site and the office."
– Ulrik Branner, GenieBelt CEO
---
Umbraco is an open-source ASP.NET CMS that boasts more than 440,000 installations and 220,00 active members in its community. Umbraco is built on Microsoft Azure.
---
Sitecore is a Web CMS with numerous add-ons available, including social, print and mobile. With its market presence, Sitecore has its own services category on our site: Sitecore Developers. Sitecore lists office addresses in 18 countries and two U.S. states.
---
Other Denmark B2B Software Companies
While only eight Demark software companies had enough review data to qualify for our list, there are still an abundance of additional Danish SaaS companies. Here's a quick rundown of other Denmark software companies with their total funding to date.

Company

Product(s)

Founded

Funding
Adform
Adform DMP,

Adform Demand Side Platform,

Adform Edge,

Adform Publisher Edge
2002
$27,500,000
Agillic
Agillic Dialogue
1999
n/a
Conferize
Conferize
2010
$4,006,224
Forecast
Forecast.it
2013
n/a
Futurelabs
Futurelabs CRM
2018
n/a
Heimdal Security
Heimdal CORP
2014
n/a
ioGates
ioGates
2003
Acquired
IntraVision
IntraService
2004
n/a
ITMC
idm365
2002
n/a
Netop
Netop Learning Center,
Netop Live Guide,

Netop Vision
1981
n/a
OfficeReports
OfficeReports
2009
n/a
Omada
Omada Identity Suite
1999
$21,490,080
SMS PASSCODE
Adaptive Multi-factor Authentication
2006
Acquired
SPAMfighter
SPAMfighter Exchange Module
2003
n/a
Stibo Systems
Stibo STEP
1976
n/a
Targit
Targit
1986
Acquired
Templafy
Templafy
2014
$4,151,920
webCRM
webCRM
2005
n/a
This post was originally published in December 2017 and has been updated with new data as of June 2019.
Can you guess top 100 software companies in Europe, the Middle East, and Africa?