Businesses look for good tools to manage their marketing and sales processes.
As demonstrated in 30 CRM Statistics for 2019, effective sales organizations are 87% more likely to be consistent users of a CRM. For many, this is old news.
Your business needs a CRM software, that much is obvious.
Winners and losers are now defined by analysis and insight gained from CRM. These analytics can empower employees to better serve customers, increase closing rates, and decrease churn.
CRM data and analytics
While there are specific functions a CRM should provide in order to work well, the soft side of a CRM's functionality is its data and analytics. Business analytics are the foundation for successfully converting leads into customers and customers into brand advocates.
What does it take to manage a CRM and use it for the best results?
Understanding your customer's journey
Every customer goes through a journey from the point which they are not interested or knowledgeable about your business at all, to the point where they pay an invoice, to the point where they tell their friends about the new business they found.
For certain purchases, called impulse purchases, the entire journey happens almost instantly. For example, while waiting in line at a grocery checkout, you notice all the bright colored candy and start to feel a craving for something sweet. You bend down and pick up a chocolate candy bar and add it to the cart. That was an impulse journey.
For large purchase decisions, the customer's journey will be significantly longer, include multiple decision makers, and multiple conversion points. If a business is considering hiring an engineering firm to build a combined website/browser app/mobile app, then both the budget and the number of people involved would require a significant period of research, collecting proposals, reviewing proposals, meeting with potential providers, and possibly an even longer process paying for the project.
From something that can take years, to something that happens instantly, the primary function of a CRM is to give sales and marketing team members the tools and data needed to manage the customer's journey all the way to close, and beyond.
Because a good CRM looks at the areas where relationship signals occur (CRM: Customer Relationship Management), it tracks many of the key indicators a business needs to ensure the business's customers are satisfied and happy with their customer service. Happy customers will talk to others, becoming brand advocates.
Key indicators of a lead's status change
As pointed out in the examples above, there are key indicators in the process of a buyer's journey that indicates a desire to move from disinterest, to purchasing your product or service. This transition is mirrored in any type of customer transaction.
Your CRM should provide both easy access to an analytics dashboard, and reporting features to showcase these indicators and how they impact the business and forecasting. For smaller items like this, analytics will be focused on the point of sale: comparing and contrasting the different small items, their sales process, and sales numbers. For larger customer lifecycles, the dashboard and reporting needs to demonstrate more.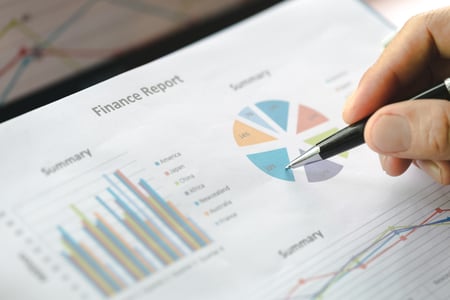 When a business is considering purchasing a large product or service, a CRM should track key items like website visits, phone calls, engagement with social media, forms filled out, webinars or other events attended, etc.
On their own, these items might not mean anything. But the right analytics will show trends among certain customers because of the frequency of engagement or significance of their engagement. Attending a live event is of higher significance when considering the buyer's journey than spending 15 minutes browsing the website.
TIP: Measure and manage the quality of your leads with lead scoring software.
Key business analytics for customer retention
Your CRM should provide analysis as to current customer satisfaction as well. When customers fill out a form on a website, it means something. Especially if it is a help request or other customer-service related form. Your CRM should automatically pull that information into relevant customer files and notify any sales or marketing team members assigned that customer.
Besides forms, showing numbers of phone calls (both inbound and outbound), subjects of the call, and other interactions between your business and your customers' business will demonstrate the level of satisfaction with your business, products, and services.
A great CRM will also provide data regarding negative and positive signals from your customers. A customer filling out a contact form to complain about delayed deliveries is sending an entirely different signal than a customer using that same form to say they put a good review of your business on their blog.
Both actions require a response from your team, but different types. On the first action, your team needs to make it right through customer service. On the second action, your team could follow up with appreciation of your own.
Besides the key indicators that businesses need to receive in individual dashboards and reports, there are also specific processes you should build into your sales and marketing teams and your CRM in order to use business intelligence to convert more leads into brand advocates.
Processes for managing CRM data effectively
Business processes include more than just the technical functions of the software you use. They include the policies your team follows, customization you build in, and your leaders' management habits.
Good software implementation will look at the buyer's journey and ensure that employees are trained to make the best use of it, that the right automations are set in place, and that analytics dashboards are set up to deliver the right information at the right time to the right people.
Employee education
Employees are the most valuable tool in software implementation. The best software in the world is only as good as the people using it. Training employees on proper use of the software and on your sales and marketing processes and philosophy is a must.
If you have ever been a part of a sales team where the paperwork says one thing, but the team members say another, then you know the difficulty of working a good system with poor human assets.
Employees and management also need to be trained on data and analytics reports. Their training needs to demonstrate how the information they have can help them better serve current customers, gain new customers, and ultimately earn more money while having a more enjoyable job.
Reduce human error through automation
Six Sigma quality certification is where a manufacturer produces items with less than .003% error rates. In other words, closer to perfection than is humanly possible. Businesses that achieve this use both human resources, technical resources, and system resources to create something where the whole is greater than the sum of its parts.
While the your business's automation needs are unique, it should generally be designed to reduce the steps between a customer service or sales interaction and the decision to pursue that. If a customer fills out a form in a website signifying they need help, the automation for that form should: take the form from the website, record the results under the customer's file in the CRM, and send a notification to that employee's account that follow up is required, while setting up an alert to complete the task.
Normally, a customer's form is sent to a website manager with expertise in content, design, or coding. The website manager sits on the form and then sends it to someone in the sales team. If this was the right someone, then they might follow up with their customer.
A good CRM will automate that process, reducing the chance that customers get lost in the process and decreasing the overall workload.
Develop the right business analytics CRM dashboard
The dashboards you use to deliver this information are incredibly important. Because of how information impacts the sales and service process, either serving customers or losing them, the data contained in the dashboard needs to be properly interpreted by everyone involved.
A good analytics dashboard or report does the following:
Provides information regarding individual leads according to the CRM user.
Shows actual sales figures, forecasts, and comparisons with previous years.
Shows recent activities from assigned leads as well as most active/least active leads assigned to the user.
Gives an overview of active leads or customers, depending on the user. These are the leads or customers who are not only providing key indicators but who have been selected for follow up by the user.
Showcases the next steps.
As you can see, the right business analytics through a CRM is a tremendous tool for building relationships and converting leads into customers, and customers into brand advocates.
Interested in learning more? Check out the best free CRM software!