Logos are small, but they're a force to be reckoned with.
Logos are one of the essential brand elements for a cohesive brand identity. Logos are the first impression for viewers who are being introduced to a business. They separate a company from its competition. They can create a customer experience. They're an attention grabber.
What is a logo?
A logo is a small design made of an image, shapes, text, or a combination of the three that represents an organization. This symbol is a source of identification for the company in regards to their name, values, and product or service that they provide their audience.
In other words, logos are a must-have if you want your brand to succeed. If you're interested in learning something specific about how to make your brand's logo succeed, jump ahead to:
The types of logos
The logo design process
Updating your logo
What should you know about creating a logo?
The most important thing to understand is that an effortless-looking logo isn't effortless to create, and the cost of a logo design can be immense.
Logos can look like art, but beneath the vibrant colors and fancy text, they should be designed strategically. Logos are the face of a business and, if created carefully, can be one of a brand's greatest weapons.
Before creating a logo, there are a few pieces of information to understand to make sure that the design you choose is one that's perfect for your business.
The types of logos
We love to label and categorize things - it's human nature. It makes complex, overwhelming subjects easier to comprehend. We have breeds of dogs, t-shirts and tank tops, and lots of software categories to choose from.
With millions of logos out there, humans took it upon themselves to categorize those, too.
There are three types of logos to be familiar with: typographic logos, imagery logos, and logos that combine both typography and imagery.
Typographic logos: made up of strictly letters. The typography can come in the form of a monogram or an entire wordmark
Imagery logos: no text is used in the design and is instead composed of symbols and shapes that represent their respective company
Emblem and combination: use both typography and imagery to create a logo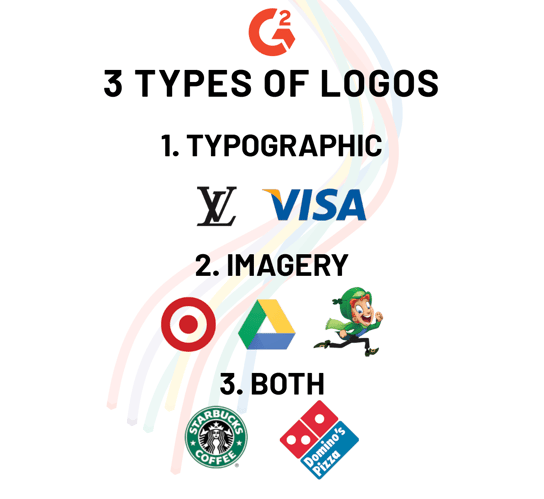 When choosing which type(s) of logos are best for your company, it's important to understand the benefits and detriments of each type.
Don't limit yourself to just one type; companies often have several different versions that they can use interchangeably, depending on the marketing material they're being used on. .
The logo design process
Looking into a logo designer's sketchbook can be overwhelming, to say the least. Sketches, annotations, and then sketches of annotations can be difficult to organize. Sometimes, it seems as though the entire creation of a logo from beginning to end is chaotic.
Believe it or not, there's order in this chaos: the logo design process.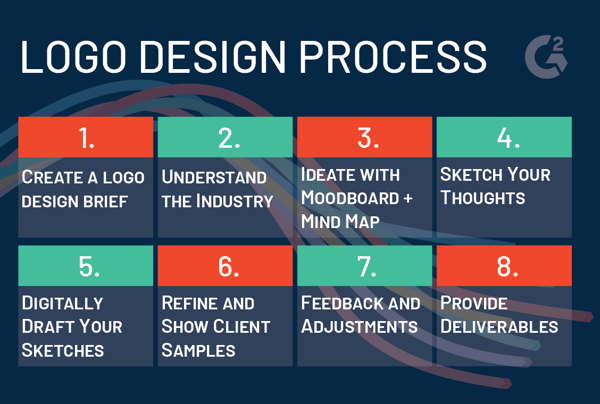 Designing a logo can feel like a mess, but underneath it all, it takes careful consideration, extensive research, out-of-this-world creativity, and a lot of patience.
If you're not working as an in-house designer, it's important to work as closely with your client as possible on this process. After all, the logo is for them and their company. Check-ins with one another are a must.
When designing a logo, you don't always have to spend hundreds of dollars on logo design software and tools. With a little research, it's easy to find some free resources that can help you through the process.
Following the logo design process to a T won't ensure that the end result of a logo is perfect. But it'll be close.
Updating your logo
Once a logo is designed, there's no promising it'll last forever. Often, they don't. As a company rebrands itself or merges with another company, the meaning behind the original logo is no longer relevant, and it's time for a refresh.
If this happens to your company, don't be shy about asking for help. Some of the biggest names in tech have gone through a logo evolution, and they're still alive and kicking. It's not easy to make a comeback from this:


When redesigning your logo, make sure you have a full understanding of the changes that are being made. If the original logo communicates something that is no longer true of the company, make a change in that way. If the rebranding wants to communicate something new, make it evident in your logo.
While you're understanding the changes your business is making as they move into the future, it's important to realize that trends have been changing, too. The style of your logo may no longer be appropriate.
Or, there may be a style much more appropriate for your logo.
So, while you're waiting for your boss to get back to you on the new brand guidelines, do a little research on the logo trends for this year and see if you can twist those into your new design.
Take off
Designing a logo is as important as choosing your first car. It won't last forever, but it will carry you and your brand through a lot.
You don't usually go to the dealership once and drive off in your new car the same day. The same goes for designing a logo: have an understanding of the makes and models, ask questions, and take your time.
A logo is essential for a company, but it's only a cog in the brand marketing machine.