Content syndication is a useful tactic to get your content in front of a larger audience.
As part of a multifaceted content marketing strategy combining areas related to a brand's image and reputation, media, and social function, businesses and brands use syndication to make a larger impact. Gain some insight into how you can implement content syndication at your business in this article.
What is content syndication?
Content syndication is the same idea as television syndication. The idea of syndication on TV is to earn money on a program or broadcast by selling its license to other TV stations. For example, a syndicated TV series (like Sesame Street) is created by one station and displayed on many other stations.
Content syndication works similarly. The main goal is to ensure that your content interests and intrigues your readers, boosts website traffic, and puts eyes on your brand by sharing your most engaging content on third party sites.
The content you syndicate could be articles (or fragments of them), ebooks, whitepapers, videos, etc. Syndication gives you an opportunity to reach more of your company's audience with omnichannel marketing and build your position as a thought leader. There are many channels you can use for free content syndication—social media (Facebook, LinkedIn, YouTube), content hubs (Inbound, Medium) or blog exchanges with publications that focus on topics similar to yours. Content syndication doesn't only get more eyes on your brand and your content and but also drives traffic to your website, social media profiles, and other channels.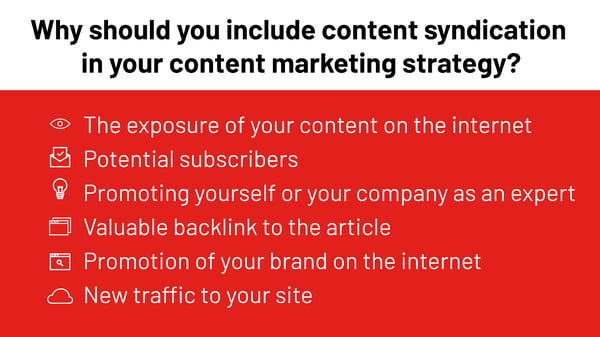 Content syndication is also a very popular marketing strategy for generating demand and leads for a business. By putting high-quality content on reputable, industry-specific destination sites, marketers can target in-market buyers who are self-educating and engaging with brands and companies through their own research—before marketing and sales teams engage with them directly.
Integrating your content and sales strategies will create a better customer experience for your prospects. That's where content syndication plays its part—it helps companies reach target prospects in places where they're actively looking. It's not enough to simply host great content on a website and hope that target accounts organically find that content. It's crucial to get all the material out there and let buyers find the most suitable companies for them.
It's also very important to know if your content syndication partners are using intent data to analyze their audience behavior. This way you're making sure that people who engage with your content are in your buyer sweet spot. Intent data helps predict which accounts are ready to learn more about the solutions you offer or are simply ready to buy.
Content syndication best practices
Content syndication is an important piece of the content creation game but it shouldn't be a marketer's main focus.

Focus on websites that are highly relevant to your industry.

Always ask for recognition and backlinks. Build your thought leadership position among your readers.

Monitor your content syndication efforts and make sure they're adding value to your overall content strategy.

Diversify your content syndication strategy. This way you'll be able to reach new audiences and determine which one is resonating the best with your content.
Content syndication follow-up
One of the main goals of content syndication is to drive more traffic to your website, and in the end, convert your visitors. When following up with your content syndication leads, it's important to remember three things:
When someone registers to download an ebook, webinar or other types of content, they are interested in that topic and not necessarily in your product.

That individual hasn't downloaded the content from your website and may not be familiar with your brand or services.

It's important to follow up with the prospect in a timely manner as they may not even remember downloading the asset if too much time passes.
Content syndication SEO
Content syndication is a very effective way to share your assets with a wider audience, however, it can be associated with some risk. Search engines don't like duplicate content. If they do not detect the characteristics of spam, they won't impose a penalty, but they may refuse syndicated pages and therefore not index them.
If a search engine finds several pages with the same content, then only one of them will show on the results page. That's why it's critical to always provide the source with the link of the republished content. As a result, search engine algorithms see duplicate content but also read the source of the text.
Google's guidelines on duplicate content say that if you publish syndicated content, their algorithm shows the version it recognizes as the most appropriate for users, and the results might not be the version you would prefer.
So, what about a situation in which Google decides that your website is not as relevant for a user as the site where you're syndicating your content? There are two ways to avoid this type of situation.
Canonical tag
The first is to make sure your partners are using rel=canonical tag to mark the preferred URL for each page and post. This way Google will understand that a particular piece of content's original source is your website.
It's a way to let Google know that a particular link is the one you'd like them to show to the users when they search. This way the search engine knows which version of syndicated content to show if it detects duplicate content. Remember to always ask the publishing sites to use the rel=canonical tag.
Noindex tag
The second way simply prevents Google search engine bots from indexing syndicated copy. The publisher uses the meta noindex tag on a page containing copies of the content. This is a signal for search engines not to add this page to the index. Thanks to the noindex tag, you won't lose organic search traffic and will remain the best-ranked page for your content.
That's a wrap
Content syndication is one of the best ways to increase your brand's visibility, reach new readers and enhance your reputation. If you're just starting out, don't be afraid to reach out to as many potential partners as you can. It's advantageous to take every opportunity for content syndication.
If you're promoting your content in order to generate leads for your business, it's best to work with established, respectable partners. They will be able to put your content in front of your target audience, opening doors to effective promotion strategies that you wouldn't want to miss out on.
Use content marketing software to create content you can syndicate. Explore software options on G2.