With a variety of traditions like family gatherings and gift-giving, what's not to love about the holiday season?
The festive period is not just about Christmas movies, gingerbread houses, and seasonal decorations; it's also about holiday shopping. Customers plan to spend an average total of $1,048 on gifts during the holiday season for themselves and their families.
For brands of all shapes and sizes, this is the most profitable time of the year. So it's no wonder that brands create holiday marketing campaigns to delight customers and promote their products. With the growing popularity of Instagram shopping, more brands run their holiday marketing campaigns on the platform.
Why run Christmas Instagram marketing campaigns?
With over one billion active Instagram users, and 90% following at least one business on the platform, Instagram has become a valuable marketing channel. Today, more than 25 million businesses promote their products and services on the platform. When it comes to the holiday season, Instagram offers a variety of reasons to run your Christmas marketing campaign on their platform.
Using IG for your Christmas Instagram marketing campaign can help you:
Reach your potential customers
Interact with a highly engaged user community
Increase e-commerce sales through Instagram shopping features
The bottom line? It seems every business wants to ramp up its marketing around the holidays on Instagram. Companies bombard their potential customers with holiday marketing campaigns from all sides.
While some promotional campaigns bother people, there are some great examples of holiday marketing campaigns that inspire brands to strive for more success in the coming year. We've gathered seven of the best Christmas Instagram marketing campaigns of 2019 below.
7 groundbreaking Christmas Instagram marketing campaigns to emulate
From food to clothing, beauty, and everything between, see how the following brands are stepping up their Christmas Instagram marketing game – and how you can do it next year!
1. Taco Bell
The days when Taco Bell was a simple American chain of fast-food restaurants are far behind us. Back in 2016, the company launched its Taco Bell Taco Shop, experimenting with retail. Today, the company sells clothing, accessories, and novelties. With over 1.3 million followers, Instagram helps to attract both local visitors and online shoppers.
Taco Bell announced its new holiday collection. To promote its variety of gift ideas for holiday shoppers, Taco Bell showed off products via Instagram posts with captions to encourage followers to take action faster.

Now that the company has its exclusive holiday collection, it's no wonder that Taco Bell wants to promote it among holiday shoppers. Since an Instagram bio is a visit card for any business, the company optimizes its bio link for Christmas marketing campaign to spark interest in visitors and followers and hint at what they can get after clicking the link.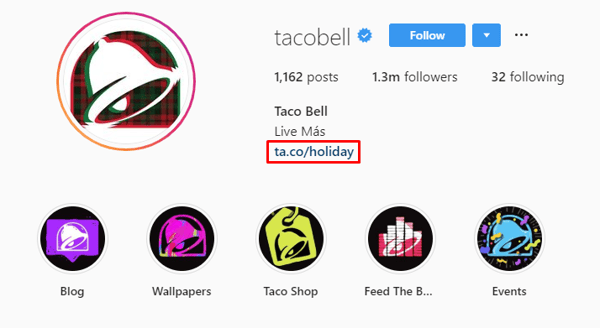 If you have a solid community of loyal fans, it's a good idea to launch a new holiday collection of branded products and promote them on Instagram.
2. Starbucks
For many people, the arrival of the Starbucks red cup means the return of the holidays when the company brings back its fan-favorite holiday treats. The Christmas season has its themes and traditions, and Starbucks helps to bring the tastes of the season with its holiday beverages. Since seasonal products help to build on seasonal excitement and utilize nostalgia, it helps Starbucks stay one step ahead of the competitors.
To promote its holiday beverages and cups this year, Starbucks gave a free limited-edition reusable red cup to every customer who ordered a holiday beverage in any size and flavor at participating stores in the U.S. & Canada on November 7, 2019.
Holiday beverages are available for a short period of time, so it's no wonder that Starbucks writes a lot about its seasonal products during the Christmas season. Here's how the company uses motion graphics to promote its holiday beverages:

Starbucks uses branded hashtags for its holiday beverages:
#ToastedWhiteChocolateMocha
#IrishCreamColdBrew
#PeppermintMochaFrappuccino
Not only does this help to create excitement among users, but it also helps to find user-generated content (UGC) on Instagram.
To stand out from your competitors during the holiday season, think about limited-release seasonal products as they help to cause a buzz around your company and create a sense of urgency that encourages impulse buying.
3. Cluse
Cluse lays a bet on user-generated content, so it encourages customers to share photos and videos of their watches on social media. Last year, Cluse made up a festive hashtag, #MerryCLUSEmas, and people started using it to show off their holiday outfits with Cluse watches.
When the company realized that the hashtag #MerryCLUSEmas was related to their brand and popular among its customers, this hashtag promotional campaign became an annual celebration. This year, the brand brought back the hashtag to run its Christmas Instagram marketing campaign.
Once you tap the hashtag, you can see that this hashtag is popular among users as people have uploaded over 2300 photos and videos with that hashtag.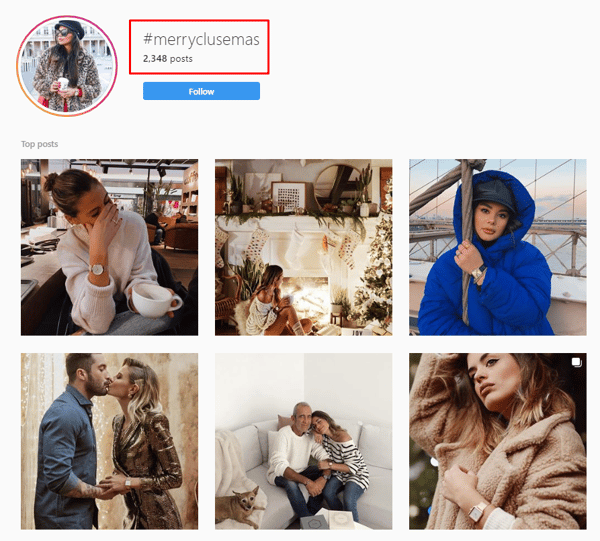 Simply put, this creative #MerryCLUSEmas hashtag is popular among users which means an opportunity to increase reach and engagement. Since this Christmas hashtag includes the brand name, it helps to boost brand awareness and collect user-generated content to use during the festive season.
Running a holiday-oriented hashtag campaign helps to spread the festive cheer and find brand advocates who are interested in promoting your products.
4. J.Crew
J.Crew always shares holiday content on Instagram to help its customers make the right purchase decisions (and buy from them). In 2019, J.Crew uses Instagram videos to provide their followers with holiday style hacks. Although this Christmas Instagram marketing campaign focuses on customers' pain points (not the products), it helps to increase ecommerce sales.
Why? With a variety of options on the market, customers want brands to help with their purchases and nearly two-thirds of holiday shoppers claim that online video has given them ideas and inspiration for their purchase.
With the popularity of long-form video content on Instagram, J.Crew creates videos for its IGTV channel to tell more about holiday obsessions and show off its top-selling items of the holiday season:

If you want to boost seasonal sales, provide your potential customers with informative and useful video content and offer your products as a solution to their problems.
5. Calvin Klein
Calvin Klein is a great example of delighting holiday shoppers with valuable and engaging content. The company ran a Christmas Instagram marketing campaign that was aimed at helping holiday shoppers find the perfect gifts for their nearest and dearest. On top of that, Calvin Klein used the power of word-of-mouth marketing to get better results.
There are a variety of case study examples that prove word-of-mouth marketing brings wonderful results. Why? People trust influencers more than ads and opinion leaders are happy to share the results of the collaboration on their profiles which helps to reach a wider audience. Calvin Klein teamed up with niche influencers to create a series of video gift guides for its Instagram community.

To cause a buzz around its holiday collection, Calvin Klein organized a party in New York and invited Instagram influencers and celebrities to join the event. The party helped produce holiday-specific content to post on social media, increase organic reach, and encourage followers to buy from Calvin Klein.
Collaborating with thought leaders, the company showed off its products in action and gave potential customers a solid reason to trust their brand. Since Calvin Klein sells on Instagram, the company added product tags to help followers buy favorite items in-app.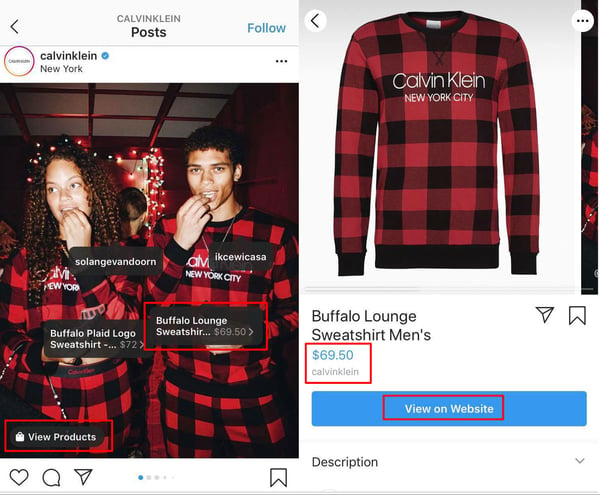 Source
Sharing useful gift guides is a great way to inspire and motivate holiday shoppers to buy from you during the busy holiday season.
6. Frank Body
Frank Body serves as a good example of running a Christmas Instagram marketing campaign without clogging the main feed up with festive-themed content. This year, the company launched a series of limited-edition holiday kits and used short-lived content, Instagram Stories, to build hype around its products.
Since Instagram Stories are available for only 24 hours, this content creates the fear of missing out effect that encourages users to watch Stories. Today, more than 500 million people create or watch Stories on the platform. For brands, this means an opportunity to reach the target audience and deliver a brand message fast.
To promote its limited-edition holiday kits, Frank Body created Instagram Stories to create a sense of urgency, show off seasonal products, and encourage holiday shoppers to find out more about the offer. The company also included a clickable link that helped to provide additional information about the holiday kits.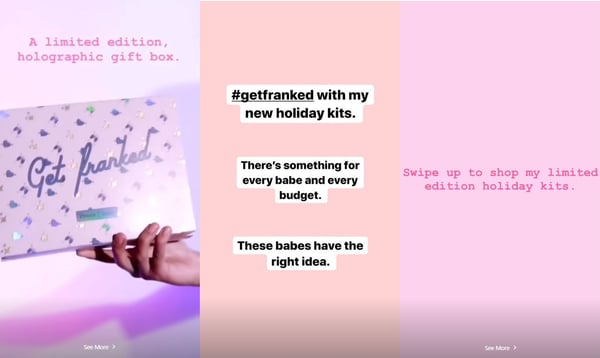 To make it easier for visitors and followers to discover holiday kits, Frank Body has a separate Instagram Stories Highlights album that appears below the bio section. What is more, the company uses a different background color for its cover that makes this album more eye-catching.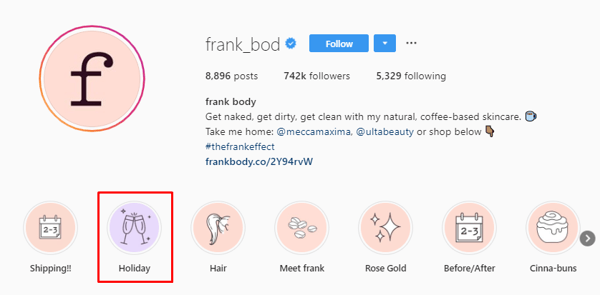 Source
If you want to create a sense of urgency in sales during the Christmas season, launch limited-edition holiday kits and promote these products via ephemeral content.
7. Milton & Goose
Milton & Goose proves that the Christmas season is a period of giving as the company rewards its customers as a part of the holiday marketing campaign. The company knows that holiday shoppers spend a lot of money on gifts and they want to find deals before making the purchase decision, so it offers discounts and gives an opportunity to win something valuable for nothing.
With the power of Instagram influencer marketing, Milton & Goose teamed up with niche opinion leaders to create user-generated content for its advertising campaign that was aimed at acquiring new customers with the help of social proof and discount promo codes.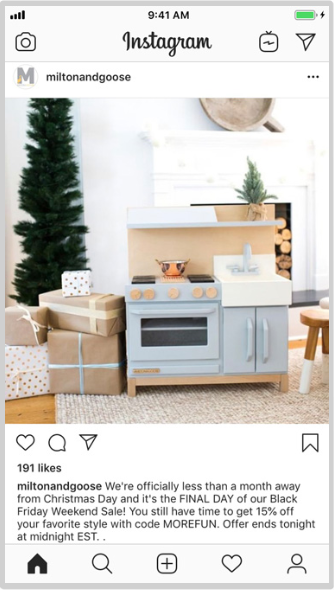 Milton & Goose worked with an influencer to run an Instagram giveaway that allowed participants to win a $300 prize. It was a perfect way to reward followers and customers for their loyalty and attract the attention of holiday shoppers.
This company proves that there's no need to create your holiday marketing campaign around your products as customers always buy from companies they trust. When you reward your followers, you also encourage them to choose your company over your competitors that focus on products, not customers.
The holiday season is all about giving, so think about running a giveaway or offering a discount if you want to be any different from other competitors who hope for the attention of the same audience.
Conclusion
Holiday campaigns come in many different shapes and sizes, so it can be hard to cut through the noise and grab the attention of your target audience. Since Christmas is here, it's the right time to learn from the best Christmas Instagram marketing campaigns of this year and inspire your next holiday marketing campaign.
Remember that the Christmas season is a perfect time for businesses of all sizes and shapes to build brand awareness, increase customer engagement, and boost end-of-year sales. So, don't miss your chance to bring your business to the next level in 2020.
To be fully prepared for next holiday season, download G2's free Instagram guide with a wide range of resources to amplify your social, promotional, marketing, and sales reach in the coming year!