Chatbots are overhauling how brands interact and connect with their customers across various platforms.
With over 300,000 active Facebook chatbots on Messenger alone, businesses are already using chatbots in various exciting ways. Whether you want to order food, schedule a flight, do a Google search, or capture anonymous visitors on your website — chatbots are everywhere, and adoption is steadily growing among businesses, specifically for anonymous lead nurturing.
Understanding chatbots
Chatbots are also known as conversational agents. These are software applications that replicate spoken or written human speech to trigger a conversation with a real person. Chatbots are available either as a web-based application or as a standalone app.
However you use it, chatbots are making anonymous lead nurturing more personalized. These artificial intelligence (AI) bots are designed to pick up human conversations and start mimicking them to sound like a real person when interacting with your leads and customers. This saves time, captures more leads, and initiates a base relationship with your brand even when your team members are not present.
For instance, when you visit G2, you can ask any question while browsing through the website. This is one form of anonymous lead nurturing where the visitor immediately starts conversing without having to enter any personal details. That step comes around later while conversing (or may not be there).
When visiting other websites, you may need to enter your name, phone number, and email address. Once you submit it, an agent is assigned to you to assist you with your queries.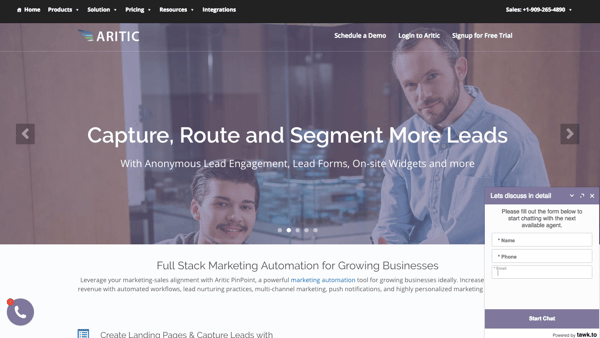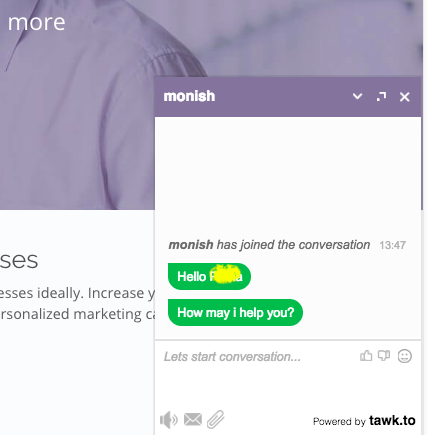 Do chatbots help in capturing anonymous leads?
This is another way of asking one of the most persistent questions — are chatbots replacing lead generation forms for anonymous lead nurturing?
Most marketers are terrified by the idea that there will be no lead-capturing forms. A majority of the leads generated by a brand through inbound marketing are anonymous visitors. Hence, brands should consider appropriate nurturing activities for these anonymous visitors to convert them into potential leads.
One of the most commonly used methods to do this is by adding chatbots on their websites. These chatbots capture anonymous visitors, answer their immediate queries, and put them in the pipeline for the teams to follow up. To start with answering the most frequently asked question — Yes, chatbots can replace online web forms [PS: conditions applied].
Chatbots automate conversations while your visitors are live on your website. It is a more real-time interaction and problem-solving effort from a brand's perspective. From a user's viewpoint, a real-time interaction makes a good impression. Plus, bots can get lead information with lesser friction, as compared to a lead capture form.
The reason why chatbots are seeping into marketing strategies is not just for improved customer experience, but also better results.
This brings me to the aforementioned "conditions applied" part. You see, many chatbot applications are failing miserably. It is true that bots can improve your conversation rates, but it is equally important to understand if your business needs a bot or not.
This is precisely why Perfecto Mobile adopted Drift (a chatbot app) as a second net when it comes to anonymous lead nurturing practices.
Ripping out all lead capture forms may not always be a great idea. Despite Drift following a #NoForm notion, it also agreed that most businesses like to use chatbots as the second net.
Perfecto Mobile used Drift on its Contact Us page at a point when its conversion of web traffic was about 6 percent. Although this was good as per the industry standards, the brand wanted to increase the overall conversion rate of traffic. In three months time after implementing Drift, the number grew to 10 percent, and in six months it was 20 percent. One of the main reasons why conversion rates climbed up for Perfecto Mobile was the chat targeting.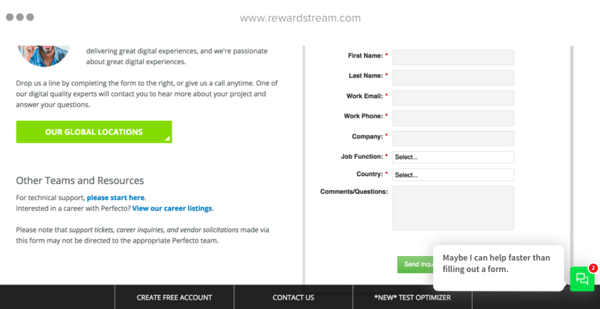 Skip the form option enabled Perfecto Mobile to increase its conversion numbers drastically because this option reduced the time it took the lead to move through the sales funnel.
The steps involved in increasing conversation rates through chatbots:
Explaining how this process happened with a chatbot, Chris Willis, chief marketing officer, highlighted:
An anonymous visitor comes to Perfecto Mobile website and starts a conversation with Drift (the chatbot).

Based on the IP address of this visitor, the conversion is routed to an surveillance detection route (SDR).

While chatting, the anonymous visitor is identified to be, say, a sports person and is interested in meeting a sales rep. The sales development rep (SDR) simultaneously updates the sales team about the ongoing conversation.

Depending on the conversation, after a span of two days (which probably was decided mutually), the sales rep visited the client's office for further discussion and sales conversion.
You can see how quickly things escalated with this visitor. Now that the sales rep was in the office, there was a good chance of immediate conversion by the time the meeting ends.
If you read through the steps again, you will notice that Chris mentions IP tracking. This is another practice that brands do to nurture anonymous visitors. In marketing terminologies, we call it browser fingerprint tracking technology.
What is browser fingerprint tracking technology?
When you get a new visitor to your website, it is not necessary to sign up or subscribe to your newsletter immediately. They may very well browse through your website and leave.
However, that's not the end of it. In fact, this can be your starting point. The browser fingerprinting technique helps to identify the IP address of this visitor. This information enables you to track the website engagement flow, how much time they are spending on your website, what pages they are visiting, and in what flow.
Putting together all this browsing information can help you understand the buying intent of this visitor. Additionally, you can get details like the lead source and demographics that aids to form more targeted ads and campaigns.
TIP: A

marketing automation

tool that has this feature automatically ties together all these details and adds them to your segments. Now, you can send targeted ad campaigns to nurture these visitors and convert them into potential leads.
Targeted ads help you to capture the attention of these visitors without being interruptive or forced. You show relevant information that catalyzes their search and brings them to your brand automatically.
Of course, if these visitors start interacting with your chatbots, you can always have the option to collect email ID. This way you get the consent of your visitor to get email updates as and when relevant. Again, unsolicited campaigns are a big turn-off, so best to be aware of that.
Using a chatbot and browser fingerprinting technology together for anonymous lead nurturing can help you make more targeted and relevant conversations. However, you need to update your bot, as well as create proper segments in your contact database, to keep things personalized, humane, and interactive.
What is your anonymous lead nurturing methodology? Are you using browsing fingerprinting technology for your visitors? Or only lead capture forms? Share your success story with us!
Learn more chatbot marketing by learning how Facebook chatbots are revolutionizing the customer support industry. Then, download our chatbot statistics roundup to keep up-to-date on the latest chatbot trends!