What do Charlotte Hornets owner Michael Jordan, LendingTree CEO Doug Lebda and former Bank of America CEO Hugh McColl Jr. all have in common?
They have all composed letters to Amazon — delivered in a custom-made wooden box — as part of Charlotte's bid for the second headquarters location. Although Charlotte did not make it on to Amazon's HQ2 shortlist, Charlotte Regional Partnership CEO Ronnie Bryant told The Charlotte Observer that Amazon commended Charlotte "for actually trying to understand Amazon's culture and tailoring our proposal to fit that culture."
"[We] have so much to gain from the experience," Bryant continued. "We've got a very strong portfolio that we will reap great rewards from in the future. 2018 looks good." Amazon expressed that the roughly 47,000 Charlotte-based tech workers fell short of the competing cities' 105,000 tech employees.
But Charlotte's young workforce is on the rise. According to Charlotte Chamber, the city has experienced a 12 percent increase in 20–34 year olds since 2010 and "more than 1,700 core tech-related degrees and certificates [have been] awarded each year in Charlotte." These skilled employees are ready for their first or next big opportunity — as entrepreneurs, startup founders and skilled tech players.

Banktown
A city of many monikers. Depending on who you ask, Charlotte is known as the "Queen City," "The Hornet's Nest," "The City of Churches," "The City of Industry," "Banktown" and most recently "The Energy Capital" — as a result of Duke Energy buying Wachovia's skyscraper in Uptown.
Home to the headquarters of Bank of America and the east coast base of Wells Fargo — Banktown has maintained its status as the second-largest banking center in the U.S. since 1995. Meanwhile, Bank of America recently announced its plan to invest $1.5 million over three years to build a FinTech hub in Charlotte, as reported by Charlotte Business Journal.
"FinTech is a significant, new opportunity for Charlotte that connects our strong finance and technology infrastructure with innovatively minded people, creating tech jobs and new paths to economic mobility," said Cathy Bessant, chief operations and technology officer for Bank of America.
David S. Evans and Richard Schmalensee reported in PYMNTS.com, "To be successful [FinTech entrepreneurs and investors] must find the sweet spot where there's a significant friction in financial services that can be solved with modern technology and where it is feasible to develop a sound business model that can secure critical mass and sustain profitable growth."
FinTech companies like AvidXChange, LendingTree, DealCloud and Passport Parking, LLC. all have found that sweet spot in Charlotte. With over 175 startup and tech companies and $172, 375,000 in funding last year, according to PYMNTS.com, more FinTech companies and startups are sure to follow.
Although Charlotte was dealt a recent blow with the loss of PayPal as a result of a political gaffe (to put it lightly), this tech scene is growing and the correct policies are sure to follow. They might even have an easier task of building a tech scene the right way. Silicon Valley, for example, has some real work of its own to do regarding improving diversity and inclusive hiring practices. Charlotte can learn from the major player's mistakes and grow a thriving, robust and inclusive tech scene.
Michael Praeger, AvidXchange's chief executive, co-founder and CEO told Dice, "The strong banking community here has … helped to recruit and bring talent to Charlotte from all over the world. Once people are here, they're staying here and starting their own businesses." As Charlotte's skilled tech base continues to grow, new startups and companies will have the opportunity to reap its rewards.
---
Charlotte Tech and Startup Highlights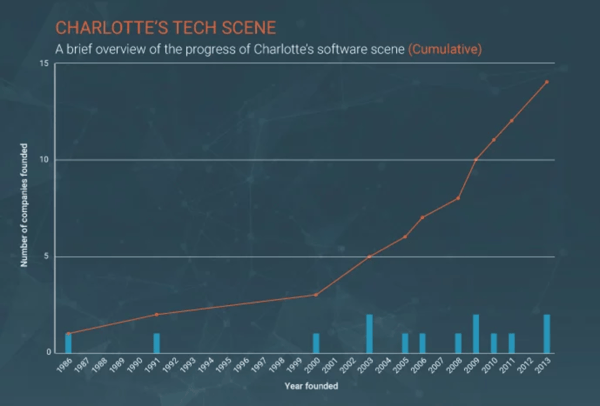 ---
Charlotte Tech Leaders on the City's Tech Scene
TimeTap
"Though traditionally a banking town, Charlotte has seen a growing tech community in past several years. Some companies have raised a lot of capital while others have bootstrapped their way to success. We are excited to be part of a growing number of B2B companies coming out of Charlotte. There's been a push for technology innovation across the region, and that's really exciting for us particularly since our product (online scheduling) is one of the newer innovations businesses are implementing." Addy Kapur, CEO at TimeTap
---
We have compiled data on the state of the Charlotte B2B tech scene that includes all of the top-rated products on G2 Crowd which have parent companies headquartered in the Charlotte area. Our list is ranked by user satisfaction of a company's top-rated product. To qualify, a product was required to have at least 10 verified user reviews.
For each qualifying product, we created a company profile to recognize what that company is and does, as well as give a little insight into its history. The data relies on G2 Crowd's more than 300,000 B2B software and services reviews, or from public data sources such as LinkedIn, Crunchbase or each vendor's website.
This report features 7 B2B Charlotte-based companies, ranging from Salesforce App Exchange tools to time tracking solutions.
Top B2B Charlotte Tech in 2019
With an impressive 73 reviews on G2 Crowd, MapAnything is both a High Performer in the Field Service Management category and a leader within our Charlotte-based products. MapAnything, formerly known as Cloudbilt and Saber Solutions, is a Salesforce app that allows companies to use their CRM data to create maps of optimized routes, territories and more. MapAnything is used by companies like Time Warner Cable, Legion Brewing and Groeneveld.
---
With an impressive 58 reviews on G2 Crowd, SignUpGenius is a leader within our Charlotte-based products. SignUpGenius allows volunteers and organizations to connect easily, and includes payment and donation tools.
---
With an impressive 56 reviews on G2 Crowd, TimeTap is a leader within our Charlotte-based products. TimeTap is an online scheduling platform aimed at service providers who are both busy and mobile. TimeTap can integrate with Google Calendar, Outlook, Salesforce, PayPal, Square and more.
"For us, having our users rate us as being among the top B2B software companies is a wonderful testament to an aspect of our business that we take a lot of pride in: our customer service. Our software is great and we're really proud of it, but if we don't have positive relationships with the people we do business with, it would all feel like a sham. We put a lot of energy into making sure that all users on TimeTap feel heard and valued, so to have so many positive reviews just lets us know how much they value that from us. Our customers give us a lot of inspiration and enthusiasm to make a great product and we're so grateful that they took the time to leave reviews to let us know that we are, in turn, repaying the favor." Addy Kapur, CEO at TimeTap
---
With an impressive 24 reviews on G2 Crowd, Loop Communications is a leader within our Charlotte-based products. Loop Communications provides VoIP business phone systems designed for small and mid-sized companies. Companies such as Aflac, SignUpGenius and Nationwide use Loop Communications.
"Loop is honored to be listed as one of Charlotte's highest-rated tech companies on G2 Crowd. Customer service is something that is ingrained in our culture and values, so it's great to see such positive feedback from that commitment. G2 Crowd has provided a tremendous platform that allows users to objectively compare business software, and we're thrilled to see all the kind words and high ratings from our customers." Brian Tolleson, Founding Partner/CEO at Loop Communications
---
With an impressive 50 reviews on G2 Crowd, Force Management is a leader within our Charlotte-based products. Force Management is a sales consulting firm that aims to help sales teams be more successful.
---
6. AvidXchange

Product: AvidXchange
Category: Billing
City: Charlotte
Founded: 2000
Employees: 801
With an impressive 27 reviews on G2 Crowd, AvidXchange is a leader within our Charlotte-based products. AvidXchange provides a variety of billing and invoice services for companies with a combination of software and services.
---
With an impressive 20 reviews on G2 Crowd, iSolved is a leader within our Charlotte-based products. iSolved is a platform that allows businesses to collect, manage and process employee time and attendance data. iSolved is used by such companies as Arrowhead, Black Bear Diner, Connor Sports, Quik Mart and Brookline College.
---
Other B2B Charlotte Tech Companies
While we recognized only the 7 best-reviewed software exports from the Charlotte area, there are still an abundance of other B2B tech companies impacting the region's tech scene. Here's a rundown of other Charlotte B2B software companies with their founded dates and total funding.
For any questions about the methodology or data included in this piece, or to request that your Charlotte B2B tech company be added, please reach out to Editorial Team Lead Jakub Rudnik at jrudnik@g2crowd.com.