Have you ever wondered why brand marketers are so eager to collect as many case studies as they can for their brand campaigns?
What exactly is it that makes case studies such a prime example that – that golden standard – of social proof? Well, for starters, case studies give the actual details of the process that the agency used to achieve its goals.
They not only provide users with the statistics the agency gets to brag about to hopefully generate more interest and leads. But they also raise the curtain to unveil the actual work the PPC agency poured into the campaigns.
As opposed to ordinary ad copy or even detailed landing page copy, case studies put a tangible face to the campaign and open the "black box" of agency work. This is why they're such a powerful lead generation asset. And, if it's not too meta, this blog post can be considered a case study on how important case studies can be for agencies. So let's get started (get started (get started)).
Getting started: the 100+ case studies goal
First, let's talk about what got us started on the journey of collecting and publishing over 100 case studies. It's a lofty goal, especially when we barely had 40 case studies collected at the time we set this goal for ourselves.
As of March 15, 2019, we had a total of 42 case studies in our collection. We published them on our website where you could view the case studies within a shared Google Drive.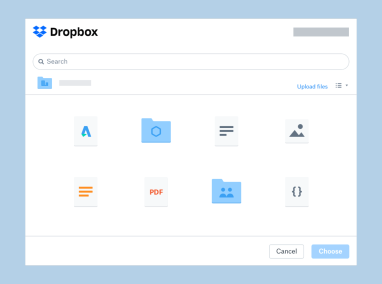 We weren't exactly using them to their full potential...
Even though we recognized the importance of social proof, we still lacked a certain kick-into-high-gear that we need in terms of our case study collection. Then we started playing with reviews sites like G2 and started to see how many leads third party review listings can generate.
That's when we saw the real power of social proof, and decided to truly invest in our case study assets. And the journey to 100+ case studies had begun.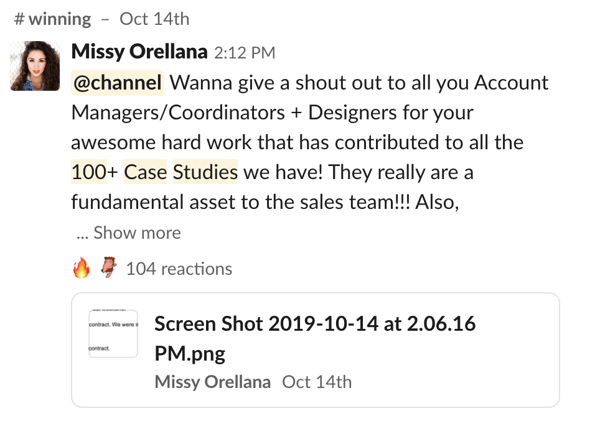 There was even a little celebration in Asana once we passed 100. And that's not all. As we approached the 100+ case study finish line, we also needed to figure out how to better utilize these new social proof assets to generate more qualified leads and sales. We needed to improve our brand marketing as well as our inbound sales process.
Let's take a look at how we shuffled things up and how we collected all these case studies.
The process: hitting 100+ case studies
Every good case study starts out with lying out the goals of the agency and what factors will determine success. And this meta-case study of ours is no different. The goals of success were pretty straight forward:
Hit 100 case studies from super satisfied clients
Ensure that having 100 case studies helps generate more leads
Our process was also fairly straightforward, which should get you excited if you're a fellow marketer reading this case study to research and beef up your own case study collection.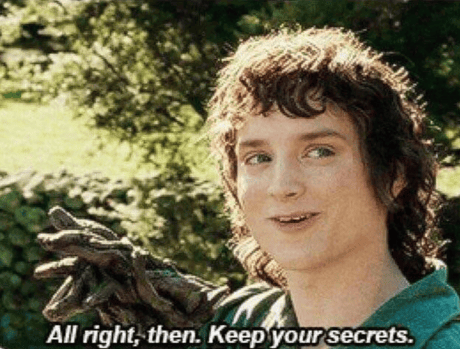 Outreach from our Director of Partnership & Director of CRO
First, we keep close records of NPS scores (net promoter score) of each of our clients. Most of all, we keep track of the 10/10 NPS scores that we collect each month. These clients are immediately added into a spreadsheet that is kept updated at all times.
Our Director of Partnerships regularly checks this spreadsheet and, whenever there are new clients added, reaches out to the Account Manager for that specific client with the following email: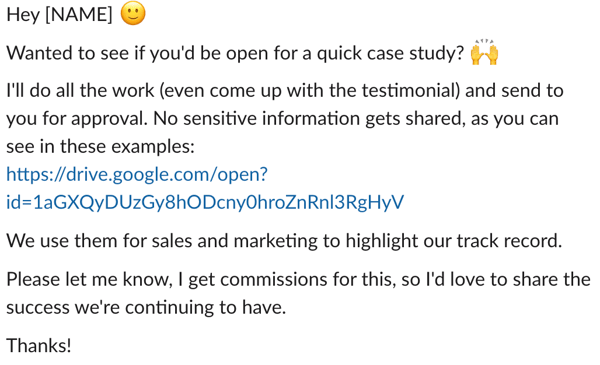 She would also CC the Account Manager and any relevant higher-ups. It may have taken some follow up one a few accounts. But for the most part, using perfect NPS scores as a trigger and filter for potential case study accounts has kept the outreach efficient and successful.
In fact, using the NPS scores as a trigger event for when to reach out for case studies has become so successful, that we frequently have Account Managers asking clients for case studies themselves without any templated email. Relying on the human and "social" aspect of social proof will never lead you astray, after all.
Case study design, copy, approval, and placement
After our Director of Partnerships and/or Account Manager has won the case study opportunity, we can get started on designing the actual case studies. We like to stick to a templated design format, to keep things simple and scalable.
But it's important we still bring a strong sense of authenticity and uniqueness to each client and campaign. Below is an example of one of our newer case studies.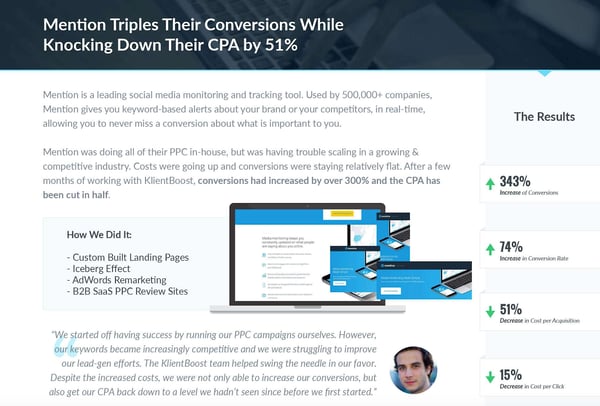 The case study design starts with collecting a few important assets from the client. We like to leave this to the Account Manager or whoever has the best relationship with the client's point of contact. We also have the Account Manager collect their own data on the campaigns' performance and any noteworthy tactics they may have implemented.
In the end, the list looks something like this:
Client logo
Client point of contact headshot
Client point of contact quote
3-5 performance increase stats
Loose description of client company
Brief list of implemented tactics
The rest, like the hero shot for the top of the case study's watermarked header, we leave to the talented eye of our designer. Lastly, in certain cases where the customer's service or product can be tough to explain, we turn to our copywriting experts to clear things up. But for the most part we rely on our AM's (Account Manager) insider understanding.

Optimizing our use of case studies
Prior to our decision to collect 100+ case studies we were barely even using the few case studies that we did have. For the most part, we let them passively sit in a resource link on our website that linked to an open Dropbox folder where users could peruse through a collection of all our case studies with no filter or organization.
I think we can agree that we weren't maximizing their utility. So we started to optimize how we use our case studies as well.
Leverage case studies on our website
We started with improving where we actually host the case studies. We wanted to make it easier for users to find our success stories and social proof without having to leave our actual domain.
We knew we had to do better once we hit our magic triple-digit number. So, for starters, we got our case studies page added to our navigation bar. Then, we took the time to actually build out a dedicated case studies service page to host case studies as well as organize them by vertical.
You can filter which case studies you're viewing on our site by the following industries (only 3 for now):
SaaS (Software as a Service)
Lead Gen (Lead Generation)
E-Comm (Shopping Campaigns)
We also decided to take our case study game one step further with a few of our best success stories.
If you look closely in the middle of the screenshot of our case studies page you can see three case study testimonial videos. These are even deeper dives into the successful campaigns of some of our clients, including interviews with the actual contacts and more.
You can actually watch our case study videos on YouTube as well.
As a whole, our aim was to make as high quality a branded user experience as possible while emphasizing the diversity of our satisfied clientele. After that, it was up to our sales team to maintain a sense of brand consistency by referencing the right case studies at the right time.
Referencing case studies throughout the sales process
Case Studies continue to be an active part of our sales process here at KlientBoost. Usually, we can place what type of case study interaction a lead has seen into one of three categories.
Either they have converted after already seeing a case study or they've converted on our content alone. If they haven't already seen any of our case studies, our sales reps try to refer to case studies that are specific to the vertical the client has cited. Lastly, the third type of lead we see in regards to case studies are those potential clients that want a parallel example of a hyper specific type of business.
And trust me, we've seen some really specific requests. Ever been asked "do you have any case studies on businesses selling organic mealworms?" Why, yes, we have – and yes, we do.
We've found that the two greatest improvements to our sales process as a result of the increase in case studies is the resilience to fatigue in our email cadences as well as the increased variety in the leads they can happily accommodate with some type of experience.
We might not always have the perfect case study to match the lead's business model. But 9 times out of 10 we can find something similar where our campaigns have proven effective. And that's where you start closing more and more sales.
The 100+ case studies case study results
Just as this blog post started like an ordinary case study, it has to wrap up the same way. And it wouldn't be a case study worth reading without giving you the results of the campaign!
We started our journey to 100 case studies on March 15th and officially crossed the finish line on August 7th, and continued to grow our case study collection since.
At the onset of our test, KlientBoost was running at aproxx $644K MRR (monthly recurring revenue) and $61,500 sales revenue from 120 leads that month. That was when we had 42 case studies.
The first month we hit 100+ case studies (August, 2019) we also hit $100K+ monthly sales revenue from a slew of 187 lead. That's more than a 55% increase! Our Monthly Recurring Revenue as an agency was a whopping $735,000. This didn't quite get us to our goal, but we still had to give the case studies enough time to be found by users and referenced by our sales team.
A month and a half later, we had risen an extra $100K in MRR, totally $833K and officially hitting our ultimate goal of $10 Million ARR (Annual Recurring Revenue).
The big 10 mil? Now that's a number worth writing a case study about.
Social proof: not just a gimmick
If our little meta-journey down the rabbit hole in this post has proven anything, I hope it's proven that case studies and social proof are no empty vessel. They're the real deal – and more than worth your time if you're a brand marketer looking to boost your lead gen capabilities.
If you know where to look, and how to tell the right story behind your successful campaigns, your case studies can help take a fast moving jet and blast it into supersonic speed.
Find ways to get more social proof from your customers by signing up for an account on G2, completely free. See it for yourself today.