We've entered an era where customer expectations of how they want to interact with businesses has changed utterly.
Buyers have real-time expectations that they can purchase products quickly with the minimum of fuss. The move to subscriptions and SaaS means they can easily quit and move to another vendor if they are not happy.
Where is the sales landscape headed?
We're in an era where strong relationships have never been more important as power has shifted towards the customer. In fact we've got to a point where it could be said that the concept of a "sales deal" really even exist anymore? Let's find out.
The power of subscriptions
As recently as five to 10 years ago, most sales deals were one-off big ticket transactions. It was a world of emails, white papers, RFPs, phone calls, and face-to-face meetings. Little wonder that in some industries salespeople used to spend as much time on airplanes and the golf course as they did at their desk.
Now, thanks to the unstoppable move towards SaaS and subscription selling, the world of sales looks very different. Goodbye customer acquisition, hello customer success. Forget transactional interactions, it's all long-term relationships now. Field sales is becoming rarer and inside sales is the norm.
You're no longer just closing a deal, you're starting a relationship that will hopefully be profitable and valuable for both you and your customer. Which means what happens after a customer signs up – onboarding, engagement, success, upselling and account expansion, and ultimately renewal – have taken on significantly more importance. It's these steps which will determine whether a customer grows and has success with your product, which in turn dictates the fate of your own growth.
If you want to achieve sustainable growth, you have to keep your customers around for as long as possible. This is why the LTV/CAC ratio is so important for scaling SaaS businesses.
Lifetime value (LTV), one of the core SaaS KPIs, is a forecast of the revenue a customer will generate during their time as a subscriber. CAC is the total of all the sales and marketing expenses need to acquire a single customer – think everything from advertising spend to your sales and marketing team members' salaries. If that ratio isn't positive, your business is in trouble, which is why companies built on recurring revenue can't afford to treat customers like they're disposable.
Shifting power dynamics
Another significant and related change is in the expectations of buyers. The move to subscription buying has been accompanied by a significant shift in power towards the buyer. Serious prospects have done their research by the time they reach out to you. They've spent hours reading your customer reviews, checking out your pricing plans and researching your competitors.
By the time they put their hand up and identify themselves as a lead, they're ready to take action – not embark on a long-winded and convoluted purchasing process. Replying to emails, returning phone calls, or setting up in-person meetings weeks away simply doesn't cut it anymore.
You can't expect to let leads sit idle while they wait for one of your team to get back to them. Your competitor will already have swooped in and signed them up while you are still firing up your outdated internal processes that dictate how leads funnel from one rep to the next. And this isn't just true in the consumer sphere, the same expectations apply in the B2B world.
In an independent survey of B2B sales reps commissioned by Intercom in August 2019, 63% of reps reporting losing a sale because they didn't respond quickly enough to a prospect. B2B customers today are time pressed and expect a response on their timeframe not the vendors. They want instant answers, not a canned email explaining how important their inquiry is and assuring them someone will get back to them...eventually.
This study of B2B sales reps found that slow lead response kills more deals than poor product quality. In fact, more reps said that they had won a new customer because they responded quickly to an enquiry, than those who said they won because their product was low priced.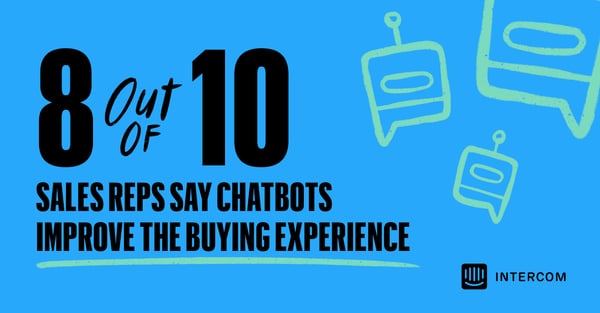 If speed of response is now becoming as important, or even more important, than product quality or price, how can sales and marketing teams respond? You need to invest in and leverage best-of-breed marketing automation and lead generation technologies, before your leads and prospects bounce to the competition.
Real-time expectations
In this era of heightened expectations for faster, real-time communications, live chat and messaging is rapidly becoming the preferred medium for both businesses and customers. An AdWeek report in January 2019 found that 68% percent of consumers have a preference to communicate with a business through a messenger. Depending on the vendor or platform you choose, the messenger channel guarantees a much faster "speed to lead" and unlocks a powerful new source of revenue.
A live chat solution enables you to flexibly connect with prospects at the point they're expressing the most interest with your product when they're on your website researching your product. Browse the live chat software category on G2 and see how each solution stacks up to one another.
In fact, live chat is just one of the capabilities you should expect of a modern business messenger. Just a few short years ago many businesses were naturally reluctant to add live chat to their websites and potentially waste their team's time talking to site visitors who were just "kicking the tyres".
But rapid product development, as evidenced by the capabilities of the leading products in G2's Best Live Chat Software grid, means that no longer has to be the case. Particularly when it comes to acquiring new customers, messengers have totally changed the game: basic lead qualification can now be handled automatically, existing leads can be routed to their account owner, and integration with your existing tech stack means all your data stays in sync.

The addition of chatbots and third-party apps to your messenger ensure you can provide a personal experience to visitors without overloading your sales team. You can only engage with visitors when they are spending time on high intent pages e.g. on their second visit to your pricing page. Rather than getting into a protracted back and forth with a prospect in the messenger, you can simply use a Google Calendar integration so they can book a meeting or product demo with one of your reps.
Real business impact: user stories
The following section covers two stories from real Intercom users and the success they found with the platform.
Tradeshift
Business commerce platform Tradeshift transformed its business by implementing Intercom and adding the Messenger to its site. Having enjoyed rapid growth since it was founded in 2010, it now connects more than 1.5 million companies in 190 countries and processes more than $500B in yearly transaction value. It was struggling to deal with and capitalize on the large influx of traffic coming to its website.
Before implementing Intercom, Tradeshift's sales and marketing teams were working in silos and weren't equipped with the necessary tools to identify and qualify leads coming to the website. As a result it was taking the sales team an average of 21 days to qualify a lead. The company needed a solution, so the marketing team leveraged Intercom's platform and live chat capabilities to streamline the process of identifying and capturing leads.
By leveraging messaging powered by an underlying customer data platform, TradeShift's sales team ensured its leads coming through marketing received quick, personal attention, at the right time. Today, as a result of integrating its workflows across the business with Intercom, TradeShift is generating and identifying leads faster than ever. The average time of 21 days to qualify leads has now decreased to three, not to mention the company has seen a 32 percent increase in qualified sales opportunities since integrating its business workflows with Intercom's capabilities.
TIP: See all business commerce software solutions, including those that emphasize procure to pay capabilities on G2.
Envoy
Visitor management software provider Envoy turned to Intercom to accelerate the process of qualifying and acquiring leads for its 100 percent inbound sales organization. With organic traffic pouring into its website, the speed of lead qualification was hampered by manual processes and workflows, including leads coming in via contact forms and sales teams responding via email, which didn't allow teams to capture much data or engage leads in real-time conversations.
Envoy turned to Intercom to provide more intelligence about leads in order to speed up qualification and acquisition. With intelligence weaved throughout Intercom's Messenger, Envoy's sales teams can access immediate data about a lead from Clearbit Enrichment, start a real-time and contextual conversation and then segment the lead based on qualification criteria.
This ensures teams are talking to the right, high-quality contacts and then linking opportunities into Salesforce. Since implementing Intercom, Envoy has seen a massive increase in the number of successfully identified leads. Intercom is powering 33 percent of Envoy's leads, with over 1,200 monthly sales conversations taking place via Intercom's Messenger.
Breaking down the traditional silos
There's another unexpected but positive consequence of this shift in the whole customer acquisition landscape; it's forcing sales and marketing to work as a partnership. It's a cliche, but also true, that sales and marketing teams within a business have traditionally been siloed, working towards different goals and objectives.
But in this era of real-time expectations, it's never been more crucial that marketing and sales teams are aligned on the customer experience and are thinking about it holistically. The customer experience should be connected across every point of the journey – from prospect, to free trial user, to loyal customer, and beyond.
The way innovative businesses have successfully delivered this holistic experience is by adopting a customer data platform that integrates marketing, sales and support. This allows them to move away from siloed workflows to ensure all customer interactions flow seamlessly between each business unit.
For example, powered by a customer data platform, technologies like business messaging and chatbots enable marketers and sales reps to work in tandem rather than in traditional siloes, resulting in scalable, personal customer communication that ultimately all ladders up into one unified goal: to grow the business.
A successful sales and marketing partnership is based on a mutual understanding that you all are manufacturing the same thing – revenue for the business. The tactics can vary, but to succeed, the teams need to be aligned around one plan: a revenue plan, not a sales plan and a marketing plan.
With the above in mind, discover how G2 Track can help you monitor and manage your software spend. Choosing the right software solutions for your company's needs, like Tradeshift and Envoy did, will benefit your company in the long run. Learn how today.