Personalization is so often mentioned in the marketing industry, many business owners start feeling that they should be doing everything manually.
But every personalized experience you give your customers can be automated.
Automation allows doing every marketing effort on a bigger scale and brings more conversions and sales. This might lead you to wonder what the value or purpose of marketing automation software is, so we've got you covered.
What are the benefits of marketing automation?
Social media integration
Lead scoring
Email automation
Trigger marketing
Companies that use martech and focus on automating marketing experience a 451% increase in leads.
How to benefit from marketing automation
So what steps can you take to implement marketing automation into your business strategy?
1. Social media integration
Having an appealing social media presence is the prerequisite for success. Out of 4.5 billion internet users, over 3 billion use social media. Some spend more time there than on other websites.
This creates a great marketing opportunity for your business and a huge hustle at the same time. Your employees can't possibly do every social marketing task. With automation software, you can hire fewer people to handle social media and deliver better results at the same time. Here's what automation tools can offer.
Nobody has the time to post to social media manually. Most social media automation apps have a scheduling function that allows you to create posts beforehand and schedule them across the week. You can also post on different social media at the same time. This results in hours of free time saved on these tasks.
There are dozens of social media automation tools out there and each has its own set of features. Advanced ones can even offer you the best time to post based on previous research. Others can show you hot topics and trending hashtags to help your team to create the most relevant content that gets more views and engagements. Some even allow your agents to answer comments from different social media profiles right in the app.
Regardless, there's a social media management tool out there that best suits your company's needs for social automation.
2. Lead scoring
Lead scoring is a strategy that is somewhat difficult to implement, but the results can change the way you approach sales. It's worth the trouble.
In a nutshell, it's a sales automation mechanism that allows you to rate leads with software. You don't need to have people judging leads manually; you only have to configure the algorithm. In the end, the only thing you have to do is work with the list of marketing-qualified leads (MQLs).
Here's what you have to consider when creating your own lead scoring system to make sure you're focusing your efforts on the right people.
Create a list of actions and characteristics that make up an MQL for your company. Start with small actions like opening a marketing email and progress to the more important ones like signing up for a webinar or checking out the price list page.
Include personal characteristics to the list, based on the ones your most converting clients have. For instance, if the bulk of your clients are 30-year-old private entrepreneurs, give them extra scores to make your sales team focus on them.
When you have that list, decide on the number of points you award for each action and the point range. For instance, you can give a maximum of five points for sharing on social media. If a person shares only one post per month, they get only one point. If they share more than four a month, they get all five points.

Once you've decided on the point range for each action that takes a user closer to conversion, work out lead tiers. Most companies divide leads into three categories. Call them whatever you like, they're essentially representing how likely a lead is to convert.

When a lead has five points out of 50, they need more nurturing to convert. When they have 45, you need to reach out with an offer. Work out the minimum number of lead score points a lead must have to convert so your team knows when to contact them.
Make sure not to forget about the other leads. A small number of points doesn't mean you have to ignore them. You just have to handle them differently. Send a person with 45 points out of 50 a sales pitch. A lead that doesn't even share your content on social media may need an email asking what type of content they prefer. Lead scoring gives you the data you need to cater to different leads efficiently.
Now, you can create your own lead scoring system from scratch, but that may prove to be too expensive. Using existing lead scoring software will likely be cheaper than developing your own from the bottom up.
If you want your lead scoring system to be effective, work on getting as much information about your clients as possible. Use AddThis tools and forms to receive data about users, and your lead scoring will work with surgical precision.
3. Email automation
Email marketing is one of the most effective ways to reach customers. It's comparatively old but holds on par with the new trend, influencer marketing.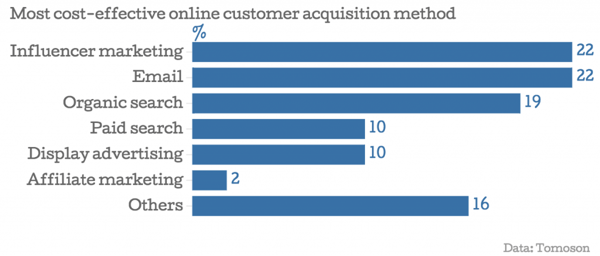 Source: Tomoson
Influencer marketing works because people trust their peers more than companies. Email marketing works because people who give you an email address already like your product. Besides, it's a great way to deliver discounts, and who can resist one?
There are many companies that offer email automation. The very basic features include email templates that allow personalization, mass sending, and scheduling. It allows you to send hundreds of personalized emails automatically. You only have to configure it once and add content and discounts to emails when needed. Each email will have the name and the company of the addressee mentioned to make sure they open it.
Those are the features of good email marketing automation software. A great tool allows you to segment your email list to make your email campaign super personalized. You can easily integrate your lead scoring system in it to deliver even better results.
4. Trigger marketing
Leaving your marketing materials out there is not enough anymore. You have to deliver your offers exactly when a lead is ready to listen to them. It goes beyond simply showing related posts on your blog, too.
Here's when you want to contact your leads:
After searching for something specific on the website
After making a purchase
After abandoning a shopping cart
After a key converting action like visiting a pricelist
After a social media share
After a prolonged absence on the website
Each situation needs a different approach. When someone shares your content on social media, show them a thank-you pop-up and offer to subscribe to your account on that media. They've already shown they like your content, so they're more likely to carry on.
Leverage email automation to send follow-ups to people who have abandoned their cart or were looking for something on the website. Offer them the information they were looking for, a product related to the purchase, or a reason to go back to the cart. You will be increasing sales without even paying attention once the automation is set up.
Finally, if your CRM allows for live tracking of customer behavior, your sales agents can call leads that are browsing the key pages or seem to have trouble finding what they want. Be careful with this as some people may find it intrusive.
The benefits of automation
Many automation techniques and tools are interconnected, as you may have noticed.
Lead scoring is most efficient when used with trigger marketing, and trigger marketing works best with email automation. Social media automation will give you important insights necessary for lead scoring. Once you automate one thing, you start automating all of them. This results in user experience and sales growing constantly.
Want to learn more about other types of marketing automation software? Give our extensive rundown a quick peek!