Event tech providers had it easy. Too easy, in fact.
While organizers were happy to switch their spreadsheets for a more advanced method of registering attendees, the suppliers of their technology were content with offering the ground level in terms of functionality.
Speed through the next 10 years and it seems like everyone is feeling the burn of a more hectic schedule. Our calendars are packed and we need technology to lend a helping hand.
Modern-day event management software is the technological equivalent of a Swiss army knife. It has all the tools necessary for launching, promoting, managing, and scrutinizing an event. Anything less and you could be wasting your money.
Event management platforms definition
In basic terms, event management platforms are a type of technology used to make event planning and management easier to carry out.
What is an event management platform?
The market holds numerous options, but not all can accurately and truthfully describe themselves as "all-in-one". Check-in, registration, analytics: these are common features. Networking and gamification? Not so much.
Event software platforms as a business model is booming. That being said, any newcomers have to meet the increased demands of event professionals or risk becoming obsolete.
The enhanced workload is a big point to consider. These days, event organizers are being pushed to do more with less. They face a constant battle to unlock time and budget, which means finding technology that can add value to their schedules, or the bottom line.
What do you need from your event management platform?
With the market for event management platforms forecast to reach $14.45 billion by 2020, we can only expect its populace to grow.
That means wading through a list of options to find the ones making hard promises. If someone can demonstrate clear evidence of their technology raising attendances, increasing revenue, or handling menial, time-sapping duties, it's worthy of your attention.
Versatile, user-friendly and assistive are three qualities to watch out for. Now let's take a look at the 10 main features that make up an event management platform.
1. Registration
It's easy to overcomplicate the process of registering attendees. Provided you have a way of rolling out a customizable form, ready to accept all the information you need, there is little else to fret over.
'Customizable' does, however, mean a couple of things. First, your pages should be fully branded. That includes any logos, colorways, and elements that people associate with your event. As well as providing a clear, consistent user experience, this will give assurance over security. No one likes buying four $1,000 passes on a plain-text page – it just doesn't feel right.
You also need to be able to ask the questions you want, rather than the questions your software can ask. Everything should be customized, right down to the language you use.
Lastly, to ensure a seamless UX and a speedy conversion, your software should be capable of finalizing each transaction of its own accord.
To do this, we need access to the following tools:
Online payment gateways
Invoice generation
Automated emailing tickets and badges
Promo code fields for speakers, sponsors, and VIPs
Multi-delegate categories
Event registration is no longer a one-size-fits-all process. Every attendee is different, and if your software cannot shape itself around your demands, it's not worth the compromise.
2. Check-in
Digital check-in removes the hassle of using a paper-based system to register attendees once they've arrived. We won't go over the individual merits of scanning someone's QR code against searching for their name on a list of potentially thousands of delegates. Let's just say your staff will thank you later.
Beyond basic scanning (usually facilitated through a smartphone camera), organizers should see value in having all tickets and codes made available through the official event app. That way, the attendee barely has to navigate to their email account in order to find their accreditation.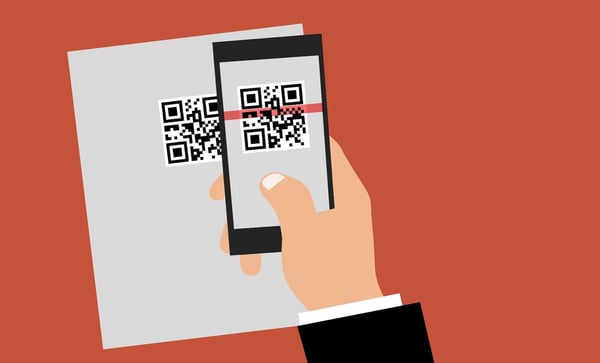 In one of very few exemptions from the 'paperless' rule, there should also be a simple way of producing physical badges through your chosen piece of hardware. Some tech providers actually give you a printer that it knows will sync with its apps. Otherwise, it should be easy to set everything up with an external device.
3. Website and app building
To register attendees, you need pages. These are best contained inside your very own website, where you can accept registrations and present all the important information surrounding your event.
These should be supported by your official mobile app - a staple of today's events - and synchronize with all the data being housed within your software.
The perfect mobile app also features:
Multi-language support
Customizable pages that showcase your brand
A template-saving feature to create multiple editions of the same event
Offline functionality to prevent signal issues
A clean menu for providing quick access to information
In any case, you're looking for a tool that enables you to build professional websites and apps quickly and effectively.
4. Email marketing
Emails are like gas to the event engine. As a method of providing updates, gathering attendee feedback and sending passes, they're pretty much unrivaled.
This computes on a few different levels. For one, event management software holds the majority of data around attendees. Having everything in one place removes any issues with importing and exporting information across to a separate platform. This also prevents having to train any non-technical workers to use another piece of technology, while potentially saving you money in the long run.
By launching email campaigns through your event management software platforms, you can skip some of the unnecessary steps to getting them live.
5. Personalized agenda building
Nowadays, attendees like to have everything on a smartphone. Instead of ordering printed agendas at a huge cost to the environment, why not give them the luxury of crafting their own?
Personalized agendas can include sessions, workshops, meetings with attendees, and anything else worthy of a reservation. At a time when personalization, eco-friendliness and smartphone usage are big industry talking points, it makes sense to use a solution that feeds into all three.
6. Networking
Seventy-six percent of attendees list networking as the main reason for visiting an event. And if we've learned anything from the continued rise of LinkedIn, it's that technology is adept at connecting people with business interests.
Networking tools come in lots of different shapes and sizes. Organizers generally prefer something that allows attendees to book meetings with each other. This saves countless hours approving all the requests that flood into the admin panel.
The tool should provide a quality user experience (UX), and a chat function to keep the conversation flowing. It should also feed into the aforementioned agenda-building feature to help attendees create a personalized calendar of appointments.
7. Gamification
Need help with attendee engagement? Try using fun games to enhance their experience.
One example of "gamification" deployed by event platforms calls on augmented reality to transform areas of a venue into jigsaw pieces. Users are encouraged (usually by the offering of a prize) to complete the picture and explore their full surroundings. Think of it as "Pokémon GO" for a business crowd.
Moreover, by using a sponsor's logo as the puzzle image, and the locations as exhibiting stands, there's potential for a strong commercial tie-in.
Related: Need some gamification ideas inspiration? Check out our comprehensive rundown of seven incredible examples to kickstart your creativity.
8. Data protection
Cybercrime represents a growing issue for event organizations around the world. Even private meetings of under 50 people can gather reams of highly valuable and sensitive data. If this is stored on your event management platform, you'll need assurance over how well it's being protected.
Your perfect partner will have in-house security experts to conduct regular audits of their technology and servers. Look out for 'peripheral' tests, which account for some of the hard-to-reach areas, and servers with DDoS and malware protection.
9. Real-time analytics
When it comes to events, data drives decisions. It can help you spot the trends that ultimately shape your marketing, processes, and attendee experience. Through real-time analytics, we can see who is checking out with a ticket, and who is mulling over their decision. But that's not all.
If you really want to become data-driven, you'll need a software that allows you to analyze all the interactions that take place within your event app.
From here, you can get the lowdown on popular speakers and attendees, judging by session bookmarks and meeting requests. You'll then have an idea of the people to invite back for next year.
10. Integration
Admittedly, event management software cannot do it all. Bigger events might use additional platforms to really get the most out of their investment. We're talking customer relationship management platforms, task management systems, and anything that supplements the life of an event organizer.
Funneling your event data into a CRM software tool is one way of improving the management of attendees.
If you're serious about data, these integrations could be the difference between something working out or just falling short.
Do I need all 10 features?
Each of the tools listed above are what we'd expect of a comprehensive, all-in-one event management software platform. Of course, not all private meetings justify a networking feature and real-time analytics. They might need a way of registering attendees and checking them, but that's about it.
To this point, it's recommended that you use a platform that enables you to select the features you need on an event-by-event basis. That way, you can benefit from advanced functionality when it's called for.
Need an extra hand choosing the right event management software platforms? See what's available and find the best one for your company's needs on G2.