You've heard the hype: Account Based Marketing (ABM) is red hot. I don't think it's fair to call ABM "the next big thing in B2B marketing" because it is currently the big thing!
This joke from Joe Chernov sums it up best: How do you know two B2B marketers are talking about Account Based Marketing? Their lips are moving.
Here's what we do know – the marketing landscape is changing and evolving faster than ever before, and the next generation of marketers must learn new tactics. A little over 3 years ago, we published one of the industry's first comprehensive guides to ABM. Here we are 3 years later, and we've learned an extraordinary amount. So much so that we had to write a new Clear and Complete Guide to Account Based Marketing. With over 70% new content and over 170 pages, these are the latest and greatest ABM best practices.
In this post, I want to share some of the biggest insights that we've had around executing ABM in that 3-year span.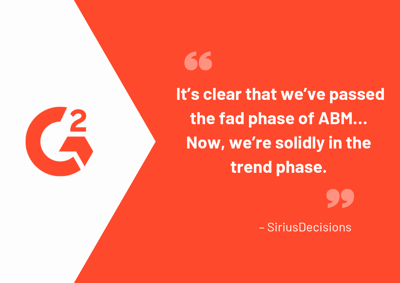 3 strategies modern marketers must deploy
In this article, we'll review three strategies that are absolutely essential to modern marketing.
1. Create a content experience built for accounts
It's time to be thinking about content differently. It's no longer about web traffic and social shares. Before you dive into writing, there are certain things you must do first to set your foundation for ABM content. You must understand three things first that will set your ABM content efforts up for success.
Content operations
A content operation is the set of processes, people, and technologies for strategically planning, producing, distributing, and analyzing content. When well-designed and implemented, it unifies the customer experience across all departments and channels and allows marketers to focus on authentic, resonant messaging that drives revenue and growth.
A tiered approach to ABM content
Just as not all accounts are created equal, not all target accounts are created equal either. Thus, your approach to prospecting, working and closing accounts is going to be different for different companies, which also means your approach for content is going to be different. You must define that upfront.
A content framework
Designing great ABM content follows the same fundamental rules that govern effective content strategy. Every piece of content (down to the last social media post) should be able to answer three key questions: Who is it for? What is the context? Where will it be distributed?
Once you have those three things in place, you can begin to execute your ABM content quickly and effectively.
2. Leverage post-sale marketing via upselling and cross-selling
After closing a deal, the relationship with the customer doesn't end. In true enterprise deals, up to 70% of revenue or more can come from existing accounts when you're focused on selling enterprise deals. Some people call this a land-and-expand strategy, some call it upselling and cross-selling, while yet others call it expansion (we use these interchangeably throughout this ebook). But know that whatever you call it, it works!
For those who need a quick refresher on the difference between upselling and cross-selling, here it is:
Upselling vs. cross-selling
Upselling is a sales strategy to get customers to increase spending by offering more or better versions of your product. Think "Would you like to supersize that?
Cross-selling is a strategy to get customers to increase spending by offering them products that are complementary to something they've just bought. Think "Would you like fries with that?
When adding customer expansion to the mix, as a savvy marketer, I'm sure you know that we also have to build that into our funnel. However, our funnel won't look much like a funnel anymore, but rather a bow-tie.
This topic is so important that we wrote an entire book on the topic, How To Execute A World-Class Expansion Strategy with ABM.
3. Go beyond aligning: activate Sales
Once you have your ABM program up and running, it's important to establish a set of ongoing practices to ensure successful results. Now, everyone talks about aligning Sales and Marketing, but we say why stop there? It's time to go beyond alignment. Let's activate Sales! It's the ongoing information exchanges that will make ABM a success over the long haul. Marketing can help sales in a more active role.
Here are some processes that will help you operationalize ABM. We will start with the simplest format to a more sophisticated way to work with Sales.
Send reps regular reports via email
So what if you have sales reps that are not actively in a CRM system or do not have an appetite for learning new technology? Start with a simple email digest. They can quickly see their most engaged accounts, top marketing activities, and most engaged individuals.
Give reps important information they need natively in Salesforce
For sales reps that are active in a CRM system, they can easily access and visualize their top accounts, most engaged people, and most impactful programs.
Alert reps in real time in important activities
One thing that is very helpful for Sales is to get alerts when key behaviors or actions occur with their key accounts.
Meet with reps regularly to ask how you can help move deals along
We call this the ABM stand up. Stand-ups are regular meetings Marketing has with Sales. The goal is to go over a set of accounts (could be a particular tier, geography or vertical) and discuss the accounts that are engaged and those that are not. Where does Sales need to follow up, and where does Marketing need to drive engagement?
ABM StandUp = time to collaborate on accounts to focus our resources to win!
Who attends? AE, ADR and ABM Manager, along with CSM as appropriate for existing customers.
Timing. Suggest every other week, so we have time between meetups to make good progress. This may depend on the size of your Sales organization.
How will this help me? Ensure communication on your top accounts and coordinate for success.
The future of B2B marketing is here
Winning major deals in B2B markets is never going to be easy: You're selling complex solutions into big organizations. No single person can simply pull the trigger on a deal without consulting an interconnected matrix of people, each with his or her own perspectives, problems and prejudices.

But now, you can take concrete, measurable steps that dramatically increase your chances of winning the biggest, most attractive deals in your market.
For a full blueprint to building your world-class ABM program, download Engagio's Clear and Complete Guide to Account Based Marketing 2nd Edition.
To learn more, read about how to craft an ABM strategy as well as 6 ABM marketing tactics every marketer should know!