A simple concept of accountability is when an individual takes authority for their actions and decisions – without urging, begging, or encouraging.
Accountability means that a person voluntarily steps up to identify their position in various situations rather than pointing their fingers on others. All put together, accountability is taking responsibility for yourself. Having that in mind, it's probably not hard to imagine why organizational accountability is important.
What does accountability in the workplace look like?
Workplace accountability means that all employees are accountable for their acts, attitudes, results, and decisions. It is closely associated with an increase in commitment to the work and morale of the employees, resulting in higher performance.
Employee accountability refers to several different characteristics. Are your employees socially accountable? Are they willing to admit their mistakes? Are they accountable for their effectiveness and productivity? Are they accountable to their team and clients? Do they prioritize their activities properly, and educate stakeholders about changes? Are they responsible for the actions of their teams?
In reality, accountability at work is all of the above, which runs like a machine. But if the employees keep no accountability mechanism in place, things fall apart very quickly. To avoid this, every employee should be accountable for their own actions at work. It builds confidence within teams and organizations because people know they can depend on one another.
Accountable leaders are more likely to be trusted and respected since people know they're going to keep their promise. Personal accountability can also save both time and money. People with accountability take a stand when there is a problem and search for solutions. It keeps the problem from worsening, but it also avoids the extra costs and delays. On the contrary, unaccountable employees don't contribute to team success and can provide an inaccurate image of the organization.
12 ways to improve employee accountability
You can't expect your employees to be accountable without giving them guidelines on how to approach situations in which accountability is needed. Here are 12 easy ways to help your employees – and yourself – become more accountable for your actions at work.
1. Discuss poor or failing performance before it gets out of hand
Most managers have to deal with poor employee performance at some point. Discussing poor or failing performance can be confrontational, but it has to be dealt with as quickly as possible. If you don't, it will result in significant issues. You need to first understand the root cause before you can repair bad results. You must understand whether it is because of a lack of ability or low motivation.
Incorrect diagnosis of performance issues can potentially lead to several problems. If you think an employee doesn't make an effort enough, you'll probably place added pressure on them to succeed. However, if the actual problem is capability, then heightened stress will only make this situation worse. It is where your leadership qualities will matter.
One thing that should highly be considered here is written communication. It will help employees know what is expected and make them feel more accountable for their roles. As such, they won't be able to make excuses for not knowing or understanding anything.
2. Redefine goals to meet new, more achievable benchmarks
Goal-setting is the most important factor for fostering an environment that encourages accountability. You probably need to redefine your goals if you come across a persistent lack of accountability at work.
Developing SMART goals can help to aim realistic goals, tied to specific business metrics that set a clear line for success. It allows people to understand their areas of responsibility and the work they need to contribute to the company-wide objectives. While setting goals, it's also important to understand what is not a priority. Too many tasks will reduce productivity and accountability. Thus, make sure the expectations you set are achievable.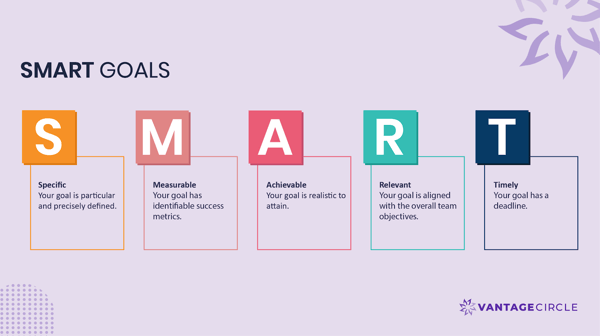 3. Structure deliverables in a fair and equitable manner
Accountability needs a structure for all open-ended tasks; otherwise, there will be no accountability for deadlines that don't exist. So, be clear when a job or deliverable is due, and set up notifications to remind members of the team when deadlines are coming.
Before you set these alerts, be sure to discuss them with the team and get their feedback about this system. Help them understand the process by answering all of their questions. This will help you avoid the impression that you're always looking over their shoulders.
4. Require learning and development opportunities
Employees who receive the necessary training and learning breaks are more able to carry out their duties. Organizations need to provide employees with opportunities to strengthen, grow, and change through interactions between managers and workers or as part of an ongoing growth course.
Gallup revealed that millennial employees highly consider the ability to learn and develop in their job above all other criteria. It helps them overcome the hurdles that hinder their ability, improve their understanding of their duties, and create trust. Besides, learning makes employees competent enough to adapt to the changing industry standards, helping them hold a leading position in the industry.
5. Give regular updates on project and task progress to your team
So many managers prefer it, but don't do it. You should immediately put a follow-up on your calendar after you have completed a meeting with your team, and make them do the same. If you don't check it up, it gives out the wrong message and seems like it doesn't matter what they're working on.
While reaching out, make sure that you contact the right person in the first place, that is someone who has a decision making control for your team. Also, your follow-ups should maintain regular consistency for maximum results.
6. Provide regular feedback to your direct reports
To improve employee accountability, you, as a manager, must improve your feedback skills. It is one most efficient way to foster a culture of accountability – or, if the damage has already been done, address a lack of accountability. Of course, it's not easy to give challenging feedback, but you have to get better at it.
When you give feedback regularly, it makes giving and receiving harsh feedback a lot easier. It also reduces the likelihood of your direct report being surprised by the feedback they're winning (which often leads to disengagement).
Your feedback should be clear, direct, and unambiguous. To make accountability a habit, here are a few questions that you can put forward to your direct reports:
Is there something that we can do as a team?
Are you getting enough feedback on your work, or would you like more?
Is there an area of your work where you'd like more assistance or training?
Do you want more or less guidance from me on your work?
How do we strengthen the way our team is working together?
7. Accept constructive criticism from your employees
Because merely giving feedback to employees isn't enough. Maintaining an open and flexible relationship with your employees will make them employees feel comfortable, talking about your performance candidly with you.
As such, you will be able to understand the employee behaviors, spot negative habits, anticipate problems within the team, get to know what they expect from you as their leader. Not being immune to criticism yourself makes this a one-sided situation and discourages the employees from taking feedback seriously. Thus, it can be said that accountable leaders should seek feedback from the employees because feedback creates responsible people.
8. Be kind to your employees
Employees are expected to behave accordingly in a given role or work environment. However, many times, they fail to understand the impact of their behavior on their team. As a manager, you should be kind enough and find out the root cause of their problem and understand what motivates them. It will help mitigate issues long before they arise.
Suppose one of your employee's children is sick, so the employee requests a more flexible work schedule. You should be able to find a solution, based on the employee's status and your business' policies.
Maybe you can offer them a work from home opportunity as a supplement to their situation. This kind of consideration can immediately improve employee morale and keep them more dedicated to their work and company.
9. Consider the difficult conversations
Leaders hesitate to engage in challenging conversations, as they are not sure how to approach their employees. Sometimes, they are worried the talk won't go well, and the workers get upset. The concern is reasonable. Some employees don't like being told they make bad decisions or underperform. They don't want to realize how their behavior affects their co-workers. But if you're going to make your employees feel accountable for their performances and committed to achieving their objectives, you have to break the silence.
Make your conversation an open dialog to support your case, with proven facts and data. But to make it sound more logical, take a moment and listen to their side of the story. The discussion should always end on a positive note. It will help them to feel that they can do better. You should review the situation once it has begun to resolve or improve. However, such conversations should always be kept confidential between you and that particular employee(s).
10. Don't instill fear in your workplace
Developing a situation of fear will give you success in the short term, but it will not establish long-term accountability. If employees are afraid of their managers' criticism, they will hardly look out for any support when they will need it.
As a result, they will tend to quit your team. Be sure to recognize the good things that your employees do. Continuous criticism can make them feel exhausted and frustrated. Nothing can get better if you can lead them by your examples. Learn to admit our own mistakes and, in doing so, explain what you have learned to your team for future references.
11. Provide adequate resources
Management should provide the resources necessary for employees to carry out their tasks. Employees may complain about a lack of work arrangement when asked to fulfill their duties and meet goals without getting the proper resources.
According to Peter Bregman, it is essential to ask:
"What skills does the person need to meet the expectations? What resources will they need? If the person does not have what's necessary, can they acquire what's missing? If so, what's the plan? If not, you'll need to delegate to someone else. Otherwise, you're setting them up for failure."
Without adequate resources, your employees are more likely to blame the organization rather than keeping themselves accountable.
12. Remain technologically updated
Regardless of the size of your company, technology has both tangible and intangible benefits that will help you stand out in the market earning profit and delivering customer-oriented results. Technological advancement affects a company's culture, performance, and relationships. It also helps protect sensitive information and boosts communication with stakeholders.
Technological disruptions have primarily affected the way businesses are operated today. Every sector of the economy has seen technology taking over their traditional business processes. Remaining updated about the state-of-the-art technologies trending in the sector can boost the accountability of the employees in specific and the organization in general.
An organization with the capacity to search for new opportunities will remain a step ahead of its competition. So, it is of utmost importance for every employee to keep themselves abreast of the latest trends in the market and adopt and innovate new technologies to strategically outgrow their competitors.
Conclusion
To keep oneself accountable, people should do what they say they will do. It makes it more straightforward, but it also tends to make people want to go the additional mile because they can see their success without merely being forced to do the job. Again, leaders can't impose a real sense of responsibility on people. They can build conditions that support personal engagement by creating a culture of accountability in the organization.