A useful guide, a fast fact sheet, or a special memento.
Whatever you call it, an event program plays an integral role at every type of event.
I know what you're thinking. A printed program seems a little outdated in this digital world and it's an unnecessary hit to your carefully siphoned budget.
Not so fast. There are a lot of elements of your event that benefit from a digital spin, but your event program isn't one of them.
Remember that an event, while fun, is also an opportunity for you to make a meaningful connection with prospects. Forgetting something as seemingly simple as an event program could reduce their customer experience significantly.
What is an event program?
An event program can be a booklet, one-pager, or digital asset that informs the guests of what exactly is taking place during their attendance, the timing of events, and important details they should be aware of. An event program minimizes attendee confusion by providing a succinct guide to the experience.
This article will walk you through every element you should have on your event program to ensure that all of your bases are covered, as well as design tips for a flawless execution.
How to make a program for an event
It's actually not as intuitive as you might think, so before you start hastily listing out your event's main attractions and picking out the design of the program, you're going to want to take a moment to ensure that you have the most pertinent event information accounted for and that your run of show is finalized for your reference.
While it's important for your program to be thorough, it's even more important that it isn't overwhelming.
A program's main purpose is to provide your guests with everything they should expect and need to know about while in attendance- and not one detail more. There's no need to dive into the thick of your event in your program. That's what your event website is for.
Let's get started.
1. The event name, date, venue, and address
These are the most obvious pieces of information to include as well as the most important. Depending on the layout you choose, your event name, date, venue, and address should be one of the first elements noticed. Whether that means it's on the front page or has the largest font, you'll want this information emphasized.
2. Striking photos and graphics
Choose the images on your program wisely. You won't have a lot of room to work with, so with the little room you do have, you'll want to make sure that they are high quality, accurately depict your event aesthetic, and provide only necessary information. Images have a lot power when determining the overall tone of your event, so ensure everything you choose provides positive value.
3. Important company information
This piece falls under the basic information section of the program and should be included for a quick background of the event. You can add your company's vision of the event, its purpose, company social media handles and branded hashtags to use while in attendance, the company's website or event website, and more! This section is dependent on the type of event you're hosting and what is most important to your guests.
4. The run of show
Take your internal run of show and turn it into a polished schedule, itemized by event, session, and timing. This element is the reason you're making a program in the first place, so break down your entire event in an easy-to-follow outline for your guests so they know exactly what's going on.
5. Brief description of sessions, breakouts, or show
To complement the event outline above, you should have a very brief description of each session. This informative section will help your guests choose what to attend and ensure they know what they will be getting out of it for participating.
6. A map of your venue
If your event spans multiple rooms or requires guests to move around, then a map is crucial. Although you will most likely have maps plastered around various parts of the venue, providing your guests with a quick reference that they will have on them at all times will make them feel more comfortable. You can even go a step further with your map by color coding and labeling the designated rooms. Make sure you make it as easy as possible for your guests to get around to enhance their experience.
7. VIP, sponsors, and vendor shoutouts
If you have room to spare in your layout, it's a great idea to include the key players of the event with their bios, sponsor appreciation, and recognition to everyone who made the event possible. If you don't have room on the program for this, make sure you include this section elsewhere.
8. Frequently Asked Questions (FAQs)
A FAQ section is completely optional, but it is a great idea for more intricate events so the event staff won't have to waste valuable time answering basic questions. This section is also great if you have received a lot of preliminary questions during registration. Ensure this section provides value to your guests by only answering questions that will help them during their attendance or immediately after.
9. Emergency contact information
For obvious reasons, allowing your guests access to an emergency phone number they can use to call, in addition to the police, is important. Whether there is a medical emergency, someone gets into some sort of trouble, or the unexpected happens, an emergency contact number for immediate assistance is a very smart idea so event staff is aware of the problems taking place and can respond efficiently and accurately.
TIP: Events have a million moving parts. Check out the best event planning software on the market to help you keep track of it all!
Event program design tips
Now that you understand the information to include in your event program, it's time to put it all together visually.
Hiring a designer to create your event program is a great way to impress, but it will cost extra money if you don't have someone in-house to work on it. If you don't wish to hire a designer, there are a plethora of program templates that you can use or get inspiration from.
When choosing to design the program on your own, there are a few important design tips to keep in mind.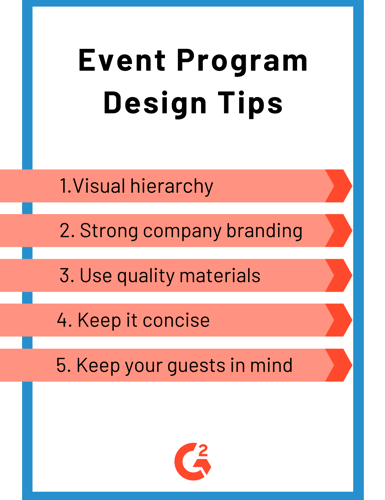 And there you have it! If there's one tip that reigns supreme, it's visual hierarchy. Visual hierarchy is the most important tool for an overall appealing design. Nonetheless, all of these tips will ensure your event program turns out flawlessly.
Lay it all out
A printed program is worth the time and money spent to ensure your guests have a positive and seamless experience at your event. Including all nine elements into your program provides an important, yet succinct piece of collateral that's incredibly useful during the event, and doubles as a fun memento that will last for years to come.
Want to learn more about design? Check out the best ways to improve your page layout for your next event program!