Construction projects require a lot of hands-on activity.
New construction technology has been disrupting the construction industry for some time now, so it makes sense the industry would want to leverage the benefits of tools.
What is construction project management software?
Project management software breaks down the complexity of a project via smaller projects and tasks. This encourages communication and collaboration among team members, as well as ensures deliverability.
After all, it's easier to satisfactorily complete small chunks of a project that contribute to its overall "done-ness," rather than attempting to tackle a massive undertaking all at once. Construction project management software does this for the construction industry.
With construction project management software, all phases of a construction project (pre-construction planning, procurement, building, and final delivery or owner occupancy) are streamlined and rendered more productive. Project management directs, regulates and supervises a project from beginning to end. Software ensures it stays on track and under budget. Software also helps users anticipate problems that could derail a construction project and prevent it from hitting all predetermined milestones.
Simple and easy does it, indeed.
Construction project management software provides 360-degree visibility over project progress, blockers and contributors. Effective resource allocation and management is a significant end goal for construction project managers, and construction-specific project management software can get them there. Through such software, project managers can coordinate, assign and track specific tasks, and follow up on their completion. The main perk of project management software is the delegation of responsibilities and the expectation of accountability.
Construction management vs. construction project management
Some construction management solutions or comprehensive construction suites offer construction project management features. However, distinctions exist between general construction management that can be used across industries and project-specific construction management software.
The biggest difference between the two kinds of software is that the scope of construction management software includes more comprehensive workforce management, touch upon financial management functionality and regulatory compliance support. Additionally, while any construction professional can utilize construction management software, construction project managers are the ones who use it to make sure there are no loose ends at the end of a project.
TIP: Understanding the bidding process can be complicated. A request for quotation, or RFQ is commonly used for products or services that are quantifiable.
Benefits of construction project management software
With effective construction project management software, contractors, architects, owners and other construction professionals can reap the following benefits:
Control over the planning, design and estimating of future projects
Cost control
Scheduling optimization
Accountability and visibility over the life of a project
Accurate tracking and monitoring of project milestones and deadlines
Reduction of miscommunication or misplaced documentation
Workflow efficiency and optimization
Process standardization
Common features of construction project management software
This software is different for small and large companies; however, there are several essential features that crop up across the board:
Document management
Team collaboration
Resource allocation and management
Time tracking
Task management
Business process reporting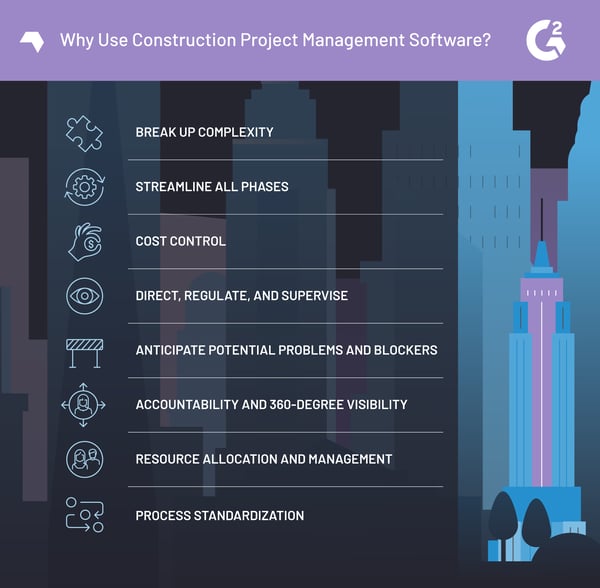 Related: Selecting the best construction software is no simple task. With the help of G2's star ratings, reviews, and these 5 smart tips for the best construction software selection, you will be well equipped with the information you need to choose which software is best for you and your business.
Best construction project management software in 2020
If you're curious how to choose the best construction project management software, fortunately, G2 has a trove of information on just that.
Products are ranked by G2 Satisfaction score as of Jan. 17, 2019.
---
1. Autodesk BIM 360
Product Name: Autodesk BIM 360
G2 Star Rating: 4.1 out of 5.0 stars
Number of Reviews: 533
BIM 360 from Autodesk is a construction project optimization platform. BIM 360 helps inform decision-making throughout the project lifecycle, connecting people and resources for the most productive and effective workflows. BIM 360 comes with an application programming interface that simplifies the connection to third-party construction apps.
Features:
Revit-based worksharing
BIM coordination
Bid management
Quality management
Jobsite safety management
Design review and change visualization
---
2. Procore
Product Name: Procore
G2 Star Rating: 4.4 out of 5.0 stars
Number of Reviews: 594
Procore is cloud-based construction management software built to streamline contractor communication, fix inefficiency on job sites and extract as much productivity as possible from parties involved with a project. Procore increases efficiency and accountability, as well as provides contractors with accurate real-time data.
Features:
Construction project management
Bid management
Construction site safety management
Construction accounting
Jobsite tracking
---
3. Touchplan
Product Name: Touchplan
G2 Star Rating: 4.1 out of 5.0 stars
Number of Reviews: 51
Touchplan is a construction collaboration platform that leverages a Last Planner System to monitor, regulate, and improve construction projects during the building process. Touchplan optimizes the planning and scheduling stages of construction projects. Touchplan also comes equipped with data backup functionality, ensuring that construction project managers and subcontractors can access data from anywhere.
Features:
Construction project milestone planning
Pull planning scheduling
Team collaboration
Real-time updates
Data storage and backup
---
4. BuilderTREND
Product Name: BuilderTREND
G2 Star Rating: 4.4 out of 5.0 stars
Number of Reviews: 19
BuilderTREND provides homebuilders and remodelers a cloud-based construction application that optimizes the entire project management process. With BuilderTREND, construction professionals can access and share project progress information easily from anywhere.
Features:
Bid management and construction proposal management

Project progress management
Construction accounting
Customer management
---
5. Corecon
Product Name: Corecon
G2 Star Rating: 3.7 out of 5.0 stars
Number of Reviews: 33
Corecon is a cloud-based construction platform that centralizes stored information into a singular database. With Corecon, contractors can better track leads and projects, as well as manage bids, contracts and documentation. Corecon is designed to optimize collaboration and workflow, and ultimately, maximize project profitability.
Features:
Construction project scheduling and management
Bid management and construction estimating
Construction project accounting
Field staff management
Integration with third-party accounting programs
---
6. Spectrum
Product Name: Spectrum
G2 Star Rating: 4.3 out of 5.0 stars
Number of Reviews: 51
Spectrum by Viewpoint is a cloud-based construction enterprise resource planning (ERP) platform. With Spectrum, contractors can capitalize on the product's built-in accounting and project management functionality, as well as its resource management features. Spectrum provides contractors with stronger project oversight so they work more efficiently and earn more profit.
Features:
Data analysis for existing projects
Automated workflows
Collaboration tools
Project scope overview
---
7. Oracle Primavera
Product Name: Oracle Primavera
G2 Star Rating: 4.0 out of 5.0 stars
Number of Reviews: 59
Oracle Primavera is a project portfolio management program built specifically for construction, engineering and capital projects. With Oracle Primavera, managers can optimize prioritizing, planning and managing projects and portfolios. Oracle Primavera is a cloud-based platform that provides role-based functions and improves team collaboration.
Features:
Resource allocation and management
Project scheduling
Project performance visualization
Integration with financial management and HCM systems
---
8. Oracle Aconex
Product Name: Oracle Aconex
G2 Star Rating: 4.0 out of 5.0 stars
Number of Reviews: 12
Oracle Aconex unifies all processes across an entire construction project. Oracle Aconex also produces reports about construction portfolios that ensure visibility and accountability. Oracle Aconex supports critical processes in a project lifecycle and is nimble enough to handle new ones that pop up.
Features:
Project controls
Document management
Workflow management
Bid management
Jobsite safety management
Produces project reports and other business insights
---
9. Newforma Project Center
Product Name: Newforma Project Center
G2 Star Rating: 3.9 out of 5.0 stars
Number of Reviews: 20
Newforma Project Center consolidates project information and data for architects, engineers and owners. Newforma Project Center facilitates team collaboration and project design management. Newforma Project Center facilitates construction project management from project planning to punch list.
Features:
Project data collection and overview
Real-time collaboration
Unstructured data organization
---
10. GenieBelt
Product Name: GenieBelt
G2 Star Rating: 4.1 out of 5.0 stars
Number of Reviews: 18
GenieBelt provides real-time project management and collaboration to bring accountability to the project. GenieBelt's main goal is improving information sharing between all members of a construction project. With GenieBelt, teams can communicate effectively and rally around projects, no matter what deadlines they have or haven't met.
Features:
Team communication and collaboration
Document storage and management
Real-time updates from the jobsite
Project progress updates and audit trail
Integration with existing ERP or customer relationship management (CRM)
---
11. Oracle Prime Projects Cloud Service
Product Name: Oracle Prime Projects Cloud Service
G2 Star Rating: 4.5 out of 5.0 stars
Number of Reviews: 2
Oracle Prime Projects Cloud Service improves project delivery among contractors. While this product isn't necessarily a project management tool, it does provide the connecting webwork between priority and portfolio optimization. Users say Oracle Prime Projects Cloud Service helps contractors ensure superior project performance. Oracle Prime Projects Cloud Service easily integrates with Oracle Aconex, which is helpful for users who are either already leveraging the end-to-end Aconex platform or any of Oracle's other solutions.
Features:
Schedule management
Task management
Portfolio management
Risk management
---
12. CMiC
Product Name: CMiC
G2 Star Rating: 3.0 out of 5.0 stars
Number of Reviews: 11
CMiC is a comprehensive construction ERP that helps contractors deliver on construction projects. CMiC delivers real-time data on project finances, staffing, cost-to-performance ratios and whether the project is complying with regulations. CMiC's project management module helps contractors hit every deadline and keep a close eye on costs and resources.
Features:
Financial management
Project controls
Project collaboration and project management
Asset management
Human capital management
---
13. Project DocControl
Product Name: Project DocControl
G2 Star Rating: 4.0 out of 5.0 stars
Number of Reviews: 3
Project DocControl is a documentation management program created for subcontractors, by subcontractors. With Project DocControl, subcontractors can generate, monitor, and track all the documentation needed to keep a construction project on track. Project DocControl can be used by subcontractors in the electrical, mechanical, and drywall industries.
Features:
Request for information (RFI) generation and tracking
Project correspondence creation and tracking
Daily activity tracking and reporting
Subcontractor contract management
*Please note: Reviews have been edited for spelling, grammar and clarity.
---
Check out the top free Building Design and Building Information Modeling (BIM) tools you should be using right now.