Ever agonized over a paper, trying to meet a minimum words requirement set by your professor or manager?
Well, you're not alone. Whether you're a student or writing with a business objective, ensuring that your content is a proper length is an important factor to consider. Luckily for you, Google Docs has a word count tool that makes measuring how many words you've written simple.
Continue reading to learn how to utilize word count in Google Docs.
How to check word count on Google Docs
The word count tool on Google Docs provides insight that goes beyond just tracking the total number of words used. You can also measure the number of characters you have, your page count and the number of words you have within a section.
Racing to meet a deadline? I've provided a word count shortcut below:
Tip: What is a shortcut for word count?
macOS: Command+Shift+C
Windows: Ctrl+shift+C
If you're in need of more details, then follow this visual step-by-step guide:
How do you view world count on Google Docs?
Click on "Tools" then choose "Word count"
View your stats
Check word count for a specific section
1. Click on "Tools" then choose "Word Count"
At the top of your page, you should be able to spot a toolbar placed horizontally. From there, you'll want to find and click on the "Tools" button so that a drop-down menu appears. Once you see the drop-down menu, select "Word count."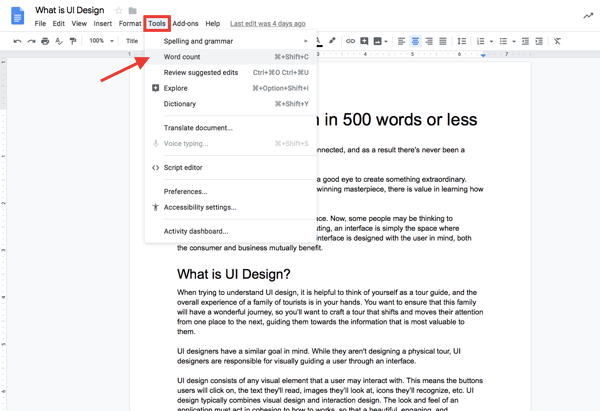 2. View your stats
Told you that would be easy! In less than two clicks, the number of pages, words, characters, and characters excluding spaces are all clearly displayed.
Characters, which are the individual letters that make up a word, are another important parameter to take into account. Instead of having a word count requirement, various social media platforms, like Twitter, and certain job or school applications, will set character limits.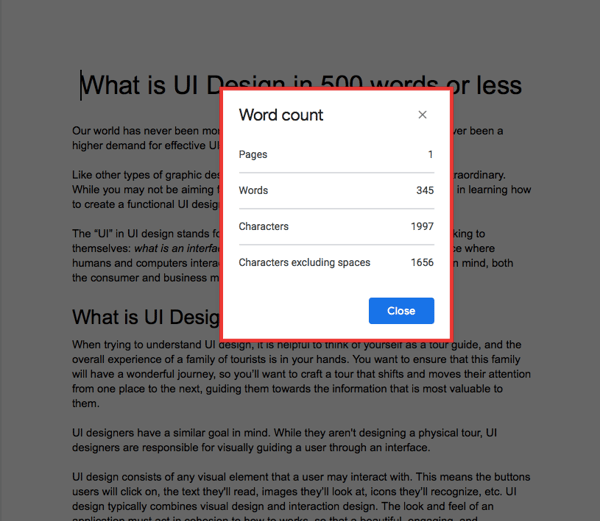 Tip: Do you have page number requirement instead of a word count limit? Check out this guide on how to add page numbers in Google Docs.
3. Check word count for a specific section
Let's say that you want to see how many words within a specific paragraph, Google Docs has made it simple to access this information as well. You will start by highlighting the group of text you'd like to measure, then repeat step one and two from above by clicking on "Tools" and then selecting "Word count."


Congrats, you've enabled word count on Google Docs!
Whether you're writing a novel or creating a blog post, Google Docs word count tool will undoubtedly come in handy. Since Google Docs is a completely free word processor that works both on and offline, you can see why it has become exceptionally popular in both educational and professional settings.
Now that you've learned how to measure word count, write a review of your experience with Google Docs.

Want to learn about other applications like Google Docs? Find more document creation software here!