By now, chances are, you've not only heard of landing pages, but landed on many.
You may have even built some, and as advertising continues to evolve, that becomes true of many internet users.
However, despite their growing prevalence, there's still a disconnect among advertisers regarding what a landing page is.
The ones you've landed on may not have been a landing page, and the ones you've built may not have been a landing page. And that, for both the user and the advertiser, creates a whole collection of problems.
TIP: Looking for tools to help build webpages? Discover the best landing page builders in 2020.
What is a landing page?
A landing page is a web page, independent from a website's navigation, built for the singular purpose of compelling visitors to act: to sign up, download, buy, etc. It features persuasive elements, like benefit-oriented copy and social proof (among others), to accomplish this goal.
This definition is contrary to the common, loose definition of a landing page, which is simply a page you "land on."
This has many believing that a landing page can be your pricing page, your about page, or even your homepage. But that's a damaging description, and here's why:
A landing page is designed to convert, while most other pages aren't. The majority are built to inform. A pricing page lays out pricing. Your about page might describe your business' philosophy or history. Your homepage is the launchpad to those other pages.
As a result, these pages contain elements that, at best, won't help your chances of converting visitors. At worst, they can even hurt your conversion rate.
Mainly, there are two: 1:1 conversion ratio and message match.
TIP: Learn about conversion rate optimization and how marketer's can leverage CRO in 2020.
What are the two major design features of a landing page?
Imagine this: You're searching for a software to help you better nurture leads. You type "lead scoring software" into Google, and the first result is an ad. It says: Lead Scoring Software: Generate More Sales. You click it and land on a homepage, but there's no mention of lead scoring anywhere, just vague mentions of business software.
What do you do?
Probably not hunt around the website for lead scoring software. Instead, you'll hit the back button and click another ad until you get what you're looking for.
This is poor user experience.
What should happen is something like this: You click through and see "Lead Scoring Software" in the headline or sub-headline. If your ad uses additional copy or images, then the copy and images on the landing page should match them. This is known as "message match."
1. Message match
On a landing page, message match has two distinct purposes:
First, message match instills trust in visitors. When they see the same images, colors, and words, they know immediately that they're in the right place. They haven't been redirected somewhere else. The page they're on is connected with the advertisement they clicked.
Below is a great example of message match from Marketo.
The ad: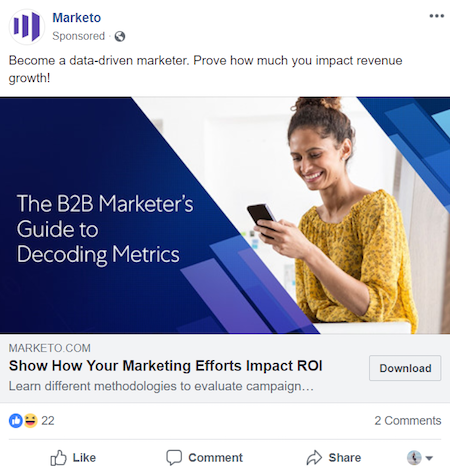 Then, the landing page: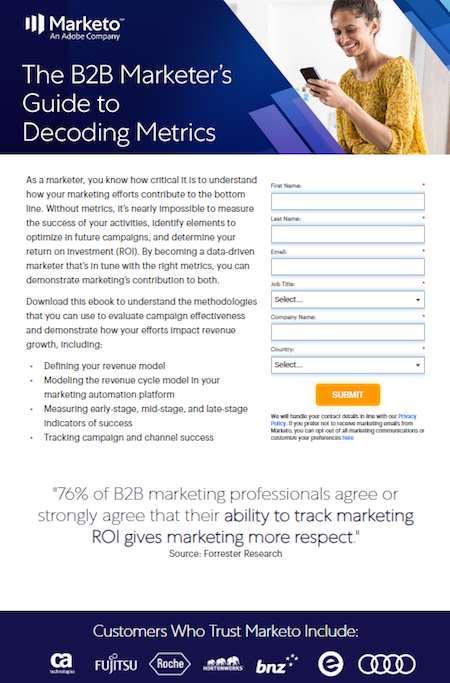 Second, message match reinforces personalization in the post-click stage. In the pre-click stage (before the visitor clicks the ad), personalization is accomplished with targeting tools.
TIP: Marketers are syncing their Marketo and G2 accounts to give a truly personalized experience. Reduce churn, increase leads, and grow revenue with real-time data from active buyers.
If, for example, you're a social media monitoring software, you might target social media managers in one ad. In a second ad, you may try a different approach for small business owners. In a third, maybe marketing agencies. Try a few different variants through A/B testing.
If you send all these audiences to the same landing page, you're counteracting all the segmentation you've done in the pre-click stage.
This is why every promotion needs its own landing page. The post-click stage is where personalization is completed with message match to finish the conversation started by the ad.
2. 1:1 conversion ratio
The second major differentiator is a 1:1 conversion ratio. The term "conversion ratio" refers to the number of links on a landing page to the number of conversion goals. Ideally, this should be 1:1. There should be only one link that drives visitors off the page, and that should be the call-to-action (CTA) button.
When faced with the decision to convert or not, your visitors should have two options: Click the CTA button or click the back button.
A landing page should have no links in the footer, none in the navigation, none hyperlinked in text or social icons, or anywhere else. This keeps your visitors focused on conversion.
If you're asking, "But what if visitors need to see the pricing page in order to decide whether or not to convert?" Then, your pricing information should be on the landing page.
Your landing page should contain all the information that your prospects need to make a decision about your offer.
Here is a good example of a page with a 1:1 conversion ratio: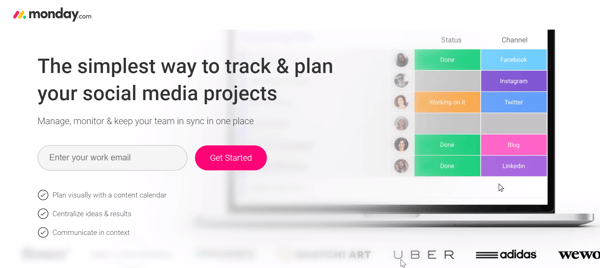 On this page, the only clickable element is the "Get Started" button. There's no navigation menu, no footer, no hyperlinked text or images. The visitors to this page are forced to evaluate the landing page and decide whether to go back with the "back" button or forward with the "Get Started" button.
What are the top 7 best landing page builders in 2020
Mailchimp
Unbounce
Instapage
Landingi
ClickFunnels
Leadpages
ShortStack
Types of landing pages
There's no one-size-fits-all landing page – not for your visitors, nor for the situations they're in. The page you use depends on the goal of your campaign.
Here are some you should know:
1. Squeeze page
In the early stages of the buyer's journey, your prospect doesn't know you. Ultimately, their goal is to find out if you're the solution they're looking for, and yours is proving that you are. This all happens during nurture.
In this stage, email address is your most valuable piece of information, and squeeze pages are designed to capture it.
The reasons these pages are so effective for getting emails are:
They offer a lot for a little. Whether it's an ebook or audit, a report or blueprint, these landing pages offer it in exchange for just an email address.


They're quick and easy to get through. Squeeze pages aren't long. They feature very little copy and maybe an image. They're very easy to consume.
2. Lead capture page
Once you have their email address, qualifying your leads is the priority. Through nurture, the goal is to determine if you're a good fit for each other. This is where lead capture landing pages come into play.
These landing pages are differentiated by a lead capture form, which solicits personal information in exchange for a lead magnet, the way a squeeze page does. Unlike a squeeze page, lead capture landing pages use longer forms.
A squeeze page asks for email address, while a lead capture landing page ups the ask. These forms are longer and request information like company size, budget, location, website URL, etc.
What is requested via this form is dependent on the business building it and the information they need to qualify a lead. Usually, the shorter, the higher likelihood your visitor completes it. Here's an example from Full Sail University: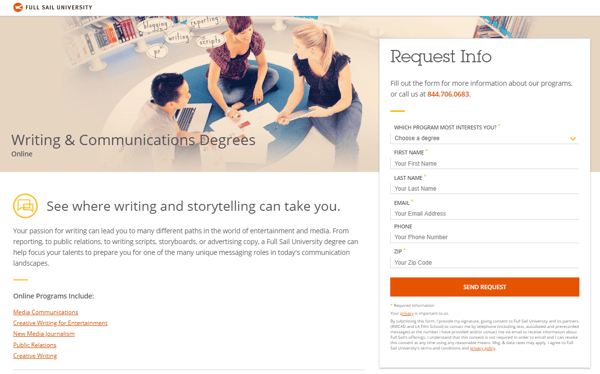 Related:
According to Beacon, "a lead magnet is a reward that you offer someone in exchange for their email address. It could be an eBook, a checklist, or any digital download that provides value to the reader.
3. Click-through landing page
Sometimes, big forms can scare prospects – especially if those forms request sensitive information, like a credit card number. For businesses trying to get high-value conversions, a click-through page is sometimes necessary.
Click-through pages do a great job of relieving friction, as in, the elements of a landing page that make prospects uncomfortable with conversion. These types of pages often feature elements that instill trust in the visitor, like security badges, money-back guarantees, testimonials, and comprehensive copy.
TIP: Learn the 10 steps to take for landing page optimization.
4. Sales page
The sale is the toughest conversion to elicit. As such, it often necessitates a comprehensive landing page. The type of content depends highly on the value of the sale. If a product is high-commitment – expensive or a recurring subscription, for example – a page will be longer because it will likely require more persuasive elements to get visitors to convert.
These can include:
An explainer video
An introductory video
A magnetic headline
Message match
Testimonials
Social proof icons
Security badges
Benefit-oriented body copy
A hero shot
An optimized conversion ratio
A guarantee
Usually, the more of these a page includes, the more likely a visitor is to convert.
There are, however, exceptions. One of those is when you're selling a low-cost, low-commitment product or service. It's common sense. The less a product costs, the easier it will be to get someone to buy it.
For the most part, though, sales pages are reserved for higher-commitment, more expensive products and services.
The importance of post-click automation
So far, many advertisers have been optimizing only half their campaigns. The majority of resources, traditionally, go to the pre-click stage.
However, spending on ad platforms, analytics, and personnel won't deliver maximum ROI if the pre-click stage doesn't match the post-click stage.
Personalization must be present throughout the whole campaign. For the sake of the users, and for advertisers, it's time we treated landing pages as we do ads.