As a marketer, you want to communicate your brand's messaging in the most efficient, accessible, and informative way possible.
It's difficult to find a platform that can easily combine all of these elements. With email marketing, you are able to make your brand's messaging accessible to a large subscriber base and control a wide array of content that can be included within your emails. However, what sets email marketing apart from other marketing channels is the opportunity for email automation.
What is email automation?
Email automation is the ability to send time or action-triggered emails to subscribers with content relevant to your brand's marketing campaigns.
Email automation is used for a variety of different marketing purposes, which we'll explore below.
For example, you can use email automation to implement a triggered workflow that helps nurture new leads, schedule personalized messages such as birthday greetings, and notify customers of new assets such as tools or helpful blog posts.
One of many quick email marketing campaign tips: using email automation in your email marketing campaign can improve the marketing experience for you, the marketer, and your customers.
How to best utilize email automation in your marketing campaigns
Email automation can take your campaign from large and inaccessible to personalized and delivered right into your customers' inboxes at the right time and with the right content.
Let's explore the ways in which email marketing automation can be beneficial to your marketing campaigns.
Welcome emails
Every successful email campaign starts with an introductory welcome email. The purpose of this email is to introduce the subscriber to the brand and outline what they can expect from your email campaign. It will also include a catchy subject line and an appealing design to convince your new subscribers that your brand is worth their time.
The welcome email can help achieve further engagement via links to new or informative content from your website, listing out different categories you cover so they can find what they are interested in, and a link to a feature such as a "getting started" guide or article that provides an overview of your brand, website, content, or products.
With new subscribers coming into your email list at different times, you'll need email automation to send welcome emails on a timely basis to new subscribers. Here's an example of an effective welcome email: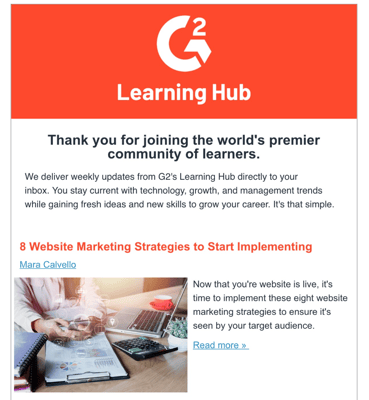 Sales funnel
When dealing with customers that are working through your sales funnel, email automation allows you to send emails that meet customers where they are in their journey, further personalizing their experience. If you are a customer in the process of making a purchase, there are certain messages that can demonstrate the value of the items you are looking into. There are other, less relevant messages that might only provide a basic overview of a brand you already are familiar with and interested in engaging with further.
Email automation is key in making sure that your customers are receiving the messaging that is most relatable. With all of the different types of social media and internet marketing in today's landscape, personalization is key to making your brand stand out. Using email automation to meet customers where they are in the sales funnel and provide relevant, relatable content makes sure your brand is keeping up with the interests and current desires of your customers.
TIP: Curious what your customers are saying about you and/or your product offering? Real user reviews are a great way to gather their valuable insight, so that you can maximize your messaging and even fix pain points.
Special offers
Email automation can also be used when it is programmed to send out unique deals and special offers on certain occasions. Sometimes known as the "surprise and delight" method of marketing, sending out an automated birthday greeting and special deal to subscribers on their birthdays is an easy way to add a personal touch to your campaign.
The use of email automation for these special messages takes away the human element of having to sort through each individual subscriber and waste your time manually sending emails. If you ask for your subscribers' birthdays when they sign up for your email list, you'll be able to automate a birthday email containing a special offer.
You can also use emails like this on anniversaries of your subscribers signing up for your email list or during holidays and other times of the year when your company is inclined to have a sale. Email automation enables an easy, effortless ability to personalize the subscriber experience.
Drip campaigns
A drip campaign centers on getting people the right information at the right time. The campaign includes automated sets of emails that go out based on specific timelines or user actions. It enables you to stay in touch with groups of people based on events, such as a user signing up for an account or how often that user visits your site.
What makes drip campaigns so useful is the customizable and automated cadence at which a business can send them based on triggers or customer behavior. For example, a user signing up for a newsletter or requesting a demo with a high level of interest in a product might trigger more frequent and information-filled emails. A subscriber that does not interact with the product page more than once can be sent emails on a less frequent basis.
Each time a drip email is sent out, it comes from a queue of already-written emails. There's no need to manually write and send each one. It also contains the ability for customization of the name, company, and other personal information of the recipient that provides the brand with a boost of familiarity to the potential customer. The campaign is a perfect balance of customizable for each user's relationship to the product, while being automated and not requiring a large amount of time and effort from the sender.
Let's get automated
At its core, email automation helps your brand provide the most personal experience possible for your customers. Using automation in your marketing campaigns via email marketing software will ensure that they receive relevant content from the moment they first engage with your brand via signing up for your email list to the time they are a reliable returning customer.